Love it or hate it, you just CAN'T ignore it. With numerous dramas based on this cliché, and more to come (I am not kidding) we are stuck with it for a long, long time. While having a conversation with my friends, I suddenly started to count all the doosri biwi dramas on-air right now, and then decided to share the list with you guys.
Monday (8:00 pm):
Doosri Biwi on ARY Digital:
Naam hi kaafi hai. It tells the story of Hassan who is happily married to Ayesha and has a daughter. He defends his colleague, Farah from her shukki fiance Amir, and as a result, she falls in love with him. Hassan falls in love with her, and marries her (after a lot of drama). Our talented reviewer Maryam Mehdi will keep you updated.
Monday (9:00 pm)
Ishq Mein on Express Entertainment:
Kahan se shuru hua thha, aur kahan agaya. This show started with the love story of Adnan and Samra, but when Adnan's lawaaris cousin, Neha, got pregnant out of wedlock, he had to marry her to save her honour. This caused problems between him and Samra. Then, with a predictable twist, Samra's mother passed away, and then in order to save Samra's honour he married her as well. So now we can see the evil first wife destroying Samra's happiness and since Samra is infertile, Neha gets all the attention. It is poorly directed and extremely dragged, not to mention, all the Indian drama influence!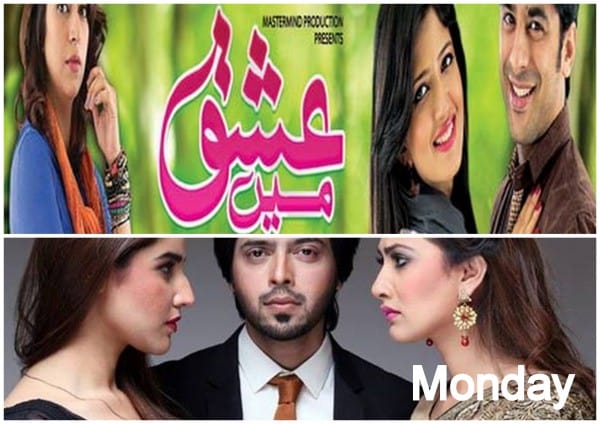 Wednesday (8:00 pm)
Khataa on ARY Digital:
I won't waste time explaining the flawed story. It's a stupid love story-meets-saas bahu story-meets-doosri biwi story. The lead couple (Sanam Chaudry and Sheroze Sabzwari) does not have any chemistry. In recent episodes, Nomi (Shehroze) has gotten married to another girl owing to the saazishein of his mother against his first wife_ while she is pregnant!
Tum Mere Hi Rehna on Hum TV:
Another love story turned into doosri biwi story. Hum TV, just because you and ARY are the big channels and have a lot of competition , doesn't mean you have to air equally crap dramas. TMHR does not have any good performances either, except Saba Hameed. Plus, the lead couple Mikaal Zulfiqar and Urwa Hocane are just not likeable anymore.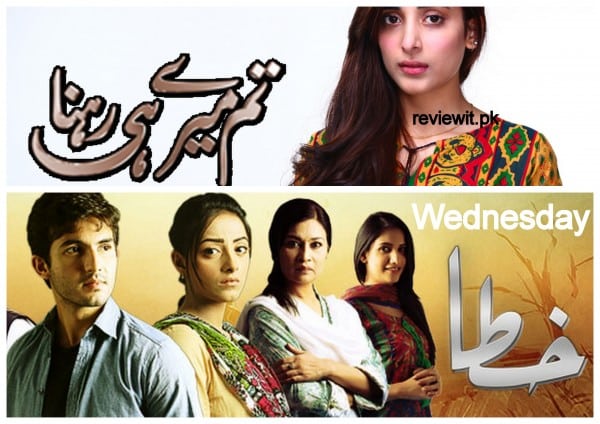 Thursday (8:00 pm)
Mehram on Hum TV:
The show was incredibly boring to begin with, so you can imagine how hard it would be to keep track of it after they introduced a second wife track. Besides, we all know either the first (bechari) wife will die in the end or the second wife will accept her.
Main Bushra on ARY Digital is on its way to become the next doosri biwi drama. I would love to be wrong about this one. The reviews will keep you updated.
Sultanat-e-Dil on Geo TV:
It will turn into a doosri biwi drama in a few episodes, as is evident from promos. Right now, the male lead has married his widowed bhabhi and sacrificed his love interest Anoushey, for the sake of his family values. Anoushey will obviously step in at some point. SeD is being reviewed on the site.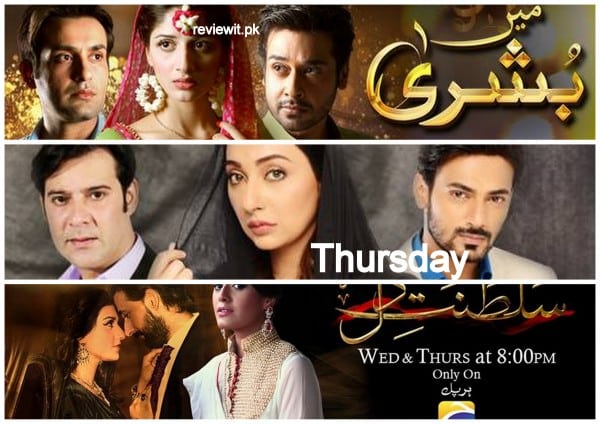 Saturday (8:00 pm)
Dil Nahi Manta on ARY Digital:
Goya was not a doosri biwi drama, in fact it was a pretty good romantic thriller, so ARY thought, "Hey, we made a mistake! How can we air a good drama at 8:00 pm?" Thus, Dil Nahi Manta, a major LOL-fest was shifted to the prime time slot. What's so special in it, you ask? Well, this time the dude married two women simultaneously, with each of them sitting on his sides, while their parents shook hands and were glad that, chalo atleast their daughters got married.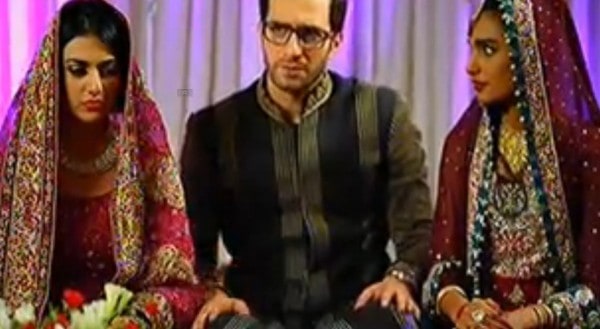 Sunday (8:00 pm)
Nikkah on Hum TV:
Rohail has forgotten his bachpan ki mohabbat and the girl, Ayesha,  whom he got married to before going to America. She is however still in love with him. He does not have the guts to tell his parents about his second wife so the only logical solution is to bring her to his parents' home! How the story will unfold from their is pretty obvious. If the name is lame, the drama will be lame too.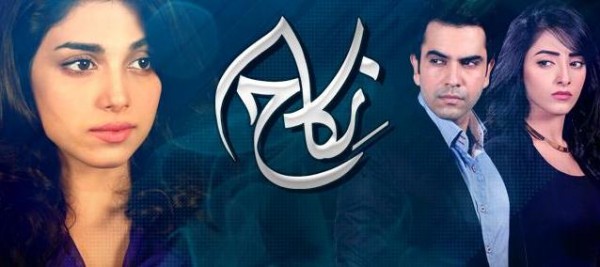 The topic of a man marrying two women has been discussed on almost every channel. Even A-Plus has Jaanum and Kaneez and in both, the man is caught between two wives. so basically, EVERYDAY, we have one, two or three such dramas to watch. Can't ignore 'em, eh? The score board is as follows: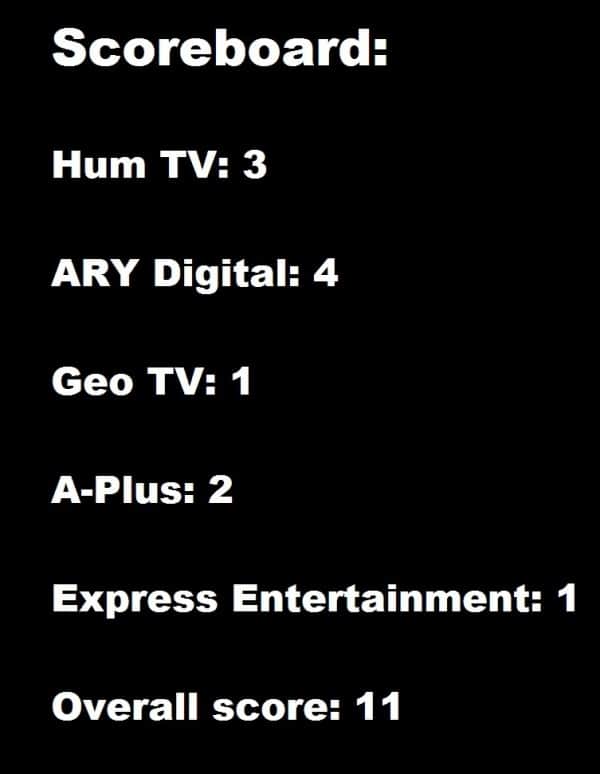 For me, channels like Hum TV and ARY Digital, airing such dramas is totally intolerable. If ARY did not have Jeeto Pakistan for Friday and Sunday, I am sure we would have two more doosri biwi drama for these days. They are the big channels of Pakistan who have given us hit dramas. Telecasting these shows is unfair to their audience. They have no storyline and logic and are unbearable to the senses.
   But we have two more upcoming dramas on ARY Digital, which are based on the same cliché.
1. Mamta: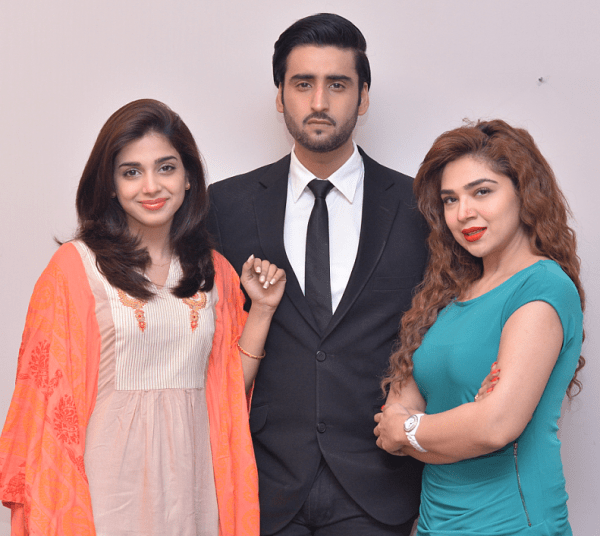 2. Ishq Parast:
No rocket science required to figure that out!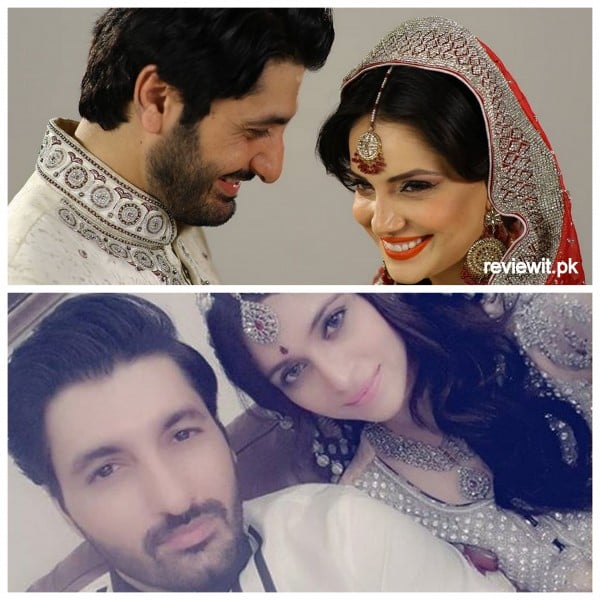 Areeba Mohsen