What I have noticed nowadays is that many of our dramas have started adopting the filmi tarka in their stories. For a long time now, our shows have been more focused on social issues prevailing in the society, and the only filmy drama (more like an Indian drama to be precise) that was seen on air was 'Yeh Zindagi Hai' (which has the highest ratings for the longest time now!) Now we can see that other production houses are also following the lead, and introducing the filminess in their stories to attract viewers.
As viewers, we all like a bit of filminess in the stories which is a nice change from the reality based shows that also tend to get a bit depressing at times.
Here is a list of shows that are on air nowadays and have a touch of filminess to make them more attractive for the viewers: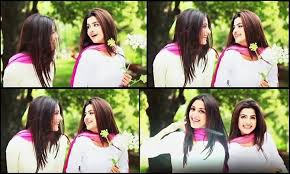 Khoya Khoya Chaand:
Khoya Khoya Chaand stars Ahsan Khan, Maya Ali and Sohai Ali Abro as the leads. The promos of this show itself had a filmy touch to it as the leads were showing dancing and singing in it. Even the title track would have been more suitable for a movie; especially the video with had the leads running around, dupattas flying, and flowers everywhere! Faheem Burney always likes to add a bit of spiciness seen in films in the shows he directs. Even the story would have been more appropriate for a movie; the male lead getting married to the sister of the girl he loved. Cliched, right? Not something we have not heard before, but definitely something that would keep the viewers hooked.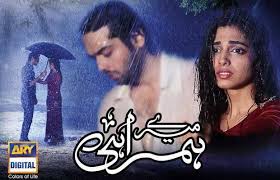 Mere Humrahi:
Mere Humrahi is another show with the filmy factor in it. The promo featured leads in the rain and it resembled a scene more appropriate for a SRK movie! But in truth, this is what attracted me to the show in the first place. It stars Fahad Mustafa, Shehzad sheikh and Soniya Hussain as the leads. The promos seemed different from the usual ones that we see on Pakistani Television nowadays, and I always prefer to watch shows with a refreshing concept. When the promos were so filmy, then how can the story not have a touch of filminess! Haaniyah and Ahad are in love and they decide to get married, until Ahad gets cold feet and ditches Haaniyah one day before the marriage. Ahmed, who happens to be Ahad's brother, takes his place and gets married to Haaniyah. How convenient right?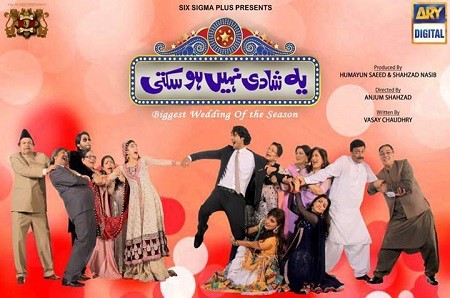 Yeh Shaadi Nahi Hosakti:
Yeh Shaadi Nahi Hosakhti's promo featured a whole dance sequence which had the whole cast in it! When I saw the promos the first thought that came to my mind was of the Baraat series. Yeh Shaadi Nahi Hosakhti's concept is also somewhat similar to it as it revolves around marriage, and also has a stellar cast which includes names like Mohib Mirza, Urwa Hocane, Qazi Wajid, Badar Khalil, Waseem Abbas, Saba Hameed and many more popular names. This show revolves around the leads Sikander and Alishba who are desperately in love, and the only obstacle in their lives is their families who can barely stand each other's presence. Now they both have set out to unite the two families, and make their marriage happens at all cost! This sitcom might have some over the top characters and a bit of overacting, but it is definitely a show to watch if you are in mood for a light hearted show!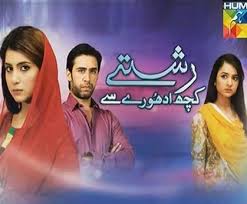 Rishtay Kuch Adhooray Se:
This show has Sohai Ali Abro, Yumna Zaidi, and Jahanzeb Khan as the main leads. 'Another drama on sister rivalry, can't they come up with new concepts?' This is what came to my mind when I watched the show's promos. I knew from the beginning that the show would feature a clash between the two sisters, but the circumstances that lead to this was quite shocking. Gaiti and Arsal are about to get married but due to Gaiti's absence during the Nikah, her sister Kiran secretly takes her place. This is the most absurd and unbelievable twist that I have ever seen! A twist that would have been more appropriate for an Indian drama or movie!

Aasmanon Pay Likha:
Aasmanon Pay Likha recently went on air and reached the first spot in the ratings with its very first episode. Why? The main reason was the attractive promos; the scenes in the promos had the filmy tadka, and the sizzling chemistry between the leads was just like a cherry on top. The male lead (Sheheryar Munawar) goes to the wedding of his employee's daughter (Sajjal Ali), and ends up getting married to the girl himself. The circumstances in which the wedding occurred seemed quite illogical, but these loopholes can be overlooked when there is potential in the show. Its filminess is definitely its USP!
I personally do not mind a bit of filminess in shows because it is refreshing to watch shows with concepts that are different from what we usually see in dramas. But an overdose of filminess would definitely not be appreciated!
Share your opinion about these shows and feel free to add to the list!
Mariam Shafiq