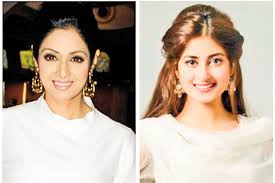 The movie "Mom" made a sparkling launch and fans from both the countries have gone crazy for both the mother Sri Devi and the daughter Sajal Ali. In the lates video message by Sri Devi, she got rather emotional and told everyone how much she missed Sajal whom she also called " mera bacha".
https://youtu.be/wRC3TqOCzLM
"I can't imagine this movie without you." Said Sri Devi and sent her love to Sajal.
Sajal, the daughter from across the border responded with equal love and said that she learnt a lot from Sri Devi and she is the mother she has in India. She told everyone that Sri Devi reminded her of her own mother.
Sajal and Sri Devi share a bond that keeps them bound together like a mother and a daughter and the bond keeps getting stronger all the times.