Celebrities in any country are closely followed by their fans. All the things they do inspire their fan following especially when the celebrities choose to promote something even more passionately. The entire world came to a halt due to Covid-19 and the Pakistani celebrities also started observing the self-isolation during the government imposed lockdown. This is when all the celebrities started building their relationships with the fans even more and started showing bits and bobs of their lives which they felt passionately about.
Some celebrities decided to share recipes, others started being regular in having chit chats with their fans, however, there were also some who felt this wasn't the time to cave in and just give up on their fitness routines that they have worked so hard for over the years. Fitness, a healthy diet and workouts are all a part of any celebrity's life because they understand that in order to look at their absolute best, a lot of hard work has to go into their daily routine.
During this time, a lot of celebrities came forward and started sharing their fitness workout sessions, some of the things they do and the basic exercises that anyone could do at home. It slowly started over live sessions where the fitness instructors of different celebrities also got involved and everything that they were teaching to their celebrity clients were now available on social media for people to follow and get motivated. This was another good thing which emerged as a result during the Covid-19 lockdown.
Here are the celebrities who are motivating people with their workout sessions during the lockdown:
[lwptoc]
Sana Fakhar
Sana Fakhar is known to be one of the fittest Pakistani celebrities. After having children, she has transformed herself and her weight loss journey is not only inspirational but motivational as well. It was imperative that Sana Fakhar had to be one of those celebrities who promoted fitness during this time when people could easily find an excuse of skipping physical activity in general. She has been constantly sharing her workouts, sometimes when she is alone or at times when her kids are a part too. She continues to show that despite being locked inside your homes, finding an excuse from staying on track is not an option.
Nadia Afghan
Nadia Afghan is one such celebrity who has lost a lot of weight. Although her fitness journey came years after she became a part of the industry, she now looks fitter than ever before. Nadia made her husband a part of this routine too and took it to her social media to share that she had a great time working out at home with the help of her fitness instructor who guided her and her husband through an online session. A couple workout session is definitely a good idea to try during this lockdown.
Ayesha Omar
Ayesha Omar has been into fitness for years now, but it is this time when her fans and followers are getting a complete insight into what she does and how much effort she puts into looking fit and fab. Ayesha Omar initially started off with her fitness trainer using the live feature of Instagram but now she has turned it into a proper and well-thought out movement where she is bringing in new fitness instructors every single day and shows up right on time to begin her workout sessions. Ayesha Omar has gone to a professional level in showcasing her workout sessions.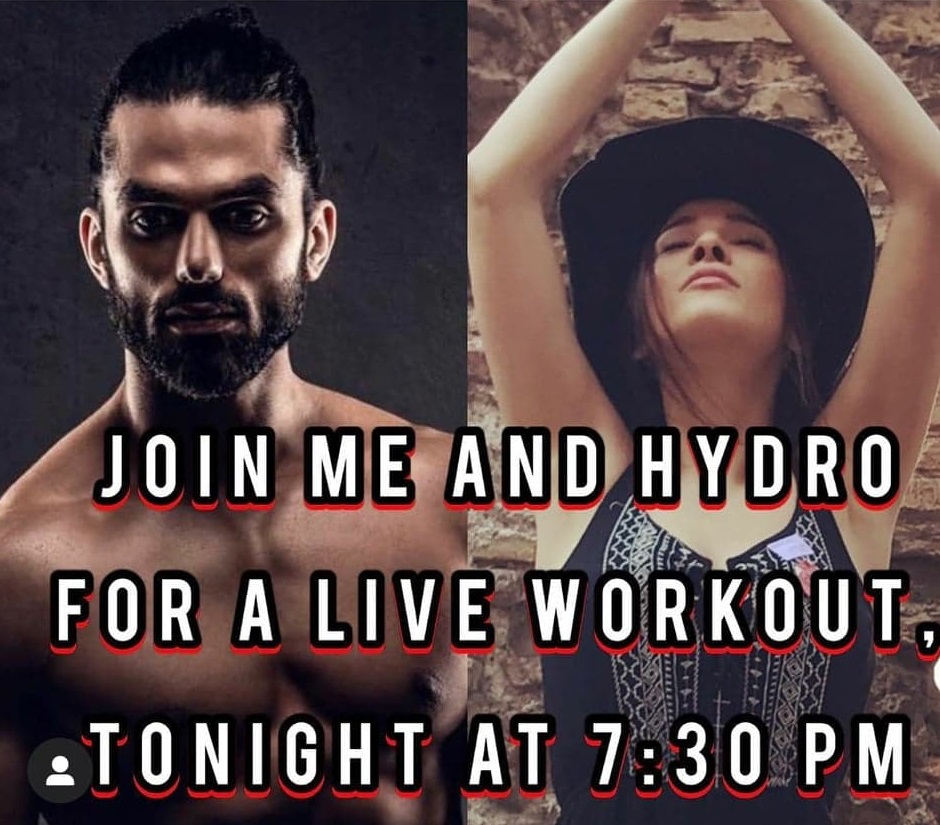 Sadia Khan
Sadia Khan also took it to her Instagram in the initial days to show that she was not in a mood to get lazy and lethargic, rather she was putting all this time on her hands to good use and staying on-track. She posed for a few pictures on her yoga mat, which were enough to give a gist of her workout routine and fitness motivation.
Hira Tareen
Hira Tareen has become a successful YouTuber now, she continues to share everything related to her life, be it her beauty routines, her cooking sessions and now her fitness routine as well. Hira Tareen did her fans a favor by making a video of an 8 minute full body workout session which was easy to do at home and didn't require any fancy equipment. The video that Hira made was well thought out and she timed it perfectly as well.
Bilal Abbas Khan
He is also one of those celebrities who is not letting quarantine getting in the way of his fitness. Bilal Abbas has come a long way and has always been on track when it comes to his workouts. Bilal Abbas shared a fun video with his nephew where he was helping him do the push-ups. The video showed a little gym that Bilal Abbas has made for himself at home which helps him in weight training and staying fit.
Ali Rehman Khan
Ali Rehman Khan took it to his social media account to share a few tips that would help people stay motivated and right on the fitness track during the quarantine days. He shared that it was better to find a new spot and try one thing or the other, something new everyday to stop everything from getting boring and monotonous. For Ali, what works is adding new things in his routine, this way he doesn't become bored or loses interest. Ali Rehman is also not wasting his time and putting it to good use.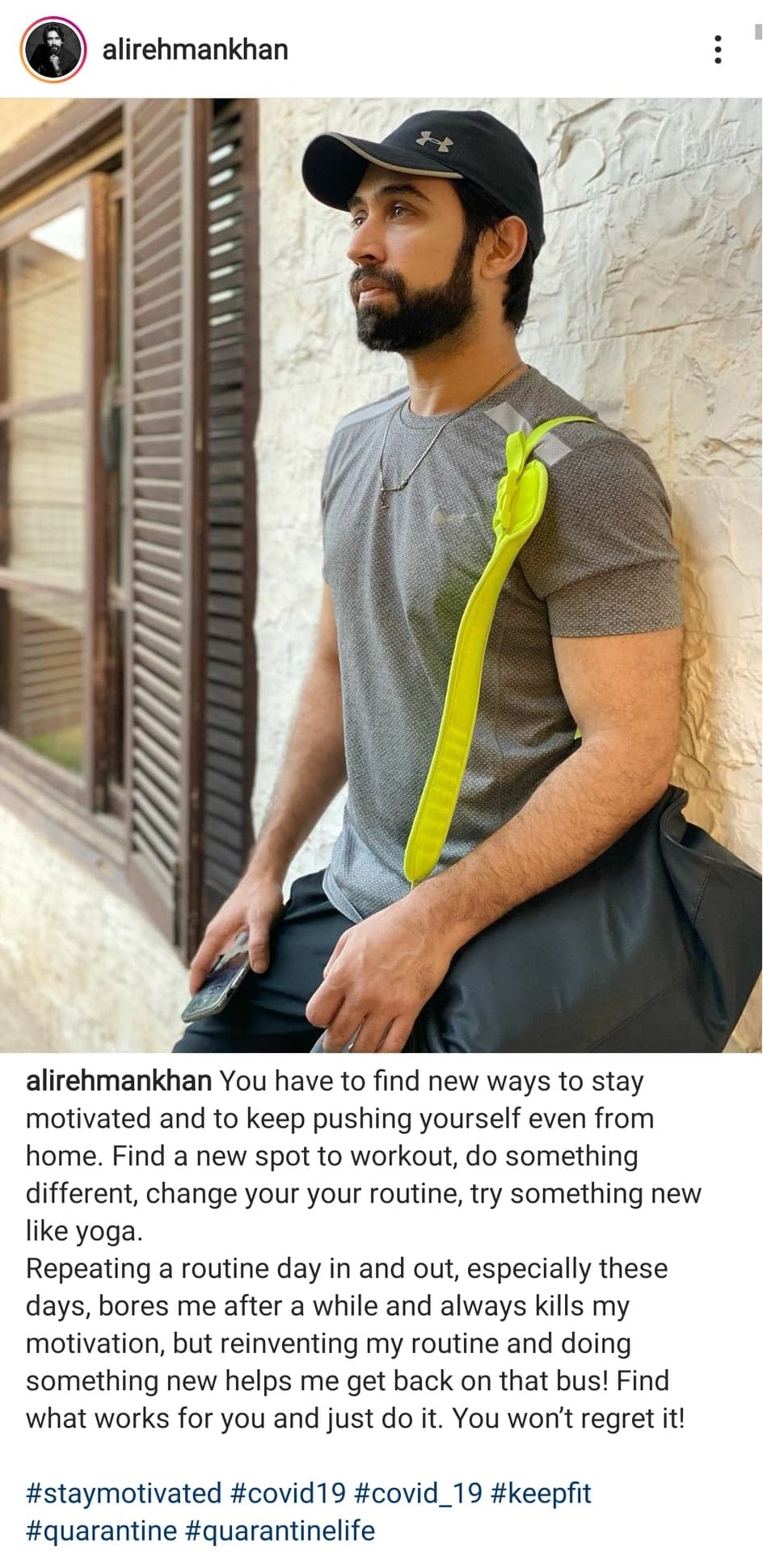 Hania Amir
Hania Amir is also getting back to her vlogging and now has decided to post videos on her Youtube channel. In one of her vlogs, she shared some of her fitness routine during the quarantine days where she started off with a yoga session and then continued to do some weight training. She kept it simple and easy for everyone to see what she was upto, a good motivation for her young fans.
Sanam Jung
During the initial days, Sanam Jung posted on her Insta stories that she was trying to follow a workout session online and was going to see if it was going to do her any favors. Sanam Jung has come a long way and she lost her post-pregnancy weight after getting committed to strict diet and workout sessions, therefore it is but natural that Sanam Jung would not cut herself some slack and continue with some of her routine during these days because gaining the weight back is not on her cards.
Kinza Hashmi
Kinza Hasmi has been going cycling during these days, sometimes alone, sometimes with a company, however she continues to preach that safety comes first, therefore it is better to observe social distancing. She goes out with all her protective gear such as a face mask and gloves, we are sure there's a sanitizer with her all this while too.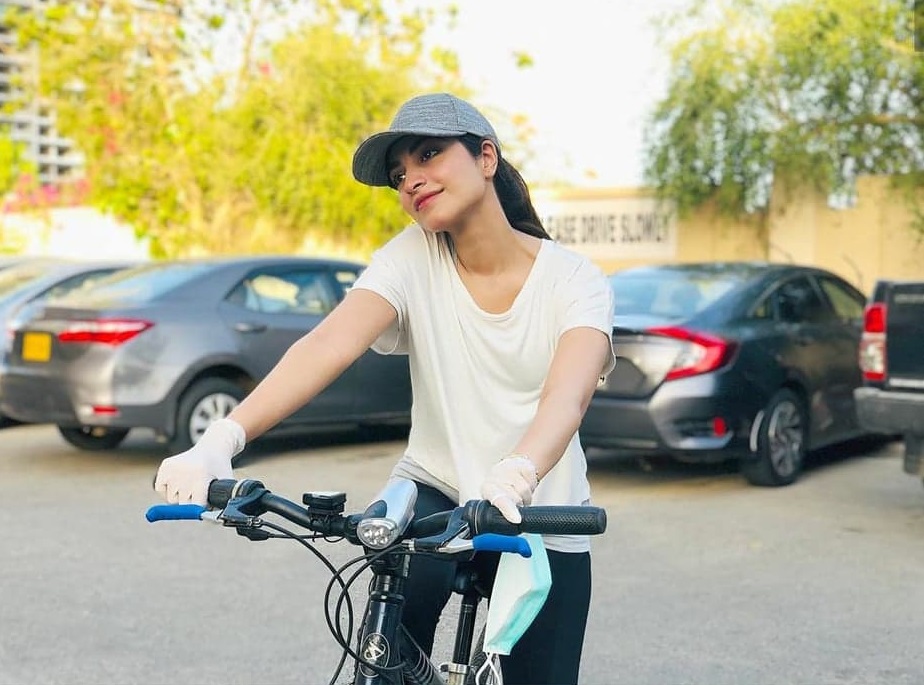 Naveed Raza
Naveed Raza has been working out at the terrace of his place during the night time. He continues to share one Insta story or the other every now and then which shows that he is not letting quarantine get in his way of fitness and he is not resorting to excuses either. Naveed Raza also happens to be going cycling, this is why he was seen in one of the pictures with Kinza Hashmi.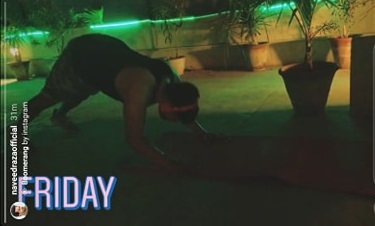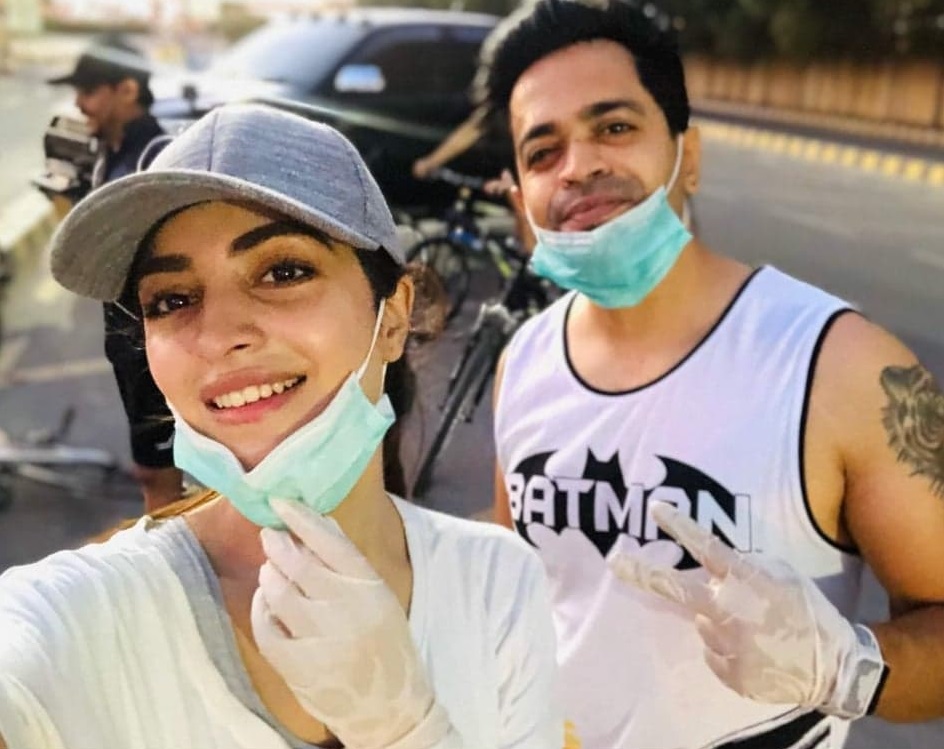 This concludes the list of all the celebrities who are working out during the quarantine and are making sure to share it all with their fans in order to motivate them as well. Feel free to share your opinion about the workout and fitness routines during the lockdown.