There's no doubt about the fact that we take our drama industry very seriously. Unabashedly proud of our actors, we love to follow their work, discuss their ventures, and critique their acting. It's just that when some actors blow you away with their flawless performances, and manage to retain their standards for quite some time, you begin to expect that these people can never go wrong. Much to our dismay, the quality of work our stars are settling for is anything but impressive. We keep giving their plays a go, in the hopes of being greeted by something refreshing and up to the mark, only to be met with disappointment.
Here's a list of actors who made their presence felt, set the bar high, but what got into them is anybody's guess!
• Fahad Mustafa
The party doesn't start without him! When I think of Fahad Mustafa, the first thing that comes to mind is his play, 'Main Abdul Qadir Hoon'. From the stuttering AQ, to the heartbroken, depressed but seemingly 'cool' dude, to the spiritually enlightened Abdul Qadir – Fahad Mustafa portrayed every facet of Abdul Qadir's personality and journey to absolute perfection, and it's his phenomenal performance because of which Abdul Qadir's spiritual transition is very close to many hearts.
Zain from Lahasil, Saadi from Wujood-e-Laraib, you name it, he nails it! And the fact that he chose to portray challenging characters that too when he was the new kid on the block speaks a lot about his talent and versatility. He has been a part of many plays like Aashti, Mastana Mahi, Bin Tere etc. He also played the leading role in Mera Saaein S2, and owning the role of the ruthlessly cold and dark Malik Shazmaan Wajahad Hayyat was no walk in the park but here again, Fahad Mustafa was a clear winner.
And what was next? Mawra's infamous siskiyan, rivulet of tears, a pair of saas and nund from HELL and a drunkard – yaad aya? Yaad rakhnay waala drama tou nahe, but I am sure the mazloomtareen viewers who sat through this play know very well what I am talking about. No points for guessing for we all know it's Ek Tamanna Lahasil Si, where Fahad Mustafa played an abusive husband wrapped around mummy's finger. I apologize for evoking some horrific memories of a play that makes you lose faith in blood ties, love and humanity.
We remember Fahad Mustafa's performance in Kankar, a play that dealt with the topic of domestic abuse, and though he played the abusive husband again, Kankar was definitely up to the mark. Sikandar's character was obviously not much likeable, but Fahad Mustafa was brilliant throughout the play, and as much as we despised Sikandar for what he did to Kiran, we could actually understand his mindset as to why he resorted to abuse to 'control' his wife.
Daagh was another ultra depressing play with a done to death tale of a woman, mocked and tortured for not giving birth to a son. Here again, Fahad Mustafa played an extremely selfish and insensitive husband. Daagh wasn't exactly a play I looked forward to, but with Sarmad Khoosat's direction, the play was not an utter disaster.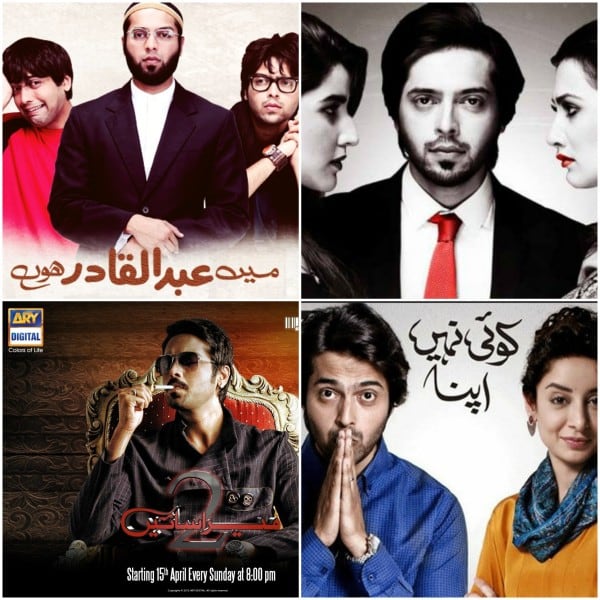 Being the forgiving audience that we most often are, we hadn't given up on Fahad Mustafa, sab bohat khush thay but then, Big Bang Productions happened! His very own production house didn't quite work for him. Koi Nahe Apna was a disaster in every sense of the word, and how can I ever forget the most inspirational character of 2k15 *drum roll* Hassan – this guy can twirl and love two women at the time, remember? I think the purpose of Dusri Biwi was to boost the confidence of all the men out there that you can cheat on your wife, lie through clenched teeth, enjoy the perks of having a dusri biwi, and rest assured you're bound to find your happy ending! Who cares about karma, anyway? Some actors manage to give a convincing performance even if they are playing an appalling character, but in Dusri Biwi, Fahad Mustafa's performance was lackluster right from the get go – do we blame him? From Main Abdul Qadir Hoon to Dusri Biwi – that's a heck of a jump, right?
Fahad Mustafa is one of the most well-liked hosts here, and currently he is hosting Jeeto Pakistan. I don't follow game shows and I don't have much of a problem as long as they spread smiles while taking care of the dignity and self-respect of the audience (do they?) but during channel surfing, I caught a glimpse of Fahad Mustafa calling a bunch of ladies, noting the weight of each woman, and giving the 'prize' to the heaviest of all, and just so you know, I cringe while I type this! I know some people love him as a host and I am sure they have a good reason for that, but since I am talking about what I have seen, I have to conclude that I wasn't impressed.
Dusri Biwi is supposed to be his last play (fingers crossed) because Fahad Mustafa wants to do films. I have come across mixed reviews for Namaloom Araad; some can't stop praising the movie for its spontaneous, well-timed humour while others can't help but point out the overall Bollywood feel of the film. If you have watched the film, let me know about Fahad Mustafa's performance in it.
• Ayesha Khan
And if I were to pick one star whose deteriorating standards have disappointed, or to speak the truth, infuriated me the most, it has to be Ayesha Khan. My love for Ayesha Khan dates back to PTV's megahit play, 'Mehndi' which dealt with the marital problems of four couples. I remember tuning in for Ayesha Khan – not only did she look absolutely gorgeous but her on-screen chemistry with Humayun Saeed was phenomenal! I still remember how our entire family used to wait for this play, and how we mourned the death of Humayun Saeed's character.
With dramas like Maanay Na Yeh Dil, Man-o-Salwa, Khuda Zameen Say Gaya Nahe, Ijazat, Bol Meri Machli, Parsa to her credit, Ayesha Khan became a household name.
Be it the heart-rending journey of a mother yearning for a glimpse of her children and her undeterred determination to reconcile with them (Vasl), or that of a British born, liberal young woman fighting to break free from the shackles of the staunch principles and barbaric practices of the tribal system in Balochistan (Tum Ho Ke Chup), Ayesha Khan's exceptional acting established her as an actress to watch out for.
Kaafir was a bold drama, but for a change, it was about a rape victim picking herself up. Izzat's character was complex but all through the play, it was evident that Ayesha Khan actually understood and owned the role she was given.
I didn't follow Kuch Pyar Ka Pagalpan so I can't comment on that but I did watch Bari Aapa, where Ayesha Khan played a supporting character, and though she was pretty convincing as the meek and docile Biwi No.2, she was overshadowed by the phenomenal performances of Sawera Nadeem, Nouman Ijaz and even Arjumand Raheem. Little did we know that this was the last time we were watching this doe-eyed beauty in a 'quality' play!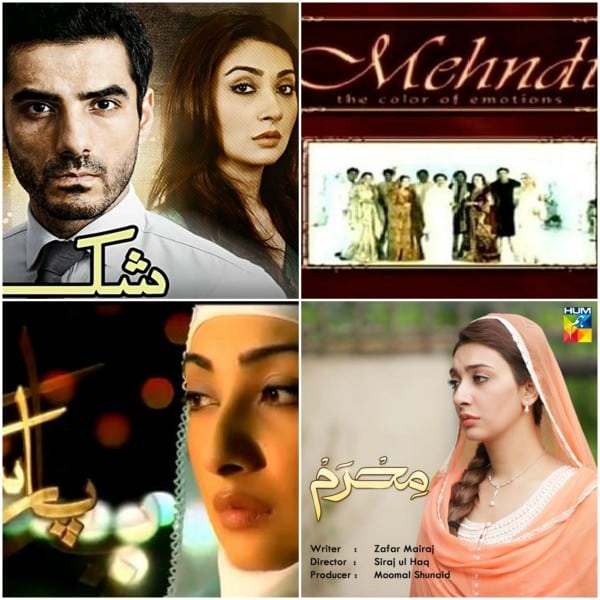 I started watching Maseeha, thinking that Ayesha Khan, Rubina Ashrad, Nouman Masood, ZQ in one frame – I mean, how bad can it be? Well, let's just say that I was fortunate enough to leave this play in the lurch! I do, however, remember watching the last episode just to see who turned out to be the titular 'savior' and the Maseeha in question was this blind old guy played by Javaid Sheikh, who, as far as I can recall, had nothing to do with the major part of the play.
And topping the list of lackluster plays is the infamous Mujhe Khuda Pay Yaqeen Hai. I won't go on about this for the obvious reasons but as comical this play was, it was sad to see Ayesha Khan's name associated with a drama that had nothing to offer.
Then of course, there was Shukk! Just so you know, I watched the first episode of Shukk thrice because everything about it was spot on- sound direction, perfect pace, fresh script, lovely background score and I wasn't sure about watching Ayesha and Adeel as a couple but it's their amazing chemistry that actually sealed the deal for me! What started off on such a strong note was reduced to yet another tale of two women fighting over a man, not for once realizing that they were better off without him.
We did see her in Waar, which was a brilliantly done, action-packed film, where Ayesha Khan was convincing as an intelligence officer who meant business – not sure about her accent though!
Ruthless abba? Check! Lamest case of love at first sight? Check! Embodiment of mazloomiat? Check! Excruciatingly slow pace? Check! Dusri biwi cliché? Double check! A combination of the worst things that can happen to a play, this work of art was HUM's Mehram!
What came next was a step mom from hell. This time around the title of the play warned the viewers about the awfully typical story – ARY's Soteli. Since we have had our fair share of Cinderellas and Snow Whites, our drama people decided to think outside the box, come up with something 'different' so this time around the stepmonster was out to torture her stepson. Praise where praise is due – no Cinderella here, they spared the girls!
You'd think that after a considerable list of disasters, this actress would now take a rest, rethink her choices and ask herself: why am I sabotaging my career? Right when we thought we'd seen enough, we got to witness something a zillion times worse than her previous disasters: Shart! Thankfully, I am not watching this play but from what I hear, it's basically all wannabes and maniacs in one frame, so I guess I am not missing much after all.
• Fawad Khan
I just had to include him in the list because sure, people are going gaga over him in India but I am afraid that after Humsafar and Zindagi Gulzar Hai, Fawad Khan didn't contribute much to his home industry.
I am not familiar with Fawad Khan's theatre work so I first saw him in Khuda Kay Liye, where he worked with some of the biggest names of the industry; Shoaib Mansoor, Shaan and Iman Ali. Shoaib Mansoor elicited a fine performance from Fawad Khan, and it would be fair to say that the performances of Shaan and Iman Ali, despite being powerful, didn't overshadow Fawad Khan's acting.
Then of course, the legendary duo of Hassan and Bano in everyone's favourite, Dastaan! Hassan's unwavering faith in the idea of the creation of Pakistan, his fervent participation in the activities of Muslim League, his unfailing love for Bano and the way he proved to be her pillar of strength – Fawad Khan nailed it! Needless to say, his sizzling chemistry with Sanam Baloch was one of the many factors that took this heart-wrenching dastaan to a whole new level. This was Fawad Khan at his best.
And it's impossible not to mention Humsafar here, which was, simply put, a game changer! I'm trying to fight back nostalgia here because I can't describe how much I miss those beautiful Saturdays with Asher and Khirad on my TV screen and Naseer Turabi's heart achingly beautiful 'Woh Humsafar Tha' playing in the background- ahh, magic! I mean, who nails chocolate hero sort roles better than Fawad Khan? People, or I should say, ladies had barely gotten over Humsafar's Asher Hussain when Zindagi Gulzar Hai's Zaroon Junaid made his entry to steal the show. HUM TV proved lucky for Fawad Khan because Dastaan, Humsafar, Zindagi Gulzar Hai – it is because of these dramas that Fawad Khan received recognition not only in Pakistan but on an international platform.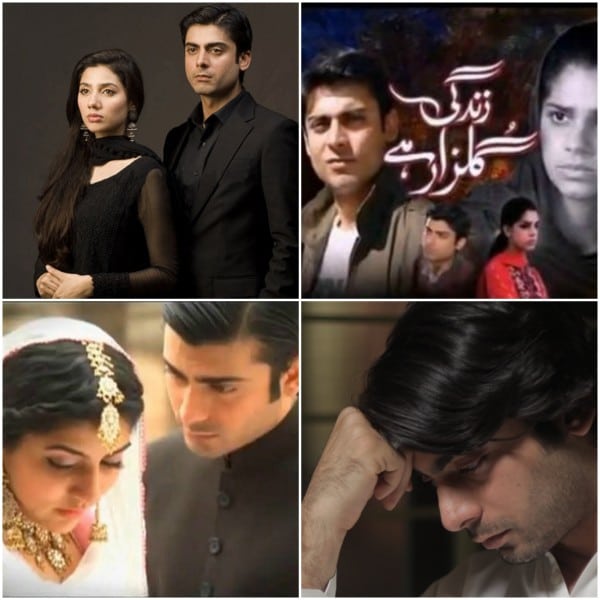 So what was next? A bucket of tears? Yup – Ashk and Numm! I happen to be one of the fortunate people who skipped both these plays, yayyy!
It's true that we saw Fawad Khan in Disney's Khoobsurat, but I am just discussing Pakistani content here. The chances of Fawad Khan appearing in a Pakistani serial are slim but if he does consider working here, I hope he opts for a quality project.
• Sanam Saeed
With a heavy heart, I announce that she too joins the list! Let's get one thing straight – Sanam Saeed is a woman of substance. Shazia from Mera Naseeb, Kashaf Murtaza from Zindagi Gulzar Hai and Bibi from Talkhiyan – all these women were fighters, not a word we usually get to use for female leads of our TV dramas because headstrong female characters have become a rarity. Sanam Saeed not only opted for such roles but also made sure that the viewers connect and relate to the journey of each of the strong willed lady she played.
She was awesome as Shazia in Mera Naseeb. I loved how Shazia always proved to be Nazia's pillar of support, how she supported her husband financially and emotionally, how she never shied away from voicing her thoughts on what she considered right or wrong, and what made her character memorable was Sanam Saeed's amazing performance. In Daam, Sanam Saeed played a negative character, and she definitely played her part well because we all despised Fizza!
In Zindagi Gulzar Hai, we saw how all the years of longing for her father's love and attention, and seeing her mother struggling to make ends meet made Kashaf cynical and thankless. The way Kashaf stood up to her father, the way she didn't resort to pretenses to survive in a university attended by girls and boys from affluent backgrounds, the way she proved her father wrong – the whole journey made quite an impact. Sanam Saeed was phenomenal, and Zindagi Gulzar Hai's thundering success was definitely a turning point in her career.
What was next? Kadoorat, what could have been a sensible and mature take on the psychological impact of coping with the loss of a parent and being introduced to a whole new step family out of the blue, was actually a carelessly penned story about a girl with a handful of rubber snakes from the nearest prop shop, trying everything within her power (just so you know, that includes snatching her step sister's boyfriend, getting her father married to her best friend and I almost forgot, the oldest trick in the book: poisoning her step mum's food!) to make the 'intruders' regret the day they stepped inside her house. I wonder why our plays fail to address psychological issues the way they should be addressed. Why do mental disorders and illnesses have to be viewed with such a superficial lens? Though this play was a disappointment, Sanam Saeed gave a power packed performance, and was brilliant as the cold and heartless Mina.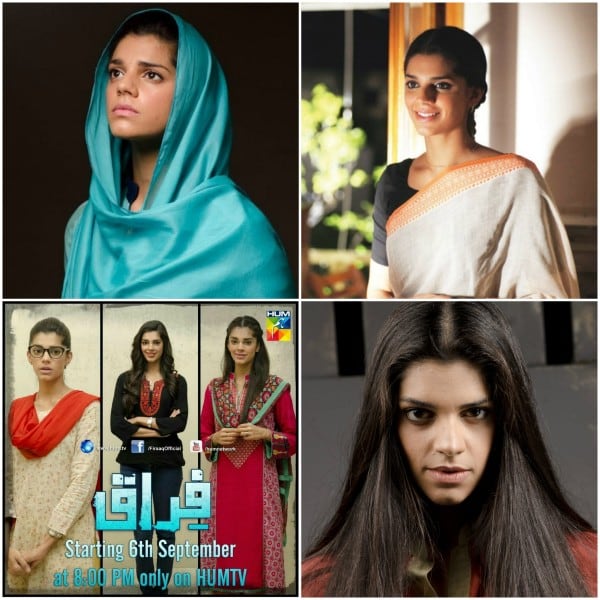 Sanam Saeed also appeared in drama serial Ek Kasak Reh Gaye (I wonder how people sat through it), and tele films like Tamanna Ki Tamanna and Kaheen Chand Sharma Na Jaye, which were a little underwhelming and didn't exactly hit the mark. I think many people enjoyed watching Tamanna Ki Tamanna but for me, the plot was a little too farfetched, logic-defying and over the top. In Kaheen Chand Sharma Na Jaye, Sanam Saeed played a double role, and though her portrayal of a male character was supposed to be funny and unique, it fell flat for me.
After playing so many headstrong characters, Sanam Saeed now chose to play the role of Biwi No.2 going head to head with Biwi No.1, and all this effort for winning over a man who's quite conveniently enjoying the show!
Someone as selective Sanam Saeed, opting for a play as senseless as Firaaq! Paymaan, the protagonist, was this extremely pheeki, baijaan, berung girl who… it shouldn't come as a surprise anymore because she too got in a Biwi No.1 vs. Biwi No.2 battle – the only difference being that Paymaan was Biwi No.1 while Sania in Shukk was Biwi No.2.
Right now, you can see Sanam Saeed in Diyar-e-Dil. I am not following Diyar-e-Dil, so I can't say much about her performance, but I am pleased that she opted for a decent play.
• Sarwat Gillani
Sanam Saeed's best friend from the industry makes it to the list too! Sarwat Gillani has taken a much needed break and I hope that she opts for better roles when she comes back.
Pretty, confident and immensely talented, Sarwat Gillani knows her way around. Only a handful of actresses can effortlessly slide into any role they take on, and Sarwat Gillani is definitely one of them. In Malal, the transition of Mahi from a naïve, devil-may-care young woman to a mature and responsible wife was on point, and Sawrat Gillani pulled it off with perfection. Her performance in Meri Zaat Zarra-e-Benishan was powerful, and she totally owned Sara's character. I remember watching her in 'Saiqa', where she was super cute as the innocent and gullible village girl.
Sarwat Gillani went on hiatus and when she came back, we saw her in a new look – she had gotten rid of her frizzy hair! She looked beautiful as ever, but bar a few exceptions, I wish we could say the same about her work. She was awesome as the cunning, dual faced Zoya in Dil-e-Muztar, and I loved her in Mata-e-Jaan, where she was lovely as Haniya – sweet, adorable, caring, wearing a constant amiable smile and very much in love! Apart from these characters, I'm afraid Sarwat Gillani didn't make the best of choices.
In Meray Dard Ko Jo Zubaan Milay, I liked Sarwat Gillani's chemistry with Alishba Yusuf, and they both looked perfect as two sisters who loved each other to bits. Sarwat Gillani played the elder sister, Amna, who was definitely a whole lot more likeable before she got married to Arooj (Sheheryaar Munawar), because right after that, the bubbly and cute Amna was nowhere to be seen and the story itself took a horrible turn – didn't like it one bit!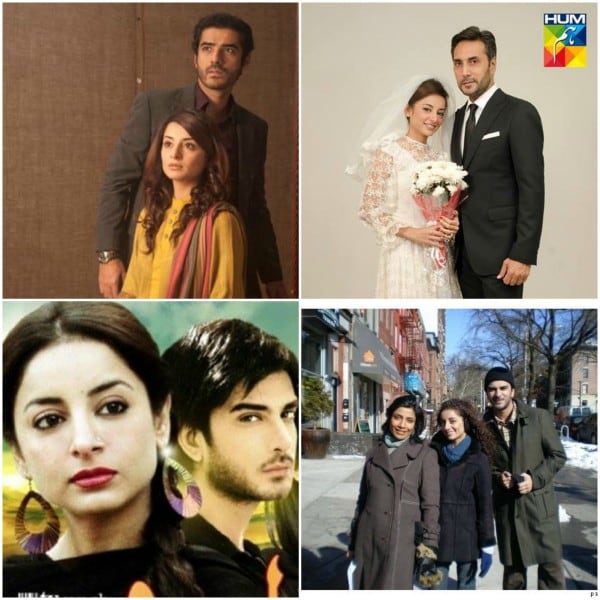 Be it the portrayal of a demanding, excruciatingly annoying wife in Koi Nahe Apna, or her saccharine romance with Zawaar and over the top tantrums in Aahista Aahista, it was evident that Sarwat Gillani herself couldn't care less about either of these characters and wanted the torture to end.
I am glad that she has taken a break and I really hope that she makes her comeback with a powerful play.
My list ends here, so in the end, I would like to make it clear that I understand the fact that some of you might be huge fans of the actors I mentioned and I didn't write this article with the intent to hurt the sentiments of any fandom. There's no doubt about the fact that the actors I mentioned above are extremely talented but it's just that their recent choices have been disappointing. I hope I didn't offend you guys, and I totally respect your opinion, so please feel free to disagree. Please voice your thoughts, and feel free to share more names to complete the list.
Maryam Mehdi