This episode just like the last one left me wanting to know more about both Rukhsana and Apa Ji! It has been well established after this latest installment that one thing that both these personalities have in common is that they do not like it when things don't go exactly the way they want. We found out today that Apa Ji raised both her brothers because their parents passed away. Since she dedicated her whole life to raising them she feels she is entitled to complete compliance from both of them. While Sharaft and his wife have not given Apa Ji any trouble till now, it looks like Wajaht and Saba are not going to be as obedient as them. The only reason Apa Ji turns to Sharifa for advice is that she knows that she is the only one who thinks exactly on the same lines as her and she will never say anything which would be against Apa Ji's wishes.
Apa Ji's conversation with Sharifa about how she would feel if her son fell in love with someone and later on the flashback scene in which she was shown "disciplining" Wajahat when he was a child showed how she felt about her brothers and how important it was for her to make sure that they always put her before anything else. Everything that Sharifa says actually reflects Apa's state of mind especially the part about brothers and sisters being more important than anyone else!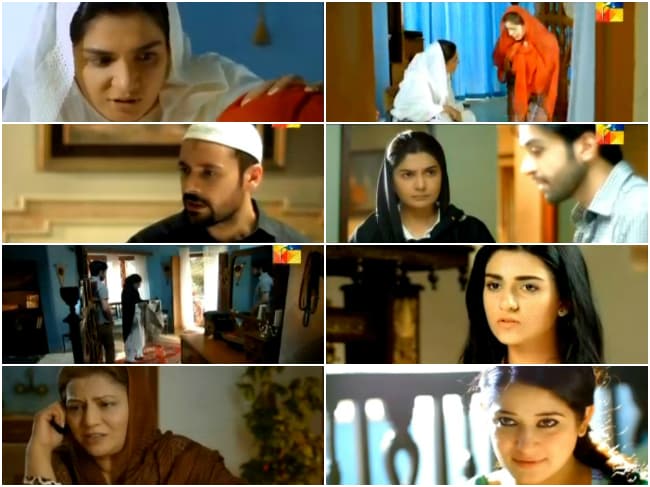 I must confess that I am not a big fan of Tipu Sharif but I like his outlook and the way he has translated his character on screen in this play. Sharafat will never question his Apa Ji's decision because he feels that he owes her that and much and more because of everything that she has done for him but at the same time he has a decent relationship with his wife perhaps because until now Samia has done everything she can to keep Apa Ji happy.
In this episode as well Iffat Omer stole the show yet again but it would be unfair if I do not give due credit to all the other actors who have given equally brilliant performances but not every character has the screen presence which Apa Ji's character has. I must say that I would have liked to see more of Rukhsana's character in tonight's episode but I guess the director wants to keep the mystery alive for a few more episodes.
The preview of the next episode showed that things are going to get even more complicated therefore I am wondering how this marriage will take place. Will Wajahat do something to change Apa Ji's mind? Something much more serious than crying? For now Iffat Omer remains the highlight of this drama and has given me reason to tune in to see more of her in the next episode which is only a day away! I think it is a very good idea to show these serials twice a week because that way the story moves forward quickly and even if the play isn't extraordinary you watch it for the good pace, acting and direction. I would give full marks to the director for short and to the point scenes. The story has been flowing very smoothly till now.
How many of you watched this latest installment? Do share your thoughts about it.
Fatima Awan