After watching Maula Jatt, I felt the need to watch a light-hearted film in order to make me feel 'good'. Maula Jatt was 'iconic' but the violence and the dark theme of the film were definitely not my cup of tea. I desperately wanted to watch something entertaining, definitely not dark, and most importantly original. Tich Button's trailers on the big screen during Maula Jatt screening promised just that! Before watching the movie, Faiza Iftikhar's script was one thing I was most excited about because she is known for her engaging stories and powerful dialogues that do not go overboard. Personally, I always prefer watching films that entertain and have smooth screenplay. Also, a romantic comedy should definitely be visually pleasing and not entirely mindless entertainment. Kamli and Maula Jatt both were completely different genres and even though both the films fit the bill, I did not even want to pen down a review after watching them because they were "too taxing".
Honestly speaking, I had my serious reservations about Farhan Saeed as the leading man in his debut production only because of the fact that we have seen him in Pakistani dramas back-to-back so often lately that I was not sure if he would actually stand out as a 'movie star'. I have not watched Feroze Khan perform on the big screen before therefore I was 'curious' to find out how he would perform. I must say that after watching this movie, I would request Feroze Khan to stick to dramas.
Tich Button, overall, pleasantly surprised in many ways; thoroughly entertaining for sure but also utterly disappointing in some ways. Farhan Saeed is hands down the star of this particular movie. The comic element is also an all-out winner. Tich Button is the kind of film that will make you laugh and cry at the same time. It is a commercial film therefore not 'brand new' or 'experimental'; it is a typical commercial film with all the right ingredients. Some of the scenes may not live up to your expectations but there are so many that will.
Writer: Faiza Iftikhar
Director: Qasim Ali Mureed
Producers: Jerjees Seja, Urwa Hocane, Farhan Saeed, Salman Iqbal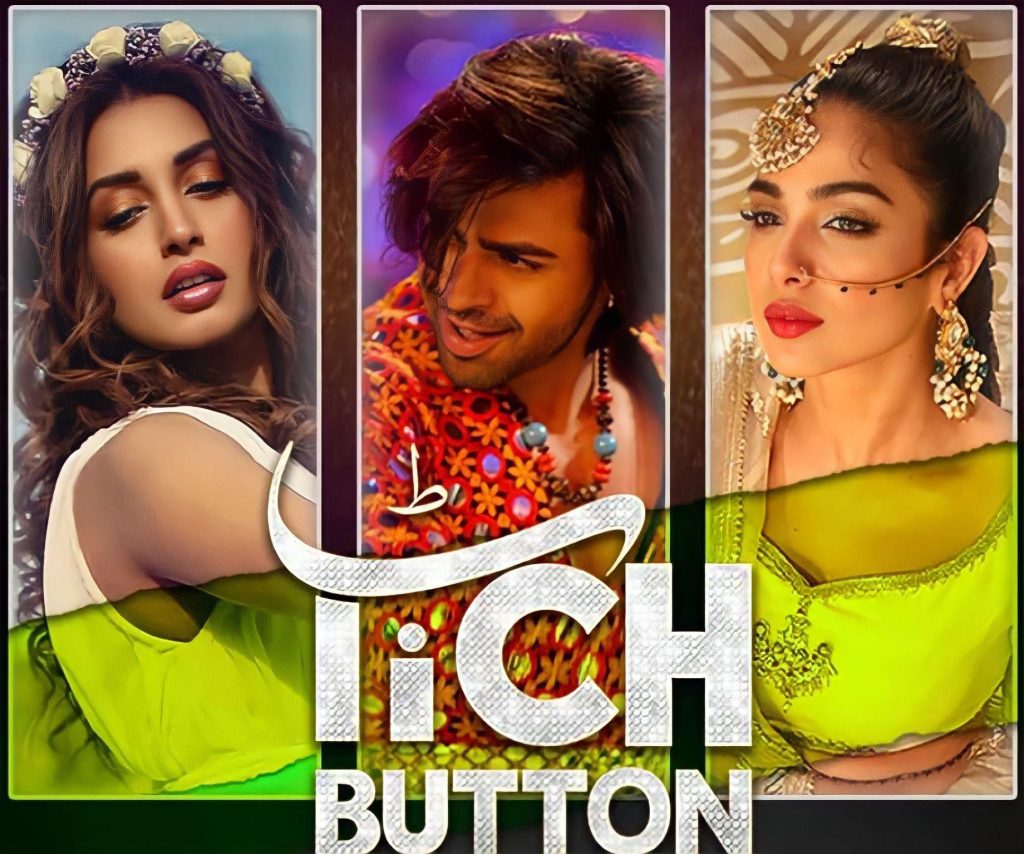 Full Marks for Comic and Emotional Quotient
Tich Button's plot revolves around a 'typical' Punjabi family based in Noor Haveli located in rural Punjab. Each character in this family stands out in their own way. It is also the story of a friendship that is for the most part one-sided. The main lead "kaka" (Farhan Saeed) has an emotional backstory and is the most likable character in the movie. The most interesting element of this movie is that the makers managed to strike the perfect balance between emotional drama and comedy. Even in the most serious situations, there is something comical that makes these moments light-hearted, with the exception of a few scenes. Leena (Iman Aly) and Kaka's love story definitely hit on a different level. Shakeela and Saqib do not fit the bill in the same way these two do. There are two obvious reasons for that, firstly, Shakeela and Saqib do not have the kind of backstory that Kaka and Leena do. The characterizations are poles apart and so are the performances.
Family ties are dramatic at times but they also add a much-needed emotional element to the story. Every character surprises in some way for instance daadi's scene after she gets high. That scene made me laugh so hard! There are so many one-liners from these older supporting characters that are both relatable and hilarious. Kaka and Leena's characterizations are on point throughout and their journeys keep you hooked.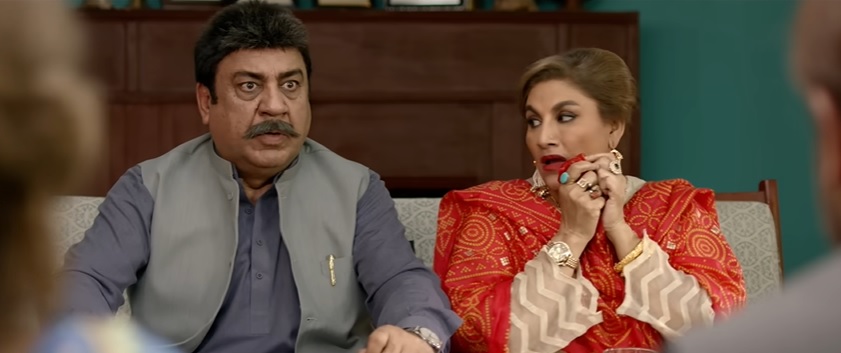 Performances and Casting
Casting plays a major role in making or breaking a character on-screen. Farhan Saeed was the perfect choice for playing Kaka's role. Everything from his dialogue delivery to his comic timing is flawless throughout. He also made sure that he looked equally good in the dance number featuring him in a modern avatar. He fits every single shade of this character so well that he remains the undisputed star of the show till the end. Iman Ali looks gorgeous in the movie throughout and she gave a decent performance. Her character had a lot going for it but she failed to add that extra bit to it which could have made a huge difference. Farhan Saeed and Iman Ali's on-screen chemistry definitely saved the day. There were instances when she was adorable as Leena and then there were times when she came across as superfluous even though the character was anything but that. It would be safe to say that Iman's good looks and the way the character was written are the two main attractions, her performance was a hit and a miss.
Feroze Khan can easily be termed as the weakest link in the movie and his performance is the biggest disappointment. Even though the character itself is not likable but it had enough going for it to make an impact. It is one of the leading characters in the movie yet there isn't a single scene in which Feroze's performance makes you relate to Saqib's emotions. Feroze Khan's accent changes multiple times in every scene. He is a complete misfit as Saqib and most importantly it seems as if he did not take this role seriously. He lacks the kind of presence which is needed to make an actor stand out as a leading character on the big screen. This makes me wonder why the producers decided to cast him in this role! Apart from Feroze Khan, Sonya Hussyn's performance is also not as good as it has been in some of her dramas. In most of the scenes, she was trying too hard although she is completely capable of giving a decent performance. Her performance is anything but effortless and she is the only actor in the film whose acting is not organic.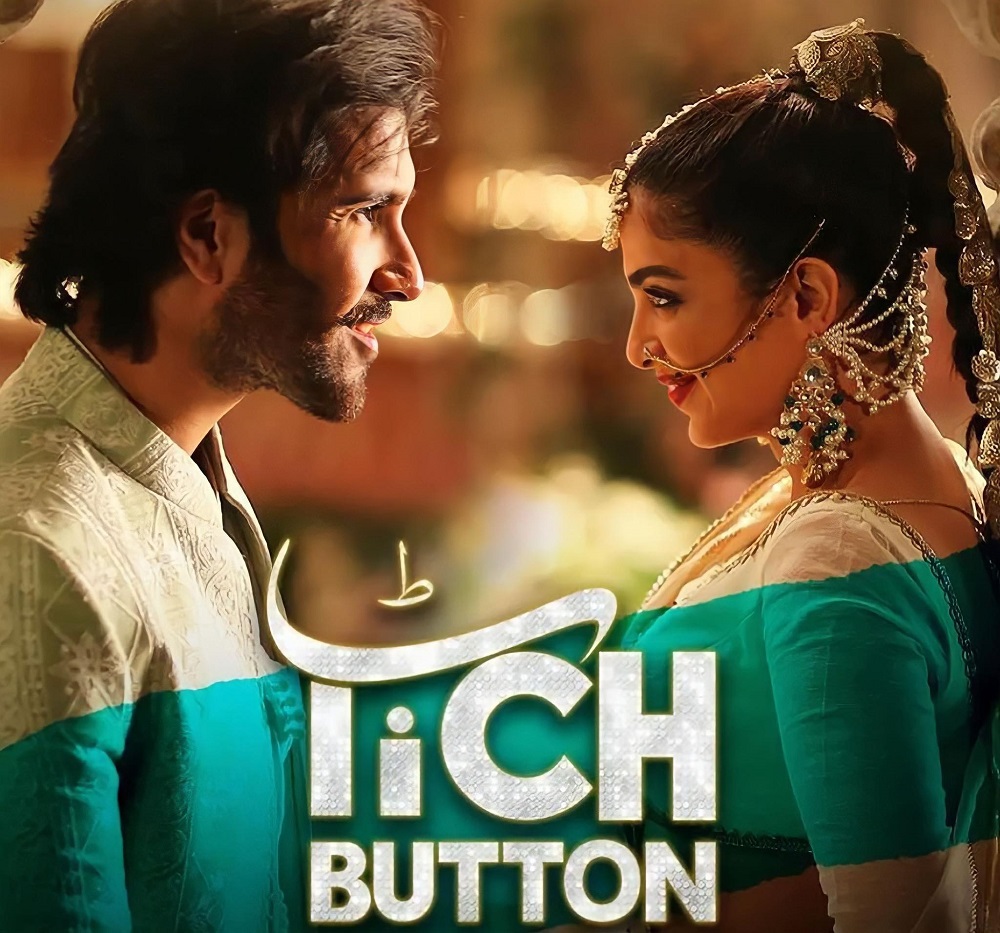 Raheela Agha is amazing as the daadi with a lot of personality. Although she got limited screen time, she stood out in every single scene. Similarly, Humaira Ali and Gul-e-Rana are thoroughly entertaining in their respective roles. All these actresses do exactly what they needed to without going overboard. Ali Sikandar is also perfect for the role he played in the movie. Sohail Ahmed is another powerful performer who never fails to impress.
Music, Choreography, and Wardrobe
My favorite songs from Tich Button have to be Pretty Face and Ehsaan Hai Tumhara. Pretty Face is an upbeat dance number that is choreographed, performed, and shot brilliantly. Ehsaan Hai Tumhara is a beautiful romantic song that showed Kaka in a different get-up altogether. Farhan Saeed has sung this song beautifully and it was shot well too. Urwa Hocane impressed and surprised me with both her performance and screen presence.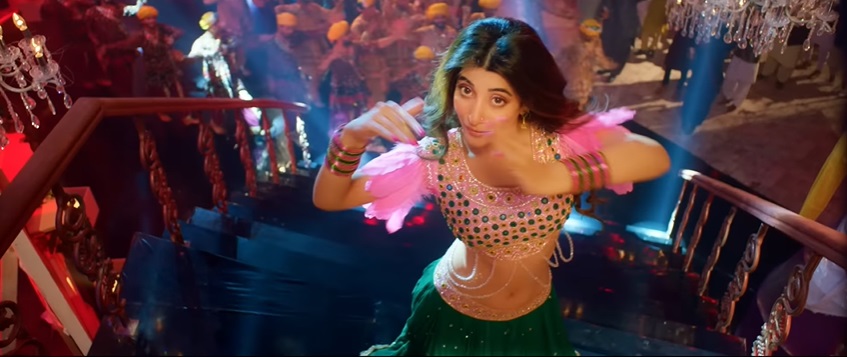 Farhan Saeed's wardrobe is perfect throughout; whether it is the movie in general or the songs in particular. Urwa Hocane's wardrobe for her dance number was also gorgeous. Feroze Khan's is seen wearing some of the most basic and at times unimpressive outfits. Sonya Hussyn's dresses turn out to be the biggest disappointment in every way. She did not wear a single well-stitched and designed outfit in the entire film although Shakeela belonged to an affluent background, her dresses told a completely different story! Iman Aly is seen playing it safe for the most part but whenever she is seen wearing Eastern dresses, they were ill-fitted. These wardrobe malfunctions prove to be an unnecessary distraction. Farhan Saeed is the only lead actor whose clothes fit him well.
Direction, Photography, and Editing
For the most part, Tich Button serves as a visual treat and shows the actual beauty of Punjab's rural areas. Qasim Ali Mureed's direction impresses more than it disappoints. He stayed true to the script by giving most of the scenes the right treatment. He made sure that Tich Button turns out to be a colorful, vibrant, and visually appealing film which I personally loved. A good script needs the right treatment otherwise it does not leave an impact. Some of the scenes were shot brilliantly, and the camerawork was impressive mostly but there were a few scenes at the end of the movie in particular which were not up to the mark. The scene covering Kaka's emotional exit from his house was definitely not the best. The camera work and even some of the reactions could have been far better. Leena's dry clothes and hair after she had been standing outside in the rain, after Kaka was meted out the worst treatment by his family, took away the impact from this scene. Also, the prolonged fighting scene, in the end, could have been better edited and directed.
The Verdict
Tich Button is a well-made film that entertains throughout. I am truly looking forward to watching more from Urwa Hocane and Farhan Saeed in the future. Tich Button would have been even more entertaining if some of the scenes at the end would have been chopped down and Feroze Khan was not chosen to play Saqib's role. Even though the plot and storyline are not new, the script and the treatment given to it are definitely original. You do not get the been-there-seen-that vibe while watching the film even though a lot of what you see has been done before in Bollywood and Lollywood films. The wardrobe, sets, and acting styles are not copied from other movies which I thought was a big step in the right direction. The producers and the director had enough faith in themselves and it shows in the final result. We have seen many romantic films failing in the past because of weak storylines and poor performances. It can safely be stated that Farhan Saeed saved the day and made up for the highly unimpressive performances by Feroze Khan and an average performance by Iman Ali.
Tich Button's entertainment value proves that even a simple film can hit the right chords if the script is well-written and some of the characters stand out. Tich Button is a must-watch for those viewers who want to watch something light, comic, dramatic, and visually appealing. It has enough substance to keep you hooked and you will walk out of the cinema hall thoroughly entertained.