Eid ul Azha was celebrated in Pakistan today and just like every Eid, our celebrities celebrated this one in full swing as well. All the celebrities not only shared their pictures but made an extra effort to extend love and well-wishes to their fans as well as the Kashmiri Muslims. During Eid, our celebrities get to showcase their personal style and fashion, which is purely based on their personal choice because that is what they wear with pride and joy. Eid pictures of all the celebrities are always well-received by fans and followers because they get to see and learn what their favorite people enjoy wearing and what kind of style and vibe they went for during Eid. Eid styling and looks are purely achieved by the celebrities personally and it is always amazing to see them putting in so much of effort to celebrate this Islamic festivity with a lot of zeal and zest.
This Eid, the main choice of colors that the celebrities were seen wearing were pastels. These pastel shades not only looked soothing to the eyes but seemed to be the perfect option considering the hot and humid weather of Pakistan. Most of the actresses wore light and earthy shades whereas some of them relied on bright and vibrant colors too.
Here are the Top 10 looks of Pakistani actresses that really stood out this Eid, however, the list is in no particular order:
Nimra Khan:
Nimra Khan has celebrated this Eid in London but that did not hold her back from going for a traditional Pakistani look. Nimra Khan is wearing a gorgeous White and Gold dress by Agha Noor. Nimra has gone for loose curls and very minimal fresh makeup look. Nimra also didn't opt for a heavy jewellery. She wore dangling earrings and a statement bangle with a few rings. Nimra Khan chose a perfect style for this look because she let her beautiful outfit do the talking for her.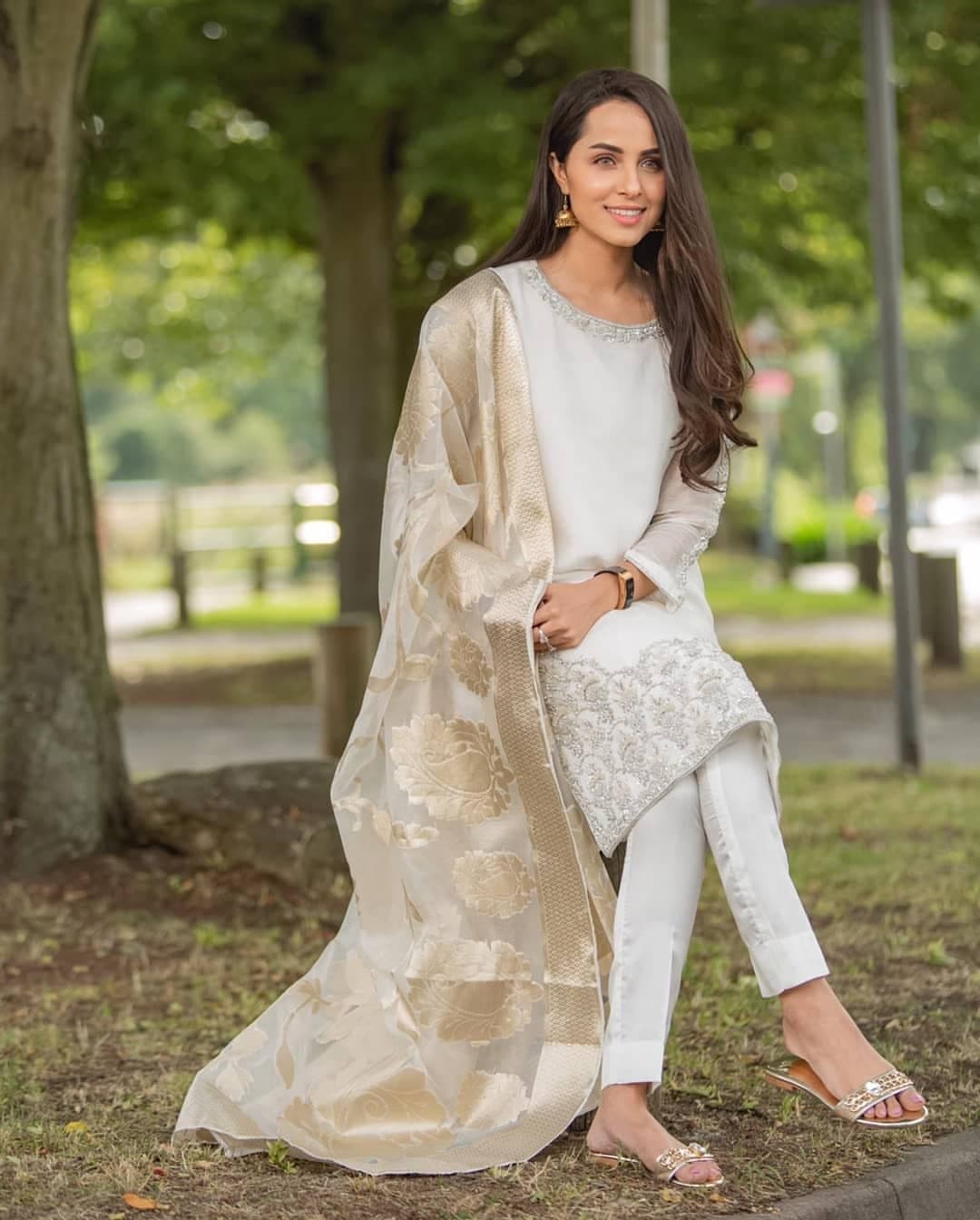 Sumbul Iqbal:
Sumbul Iqbal has a unique taste in styling herself and this time around, she opted for a very different look too. Sumbul Iqbal went for a bold and bright red outfit by Cross Stitch. It is a short shirt and a flared shalwar with sap green dupatta. Sumbul Iqbal also didn't go for a lighter makeup look, instead she kept her skin fresh but opted for a smokey eye and it looks gorgeous on her. However, she really didn't go for heavy jewellery but the statement earrings are completing the look perfectly.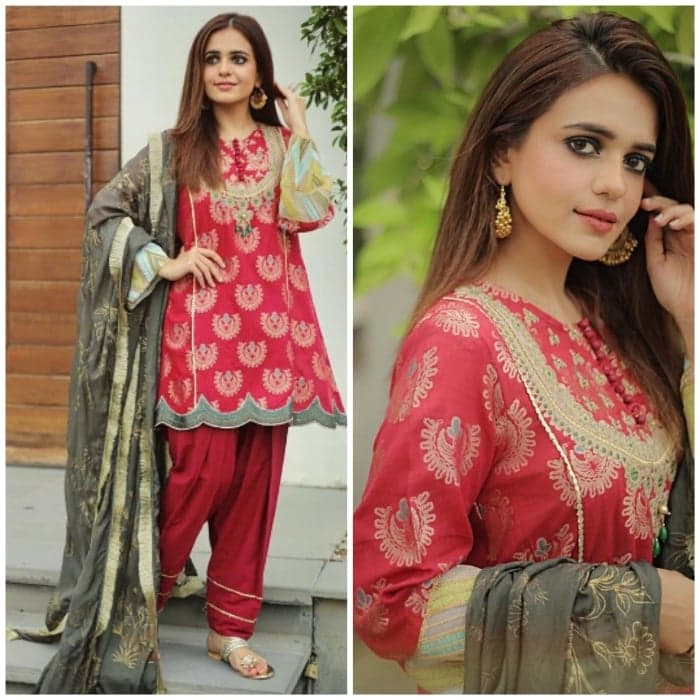 Mansha Pasha:
Mansha Pasha is looking absolutely gorgeous in this peach outfit by Ammara Khan. Mansha has also gone for a very effortless minimal makeup look. The white dupatta is complementing the white embroidery on the outfit but it is also making her dress look summer-appropriate. Mansha Pasha has worn a very fresh face of makeup and statement earrings are adding that pop of festiveness to her look. Mansha has let her hair loose and she, in true sense looks like a natural beauty.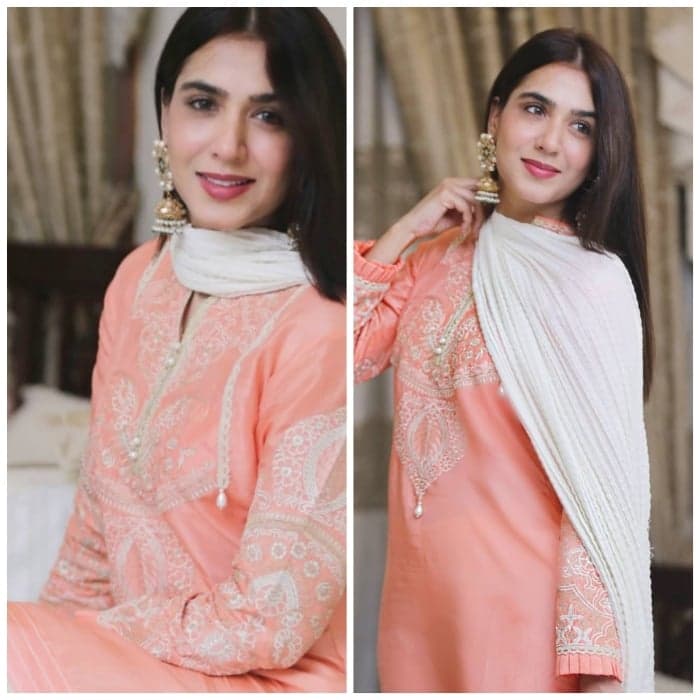 Sadia Khan:
Sadia Khan looks like a vision in this yellow outfit with gold embellishments. The dress has a criss cross pattern in both the dupatta as well as the embellishment and despite being such a graphic pattern, it still looks very chic and soft. This beautiful shade of yellow is complimenting Sadia Khan's complexion a lot. Sadia Khan has also gone for simple side-parted hair and fresh face of makeup with kohl'ed eyes. Sadia Khan looks absolutely stunning in such a simple but beautiful dress.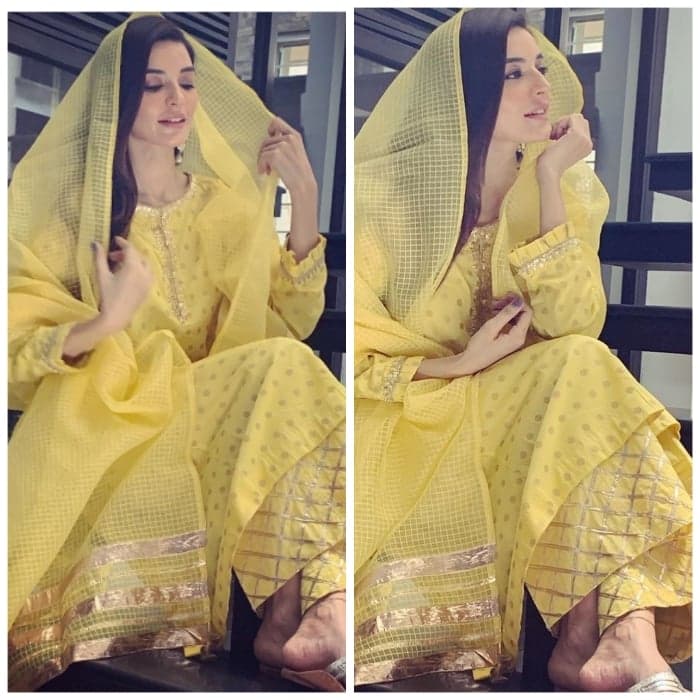 Maya Ali:
Maya Ali looks like a vision in this beautiful black and gold outfit designed by Faiza Saqlain. Maya Ali has been heavily promoting her movie Paray Hut Love which is releasing this eid, that is why her attire is a little more on the heavier side but it looks beautiful. Maya Ali is wearing a full face of makeup and has gone for smokey eyes. Maya has also not relied a lot on the jewellery but statement earrings are giving her a perfect look. Maya Ali has center-parted her hair and it compliments her face shape. This outfit is not only traditional and heavy but the color combination of black and gold is a classic which can never ever go wrong.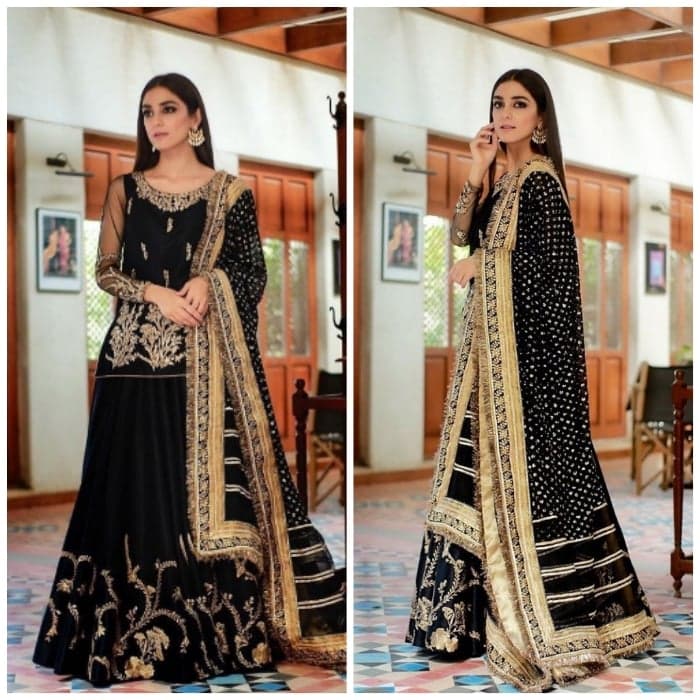 Zara Noor Abbas:
Zara Noor Abbas is dressed in Umar Syed's creation. This beautiful and heavily embellished dress of neutral shades is a work of art, but then it is given when a dress is designed by Umar Syed. Zara Noor Abbas looks radiant in this dress and despite it being monotone, it is still heavy and Eid appropriate. Zara has gone for an updo with dark smokey eyes and minimal jewelry. Since the dress doesn't have much color, dark eyed makeup look is perfect with it. Zara Noor Abbas seems to be in love with this dress that is why she has posted the pictures which are focused on the dress only.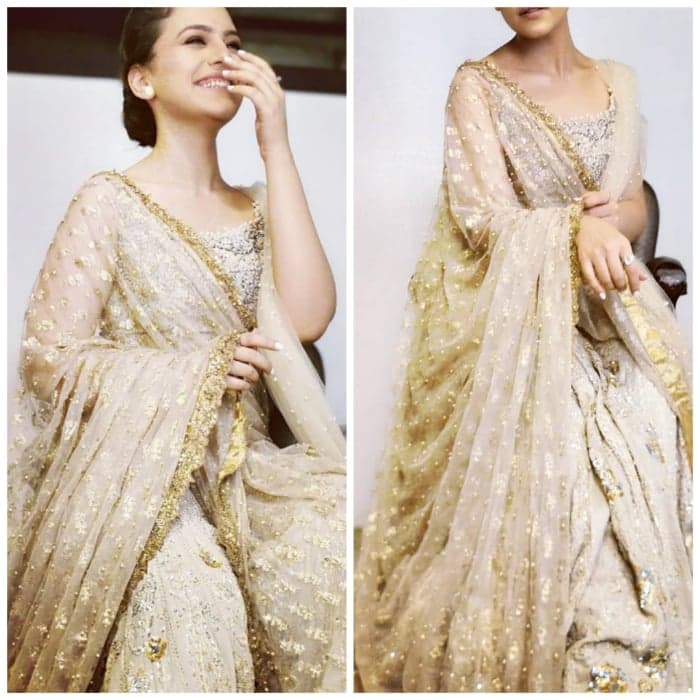 Saboor Aly:
Saboor Aly is wearing a Hira Ali creation which is not only perfect for Eid but is so appealing to look at. This dress has perfect amount of color but it still is a perfect wear for this hot and humid weather. Saboor Aly seems to be enjoying this beautiful dress and to kill the heat, she is seen enjoying a lemonade too. Baby blue top, golden flared bottoms and a gorgeous shade of turquoise dupatta, this dress is a beautiful creation. Saboor Aly has kept her styling minimal too and she has let the dress shine in its glory. Simple earrings, basic hairstyle but a radiant skin and million dollar smile, that's all that Saboor Aly is embodying this Eid.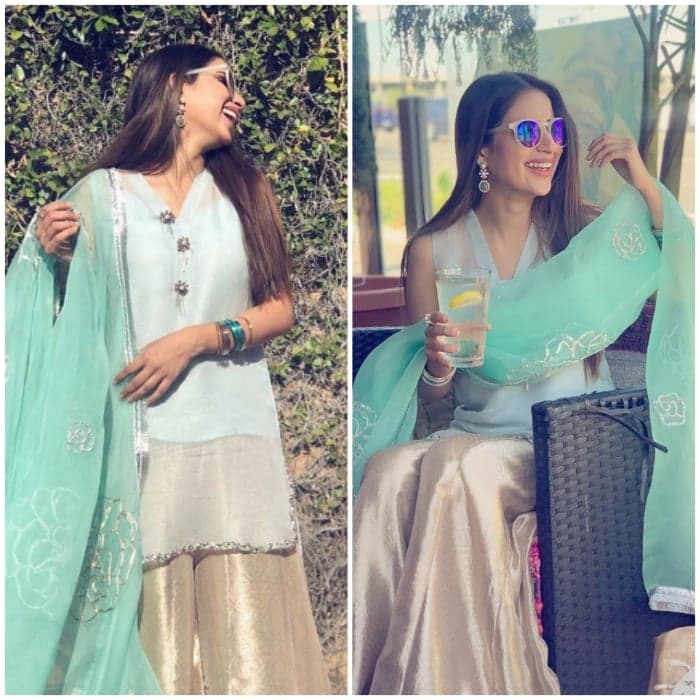 Mawra Hocane:
Mawra Hocane is wearing a gorgeous dress by Elan. The combination of this dress is not only unique but the fabric seems to be a perfect choice for the hot and humid weather. A dress like this actually allows you to enjoy the festivity of Eid irrespective of what the temperature is. A gorgeous yellow shirt, olive green dupatta and white flared bottoms with polka dotted gold is an amazing creation of Elan. Mawra has gone for a basic updo, fresh face of makeup which she usually does and basic jewellery, but still she looks stunningly Eid ready. Mawra's makeup mostly revolves around a flush of color on her cheeks and this is what she has gone for this time around too and we are complimenting her yet again.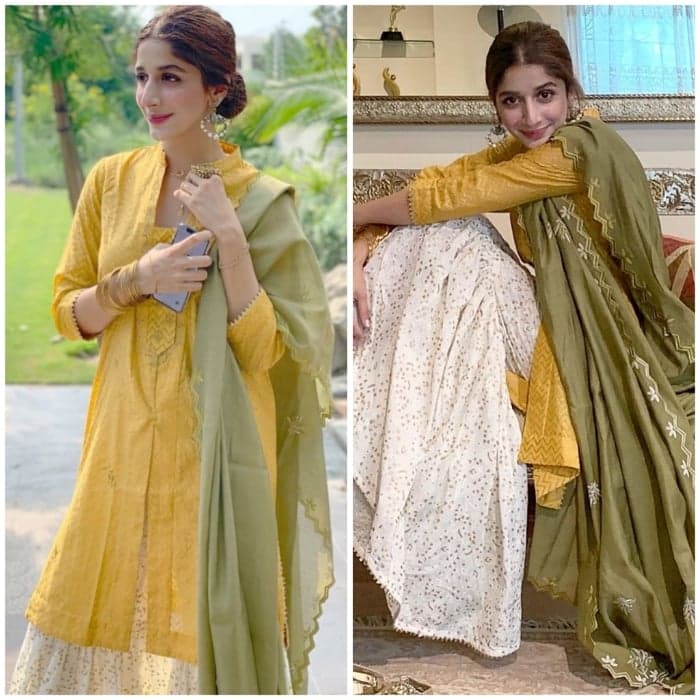 Urwa Hocane:
Urwa Hocane is dressed in a beautiful outfit of Saira Rizwan. It is a neutral shade though but the shalwar kameez itself is heavily embellished. Urwa Hocane like her usual self has gone for a basic hair and makeup look but she has gone for a full set of bangles and earrings. This beautiful shalwar kameez is a perfect Eid outfit because it has enough embellishment to make it festival-appropriate. This entire outfit has given Urwa a casual chic kind of vibe and that is usually the look Urwa carries, that is why she looks so comfortable and radiant.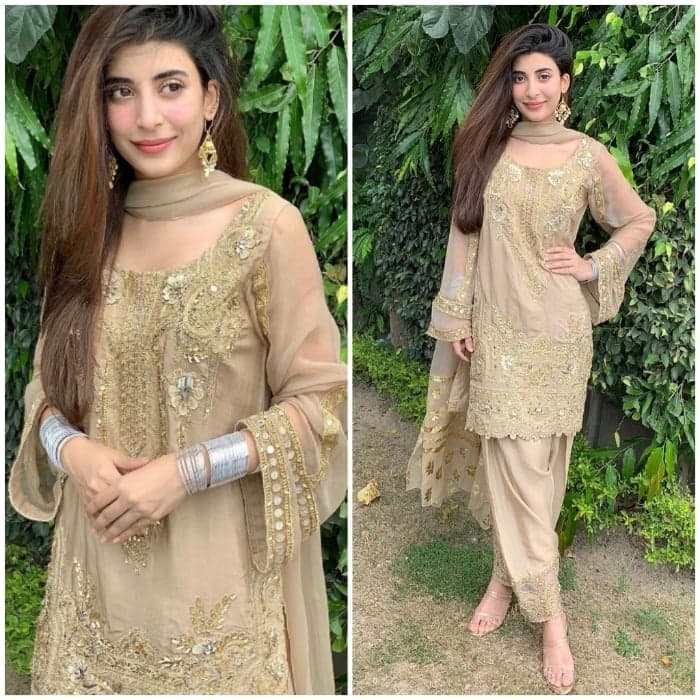 Saba Qamar Zaman:
Even though Saba Qamar shared the picture of this outfit on Chand Raat but it is gorgeous enough to get her added to this list. This beautiful plum purple dress is by Saira Rizwan and it is absolutely stunning. This dress is a basic plain monotoned lehanga choli but the dupatta is what is the selling point of this dress. Saba Qamar has gone for a very sophisticated yet stylish look to pair with it. She has gone for an updo, a kohl'ed eye and mauve plum lips. Saba not only looks like a diva but she has taken Eid styling to another level.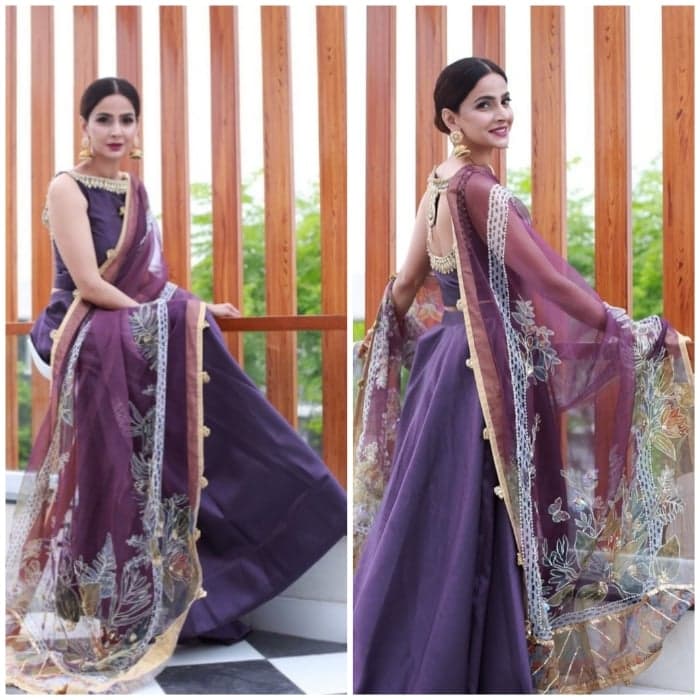 Please share your thoughts about these beautiful looks carried by Pakistani actresses on Eid ul Azha and feel free to add more names to the list as well.