Pakistani drama writers and producers always focus a great deal on giving their viewers appealing on-screen couples. The best on-screen couples are those who have the most engaging stories to tell. These on-screen couples might not always have the ideal tracks but they make you root for them nevertheless. These are those characters that keep you involved and looking forward to more. Another contributing factor is the actors playing the roles and the chemistry they share. No matter how well-written a track is, it falls flat if the actors involved do not look like they are connected to each other at some level. On-screen chemistry is undeniably the most important factor. Some actors naturally share great on-screen chemistry and when such actors share screen space, there are bound to be fireworks.
Having said that, one cannot deny the importance of a well-written script. Black and white characters and run-of-the-mill love stories do not have the same impact on the viewers now because the drama-watching audience has so much to choose from. Therefore, love stories that are convincing as well as enticing and characters that are intriguing play a major role in making these on-screen couples a hit.
In the year 2021, we got to watch quite a few love stories that were unconventional and appealing. Gradually the writers have started using these love stories to highlight certain social issues.
Here is a list of the top 15 on-screen couples from Pakistani dramas that aired in 2021:
Noor and Nasir (Aakhir Kab Tak)
Aakhir Kab Tak has the most refreshing characters and the on-screen couples in this drama are also a breath of fresh air. Noor is a strong, independent young lady with an interesting personality. The character on its own has so much going for it. Nasir kept the viewers guessing and amused right from the start. Even with his flawed ways, he was always a likable character. The best thing about this on-screen couple is the way their track was taken forward without it being over-dramatic but definitely effective. Also, Noor and Nasir both compliment each other.
Ever since Noor and Nasir have met, they have taught each other a few things which have helped shape up their personalities. Both of them are smart individuals who make a great team. Ushna Shah and Adeel Hussein's on-screen chemistry as well as their performances contribute to making Noor and Nasir an on-screen couple you don't just root for but also enjoy watching on-screen. Both these actors have done a great job of showing just how happy Noor and Nasir are together. We find ourselves looking forward to their scenes since Ushna and Adeel make these scenes an absolute treat to watch every single time.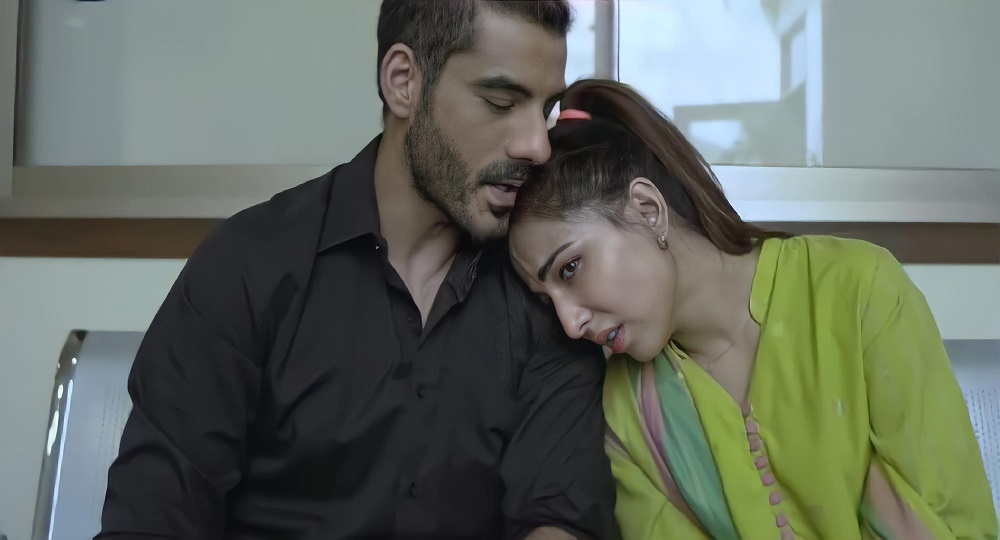 Fajar and Saim (Aakhir Kab Tak)
Fajar and Saim are another one of our favorite on-screen couples from Aakhir Kab Tak. They are meant to be together even though their married life has been anything but perfect. Saim and Fajar's marriage was a classic case of arranged marriage however whatever ensued made them a couple worth rooting for. Fajar's character has been used effectively by the writer to highlight how bad parenting affects a girl child. The fact that she was violated by someone she trusted so much further took her confidence away. While Fajar is like a scared child, Saim is a caring and independent young man who right from the beginning accepted Fajar with all her vulnerabilities and shortcomings. Saim's character itself is an extremely likable one since he is one of the few positive male leads we watched in dramas this year.
Srha Asghar is playing a character entirely different from the one she played in Pyar Ke Sadqay yet she makes you feel for Fajar effortlessly. Haroon Rashid has played similar characters before but the fact is that liking Saim comes naturally! Together these two are the most lovable on-screen couple even with all their struggles. They look great together, their characters have been written so well and the amazing on-screen chemistry definitely adds to the appeal. We really hope that they get the happy ending they rightly deserve.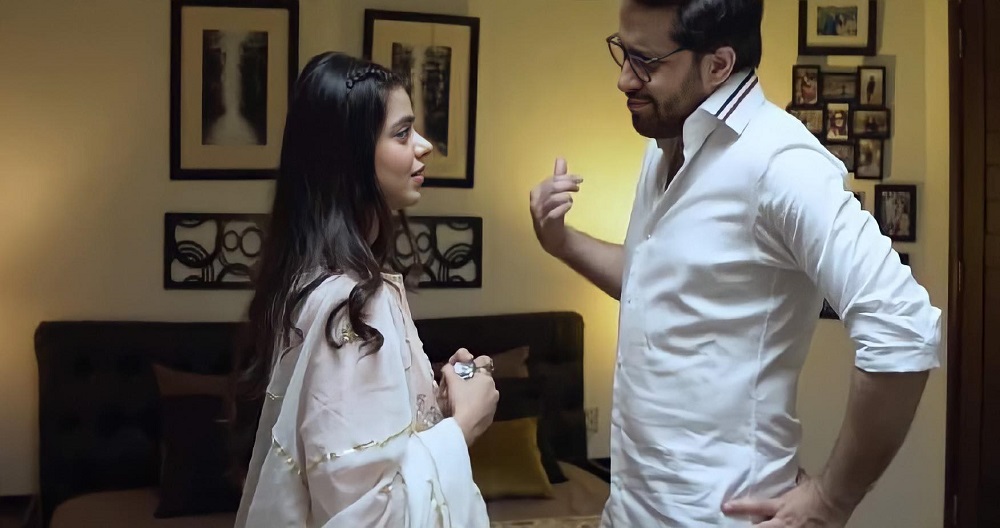 Hajra and Maqsood (Raqeeb Se)
Raqeeb Se was a drama unlike any other, therefore Hajra and Maqsood's love story was also the most unconventional one we watched this year. Hajra and Maqsood shared a bond that was difficult to understand at times but as the story progressed, this relationship made the viewers fall in love with this unusual on-screen couple. Hajra was always the one who went out of her way to shower her love for Maqsood, while he had to 'learn' how to love her! Their track had the most beautiful ending since it was a coming-of-age story. There were times when the viewers thought that Maqsood did not deserve to be loved by someone as caring and sensitive as Hajra but gradually everything started making sense to everyone.
Sania Saeed and Noman Ijaz both were powerful performers who have worked together more than once. However, this time around their union was more powerful than ever before. Their performances and the way they breathed life into Hajra and Maqsood's track were beyond remarkable.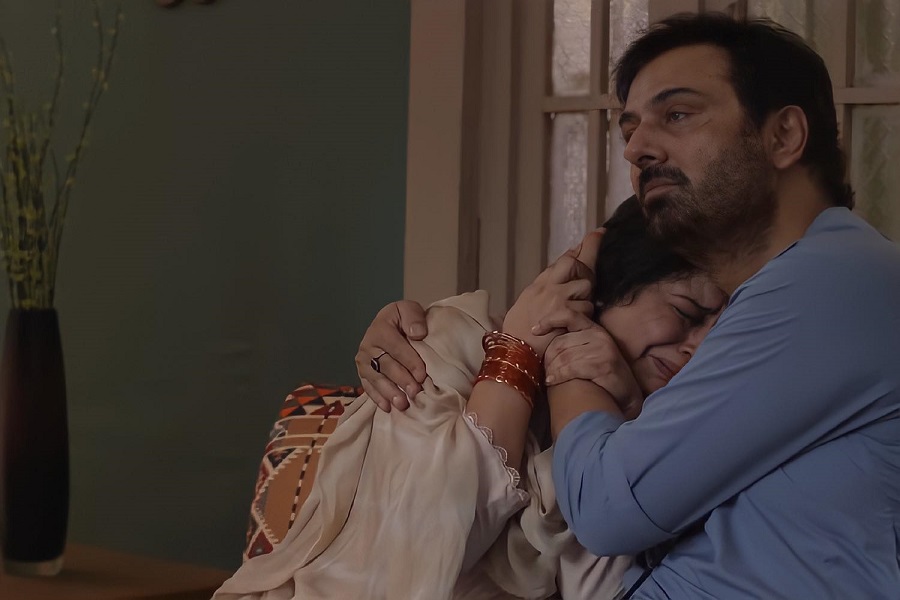 Falak and Shams (Laapata)
It won't be wrong to say that the drama serial Laapata had the kind of electrifying chemistry rarely seen on Pakistani television. Sarah Khan and Ali Rehman played the characters of Falak and Shams. Although right from the beginning it was established that they two were madly in love with each other, their feelings towards each other were elaborated in a crisp and magical way. They both went through a lot and kind of parted ways but the love they had was so strong that it brought them back together. The writer/director deserves credit for bringing this kind of relationship which stood the test of time and making sure to have it conveyed through the actors brilliantly.
Falak and Shams had so many special moments where they made sure to each other know what this relationship meant to them. They both were poles apart with Falak always very driven and focused and Shams being laid-back with no aspirations as such, but it also showed that they love they had brought out the best in Shams, who had lost track and was clueless for the longest time. The way they teased each other, expressed their love, created certain moments, and cherished their beautiful memories was absolutely sweet and made watching Laapata a lot more interesting.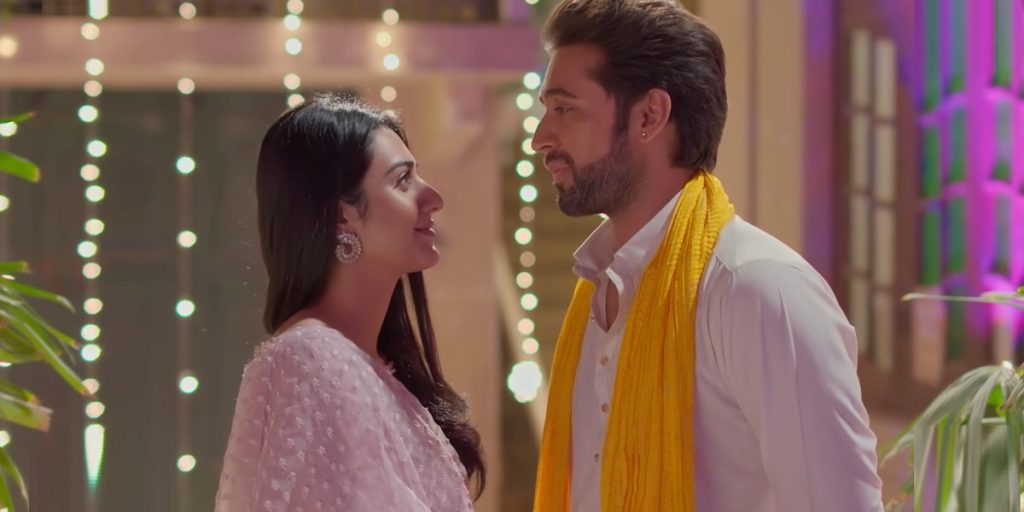 Ahsan and Zubaida (Pardes)
It won't be wrong to say that the most engaging aspect of the drama serial, especially in the initial stages was the relationship of Ahsan and Zubaida, played beautifully by Sarmad Sultan Khoosat and Shaista Lodhi. It was actually quite endearing to see a married couple so in love with each other that against all odds, they found their happiness in simply being with each other. Things were never smooth for Ahsan and Zubaida, especially when there were so many responsibilities on Ahsan's shoulders, but it was always nice to see how he never let any of it deter him from being a loving and kind husband and a doting father.
Sarmad Sultan Khoosat has actually impressed the audience with his performances in the past but what came as a huge surprise was how beautifully Shaista Lodhi portrayed the character of Zubaida. The love and respect Zubaida had for her husband Ahsan was a treat to see and their scenes were filled with so much warmth that it actually became one of the main factors why this drama started gaining so much popularity in the first place. It won't be wrong to say that seeing a couple like Ahsan and Zubaida was not only refreshing but much needed on a Pakistani television screen.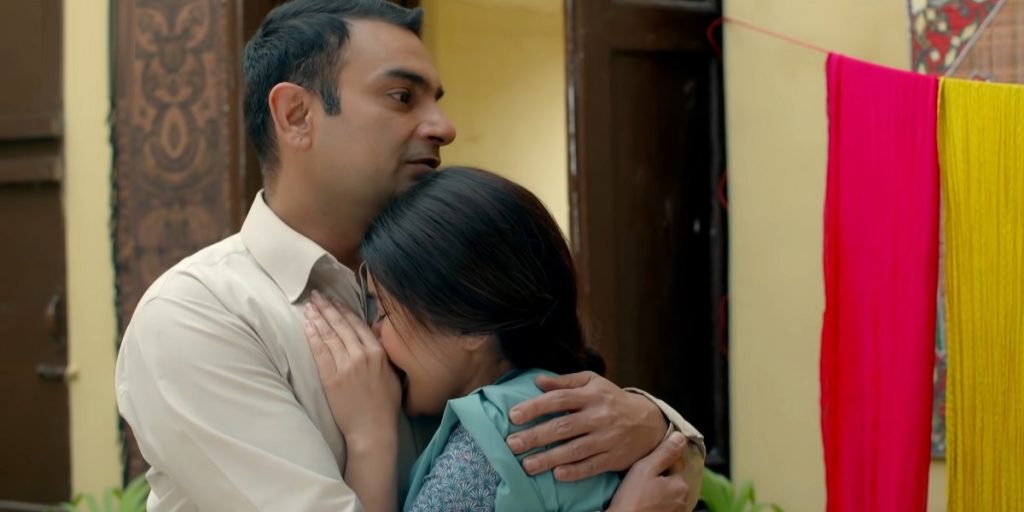 Aiman and Ebad (Pardes)
As the story of Pardes progressed to the second phase, there was a lot of inhibition in regards to the characters of Aiman and Ebad and their journeys. They both had a very strong presence and personalities on their own but together, it was yet to be seen whether they will be able to create the magic and ignite the spark that the couple of Ahsan and Zubaida had in the first phase of Pardes. To our surprise, both Durr e Fishan and Affan Waheed although worked for the first time together, did really well and made the couple of Aiman and Ebad not only special but popular too.
The audience loved seeing them a young couple who stood by each other and without any assurance of what the future held for them, they decided to join hands and stay with each other. The drama-makers also imparted a brilliant message through their track that spouses can and should always be the driving force for one another. Ebad knew the expectations his mother had from him but when Aiman came into his life, it further pushed him to exceed and do well. Their equation was balanced beautifully with Ebad being emotional and Aiman always being very practical and futuristic with her approach. Affan Waheed and Dur e Fishan's chemistry as Aiman and Ebad in Pardes was memorable.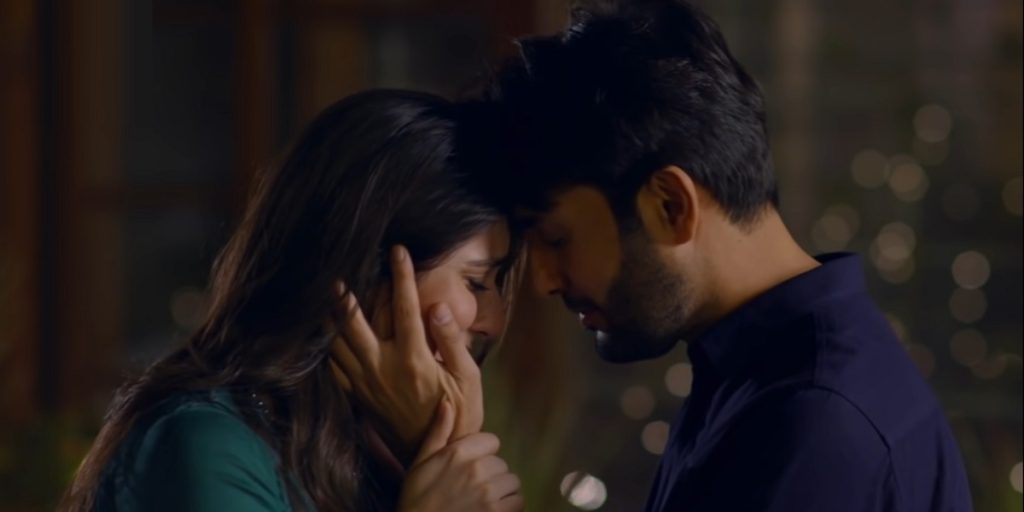 Haadi and Mishi (Chupke Chupke)
The craze of Haadi and Mishi's couple HaShi is an example in itself of how popular their on-screen couple had become. Throughout the time Chupke Chupke was on-air, their couple was trending with people showering the new actors with a lot of love and appreciation for their drama and characters. The luck was definitely on their side because Chupke Chupke was both Arsalan Naseer as well as Aymen Saleem's debut drama and the amount of love they received had definitely given their acting careers a brilliant kickstart and has already put their names on the map.
Arsalan Naseer and Aymen Saleem's chemistry was strong and their couple was cute, making it relatable for all those viewers who in their actual lives struggle to get their message across to their families too. Although Arsalan and Aymen are new actors, they also gave convincing performances, making Haadi and Mishi a memorable fresh pair of this year. The writer convincingly showed that it was perfectly fine for a girl to pursue the love of her life even if the guy in the equation was completely clueless. The way their relationship flourished slowly was a treat to watch and Arslan Naseer and Aymen Saleem looked perfect together.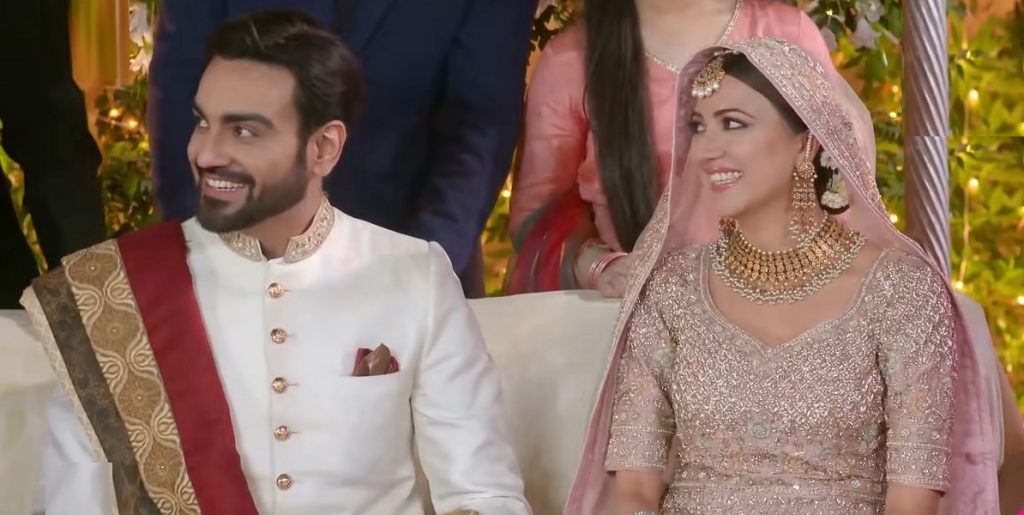 Faazi and Meenu (Chupke Chupke)
Ayeza Khan and Osman Khalid Butt are both big names of the Pakistani drama industry. When the BTS pictures of Chupke Chupke started circulating last year, the audience absolutely had no idea about the dynamic the two actors will share. As the drama progressed, it already started garnering popularity because of the family dynamic and comic quotient that it provided but it quickly became more and more about the couples of both Meenu and Faazi as well as Haadi and Mishi.
It was a pleasant surprise because no one saw Meenu and Faazi ending up together but what made things even more interesting was the fact that they both fell in love with each other. Their bickering, misunderstandings, poles-apart nature, and the typical 'roothna manana' were what made their track not only engaging but very relatable too. People fell in love with Meenu and Faazi's couple and Ayeza Khan and Osman Khalid Butt looked absolutely perfect together. This was definitely a refreshing pair seen in a Pakistani drama this year and we would love to see more of them together in different projects.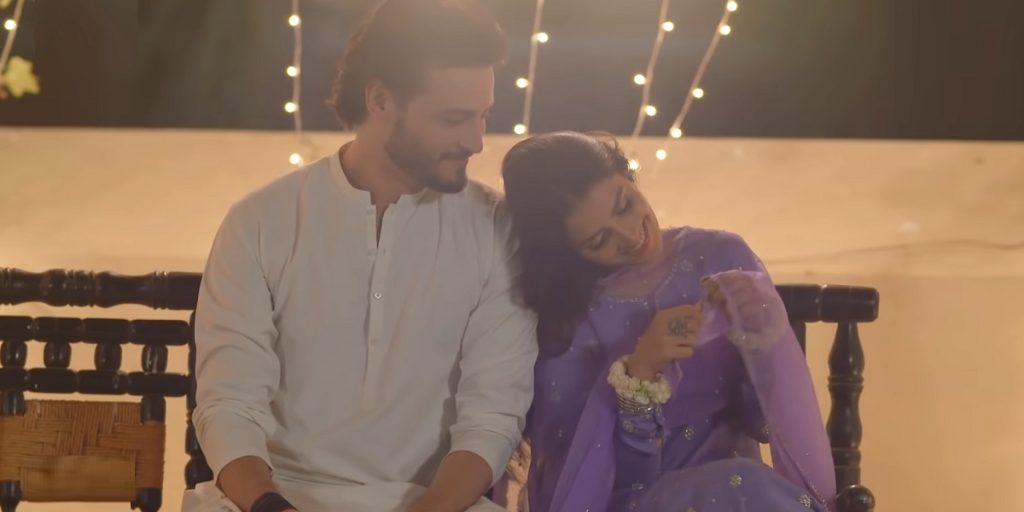 Sumbul and Jamshed (Dil Na Umeed Tu Nahi)
Dil Na Umeed Toh Nahi was an amazing drama serial that highlighted so many different social evils and did so effectively. Even though this was not a love story at all, Sumbul and Jamshed's journey and their bond made them an unforgettable on-screen couple. Two childhood friends who overcame so much and eventually ended up together – this was an on-screen couple like no other. The last episode showed that they were destined to be together and were much more than just supportive friends. Wahaj Ali and Yumna Zaidi's outstanding performances coupled with the performances of the child stars that played their younger roles. This was such a well-written and inspiring track which was engaging throughout.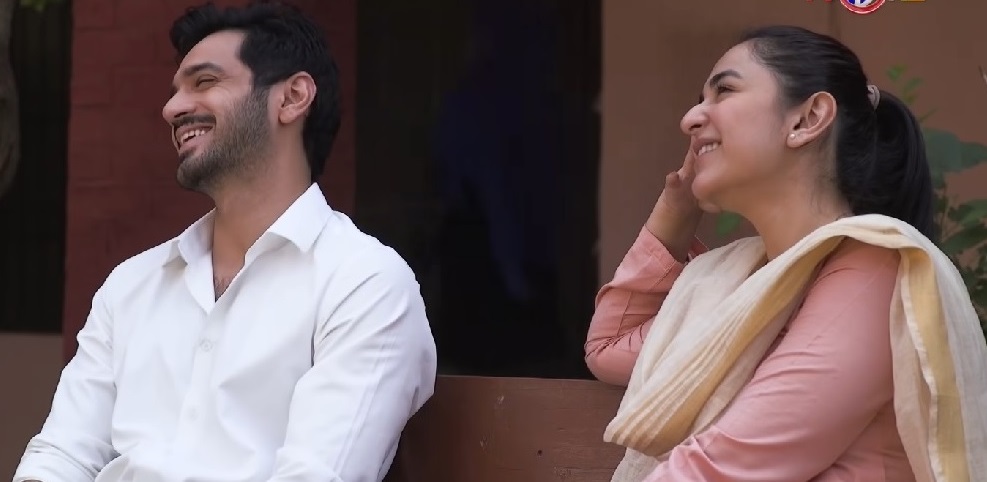 Minal and Haider (Dunk)
Minal and Haider from the drama serial Dunk got married in the most awkward circumstances yet this union turned out to be one of the best parts of the drama. Minal's level-headed nature was definitely the most refreshing element of the drama. Since Haider had gone through so much already, it was great watching Minal stand by him through thick or thin. There was no unnecessary drama in their relationship and it had the kind of maturity which we rarely get to see in dramas. That is what made Minal and Haider one of the best on-screen couples this year.
Bilal Abbas and Azekah Daniel gave winning performances throughout. Their convincing performances and the on-screen chemistry these two shared made this on-screen couple the best this year.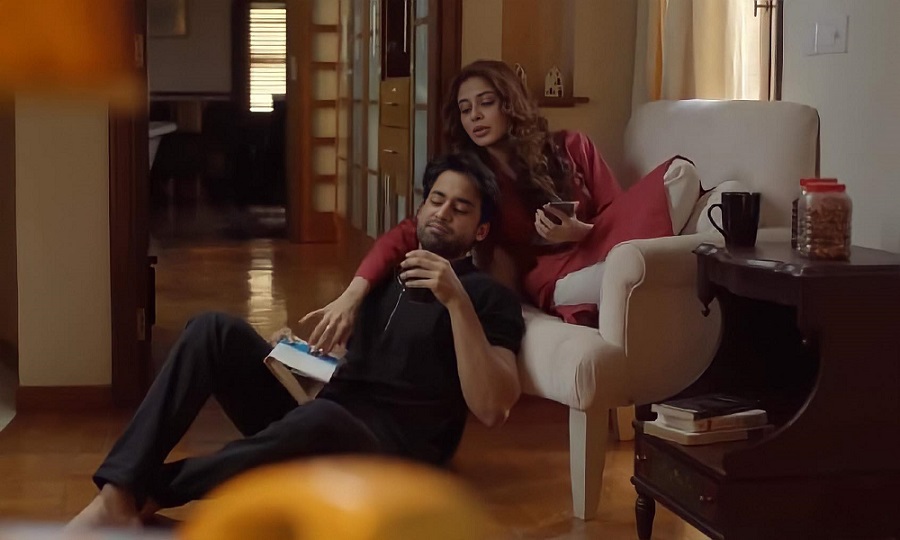 Anoushay and Sami (Safar Tamam Hua)
Safar Tamam Hua was an entertaining drama serial with a lot of twists and turns. The main leading couple from the drama Anoushay and Sami was the main attraction. What started off as a smooth and sweet love story turned into a complicated affair with time. There were many misunderstandings between these two and there were also times when Anoushay's lack of trust and naivety annoyed the viewers. However, once she found out the truth, she did not only trust Sami but also convinced the viewers once again that these two were meant to be together.
Madiha Imam and Ali Rehman Khan made a fantastic on-screen couple. Not only did they have great on-screen chemistry but their performances overall were also effortless. The fact that both of them were caring and loving individuals also made them a perfect match. This list would be incomplete without them.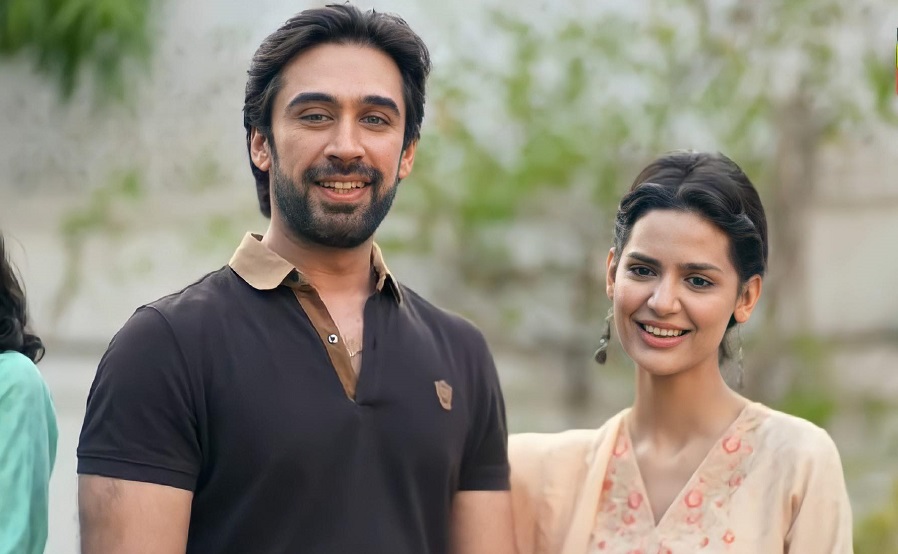 Nazo and Jamal (Safar Tamam Hua)
Nazo and Jamal both had so much in common and these traits were mostly toxic. However, their upbringing and complexes played a major role in shaping up to be the kind of people who needed rescuing. This had to be another rather unusual couple which in the end garnered the viewers' sympathies and support because of the way their track was carried forward. Nazo and Jamal both disappointed people who genuinely loved them and they were not even sincere with each other. However, their track always had the viewers' attention and most of the viewers always had a soft corner for them. Watching them realize their mistakes and mend their way was the best ending for this couple.
Syed Jibran is a seasoned actor who is being typecast a lot. Jamal's character was similar to many others he has played in the recent past yet he made his presence felt in Safar Tamam Hua. Noreen Gulwani is a relatively new actress whose confident style of acting has already impressed the viewers. Together these two actors turned out to be a winning combination.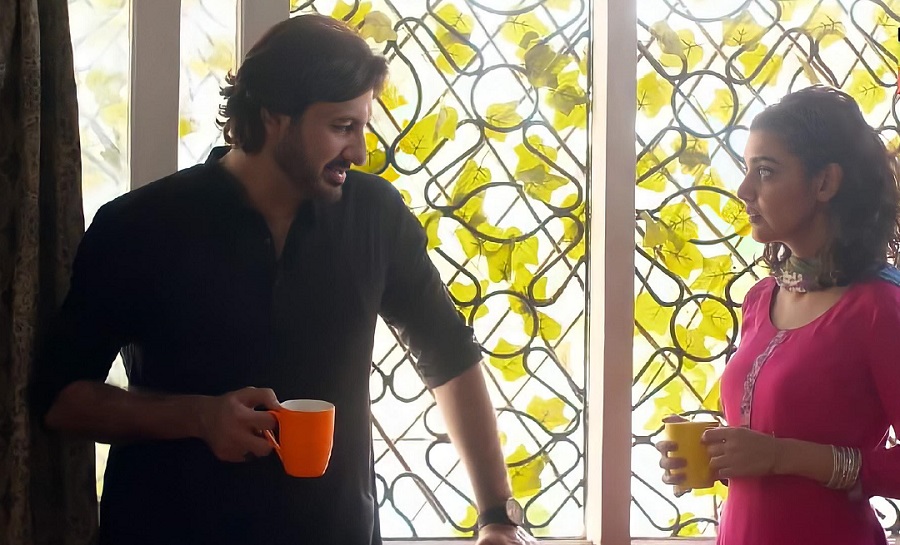 Sumbul and Jamshed (Dil Na Umeed Toh Nahi)
Dil Na Umeed Toh Nahi was an amazing drama serial that highlighted so many different social evils and did so effectively. Even though this was not a love story at all, Sumbul and Jamshed's journey and their bond made them an unforgettable on-screen couple. Two childhood friends who overcame so much and eventually ended up together – this was an on-screen couple like no other. The last episode showed that they were destined to be together and were much more than just supportive friends. Wahaj Ali and Yumna Zaidi's outstanding performances coupled with the performances of the child stars that played their younger roles. This was such a well-written and inspiring track which was engaging throughout.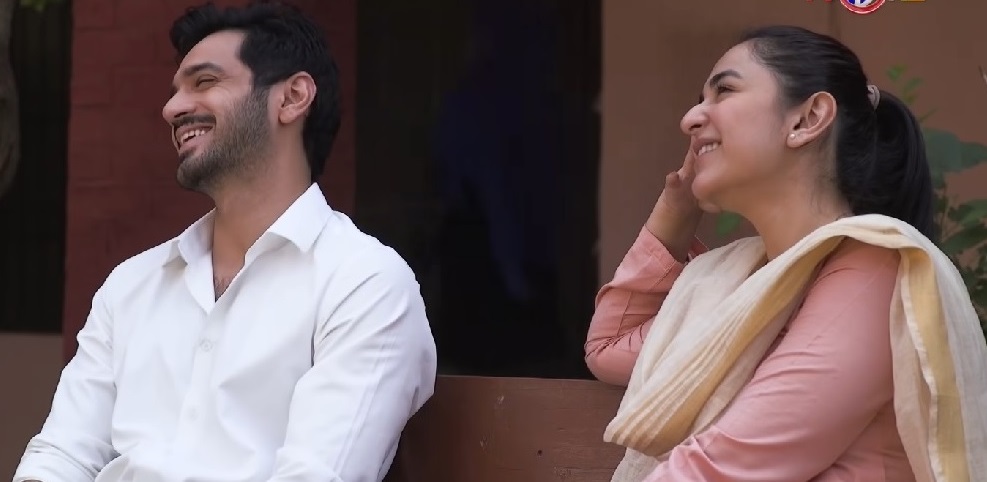 Dilnasheen and Haider (Fitoor)
Faysal Qureshi and Hira Bukhari worked together for the first time in the drama serial Fitoor. Although it was never an easy journey for Dilnasheen especially because of what she was put through and how her past was always brought in front of her, seeing her at least trying her best to make her marriage work with Haider was one of the strongest points of her journey. Hiba Bukhari received a lot of criticism because of how her character was styled but when paired with Faysal Qureshi, they both looked just perfect in one frame.
Faysal Qureshi played the role of Haider; who was quite mature and older than Dilnasheen, therefore both the actors did their best to always stay true to the dynamic that was being presented through their characters. Although they both played the characters that they have done before, together they succeeded in making their on-screen couple memorable. Their journey was full of ups and downs but knowing that they both emerged stronger and were together at the end definitely pacified it a lot. The scenes in the initial part of the drama where Dilnasheen and Haider get to enjoy the bliss of marital life were nicely done with both Hiba Bukhari and Faysal Qureshi complimenting each other perfectly.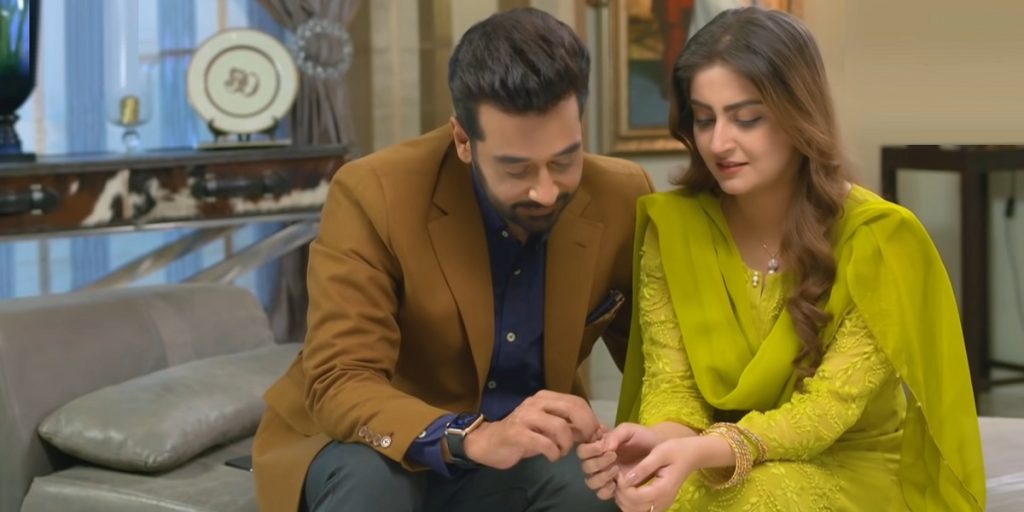 Nabeel and Sana (Berukhi)
Although the drama serial Berukhi is still in the initial stages, the characters of Nabeel and Sana definitely stand out because of them being the voice of reason and probably the sanest in their families. Nabeel is one such person who knows how to have high regard for his family members, especially the ladies in his life; be it his mother, his sister, or the one he loves. Sana grew up in such an environment where she could've taken her father's status and wealth to her head but she chose not to.
The way both Nabeel and Sana treat each other with respect makes their track one of the best aspects of this drama. Sana understands that her family background may put a lot of pressure on Nabeel but she makes sure to shield him because she doesn't want any of this to affect their relationship. It is always nice to see characters like Nabeel and Sana in a Pakistani drama who are so relatable and have nothing but positivity to offer. Their scenes together are always nice to watch and both Rehma Zaman and Umair Rafiq have played their characters convincingly.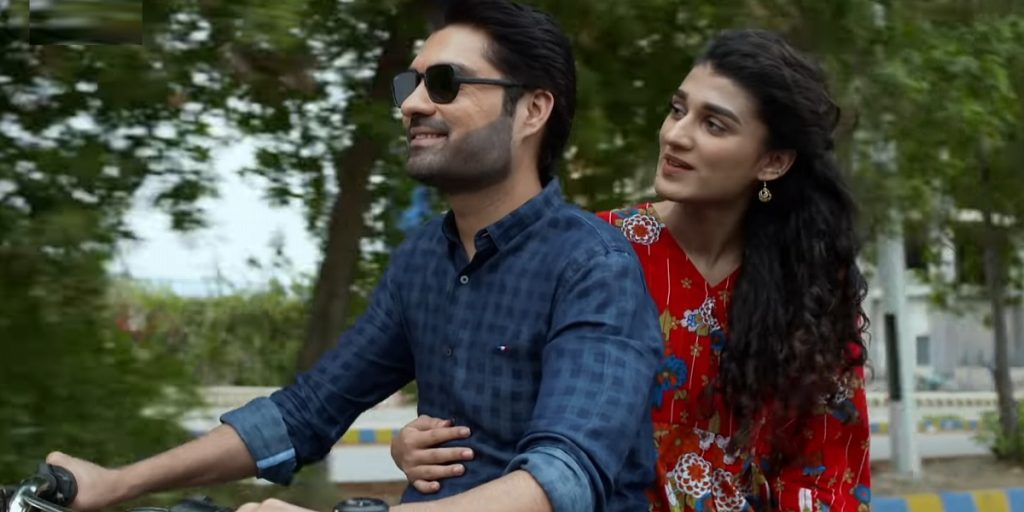 Zeba and Samad (Phaans)
Drama serial Phaans was grim and dealt with a very serious subject in a convincing manner. Although for the longest time, there was still some suspicion surrounding the character of Samad the way he stood by Zeba through thick and thin was enough evidence that he was not only innocent but had the best interest of Zeba. Samad and Zeba's characters were never really in a setting where they could develop feelings for each other normally, but Samad's unwavering support towards Zeba convinced her that he was always going to protect her.
It was nice to see Samad proving his love to Zeba in a way and at that time of her life where she needed that security blanket the most. Zara Noor Abbas and Sami Khan worked together for the first time and it was beautiful how the writer decided to show hope and light at the end of the tunnel through Zeba's journey and her equation with Samad.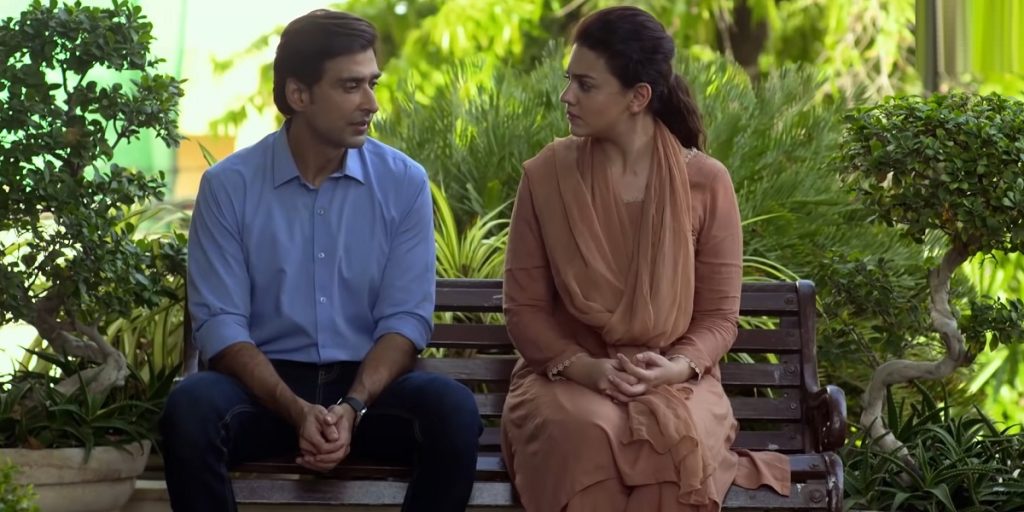 Zohra and Moosa (Raqs e Bismil)
Raqs-e-Bismil was one of those dramas which highlighted social issues while it showed a love story like no other. Zohra and Moosa's track was a case of one-sided love to begin with. It was the most important development in the drama since it changed the way Moosa viewed the world in general. Even though Zohra's character was not the best female character we got to see in dramas this year, this on-screen couple had the viewers rooting for them mainly because of Moosa. The drama was stretched and hence there was a time when most viewers could not care less how this track will end but when the final episode aired everyone was ecstatic with Zohra and Moosa's union which was worth the wait.
This was the first time that Imran Ashraf and Sarah Khan were seen together in a drama. This new pairing was an instant success. Both these actors looked great together which made their on-screen couple a favorite. Some of their scenes together were so beautifully written and shot that they will be etched in viewers' memories forever.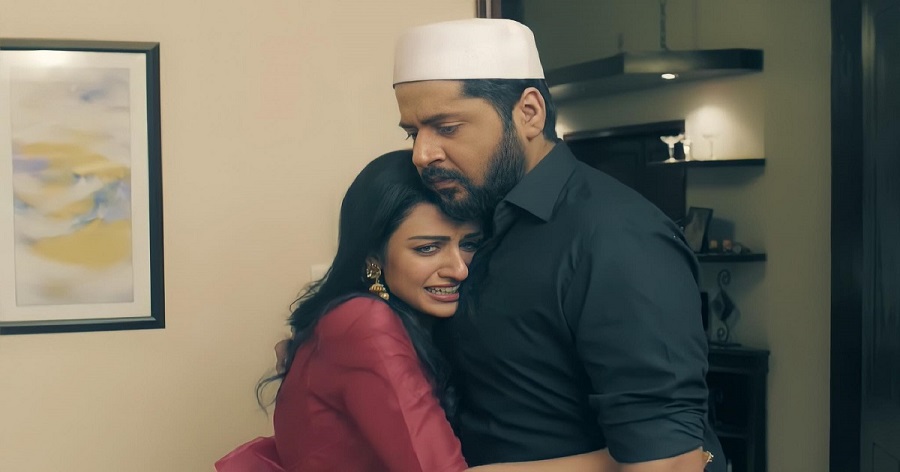 Fatima and Shaheer (Wafa Be Mol)
Wafa Be Mol is one of those dramas which offer variety. While there are some characters that are clichéd to the core, there are others such as that of Fatima and Shaheer who are truly refreshing. Fatima was introduced as a sweet and sensitive doctor who always gave the right advice to her friend who happens to be the leading lady. Even when this character did not get a lot of screen time, she always stood out because of her positive nature. Shaheer was also a side hero but his open-minded and loving nature set him apart from the main hero. Shaheer respects women is extremely loving and does not mind doing household chores! He is a feminist who never fails to impress. Together Fatima and Shaheer have to be one of the most refreshingly delightful couples we got to see in dramas this year. All the other couples in the drama are toxic, these are the only two characters who have always been supportive of each other. Their love story was taken forward in such a way that it was both convincing as well as endearing.
Syed Areez Ahmed has done complete justice to his character and Hina Javed is equally likable as Fatima. Both of them have worked together in a drama for the first time and their on-screen chemistry is definitely on point.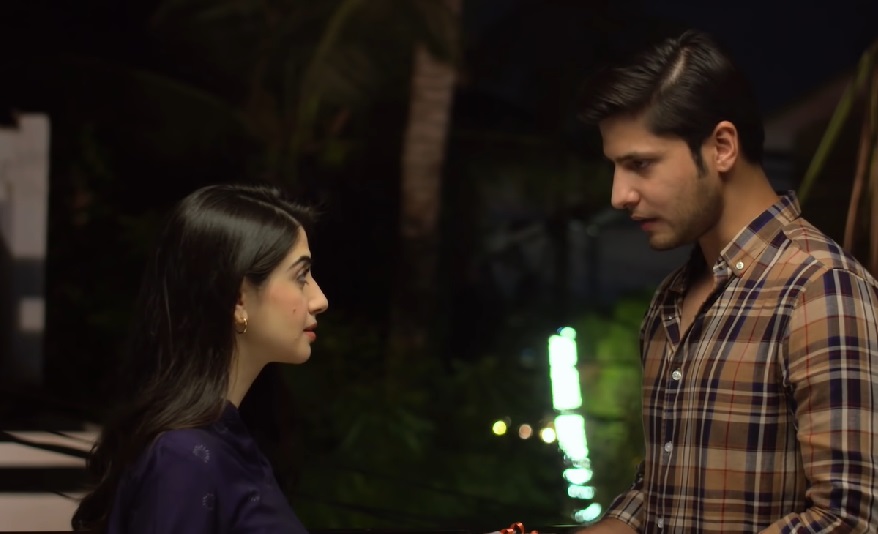 This completes the list of top 15 on-screen couples seen in Pakistani dramas this year. Which one of these is your favorite? Feel free to share your views in the comment section.