There was a time when the fans and followers of celebrities, in general, had to rely on print media portals to find out what was happening in the lives of their favorite idols. However, over the years and especially due to social media, the bridge has been narrowed and more and more celebrities are getting comfortable with the idea of taking their fans along their personal life journeys. It allows the celebrities to connect with their fans, get feedback from them as well as maintain a healthier relationship. A connection between a celebrity and their fans and followers is a two-way street, this is the reason social media has now become a necessity.
Pakistani celebrities keep sharing perfect pictures with their fans, where some are beautifully photographed and some as casually clicked to cover the happenings and important events in their lives. Although this year was not quite ideal for almost everyone all around the world, the credit definitely goes to Pakistani celebrities for playing their part well in engaging with their fans and showing them a brighter side of the picture. We have come across a lot more beautiful pictures of Pakistani celebrities this year, let's take a look at the top 30 that gave us a reason to smile.
Here are the top 30 celebrities photos from 2020, (the list is in no particular order):
[lwptoc]
Shahid Afridi Surrounded By His Blessings
Pakistani cricket star Shahid Afridi has earned immense love and respect from his fans all over the world. However, it makes it even more special when the star himself puts in an extra effort to reciprocate the love he receives from his supporters. Although every single picture of Shahid Afridi is special and well-received the ones which include his daughters become everyone's favorite. This year, on February 15, Shahid Afridi took it to social media to announce the arrival of his 5th daughter and it just didn't stop there, he asked his fans to suggest him some beautiful names, which was absolutely sweet. The smiles shared by the father and his daughters are heart-warming and this definitely is one of the best pictures seen in 2020.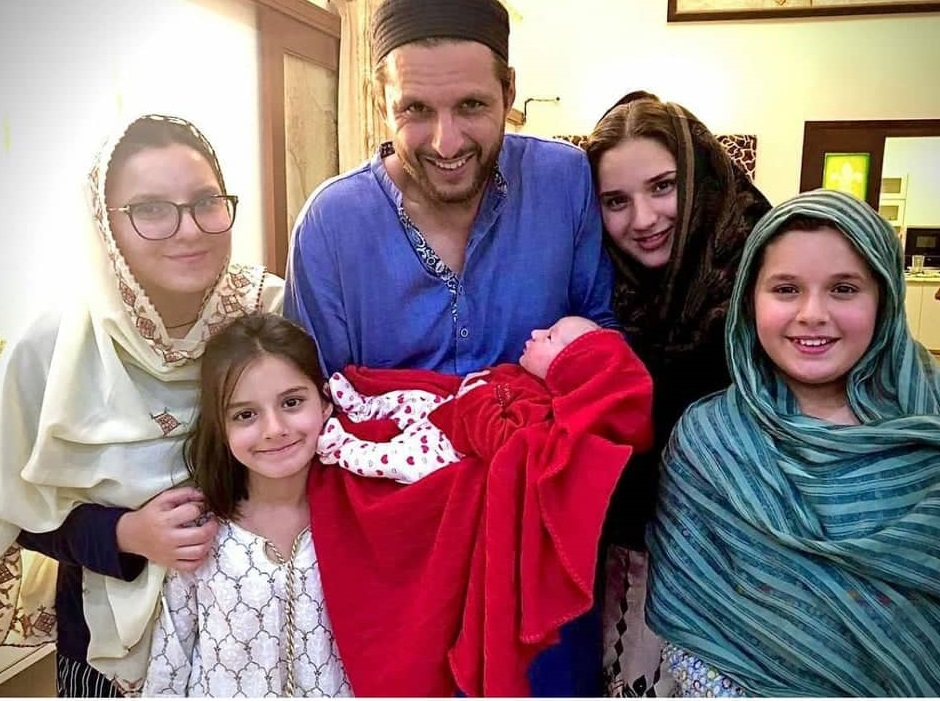 Moment Shared By Ahad Raza Mir & Mama Mir
There is no denying the fact that Mama Mir has a significant social media presence of her own. Although she is known as Asif Raza Mir's wife, Ahad Raza Mir's mother, and Sajal Aly's mother in law, she has a fanbase of her own due to her beautiful personality and generosity. On mother's day, Ahad Raza Mir took it to social media and wished his mother by sharing this beautiful moment that the mother-son duo shared on his big day. The fact that there were very few pictures released of their wedding, this one was well-received by their fans.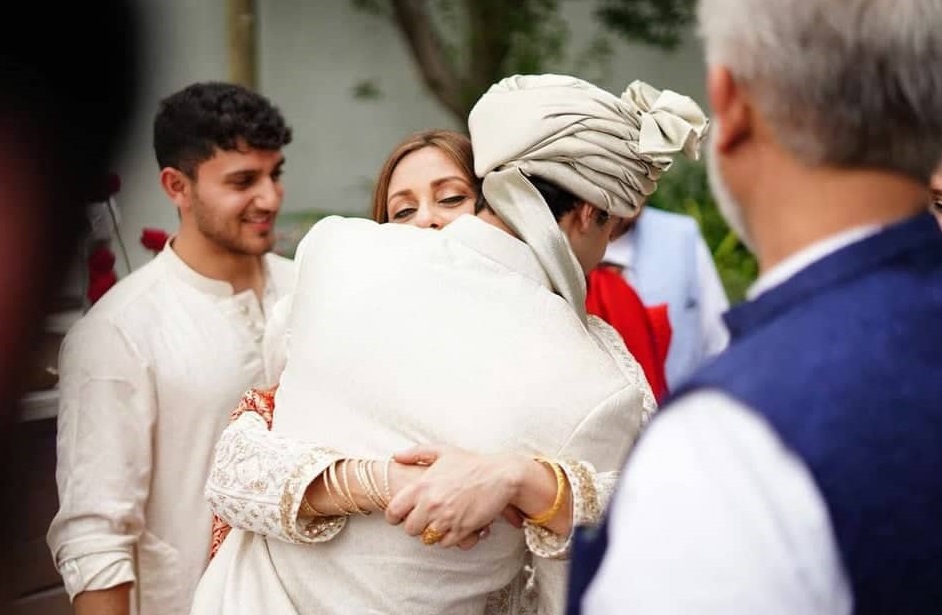 Imran Abbas Taking It After His Father
On December 15, 2019, Imran Abbas shared the news of his father's demise with his fans and requested them to say a prayer for the departed soul. This year during the lockdown, Imran Abbas shared this beautiful picture of his father and his side by side, trying to show the striking resemblance the two shared. Imran Abbas also wrote a heartfelt caption which stated that he actually wished to be like him and his father reassured that one day, he most certainly will. Well, looking at these pictures, we can totally say like father, like son.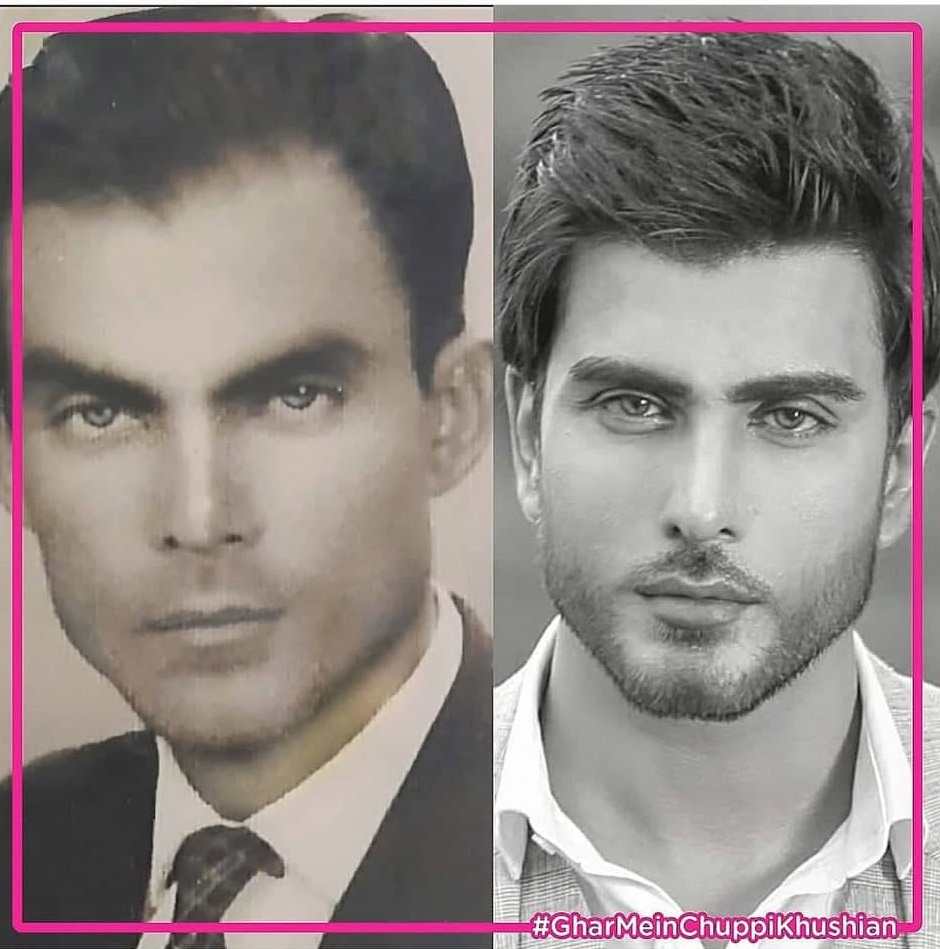 Humayun Saeed Doing The Honors
Imran Ashraf and Kiran Ashfaque welcomed their first child Roham last year on March 30. Year 2019 was promising for Imran Ashraf both professionally and personally because where his family grew, he also unlocked a new level of stardom because of his project Ranjha Ranjha Kardi. Since then, Imran Ashraf and his wife were in the public eye more than ever and there were many instances where the parents were asked to show the face of their son to their fans. However, this year on July 19, Humayun Saeed shared the picture of Roham and stated that Imran Ashraf had promised that he'd be the one doing the honors of introducing his son to the entire world. This picture was sweet and Roham is absolutely adorable (say Masha Allah)!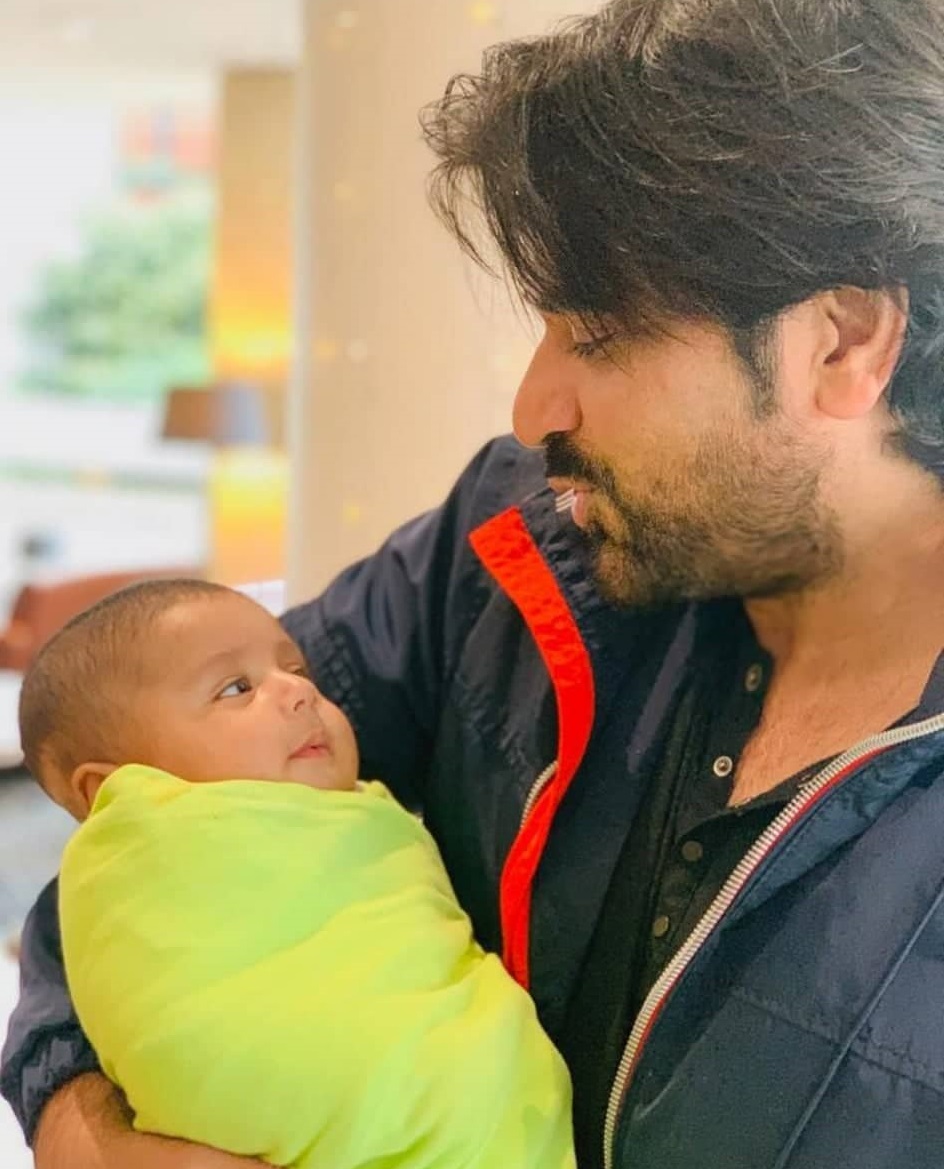 The Smile of a Warrior – Nadia Jamil
On April 3, 2020, Nadia Jamil took it to her Twitter to share the news of his diagnosis of Cancer. Nadia Jamil was always in the news for his social work and over a period of time, she became a lot more vocal about the issues she felt passionately about. It won't be wrong to say that Nadia Jamil has touched the lives of so many people and this is the reason, everyone saw her as an inspiration. Well, Nadia Jamil showed that she had more to her. The way she fought this battle is exemplary. She continued to document and share everything with her fans on social media, in a hope that she would once again touch the lives of people and give them hope that they are not alone. Nadia Jamil became Cancer-free and wore it as a badge of honor. She continued to post the pictures post-chemotherapy when she lost all her hair. If Nadia Jamil is not a true warrior and a queen, then we don't really know who is. This picture of Nadia Jamil was one of the best we saw this year.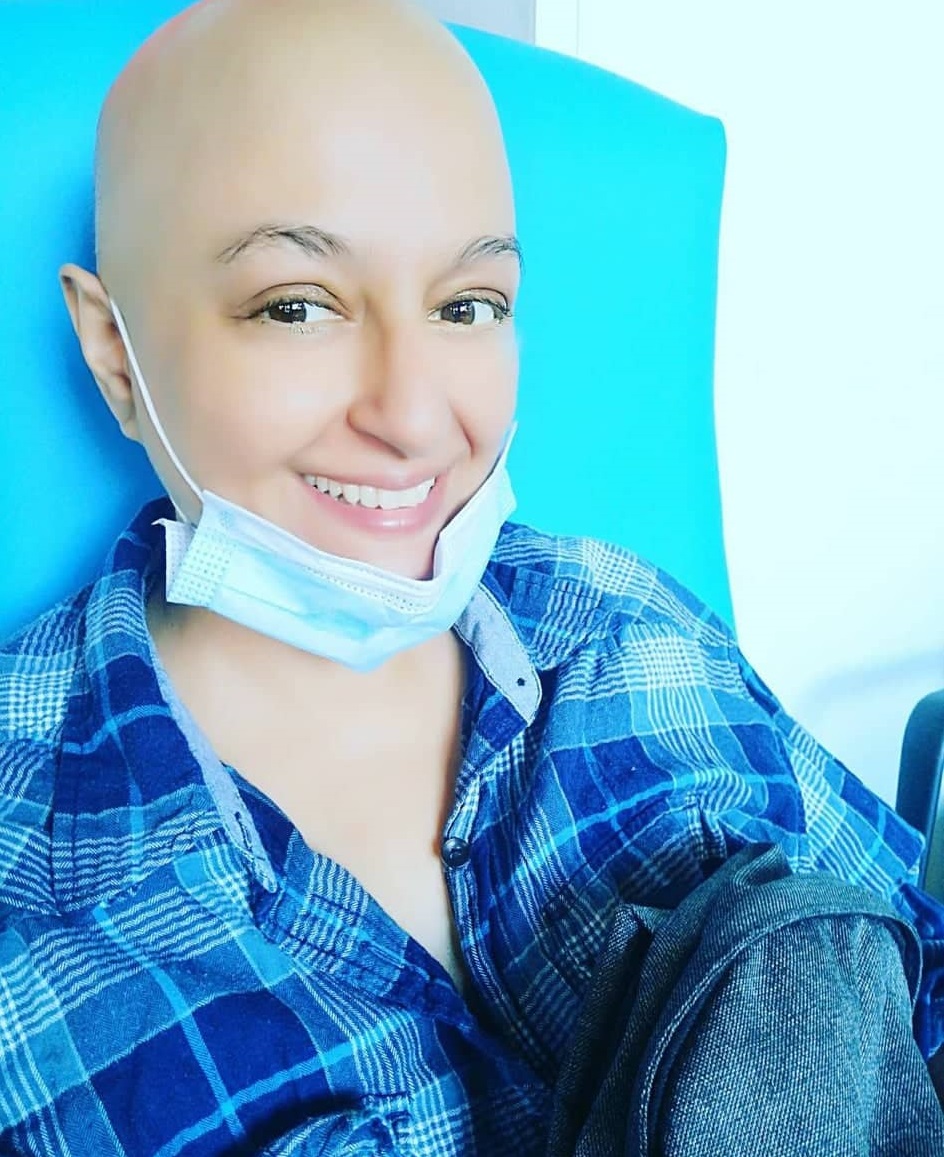 Hira & Mani's Little Effort During Ramzan
This year was taxing for everyone in almost every other aspect. Where people lost their jobs, some lost their lives, their loved ones, and had to adjust to the new life no one ever saw coming. Pakistan went into lockdown during March with the rising cases of Coronavirus and then, a lot of Pakistani celebrities took it as their responsibility to do something to help the people in need. Hira and Mani were one of those who gave up on their savings and made sure to provide ration to the affected families. This picture is heart-warming and although the smiles of Hira and Mani are hidden behind the mask, we can totally see they were over-joyed with the satisfaction and the peace they felt in their hearts after doing so much.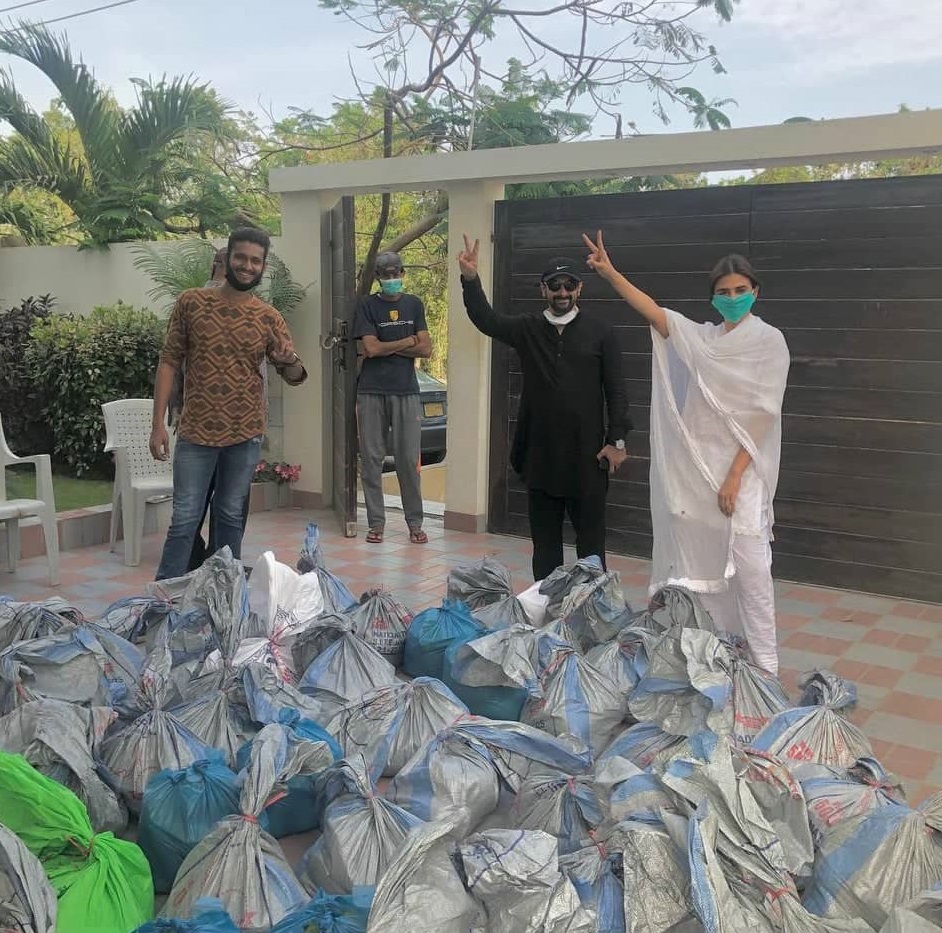 Hamza Ali Abbasi and Naimal Khawar With Their Son Mustafa
Hamza Ali Abbasi and Naimal Khawar Khan have a huge fanbase of their own. As much as people like to point fingers at them, there are a lot more people who love and respect the couple for their approach towards life and their humbleness. Naimal Khawar went low-profile when she was expecting a baby, the couple moved to the USA and although there were some speculations, all of it was confirmed when Hamza and Naimal made an announcement of the arrival of their baby boy. It was a treat for their fans when the parents decided to share the picture of their son with them because people thought they'd keep their child away from the public eye but that didn't turn out to be the case. This picture definitely made us smile.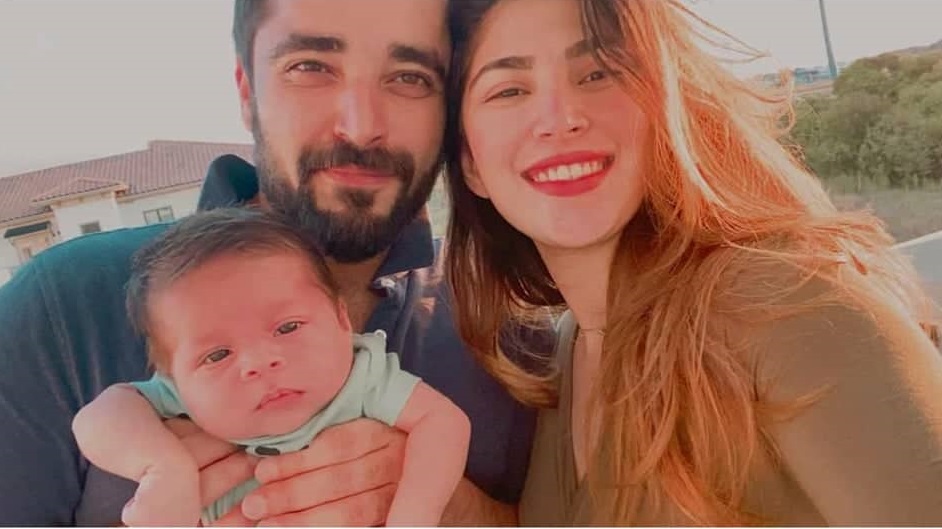 The Mushk Duo In New Avatar
Just like any other year, this year too brought a lot of new filters and face apps for everyone's amusement and celebrities too got their hands on them. It seems Imran Ashraf Awan also wanted to experiment with the picture, therefore he decided to do it with the Mushk-duo, his co-star Urwa Hocane who is obviously in the limelight because the drama is doing so well in terms of popularity. Not only this picture was amusing, Imran Ashraf's caption made it even better.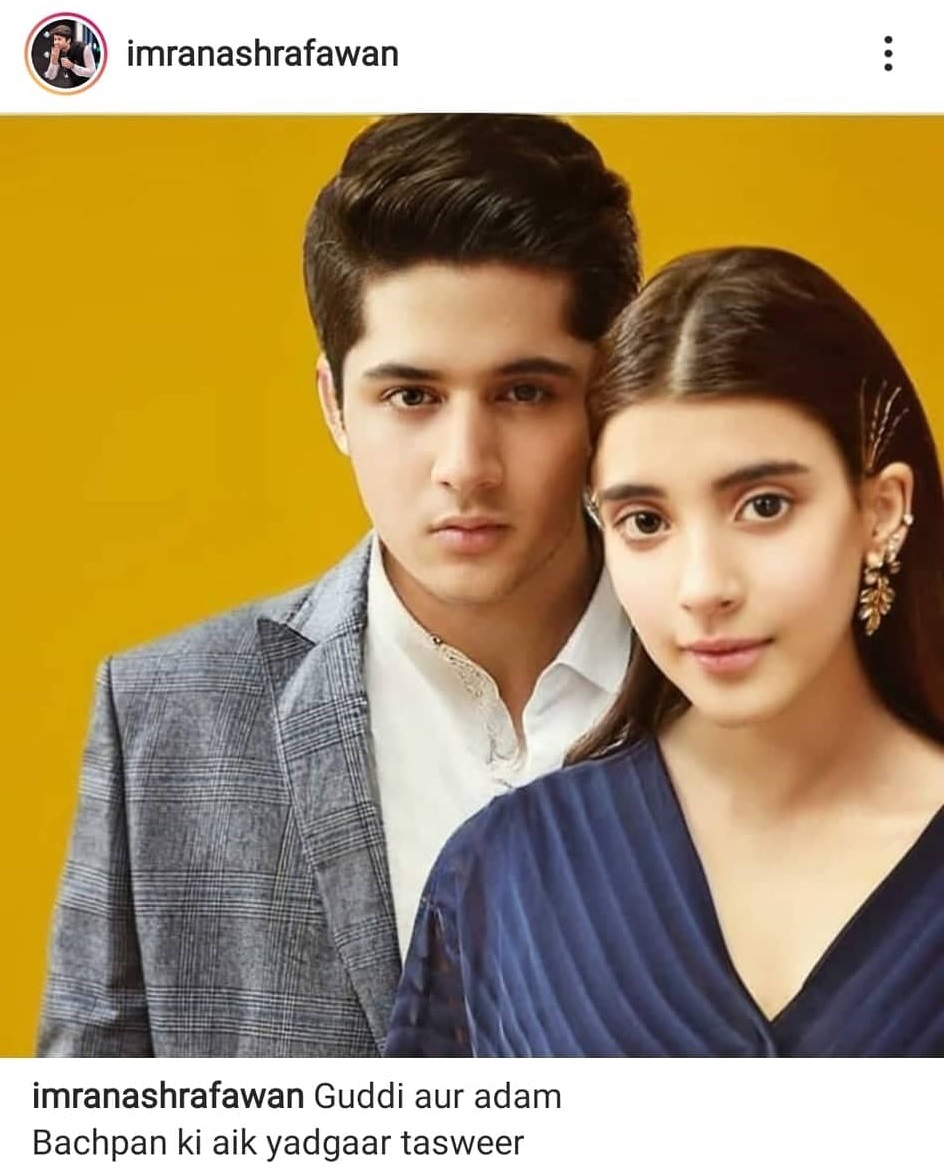 The Gorgeous Couple of Showbiz Industry
Samina Ahmed and Manzar Sehbai tied the knot this year in April, just when the entire country was in lockdown. The couple received nothing but love and appreciation for their decision and since then, all of the pictures they decided to share with their fans were not only well-received but also showcased how much the newlyweds were in love with each other. We just can't stop smiling.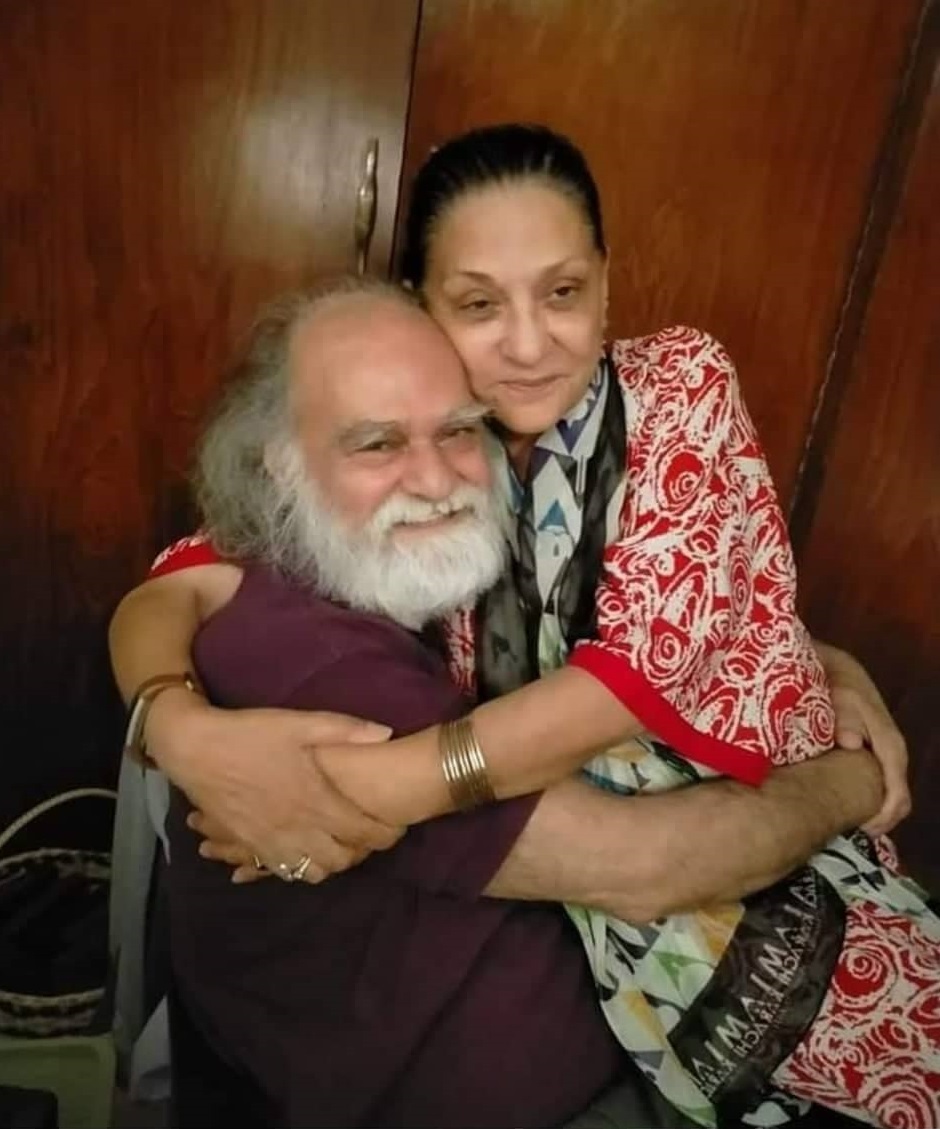 Mr. & Mrs. Mir
It won't be wrong to say that Sajal Aly and Ahad Raza Mir's wedding was the most speculated event of this year. Although the news started circulating months before that the couple was going to have a destination wedding but nothing was confirmed until it actually happened. Their huge fandoms couldn't wait to see their beloved celebrities as a married couple and this was the very first picture shared by both Sajal and Ahad on their Instagram, where they were welcoming each other as their Mister and Missus. This was definitely that picture of the year that broke the internet and for all the right reasons.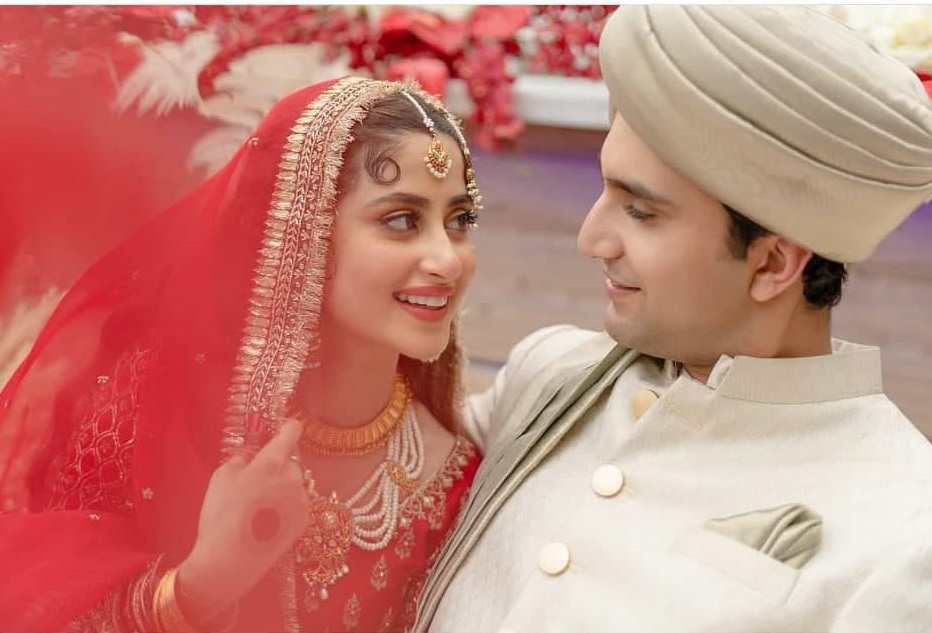 Fahad Mustafa In Makkah, Saudi Arabia
Earlier this year, in February and before everything went into lockdown, Fahad Mustafa was lucky enough to have an opportunity of visiting Makkah for the Holy pilgrimage of Umrah. Fahad Mustafa shared a picture standing right in front of the Glorious Kaba wishing nothing but the best for his entire country.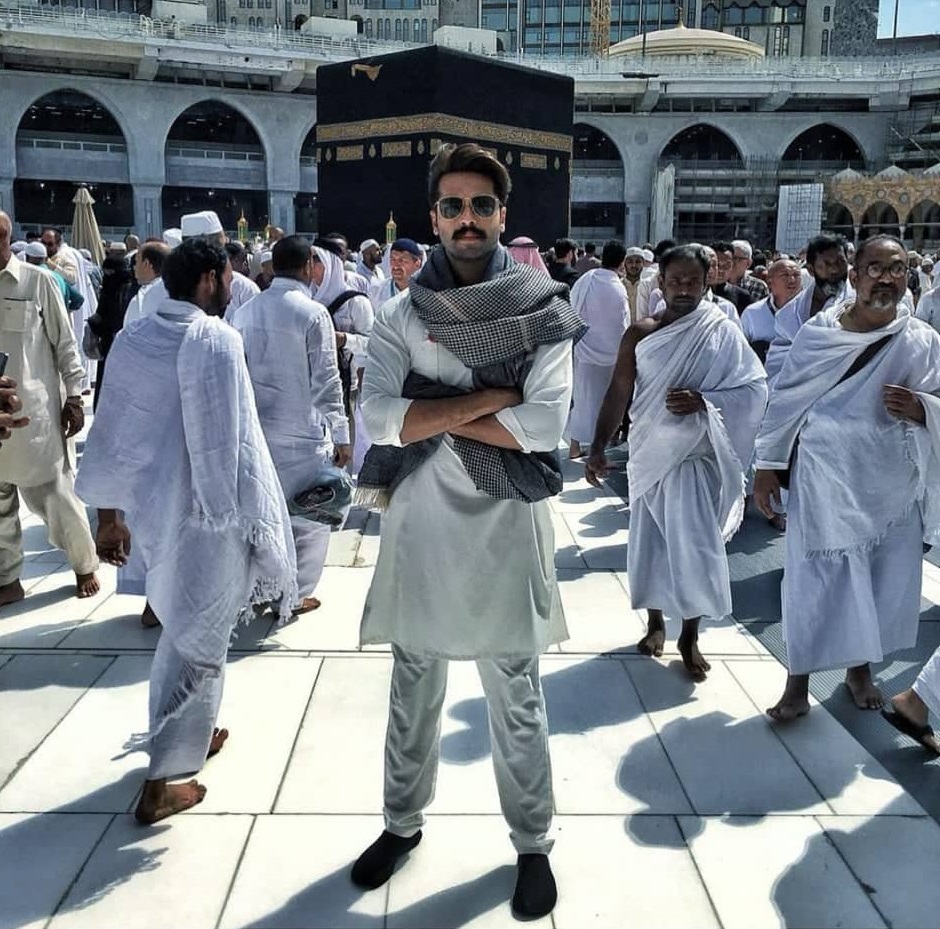 The Dushman e Jaan Duo
It won't be wrong to say that Dushman e Jaan was one of the best dramas that Pakistani drama fans witnessed this year. It was all the rage when it aired and had people hooked. After it garnered popularity, the cast of the drama was compelled to share more and more information about the project and this is the reason, all the pictures related to it were highly appreciated. Mohib Mirza decided to share this amusing BTS from the drama which showed that during the shoot of the opening title which was so intense and serious, the actors had a fun moment. Tooba Siddique was wearing special fx makeup while having her fruits and Mohib Mirza couldn't help but smile at the entire setting.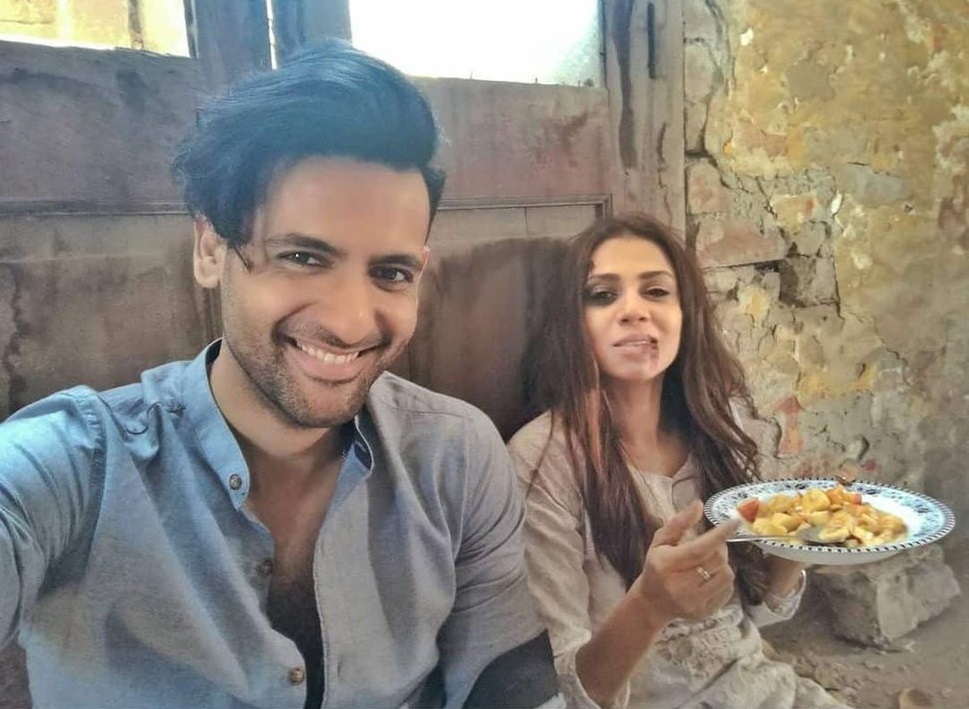 Maya Ali's Charity Work
Earlier this year, Maya Ali was also one of those celebrities who put their social media following to good use by not only helping the people around but also encouraging everyone to contribute as much or as little as they could in order to make an impact in the lives of those who were affected by the global pandemic. Maya Ali joined hands with her best friend and fashion designer Faiza Saqlain and continued to send ration bags to so many affected families for weeks and weeks. This picture shows how much Maya Ali herself was involved in this project and wanted to make sure that it was packed with love, courtesy, and warmth.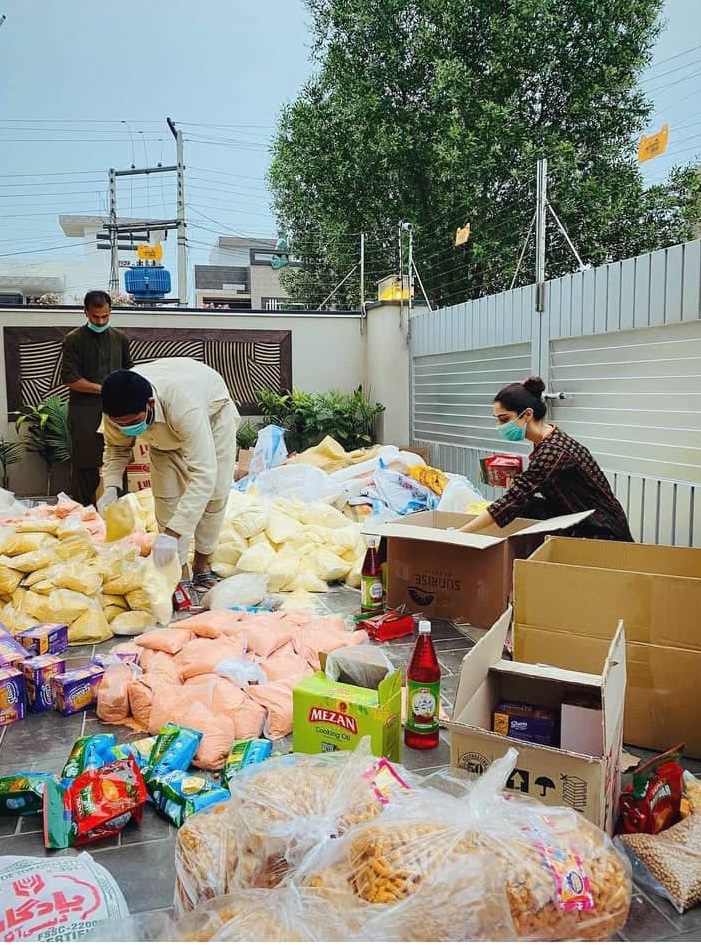 The Infamous Mere Pass Tum Ho Selfie
Mere Pass Tum Ho was one of the mega-blockbusters in the history of Pakistani dramas. This is the reason before the serial concluded, the team joined hands and ARY Digital hosted a special event to celebrate the success of this serial. Ahmed Ali Butt who is known for clicking some superb selfies once again didn't let go of the opportunity and gathered the entire star cast to capture the iconic moment. Seen in the picture are Ayeza Khan, Humayun Saeed, Adnan Siddique, Hira Mani, Anoushay Abbasi, Meherbano, Hina Javed, Rehmat Ajmal, Furqan Qureshi, Rehmat Ajmal, Musadiq Malik, and the director Nadeem Baig along with the show host Ahmed Ali Butt.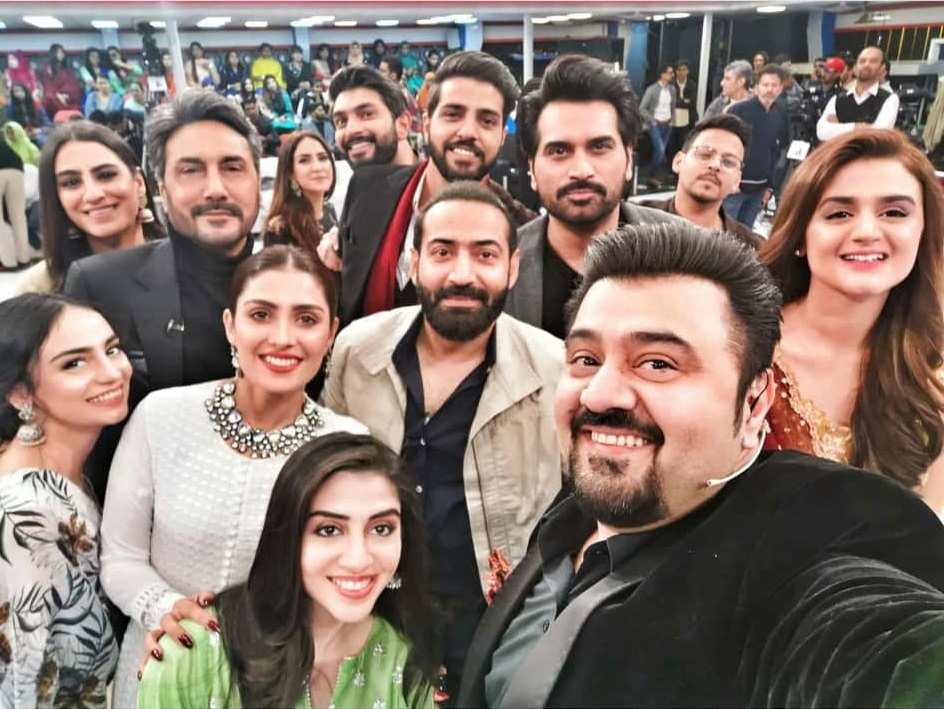 Saira Yusuf's Statement
At the end of last year, people already started speculating that Saira Yusuf and Shehroz Sabzwari were not together anymore. It started off when people started noticing that Saira was not posting many pictures with her then-husband but Saira chose not to say anything. However in February this year, Saira shared this stunning picture after her haircut. Although it was perfectly captured, what made it better was the effect used on it. Saira chose the infamous Coco Chanel's quote stating 'a woman who cuts her hair is about to change her life', which was enough to let everyone know that she was ready to take control of her life and was looking forward to the new beginning.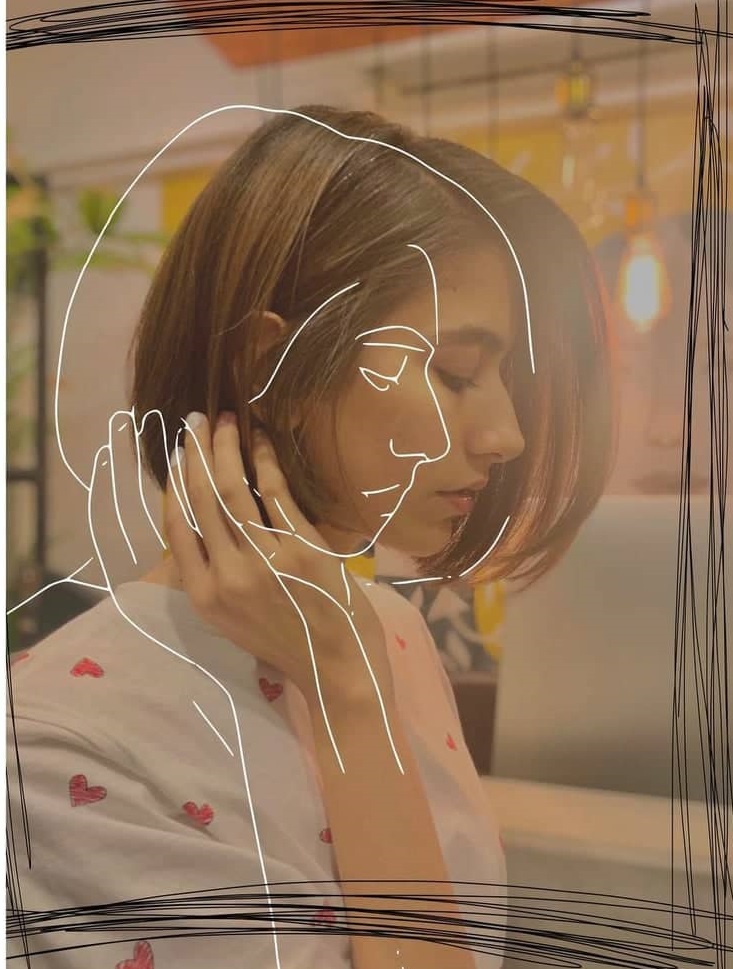 Matchy Matchy On The Sets of Jeeto Pakistan
This year, Jeeto Pakistan was super special because although the format of the show changed completely, the team made sure to let everyone know that the show must go on. During Ramzan, the country was partially in lockdown and everyone was pretty much discouraged to leave their homes. However, a handful of celebrities joined hands to make Ramzan special Jeeto Pakistan as happening and enjoyable as possible. The show was quite popular despite the changes and people looked forward to every episode. In one of the episodes, Adnan Siddique and Fahad Mustafa coincidently had color co-ordination and Adnan Siddique took it to the social media to state the obvious that he too liked this coincidence.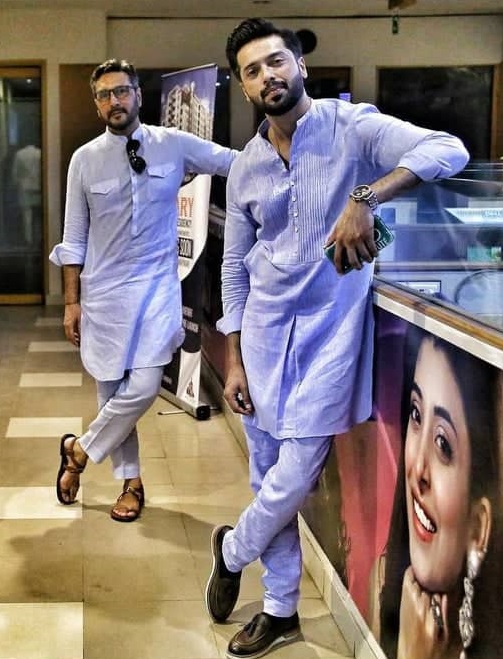 Proposal of The Year – Sarah Khan and Falak Shabbir
Singer Falak Shabbir decided to make Sarah Khan's birthday all the more special by arranging a romantic and larger-than-life proposal for his lady love. There were roses, there were fireworks, there was a ring and it was a super special moment for both of them. Although people thought this was the start of something special, they were taken by surprise when the wedding festivities followed and everyone got to know that the two were already in a relationship and decided to announce it just before their wedding. However, Falak Shabbir gets all the credit for kick-starting the wedding festivities in such a special manner. Sarah Khan's smile and happiness say it all.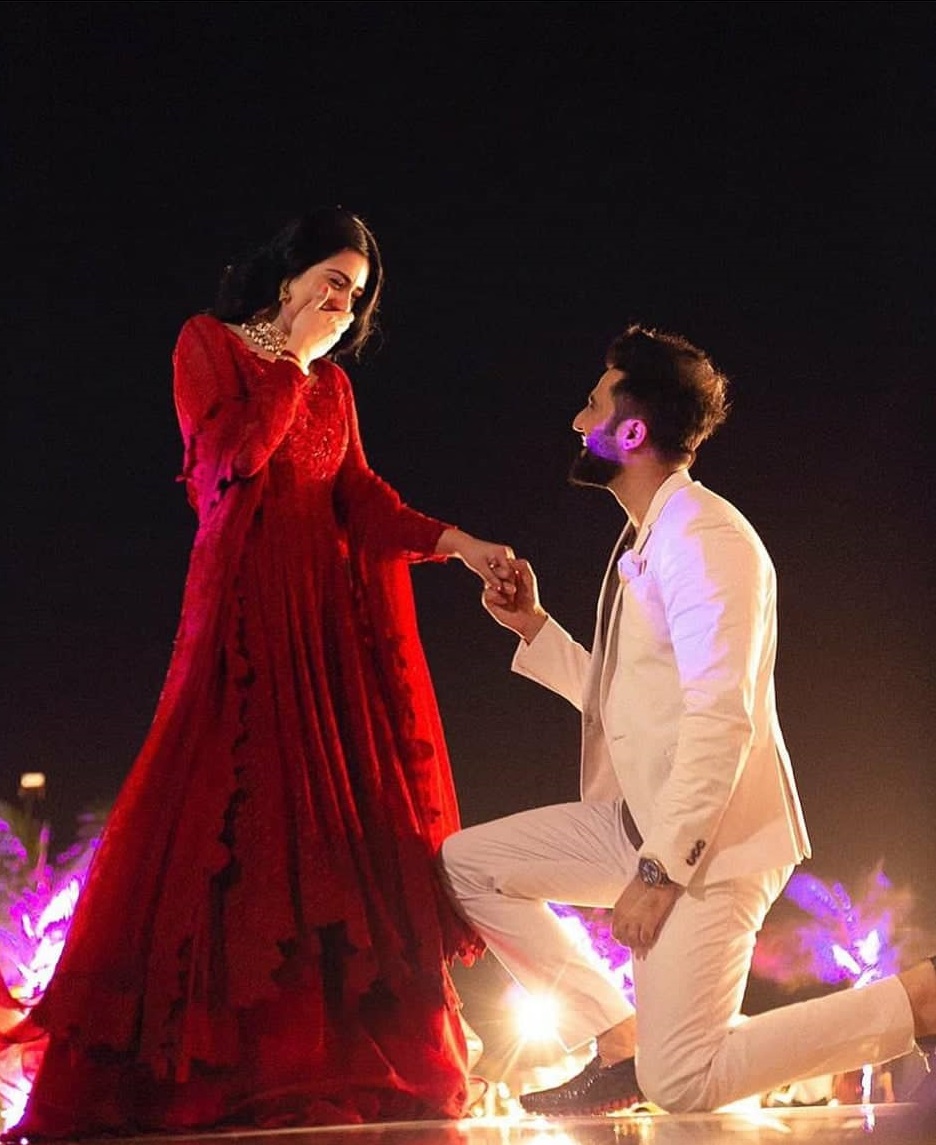 Iqra Aziz and Yasir Hussain's Relationship In a Nutshell
Iqra Aziz traveled all the way to Lahore for a special photoshoot for a clothing brand. She decided to share a picture from behind-the-scenes where her husband Yasir Hussain was making her smile. Iqra Aziz looks absolutely cute trying to maintain her pose while bursting into laughter. The photographer didn't miss an opportunity to capture this cute moment shared by the couple and Iqra too captioned it 'my life in these pictures'.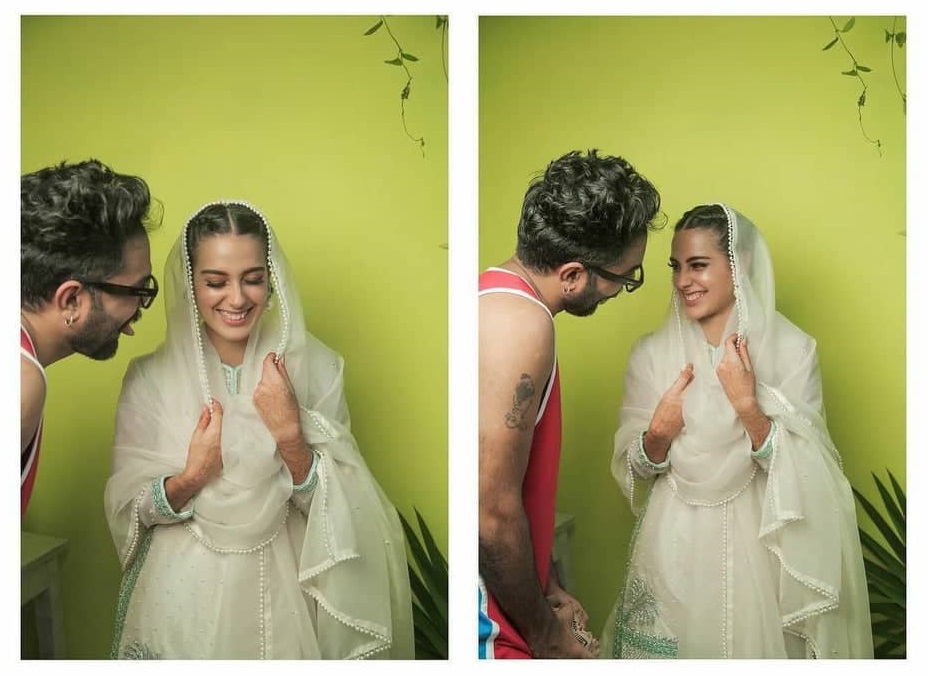 Ehd e Wafa Squad
Ehd e Wafa was one of the most loved dramas that the Pakistani drama viewers got to see starting from September 2019 to March 2020. The entire cast of the drama became everyone's favorite and the reason was that the characters they played were so special and inspirational that everyone found them relatable. This is the reason, all the behind-the-scenes, any information related to this project was keenly followed and this picture is another fine example of it. Half of the squad was having fun in Islamabad during the shoot and despite the harsh winters, their spirits were high.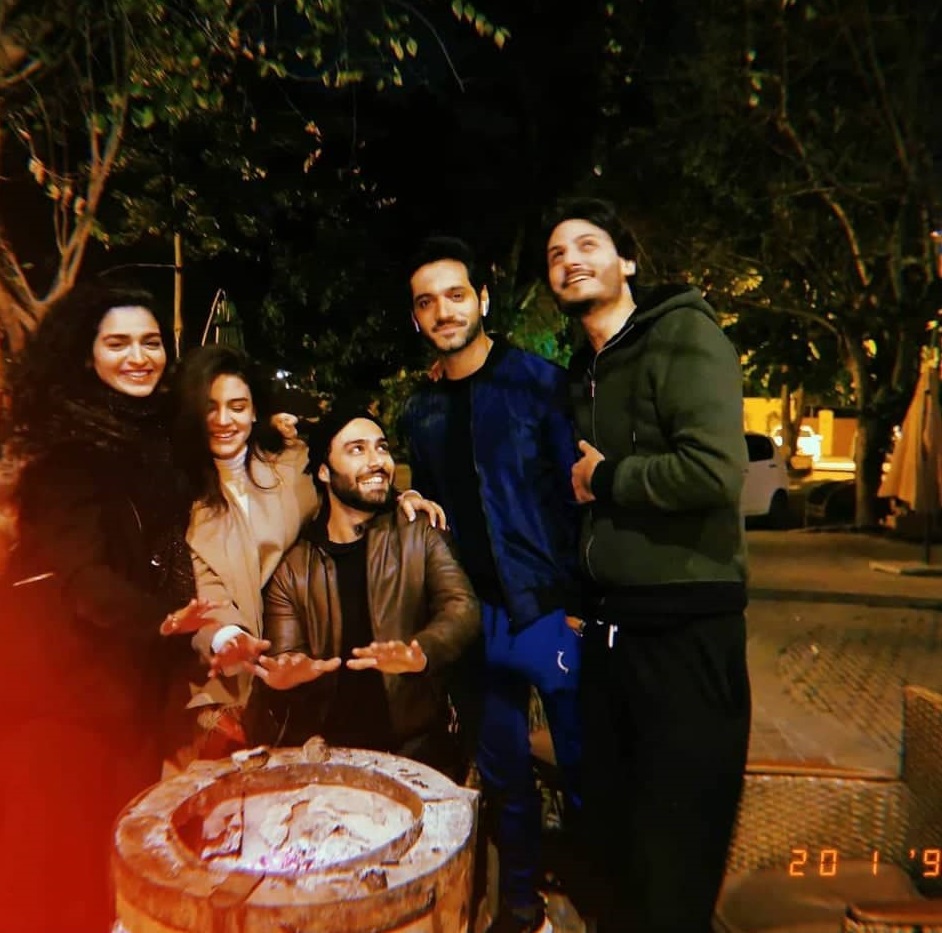 Happy Parents – Aiman Khan and Muneeb Butt
This year, Aiman Khan and Muneeb Butt celebrated the very first birthday of their daughter Amal Muneeb. She was born on August 30, 2019. Aiman and Muneeb made sure to throw their child the best birthday party and their entire families had the time of their lives. This picture just shows the genuine happiness parents feel when it comes to celebrating anything related to their child, which makes it super special.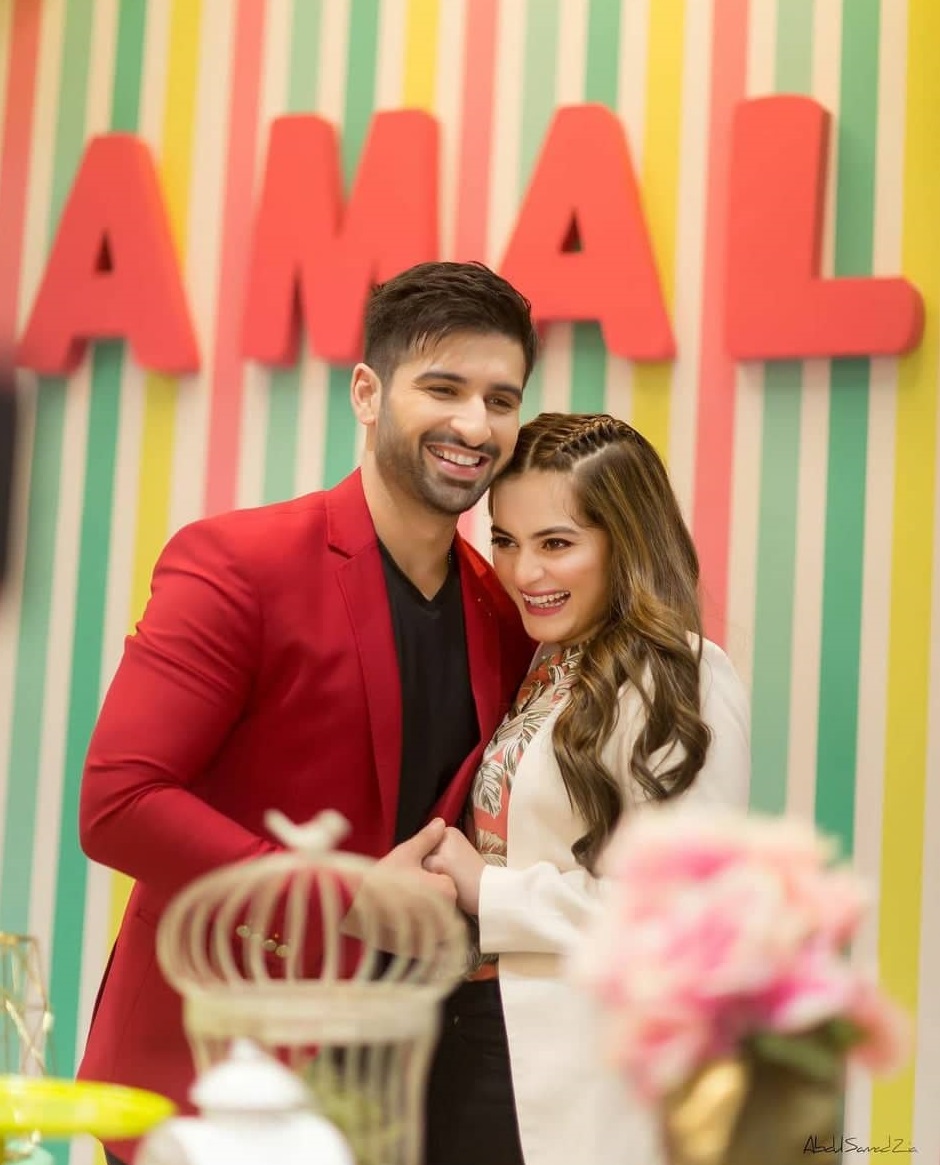 As Real As It Gets – Zahid Ahmed
Zahid Ahmed has now become a lot more comfortable with the idea of sharing his daily life happenings with his fans. Previously it used to be about his work and profession but now his social media handle is filled with glimpses of how his regular days are like. In this picture, Zahid Ahmed showed how he and his two boys prefer watching TV. There's nothing better than seeing celebrities being this real and candid with their fans.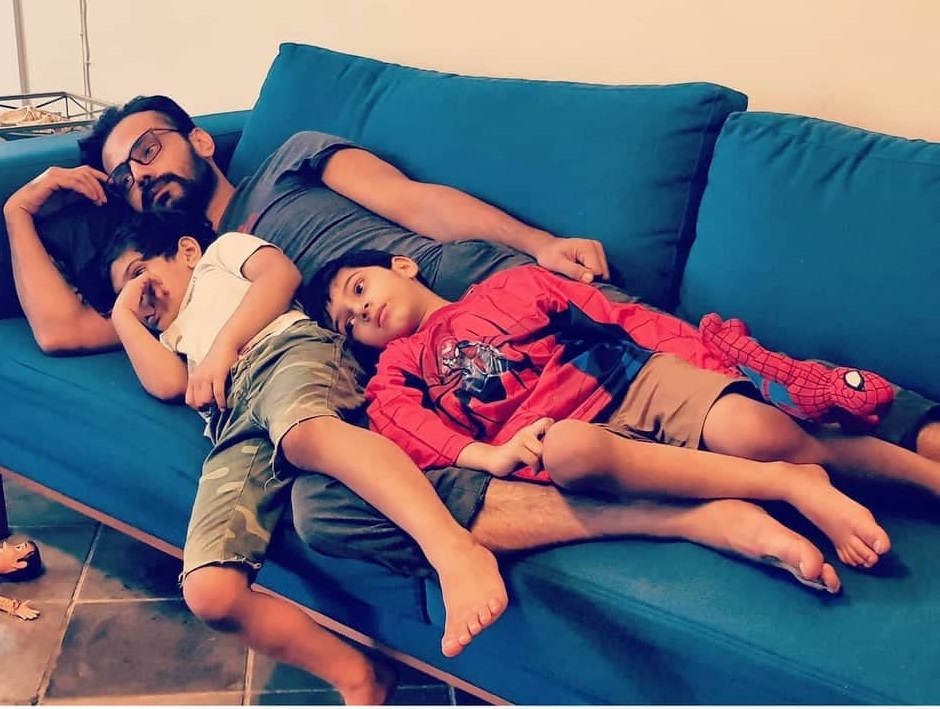 Faiza Hassan & Continuity During Nand
Faiza Hassan's drama serial Nand has garnered a lot of popularity among the drama viewers. Although the viewers lost interest in the drama halfway through, Faiza has grabbed a lot of appreciation and acclaim for her portrayal of Gohar. She has been very active on social media and is interacting with her fans and drama viewers. Faiza Hassan took it to her Instagram and shared a funny behind-the-scene picture. She stated that she had shot a long scene on a hot summer day and right after the take was over, she stood in front of the air conditioner to cool herself down. Just when she was in the middle of this, she was asked for a picture to be clicked for the sake of continuity. She told the person in charge to click the picture because she couldn't be bothered about standing straight. She said this picture rotated the groups for days for the sake of continuity. This was a fun BTS that we came across in a long time.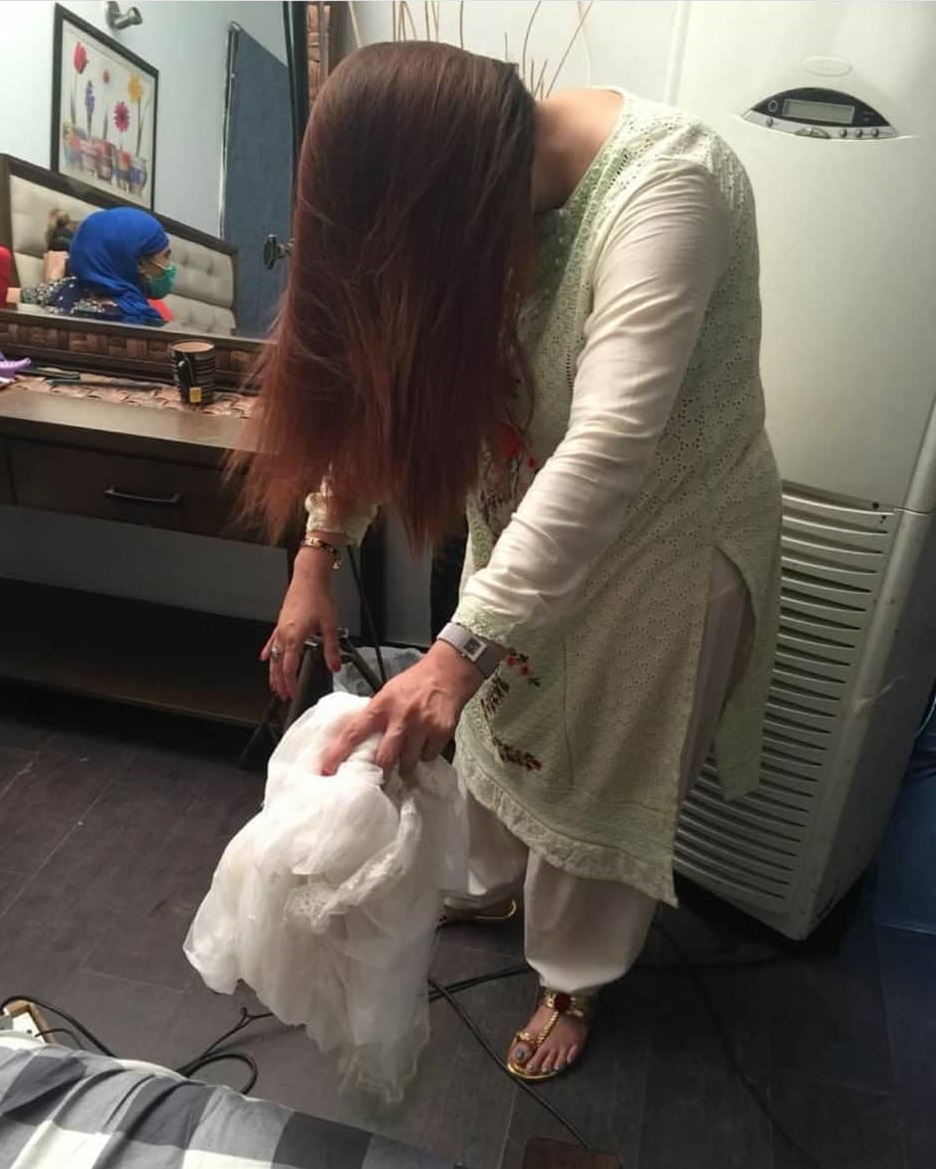 Happy Family – Ayeza Khan and Danish Taimoor
This picture is surely going to make you smile. Although more and more people have started to notice that there's never a candid picture that is shared by Ayeza Khan on her Instagram because she likes to make everything look perfect and Instagram worthy, this picture is pretty much the same but the expressions and overall happy vibe captured in this image makes it one of the best coming from Ayeza Khan and her family.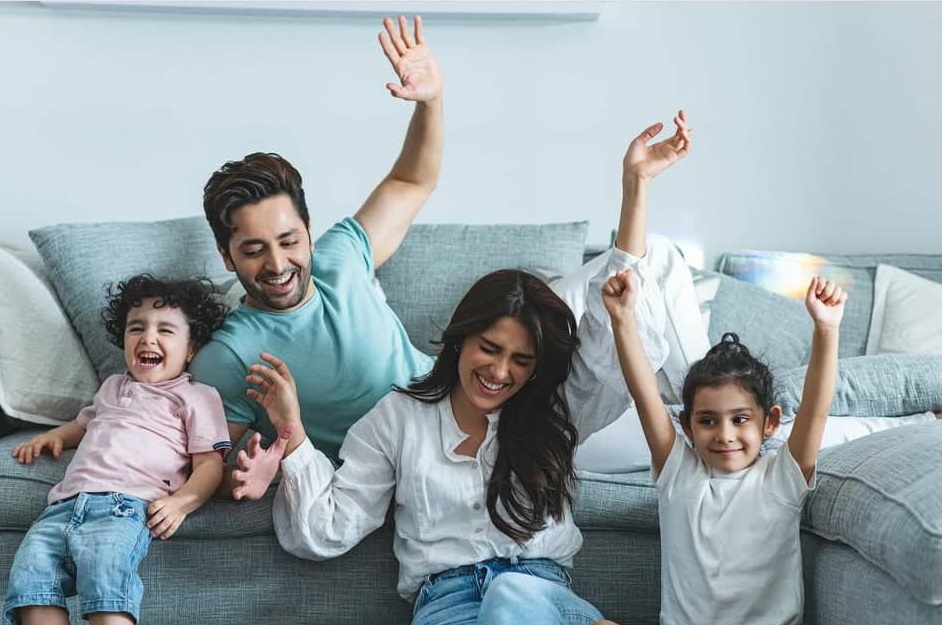 A Picture Packed With Prestige
Recently NASFF (National Amateur Short Film Festival) was conducted, which is actually going to open up the domain for the youth of Pakistan to participate and showcase their talent by making short films. In regards to that, all the big and notable names of Pakistani showbusiness were invited to be a part of it. All these big celebrities joined hands for talented youngsters to not only inspire them but also guide them to pursue their passion. Pakistani celebrities seen in the picture are Ramsha Khan, Wahaj Ali, Bilal Abbas Khan, Zara Noor Abbas, Humayun Saeed, Farhan Saeed, Iqra Aziz, Ayub Khoso, Mahira Khan, and Qasim Khan. We love this All-Star picture.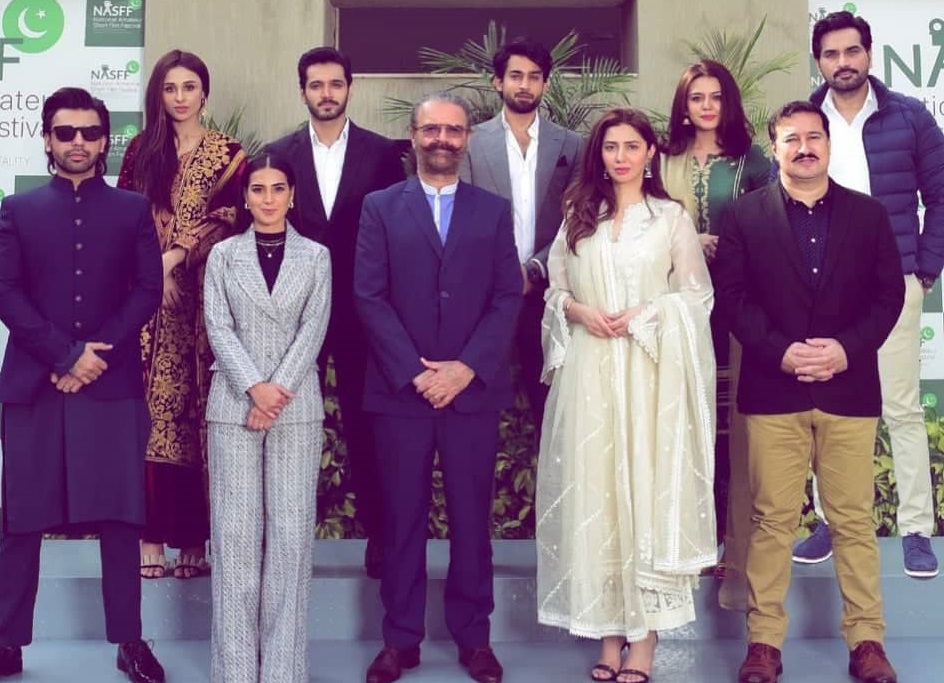 Mehwish Hayat In The Spirit of Eid ul Azha
Mehwihs Hayat took it to her Instagram to showcase how she was taking care of the animals, that were brought to her home for the Eid ul Azha ritual of sacrifice. It is always a pleasure to see the celebrities doing the most basic things and showcasing the realities of life on their social media handle that despite the star status, they are just like the rest of us when they're at home.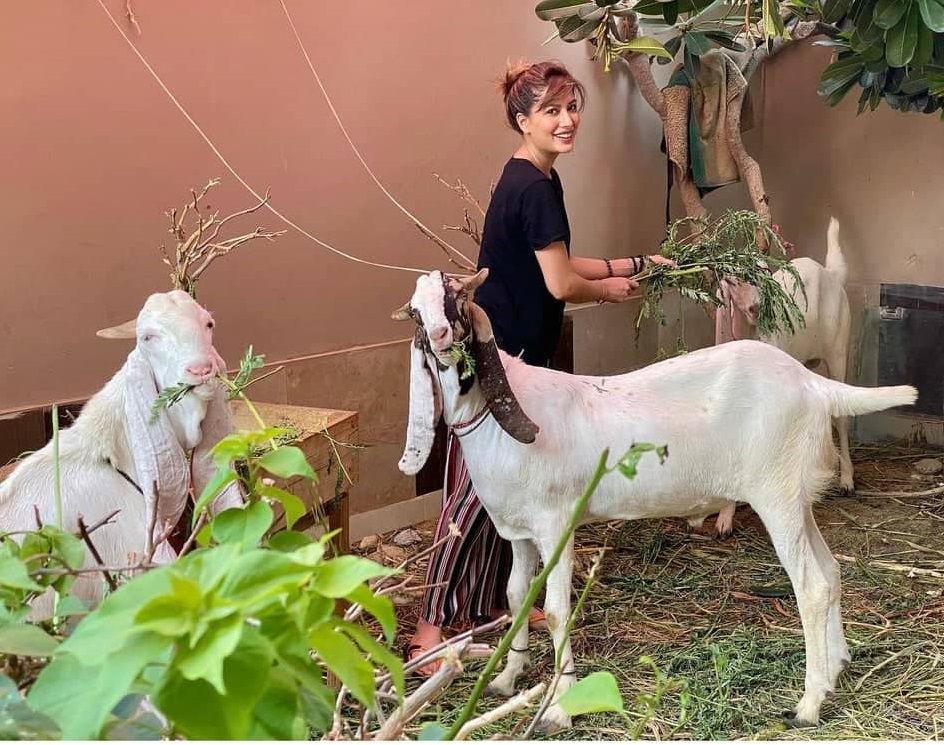 Fun Moment of Saba Qamar and Osman Khalid Butt
Saba Qamar took it to her Instagram to share a fun moment she had with her Baaghi co-star Osman Khalid Butt. Saba shared a heartfelt note about him and spoke highly of him. We love the vibe of this picture.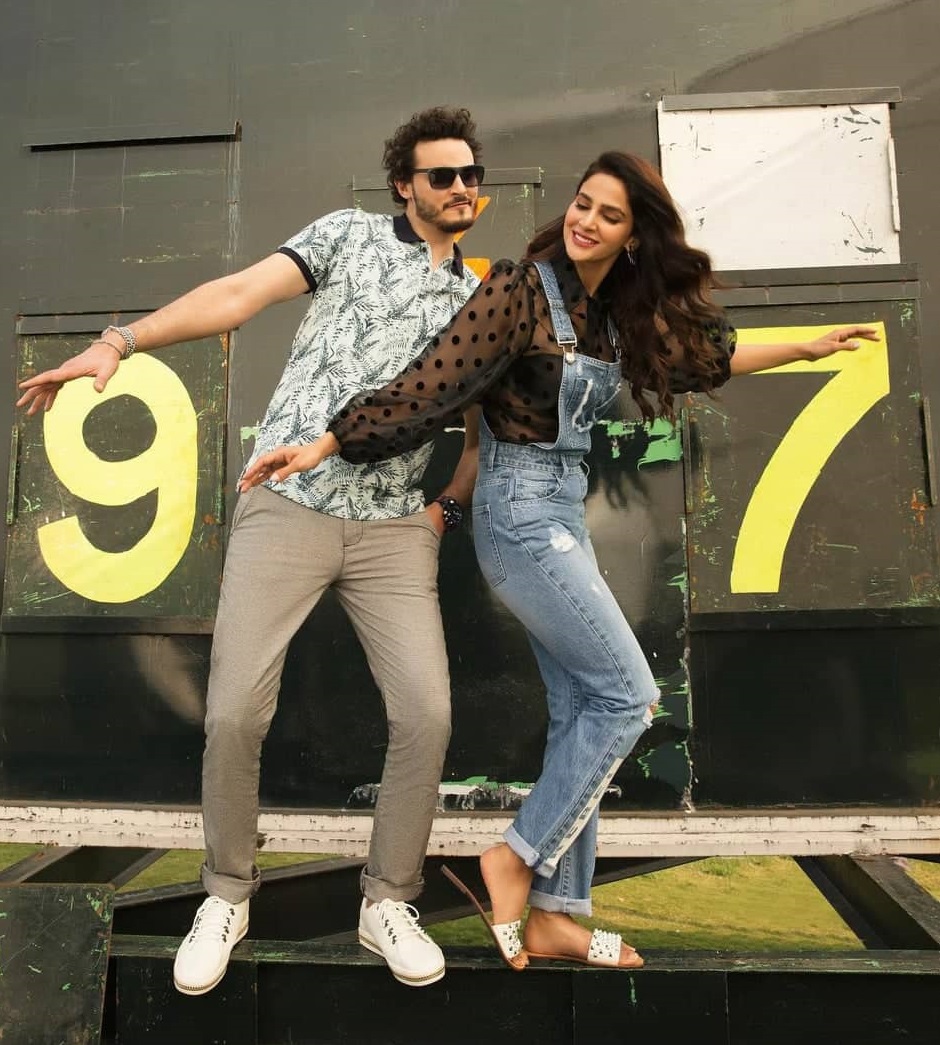 The Bride and Her Bridesmaids
In this picture, Sajal Aly and her girl squad were seen sharing a special moment with each other. Sajal Aly was all set to make her entry to her wedding venue and then all of her mains were accompanying her, getting her ready, fixing her accessories, and giving her all the love in the world to make her feel extra special. Sajal Aly is seen with Saboor Aly, Zara Noor Abbas, Sadia Ghaffar, and two other friends.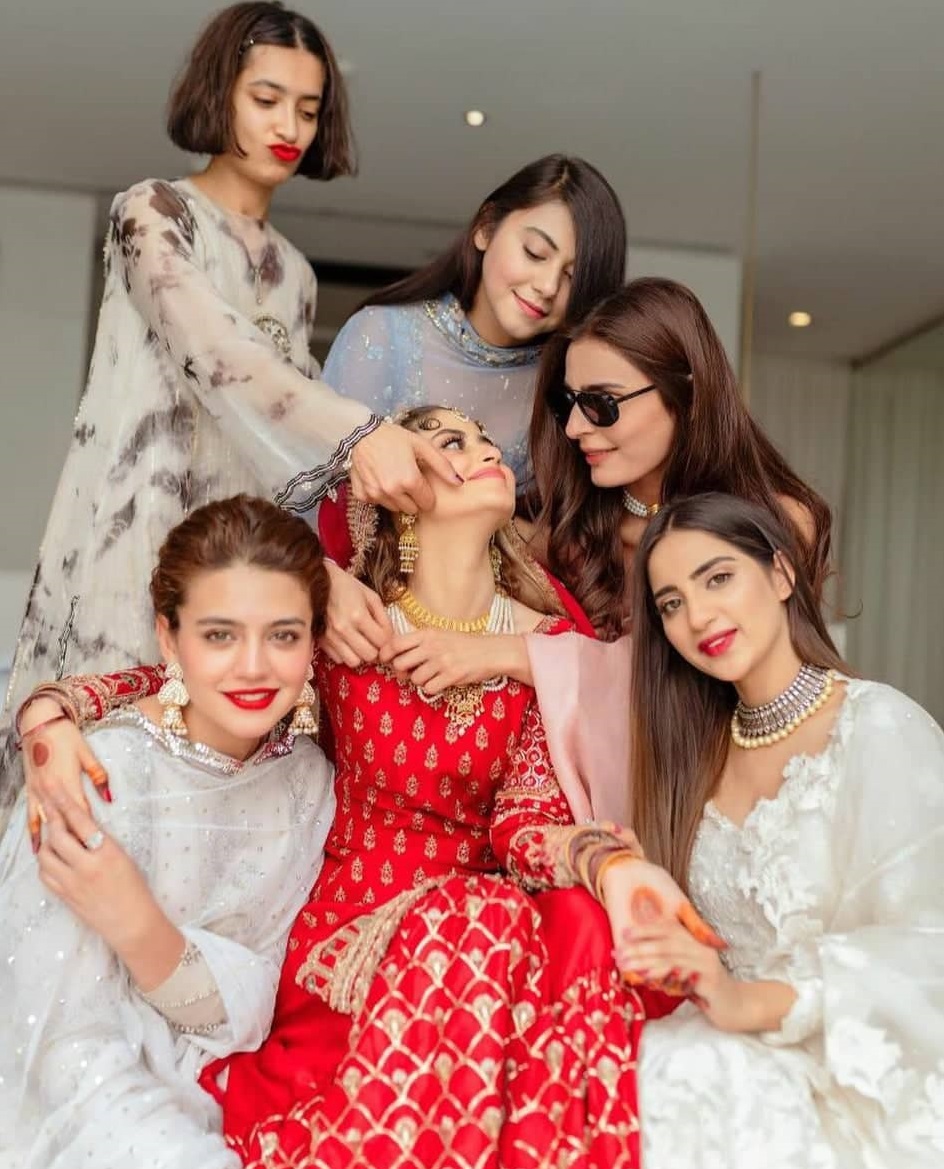 The New Normal
After the entire world was hit with a pandemic, there were a lot of changes that the people had to adapt to; one of which was social distancing. A lot of Pakistani celebrities made the Ramzan happening by appearing on Jeeto Pakistan and in order to encourage the social distancing and make people accustomed to the new normal, Fahad Mustafa and Humayun Saeed are seen doing the foot-shake, which was the new normal especially during the lockdown.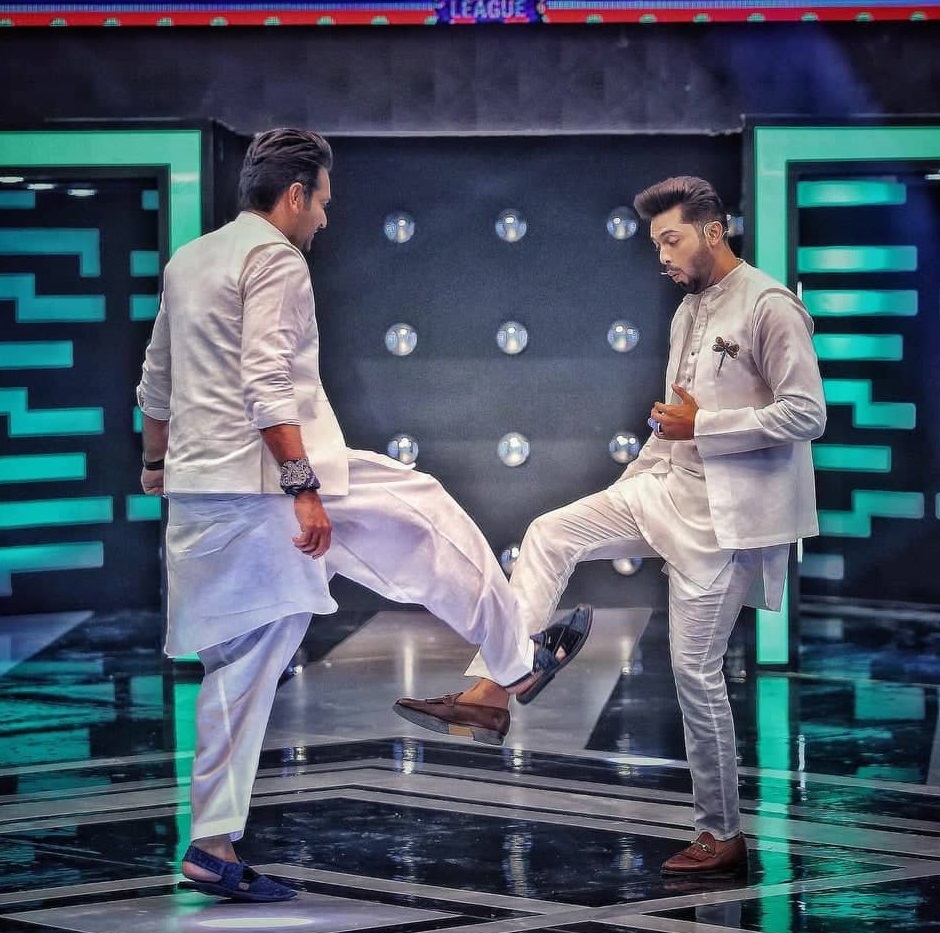 Sana Javed's Post Wedding Adventures
Sana Javed tied the knot this year with Umair Jaswal, and just when her fans were expecting to see some conventional honeymoon pictures, Umair Jaswal surprised everyone. Everyone is well aware of the fact that Umair is into biking, therefore he took his newly wedded wife on a bike ride in a hope of getting her used to Islamabad's roads and the new adventures that they're going to have together quite often.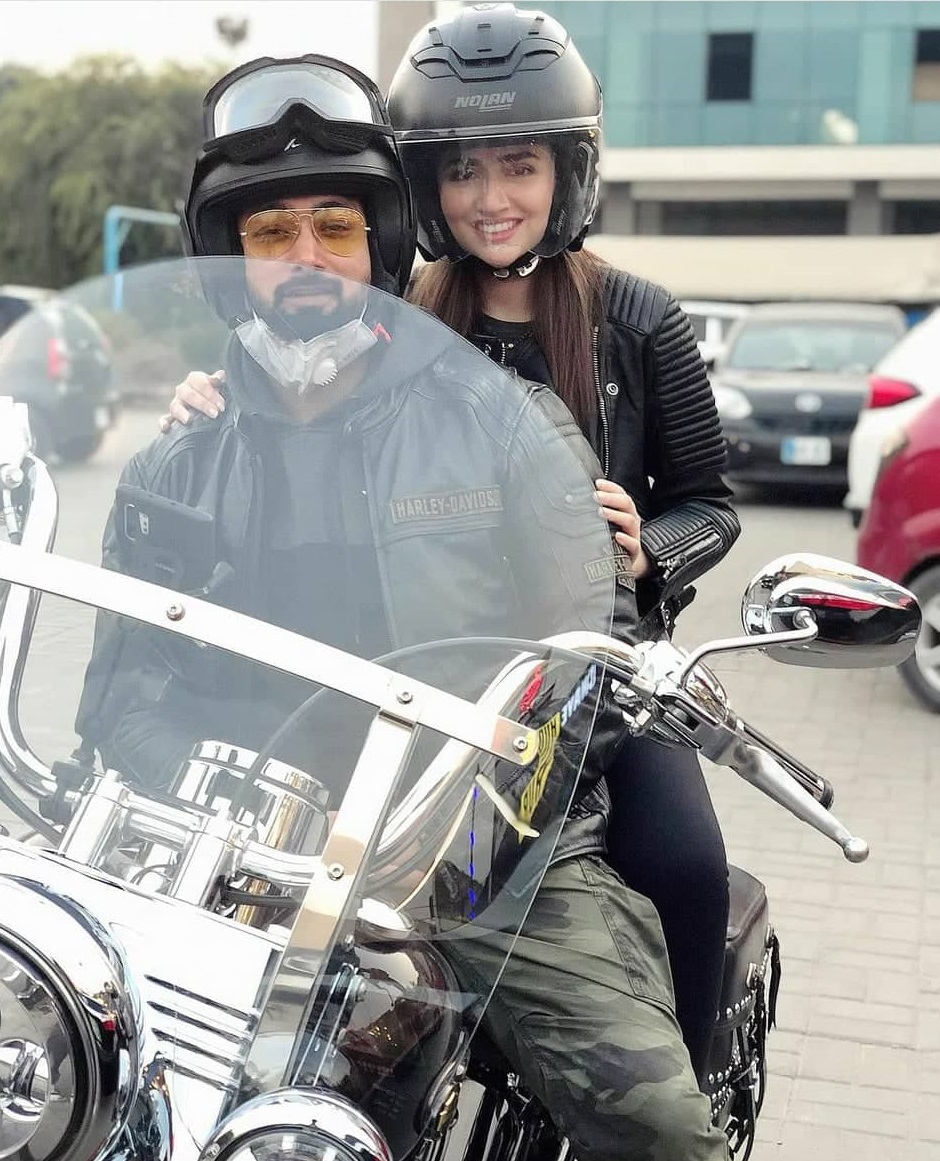 The Rare Selfie of 2020
Since everyone was observing social distancing, for the most part of this year, selfies were a no-no and were not commonly seen. However, Adnan Siddique was one of those celebrities who succeeded in capturing a few along the way, especially when he was on the location of his projects. In this picture, Adnan Siddique is seen with Faisal Qureshi, Shaneira Akram, Fawad Khan, and Ahmed Ali Butt.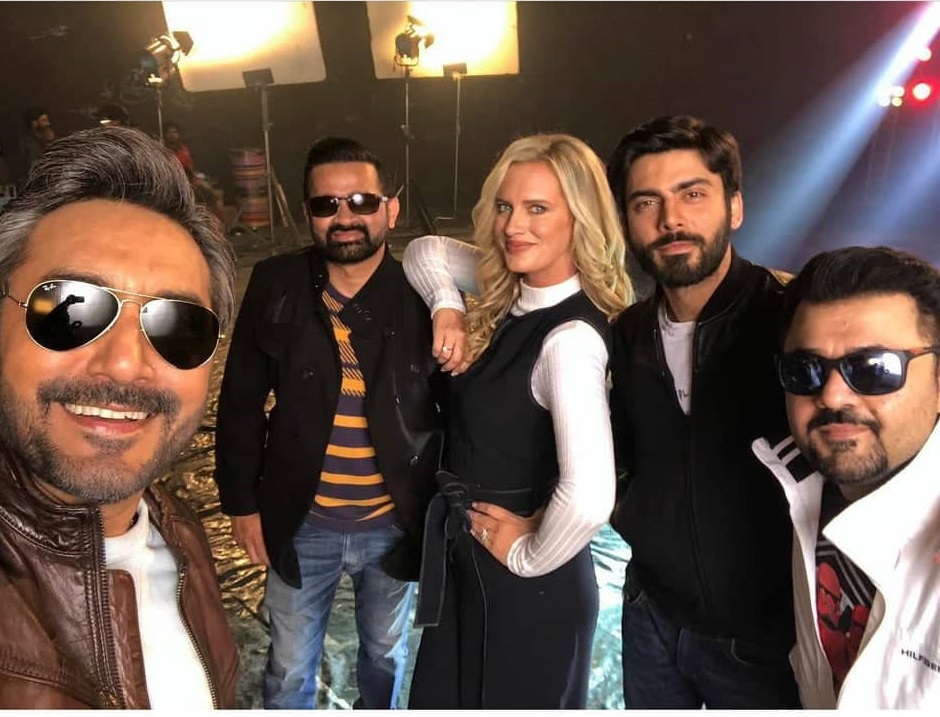 This concludes the list of the top 30 celebrity pictures that we came across in 2020. Which ones are your favorites? Please feel free to share your thoughts in the comment section below