Hira Mani has paved her way to success in a short span of time. It is Hira Mani's immense talent that has allowed her to not only earn a name for herself but also a spot in some of the best and successful dramas over the years. Hira started off as a co-host to her husband Mani but after that she explored the domain of acting and never looked back. It won't be wrong to say that Hira Mani is the find of Pakistani showbiz industry and she is a very fine actor who breathes life into the characters she plays.
Hira Mani's transformation is exemplary where she not only lost weight but also worked a lot how she wants to carry herself. After experimenting a lot with her styling and makeup, she now seems to have picked up the kind of style which is quirky with Hira's personal and modern twist to it. Hira Mani has unique features and this is the reason why there are specific kinds of makeup looks that she can carry. Hira Mani has healthy skin therefore she does not need a lot of base and skin makeup, however when it comes to accentuating her eyes and the entire face structure, the makeup artists have to be particular about the kind of techniques they rely on to do justice to her beauty and bring out the best in her.
Here are the top 5 makeup looks of Hira Mani:
Clean and Fresh Makeup
This makeup looks absolutely beautiful on Hira Mani. In an era where makeup look is incomplete with shimmering highlighters, this matte makeup look is such a pleasant change and gorgeous to look at. It is all about matte foundation which actually gives her skin a beautiful finish. The eye makeup is simple and fresh which has been achieved using warm tone eyeshadow and a bit of pink. The eyeliner has been applied with a pencil and not a liquid eyeliner, because of which her eyes have a softer look. The wing elongates her eye shape and it has also been smudged at the end. The actual technique which is making this eye look beautiful is the usage of ivory almost shimmery eye shadow in the inside corners of her eyes, covering the tear ducts, it opens up her eyes even more. The white pencil has also been used to line the eyes, making her eyes look open. The rest of the face makeup is simple with peachy pink blush and similar shade of lipstick. The makeup artist has darken her eyebrows to frame her face and in a makeup look which is all about softer fresher look, the dark eyebrows are completing the look perfectly. There is no heavy contouring on the face but her nose has been accentuated using the technique and there's a slight bronzing done on the sides of her face, especially the hollow of the cheek.
The Blown Out Smokey Makeup
This makeup look also looks gorgeous on Hira Mani and although she is rarely seen in kohled eyes, this look shows that she can carry such makeup look beautifully as well. The focus of this entire makeup look is on her eyes with cool toned browns which form the edge. The same shade of brown has been used to smoke out the lower lash-line. The rest of the makeup is simple with kajal in her waterline and the rim of her eyelashes, which makes this look a classic smokey eye. Eyebrows are dark to balance out the darkness created by the kajal. The rest of the face is considerably highlighted bringing the high points of her face to the forefront like undereye area, forehead, bridge of the nose and center of her chin. The rest of the face is perfectly bronzed and not so structured with a harsh contour. The lipstick is a perfect shade of pink which gives her lips a beautiful natural color.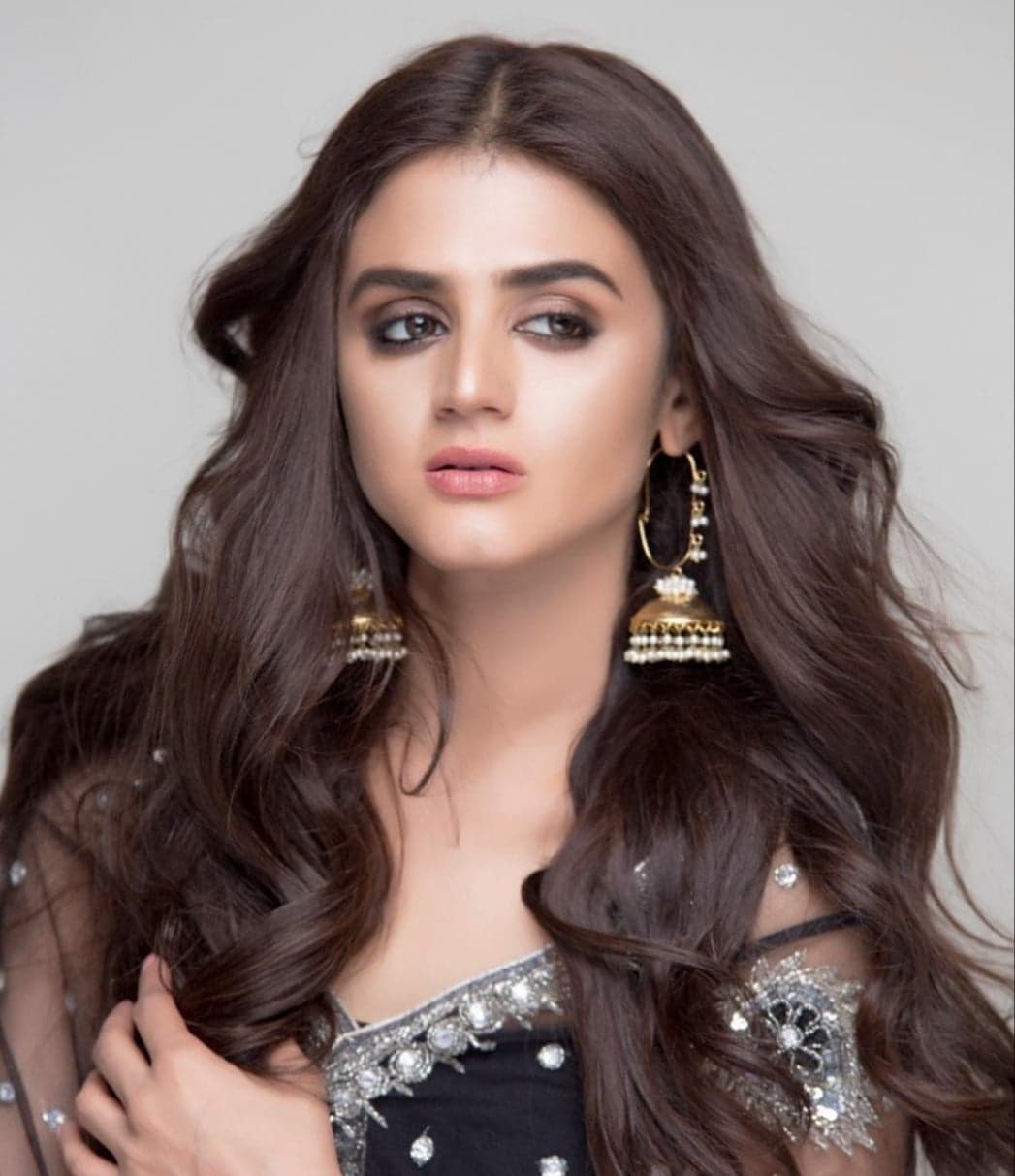 The Highlight Effect
This entire face of makeup is all about the glow, both on the eyes and the face. The foundation is dewy and there's a lot of highlighter that has been used to accentuate her cheekbones and bring attention to the rest of the face as well. The eye makeup is beautiful with a beige shimmery eyeshadow on the lid and the depth has been created using a basic shade of brown. Hira Mani is wearing false eyelashes but only on the outer edge of her eyes which gives her eyes a feline effect. This look is different and not something that she carries quite often but it looks gorgeous on her. In this look as well, her face has not been heavily contoured, which goes to show that makeup artists do not want to bring harshness to her already structured face. She is wearing a beautiful mauve shade lipstick which is in trend from the last couple of years.
The Classic Bridal Makeup
This is the classic bridal makeup look that suits Pakistani features the best and is the kind of makeup that can never go wrong. It is all about the dramatic eye look where the crease has been accentuated using dark brown and black eyeshadow, the edge has also been darkened. The center of the lid has shimmery golden eyeshadow, finished off with a strip of dramatic false eyelashes. The rest of the face is all about matte foundation, properly arched eyebrows, beautiful shade of pink blush on to bring softness to the face and a beautiful shade of neutral brown lipstick with a bit of red undertone. This makeup look is absolutely beautiful on Hira Mani.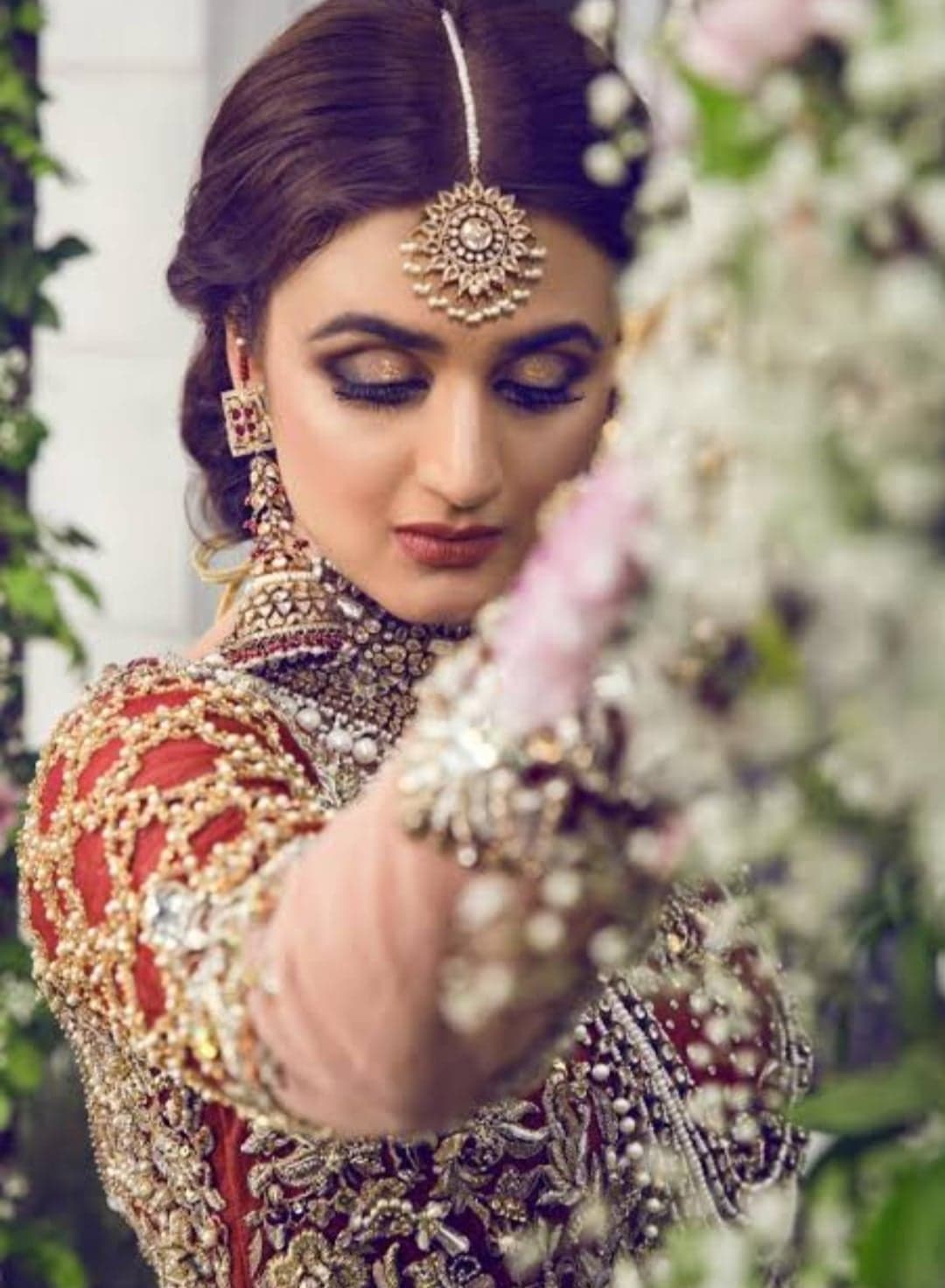 The Do Bol Makeup
Hira Mani was known for going overboard with lip and cheek tints in her previous projects. She also used to wear a lot of it on her nose as well which made it look like she was crying or is going to start crying any minute. However in Do Bol, Hira Mani definitely looked at her finest because the makeup artist allowed her beauty to shine through and used only the minimal amount of makeup, which was actually required to accentuate her beauty. This is the reason why Hira Mani, while promoting Do Bol actually gave a shout out to her makeup artists because she also acknowledged the fact that he did a good job on her and made her look absolutely beautiful. The kind of makeup that Hira Mani wore in Do Bol was all about fresh and clean looking face makeup with minimum foundation, a bit of highlighter on the cheekbones and some blush. The lipstick was kept to a minimum and eyes were given a little definition using bronzed warm brown eyeshadows. She also wore thick eyeliner in some of the scenes which also looked good and because it wasn't a liquid eyeliner, her eyes never looked too made up or overly defined.
This concludes the list of top 5 makeup looks of Hira Mani. Which one of these makeup looks is your favorite? Share your thoughts by commenting below.