Noor Hassan is a renowned name of Pakistani drama industry. Noor Hassan has been a part of some amazing projects ever since the start of his career & he has carved a niche for himself. Noor Hassan has garnered himself a huge fan following & he makes sure to stay connected with his fans. Celebrities like Noor Hassan are always popular with the fans because they go the extra mile to stay in touch with them & make them a part of their daily lives. Noor Hassan has proved that his easy-going & fun approach has earned him this status amongst his fans & it is very nice to see him always being active on Instagram.
Instagram, over the last few years has given an amazing platform to everyone to connect & share an insight into lives. Where some people exploit it, Noor Hassan shows that he has everything sorted & that he is there for a reason. The best thing about Noor Hassan's personality is his humor & that can be seen all over his Instagram account. Be it memes or jokes, you won't be able to scroll through Noor Hassan's Instagram feed without laughing out loud. It is amazing to see that Noor Hassan has made it a part of his social media to spread smiles & laughter because that also serves a bigger purpose.
Just like Noor Hassan, his fans also have a great sense of humor. There is a particular account dedicated to Noor Hassan which is owned by one of his Indian fans. He acts as Noor Hassan's personal meme generator & Noor Hassan always makes sure to share his creativity. I myself had such a good laugh going through all of these memes.
Let's take a look at why I say, Noor Hassan is the funniest Pakistani celebrity on Instagram & why you should be following him on Instagram:
Memes & Jokes:
Jokes & memes are a huge part of Noor Hassan's feed. He does it only to make people smile & happy, which I feel is the most endearing trait a celebrity can have & a beautiful gesture he or she can extend towards their fans.
Beautiful Relationship With His Mother:
Noor Hassan is hands down a mama's boy. He loves & respects his mother a lot, that is why you will continue to see beautiful pictures of Noor & his mother. It is sweet how he makes sure to dedicate posts to his mother, thanking her for what she has done & praising her beauty. Noor Hassan's mother is beautiful & their pictures together are surely going to bring a smile on your face.
Friends' Spam:
Noor Hassan has a huge friend circle & they will be seen all over his Instagram feed. Sanam Chauhdry happens to be Noor Hassan's best friend so she has taken a huge chunk of his feed. Their interactions are not only cute but super funny too. Similarly, Noor Hassan makes sure to make all of his friends feel special, that is why he keeps on talking about them on his Instagram account.
Tiktok Videos:
These are the biggest reason why I feel Noor Hassan is the funniest celebrity on Instagram. Watching his videos not only make you laugh but also show how professional of a Tiktok video maker he is because the quality of his content is simply brilliant. Even though these clips make you laugh but it was absolutely beautiful when Noor Hassan shared that he does all of this to serve a bigger purpose. Who'd have thought that being a celebrity, he will be so mindful of the mental state of his fans & followers. It is very sweet.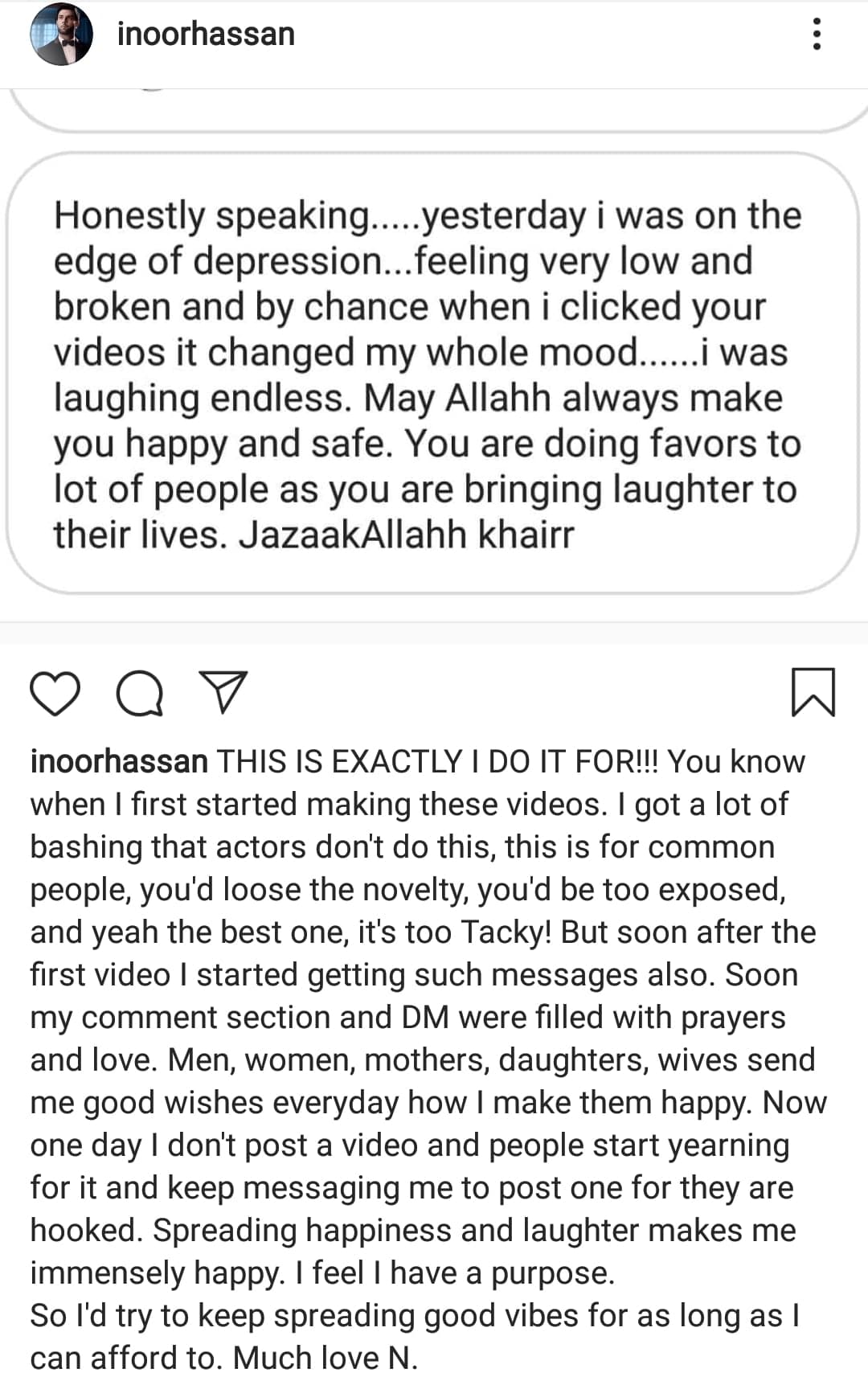 Profound Messages:
Even though a huge part of his Instagram feed is dedicated to humorous stuff every now & then he makes sure to share some special messages only to alter the perspective of his fans. It is amazing how Noor Hassan has made his Instagram account so well-rounded where there is something out there for everyone to take & ponder upon. People do love humorous stuff but when a special & profound message is conveyed, it strikes a chord & Noor Hassan is doing a great job for that.
& then, he acknowledged Reviewit & thanked us for the great reviews on Meer Abru, so all the more reason to check his Instagram account & follow him there.