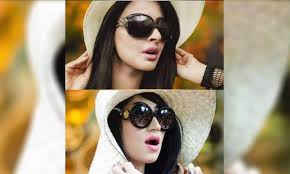 The latest teaser of Baaghi is out with a surprise for Usman Khalid Butt's fans because the serial includes him as the second protagonist, who happens to be in love with Saba ( Qandeel). His role in the serial makes us dwell deeper into the love life of Qandeel and makes us discover the ordeals she went through in order to achieve her dreams.
The most anticipated drama has been in news since a while and the teasers are captivating enough to have us glued to our TV screens once the drama is out. The latest teaser shows a conversation between Saba and Usman Khalid Butt in which they discuss their love life and the aftereffects of their union.
Reassuring Qandeel of his love, Usman tells her that he does not care about her past or about her previous marriage and the kids she has. He assures her that he does not even care about her Facebook videos because he is madly in love with her. Definitely adds a new twist in the story!
Qandeel, on the other hand, is determined not to accept his proposals because she seems afraid that the class divide might prove to be a hurdle in their love life and that her past will haunt her forever. Saba's refusal and Usman's determination, adds to the suspense the serial holds within and we can't wait to get a better look at it.
What excites the fans more is that this drama will be depicting the positive aspects of her personality and not just the negative ones and this will eventually give us a better insight to Qandeel Baloch's real life.
Here is the teaser for you all to have a look at:
https://youtu.be/G5vzu892uDY