So, the so called love day – Valentines day is here. It's ohkay for those who originated it to celebrate but is not meant for the societies who just want to hop the bandwagon to show that they are not the odd ones out.
It is this time of the year & we can clearly see our morning show hosts dedicating the whole week for this purpose. Calling celebrity couples to make people understand how much they lurve each other on-screen. Morning shows are mostly seen by the housewives who tune to them while doing their household chores. It isn't always necessary that in order to help them kill their time, they come up with next to nothing in the name of entertainment. Who says entertainment can not be or should not be informative? Who says that we need the shows like these to promote the English concept of love when it has nothing to do with us or our festivities?
I see there's a massive group of people in Pakistan that has accepted this as a norm & those who don't follow it are declared as backward or almost aliens but the truth is, we should focus more on the festivities that actually mean something to us in stead of just following what the West has prescribed for us.
I am actually gutted to see the morning show hosts going gaga over the promotion of valentines day & literally dedicating their precious time to tell people how important it is to express your love on this particular day, how important it is to exchange the gifts wrapped in RED gift papers, how important it is to be dressed in RED & wearing RED lipstick bhalay hi after the clock strikes 12 you don't feel like talking to each other but no matter what, it is important to do all this in these 24 hours. Does it really have to be shown to the normal people who are busy with their lives to especially do certain things & gestures which actually mean nothing?
The morning show hosts come up the most irrelevant excuses while promoting such days in their shows that Pakistan is going through such a tough time so we want to spread smiles. I think they need to understand that by showing needless things in their shows that too in the wee hours of the morning, they are doing nothing to spread smiles in fact they are making people addictive of the Panadols, because all the shor sharaba & nach gana tends to be a headache-provoker instead of bringing a smile to anyone's face!
All I say is that happiness is subjective & independent of such days. No one needs a certain day to celebrate each other's presence & certainly there's no need for all the fuss over a petty day which clearly has no value especially in Pakistan. Share your thoughts on this.
& in the end to re-emphasize it's importance, a word of thought from my favorite artist Arsalan of Comics By Arsalan: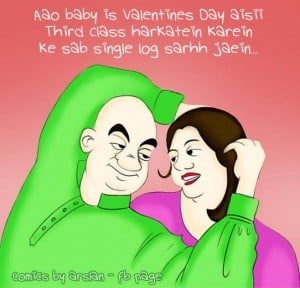 Keep Supporting,
Cheers,
Zahra Mirza.