People around the world are using TikTok to get fame and entertain others. The famous app has benefitted many people in getting famous and earn a good amount of money as well.
A Pakistani girl's TikTok videos are receiving hate. The videos are made in front of Jinnah's mausoleum and they have taken social media by the storm.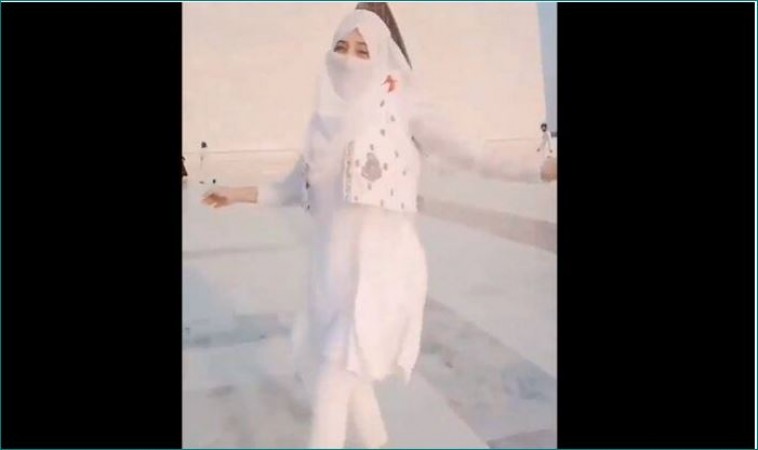 The girl is wearing a white dress and she made videos while dancing in front of Jinnah's tomb. People are angry and furious over her videos.
The videos are receiving mixed reactions, some are criticizing the girl while as, some people are accusing the security personnel of negligence.
Check out the public reaction on her videos:
A girl in full hijaab dancing at the front of #QaideAzam tomb for her TikTok video! pic.twitter.com/XkDAmqnHCa

— Instant lollywood (@Instantlollywo3) February 23, 2020
Shame on this girl for doing dance at Quaid's Mazar.
Any goverment official notice for this type of vulgarity at Mazar e Qaid. pic.twitter.com/5qfdpRtre8

— Ayesha (@AK____9) February 24, 2020
How can you even think of doing so at Mazar-e-Quaid? Such a illiterate and disgusting people. pic.twitter.com/tTgVXSg2kq

— Sajjad ( Lahore Qalandars♥️) (@Sicilian__Mafia) February 22, 2020
It is wrong everywhere not only Mazar e Quaid https://t.co/w7eUdv2Oq8

— Muhammad Jahangir Butt (@99_mjk) February 23, 2020
It isn't abt Mazar-e-Quaid. Such practices of disrespecting Hijab/Veil are highly condemnable at any place. https://t.co/NEOIYWd0RK

— Smaher. (@_Optophobic_) February 23, 2020
Dear Karachi police should arrest her as and make her example
How dare she danced around Mazar e Quaid ? https://t.co/weyZoOqIqg

— Dreamer🇵🇰 (@Dreamer4927) February 23, 2020
Officials of the Quaid e Azam Mazar Management Board are paid for taking care of such issues. If they can't do their work, then they should be sacked. Agreed that it isn't a sacred place but integrity and respect of the mausoleum can't be compromised.@Shafqat_Mahmood https://t.co/5TWA12J0Pt

— Team Karachi (@TeamKarachi0001) February 24, 2020
This Is Right At Mazar-E-Quaid😢 pic.twitter.com/AcoVxQlEVh

— Haya Awaan (@Bechariii) February 22, 2020
After receiving backlash, the administration of Mazaar-e-Quaid has taken notice. They have approached FIA to investigate on this matter and remove these videos from the internet.
Top Trending Video