2019 premiered a drama series that impacted the audiences to a great extent. It garnered positive reviews, immense popularity and top trending on YouTube. Ehd-e-Wafa's phenomenal success has won a place for itself in the heart of every viewer. The one name that has made everyone sit up and take notice is one of the lead actors Wahaj Ali. The talented actor, who debuted with 'Ishq Ibadat' in (2015) has remarkably made a steady rise and continues to focus on his acting. It seems that not only us but the entire fraternity is impressed by Wahaj's act. Amid all the success and applause for Ehd-e-Wafa by fans, veteran actor Nadia Jamil recently took to face and sent love to the actor praising his performance.
Her post says:
"Loving Ehde Wafa. Super proud of my baby bro Wahaj Ali for his genuine heartfelt performance!"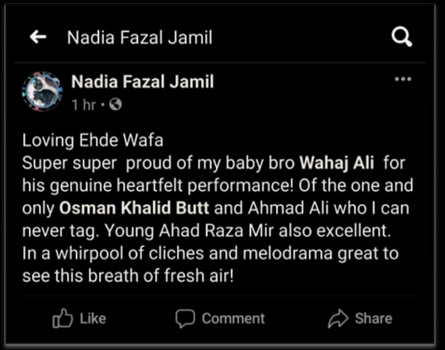 She also praised the other cast members:
"Of the one and only Osman Khalid Butt and Ahmad Ali who I can never tag. Young Ahad Raza Mir also excellent. In a whirlpool of clichés and melodrama great to see this breath of fresh air!"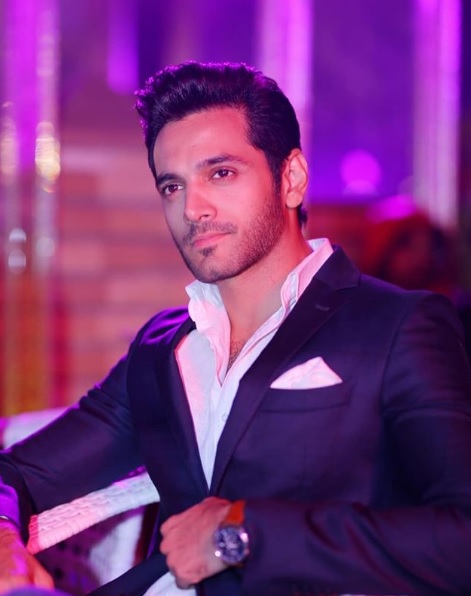 Wahaj Ali is a man with a vision to grow and become and keep doing better. Words fail to capture what the talented actor brings to the screen. Just a few years into the industry and Wahaj Ali has become one of the most distinctive and trusted actors of Pakistan. The young star has already played leading roles in Gila, Hari Hari Churiyan, Dil Nawaz, Mah-e-Tamam, Dil-e-Besharam, Bharam, and Ehd-e-Wafa. What Wahaj has in abundance, is the dedication and passion for his primary love – acting.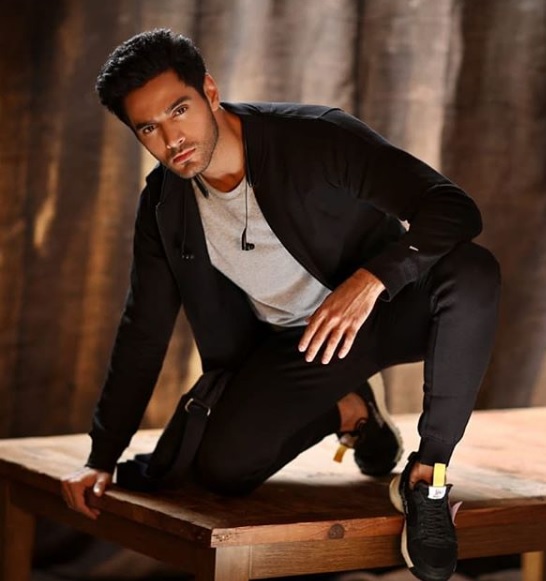 Ehd-e-Wafa has kept a strong fan following ever since it started. Not just in Pakistan, the play has been receiving praises across the border too. The drama revolves around a group of high-spirited friends who help, support and enjoy one another's company as they overcome the hardships in their life. They try to reconnect with each other after they parted ways on a bitter note at the end of their college life.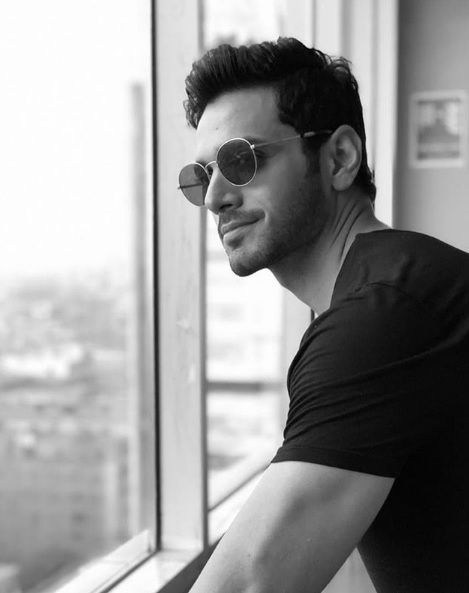 By Ozair Majeed