The walima function of Iqra Aziz and Yasir Hussain has finally marked the end of their short and sweet wedding festivity. Iqra Aziz and Yasir Hussain's wedding definitely was the highlight of this month. The fact that they took their fans and followers along and made them a part of their special life event made it even more special. Iqra Aziz and Yasir Hussain's wedding was a star studded affair but they still kept it as simple as they could with the intention of making it enjoyable and memorable for themselves as well as those who came to attend it. It is safe to say that Iqra Aziz and Yasir Hussain's wedding will be remembered for a long time for all the right reasons and they have surely touched everyone's heart with their simple approach towards their wedding.
Iqra Aziz was bound to make a beautiful bride and every single day, she wowed everyone with her gorgeous and stunning choices, whether it be in terms of her dressing, her styling, makeup or jewelry choices. Iqra Aziz made it very obvious that happiest brides make the prettiest brides. Although Iqra Aziz chose the classic traditional route and stayed very much true to the Pakistani bridal fashion and culture, she decided to modernize it on her Walima. All of her looks were different, gorgeous and suited her age. Iqra Aziz stayed right in her element and chose all the looks which she could carry with ease, comfort and elegance.
Here are some of the details about Iqra Aziz's Walima makeup look, dress and jewellery:
Iqra Aziz's Walima Makeup Look
The celebrity makeup artist responsible for Walima glam of Iqra Aziz is Iqram Gohar. It is interesting to note that Iqra Aziz chose three different makeup artists for all three functions. It shows that she was not only comfortable with different makeup artists and respected their craft but she also wanted to carry different looks. After opting for totally traditional styling and looks on mehndi and nikah, Iqra Aziz decided to go for a modern look. The walima makeup look of Iqra Aziz is all about the graphic eye makeup. Iqram Gohar has done a modern and trendy makeup look which is graphic which is all about the sharp extended outer edge. There is no blending whatsoever on the crease of her eye. An eyeshadow similar to her skin tone has been applied all over the lid and the rest of the eye look has been completed with black eyeshadow. The makeup artist kept the rest of her face simple too and allowed her natural beauty to shine through. Iqram Gohar also kept Iqra Aziz's eyebrows looking very natural without overfilling or defining them. Iqra Aziz naturally has sparse eyebrows therefore the makeup artist did not go overboard. There is a bit of warmth around her face and the similar bronzing shade has been used to contour her nose. She is wearing a lot of highlighter on the apples of her cheeks which gives her the glowy and fresh look. Iqra Aziz is wearing a mauve nude shade of lipstick, which is making a statement of her lips but better.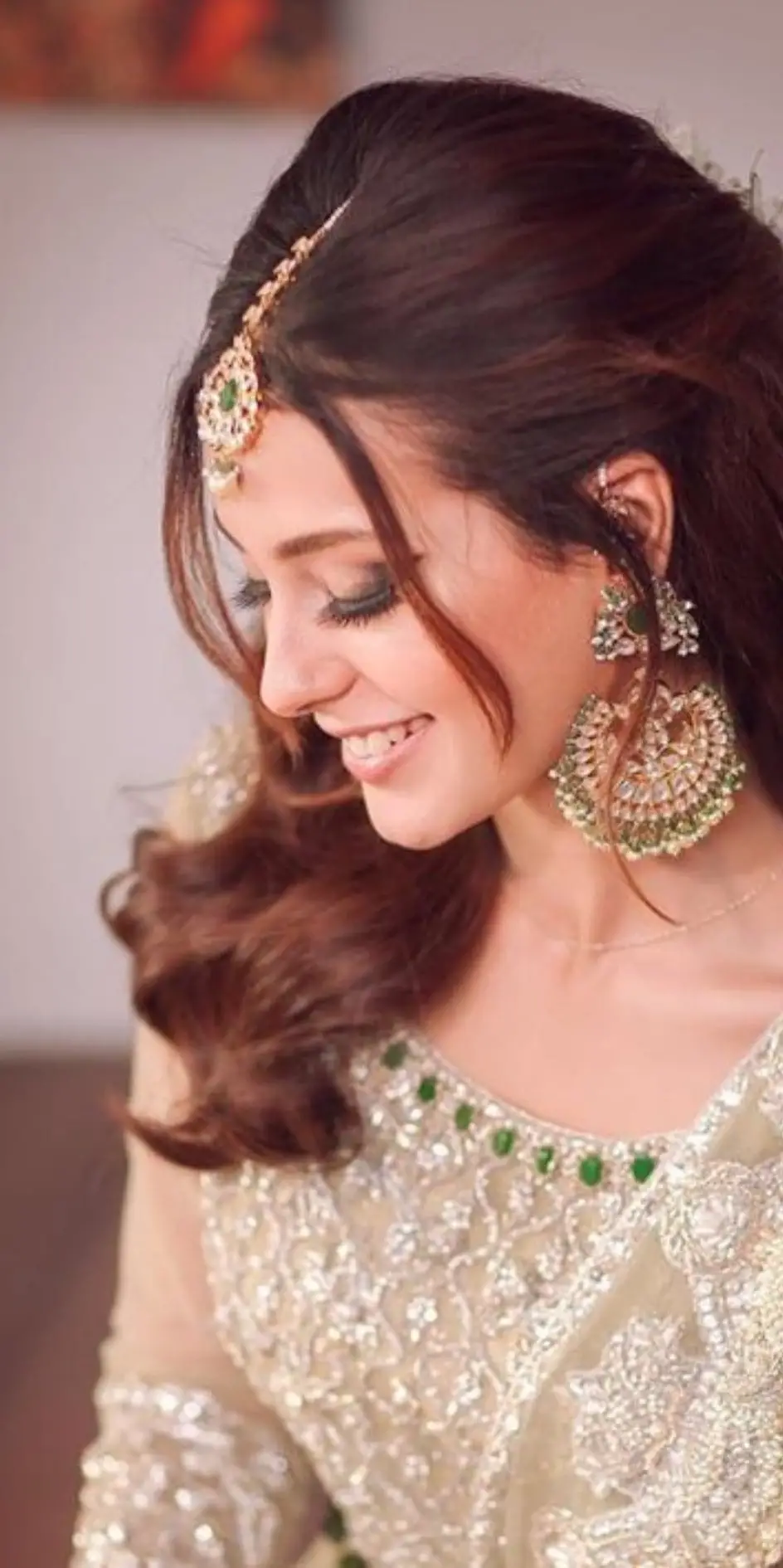 Iqra Aziz's Walima Hairstyle
Iqra Aziz's hairstyling is Awais Raza who is associated with Nabila's salon. Iqra decided not to drape the dupatta on her head, that is why she decided to wear her hair down. The hairstylist has done a beautiful job of giving her loose luscious curls and a couple of strands to shape her face. She definitely has a lot of volume in her hair and there's a bit of backcombing happening to add the body on the crown of her head. It won't be a signature Iqra Aziz's bridal hairstyle without a floral detail, that is why she is wearing a floral pin on the back of her head, where half of her hair has been tied.
Iqra Aziz's Walima Bridal Dress
This beautiful walima bridal dress of Iqra Aziz is a creation of sfkbridals, which is a fashion label run by Sadaf Fawad Khan, wife of Fawad Khan. Iqra wore a heavy bridal dress but still chose a look which was modern and day appropriate. This stunning bridal dress of Iqra Aziz is a stunning pastel shade of lime green and it is the lightest tint of the family. The entire dress is made of different fabrics where the inner gown is a self-printed jamawar and it has been layered with tissue fabric. The beautiful dress is embellished with silver sequins and rhinestones, which compliments the light lime green beautifully. The eye catching aspect of this dress is the green beaded belt and detailing on the neckline and sleeves, because it brings in some color and draws attention to it. What's beautiful is that Iqra Aziz has used that belt to keep her dupatta in place. She has worn her dupatta by folding it and letting its beautiful border make the statement. She has gone for a modern chic look on her walima and what adds more to is the back of the dress which is a deep cut and has an embellished strap attached to it. The sleeves of this dress are beautiful where half of them are fully embellished while the top part is covered in dainty motifs, it once again breaks the monotony. The bustier of this walima bridal dress is fully embellished with criss cross pattern and the bottom part is just flared and flowy with panels which have been separated with silver laces and ribbons. The bottom of her dress is all about the beautiful self-print jamawar which already gives this dress a very formal look. The border on the bottom of the dress has a beautiful design. The flared bridal dress and the focus on accentuating Iqra Aziz's petite waistline makes this dress work well on her physique beautifully.
Iqra Aziz's Walima Jewellery
The Walima jewellery of Iqra Aziz is by Ali Javeri Jewellers. Since Iqra Aziz opted for modern look, she decided not to wear a lot of jewellery and kept it simple. She chose heavy earrings and a tikka. The pieces are beautiful traditional ornaments which are a shade of gold and silver and green stones. These pieces match perfectly with her outfit and compliment the entire bridal look. The tikka is small which suits her face and earrings are oversized. Iqra Aziz did not wearing a neck piece but she is wearing a dainty silver chain which is hard to detect but definitely goes well with the silver that is happening on her dress.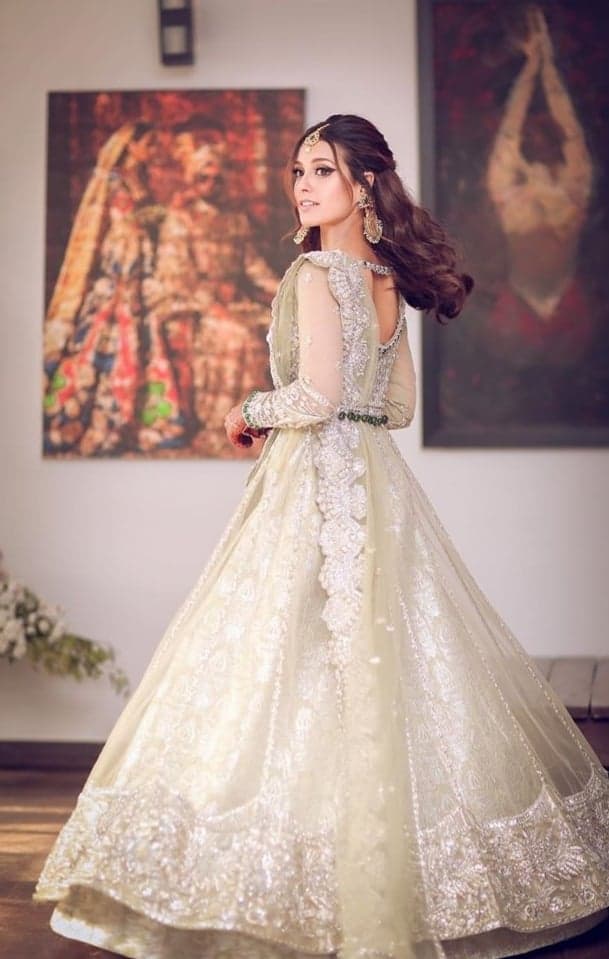 Iqra Aziz has definitely made a beautiful bride. She picked up of those things which she knew would not only look good on her but will allow her to look her best on her big day. Iqra Aziz and Yasir Hussain have made the year end quite special for all of the followers of Pakistani showbiz industry. What are your thoughts about Iqra Aziz's walima look? Please feel free to share your thoughts in the comment section below.