Controversial celebrity Qandeel Baloch rose to fame by posting indecent stuff on social media. She became extremely famous and everything she did was covered vastly by the electronic media. Qandeel caused an uproar when she posted some selfies with Mufti Abdul Qavi on her account. As a result of this controversy, Qavi faced a lot of backlash from the masses and was stripped off his membership from both PTI as well as Ruet e Hilal Committee.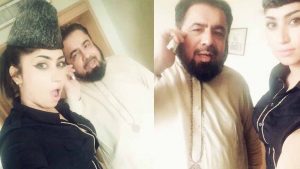 Qandeel was killed by her brother later. The case was termed as an honor killing and her brother Muhammad Waseem confessed to the heinous crime in front of the media. Mufti Abdul Qavi was also named in the FIR by Qandeel's father. Over a year has passed and a court in Multan has issued non-bailable warrant of Qavi because he is not cooperating with the police.
Qavi on the other hand says that he is always at his madrissa and can be reached easily. He said that he has always coperated with the law and will keep doing so in the future as well.
Will Qandeel ever get justice? It is a question hard to answer!