We're into the fourth month of the year already! It's becoming increasingly difficult to keep up with the world of television so as much as possible, I try restricting myself to the Big Three- HUM TV, ARY and GEO. Here are some of the dramas I've caught up with:
Malika e Aliya– I rarely tune into GEO because I find their dramas painful to sit through, and the channel continues to prove me right! Malika e Aliya airs on Tuesday and is the story of a widower (Sohail Asghar) with three sons- Furqaan, Noman and Salman. They are well to do but reliant on their house-help- a cunning woman who doubles as a rishtey-wali. Aliya (Maria Wasti) belongs to a lower middle class family but she lives in the world of Turkish dramas and dreams of being a princess. She rejects every proposal that her rishtey wali brings on the basis that she wants more for herself- a rich family where she doesn't have to deal with a saas or nandein. No prize for guessing, she will eventually find her way into the all male household!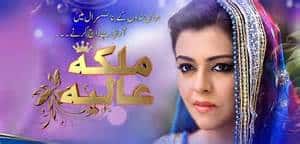 Maang– A story of two sisters, Maang airs on Tuesdays on ARY. Hira (Neelum Munir) and Saba (Beenish Chauhan) are the daughters of a Molvi– Firdous Jamaal yet again! Saba is extremely domestic and compassionate and Hira is the exact opposite. Hira likes Asad (Danish Taimoor) and he tries to convince his mother to ask for Hira's hand in marriage. However, his mother is shrewd and wants a bahu who will be at her beck and call. She goes unannounced to check out Hira but is overly impressed by her elder sister Saba and commands her son to marry Saba instead. Asad complies but on his wedding night, he informs Saba that he loves someone else. Although Hira was initially devastated, she warns Asad to stay away from her and give Saba her rights as his wife.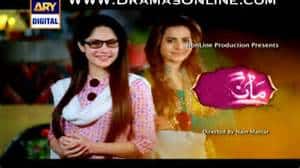 Koi Nahin Apna– Airing on ARY on Wednesdays, the story is about Alvira (Sarwat Gillani) who was born in a rich household but who falls in love with Hamza (Fahad Mustafa) a guy hailing from a middle class background. Alvira's parents have high hopes of her marrying their friend's son, Zaka and Hamza's mother is keen on making her bhanji her future bahu. Both Alvira and Hamza retaliate and ultimately find their way together. What remains to be seen is will their marriage be a success despite all odds or will they fall apart and find comfort elsewhere.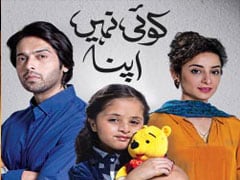 Izteraab– A fast paced serial airing on Wednesdays on HUM TV, Izteraab is the story of a man, Jazib (Mikaal Zulfiqar) who's unhappily married to a headstrong career woman, Zara (Saba Qamar) and has two children. Jazib feels perpetually frustrated since his wife falls short of his standards of a homemaker. Enter Dua (Sania Shamshad), his much younger, homely cousin who woos him with her gharelo saleekha and well, as is now becoming very common in the world of dramas, he marries her. The story is inspired from Step mom- Zara is diagnosed with cancer and Jazib feels obligated towards her. Personally even though I like Saba Qamar, she's appearing in too many serials right now and it would be nice to have a fresh face. Mikaal is forever playing the role of the bored, miserable husband who finds it difficult to stay committed. And Sania is again playing the role of a home-wrecker!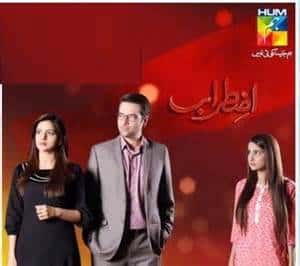 Bhabi– Airing on ARY every Friday, Bhabi is the story of Saba (Sohai Ali Abro) who is married to Naeem and has a son. She lives in a joint family with her saas, her elder devar, Hashim (Aijaz Aslam) and his wife (Farah Shah) and her younger devar, Saarim (Shehzad sheikh). Hashim is a male chauvinist who treats his wife like his personal slave and in general hates Saba's guts. He has two daughters who he considers a burden and is expecting a third child- he has threatened his wife that if this time around, she cannot bear him a son, he will divorce her! Naeem is the opposite of his brother and respects his wife and treats her like an equal. Unfortunately, Naeem passes away and Saba is left at the mercy of her in-laws. We'll get to see plenty of crying from Sohai which has now become typical of her appearances.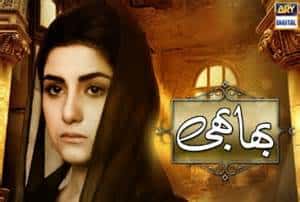 So, what have you been watching? Have you caught up with any of these dramas? Do you think you'll stick around till the end?
Yours in watching,
Kanwal Murtaza