Spring is here- almost! And with that we also have a line-up of new dramas to look forward to. Some new faces, some old. Some interesting stories, some run-of-the-mill. There's something that caters to every taste. Here's a run-down of what's making its way on our tv screens:
Uff Yeh Mohabbat– As much as I love the soundtrack, this romcom is just awful! You can't help draw comparisons to Mohabbatein – Gohar Mumtaz plays the role of a music teacher and Meher Bano is his student. I don't know why our drama's have this perception that just because something falls in the genre of a romantic comedy it cannot have any hint of reality or logic. And UYM is no exception. Written by Faiza Iftekhar and directed by Amin Iqbal, this one is produced by A & B Entertainment (yes, the same production house that dishes out tragedy after tragedy). So far four episodes have aired on GEO TV so if you're curious to find out what happens next, get watching!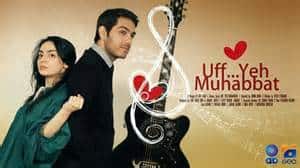 Kahani Raima Aur Manahil Ki– Directed by Fahim Burney, written by Faiza Iftekhar and produced by Mushroom Production, KRAMK is a light-hearted story of how Wamaj (Wasay Choudhary) and Raima (Mehreen Raheel)who are miserable in their marriage try to find a way out with the help of Abrar (Shehroze Sabzwari) and Manahil (Sajjal Ali). It airs every Tuesday on HUM TV.

Rukhsati– Don't be fooled by the title of this drama, Rukhsati aired on GEO TV this week and is far from the happy, khushiyon bharaa shadi fiasco. The story begins with a family of four daughters and one son and their parents- Mahmood Akhtar and his wife, Tahira Imam. Upon his wife's insistence, he agrees to consider becoming a sleeping partner in a business owned by her distant relative (Abid Ali). So far the daughters are all unmarried and the son wants to go to the US of A for further studies. The promos hint at things going topsy-turvy in traditional A & B style and after the death of their father, the eldest daughter, Maliha (Sunita Marshall) ends up marrying Abid Ali! What ensues will be the typical zulm ki inteha with our leading lady putting up with all sorts of painful circumstances since women were born to sacrifice themselves! Written by Amna Mufti, directed by Mohsin Mirza and produced by *drumroll* A & B Entertainment, other cast members include Gul-e-Rana, Seema Sehar, Faizan Khawaja, Anum Fayyaz, Bilal Qureshi, Sana Askari.

Bashar Momin– The much talked about drama aired on GEO TV today replacing Aasmanon Pe Likha. Touted as the most expensive production till date (we have A& B Entertainment to thank for that), written by Zanjbeel Asim and directed by Syed Ali Osama, BM stars Faisal Qureshi playing the role of a money-launderer/ underworld don. Somehow, FQ seems very Maula Juttesque to me with his high pitched tone that almost damaged my hearing. So far, there's nothing that we've not seen before in terms of fancy cars, homes, etc. Some of the previews showed Bollywood style singing and dancing so maybe it will have a filmy feel to it thus the massive budget. It's too early to determine the fate of this drama but the rest of the cast isn't very impressive- Sami Khan (Bulund- Rudaba's fiance), Ushna Shah (as Rudaba), Maheen Rizwi (as Saira- BM's sister), Sundus Tariq (as Tayyaba- BM's youngest sister). I don't know what it is about GEO but the production values always leave much to be desired.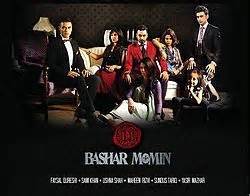 With more dramas ending soon, we will have more new ones replacing them. Have you been watching any of these dramas? What are your thoughts?
Yours in watching,
Kanwal Murtaza