Sanjay Leela Bhansali enhances the beauty of his actresses by choosing for them the most beautiful traditional clothes. This not only adds to the beauty of the actresses but also to the beauty of the characters in his films. From "Hum Dil Dey Chukay Sanam" to "Ram-leela" we have seen his interest in being very particular about the dressing of his film's characters. In "Hum Dil Dey Chukay Sanam" you must have noticed the beautiful "Shararas" & "Ghagra-cholies" of Aishwariya Rai. And he carried on the same trend in "Devdas" and now in "Ram – Leela" as well.
Though this was the first time when Sanjay was working with Deepika but he already had in his mind the picture of his film's character. He knew that there was not a single actress that can play this role as perfectly as deepika can. He is a great-appreciator of Deepika's beauty and her way of carrying clothes. Aishwariya Rai also shared with her this attribute.
Here is a glimpse from his latest film: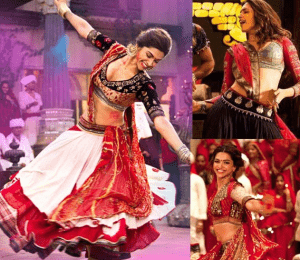 Dressed by Anju Modi in this film, Deepika's embroidered and zari-embellished lehenga-choli outfits show off her slim waist, that delicious curve of her back and, when she spins around doing her garba moves, her long legs. All the heroine's exquisite costumes in the film have been designed by Anju Modi, who has been a part of the Indian fashion industry for many years now. Sanjay Leela Bhansali's new movie is Anju's first Bollywood project and she has managed to make the very photogenic Deepika look exquisite on-screen.
When Anju was asked what briefing Sanjay gave her to design costumes for her film's lady, she said:
"First, we all know about Sanjay's passion for costumes and the kind of detailing he does in them. I was naturally quite excited about the whole thing. He is a man of his word and doesn't really restrain or strain himself too much. He said this is the theme, use your creativity, and go over the top if you want, but don't restrain yourself. He gave me the script, which was the brief initially"
The film is set against the backdrop of Kutch. This flavour is kept intact and yet given a contemporary touch to the outfits by Anju. The dresses are designed according to the colors and creations of the film. The designer says:
"It was very categorically designed, well conceived, and the script was ready. So we knew that after scene one, scene two is coming and then scene three, four and so on. So when the garments were getting ready, we would place them on a hand rack and give them to Deepika. There's a scene where she'll be playing Holi, so we thought, let's not do a typical white outfit. Why not give her a red on red with tinges of white and not all white? We wanted to be different from what has been done till now. Then scene-wise we were discussing things and realised that we hadn't used ochre yellow yet, which is very much Deepika's colour, so we designed a yellow outfit. We were carrying on scene by scene."
For all those who love to dress traditional, let me tell you ladies that there was an Indian trendy costume designed for Deepika which weighted 30kgs and had a ghera of 50 meters designed by the talented Anju itself and it took 1 months to get done with it. On this anju said:
"Everything took ten days, 20 days, 30 days. The minute one costume was done, the second was started. This particular costume weighs so much because of the flare. First, Deepika is tall. Second, the outfit is longer than her height because it's falling on the guns. The ghera itself is cotton gauze mulmul with a silk border and silver work printing. All these things add to the weight. Since we're giving so much flare, automatically the weight increases"
This was all for those who are very curious about Deepika's beautiful looks in her very latest film Ram-Leela. So now you all know how Anju's spectacular designs added value to the leela of SLB.
Don't forget to comment underneath on how beautiful Leela (Deepika) appeared to you.
Cheers!
S. Rasool