Pakistani drama writers are often seen talking about how there are hardly 12 or 13 scenarios around which the stories revolve and then they are used to create dramas. However, it is also seen that once a storyline does well and a drama becomes popular, more and more drama writers end up sticking to the formula and without experimenting much, they use the same plot to come up with a story. It is also because they know this is going to work and will bring in the ratings that they and the channels are mostly after.
One such subject is love triangles and it won't be wrong to say that almost all the Pakistani dramas that the viewers are getting to see in recent times are based on this particular theme with two women fighting over a man. These two women could be wives, ex-lovers, ex-spouses, colleagues, or even a sister seen fighting with the wife of her brother. Pakistani drama makers have made a clear-cut point that they may be short on stories, but they are never short on love triangles and messiest ones at that because they keep on reusing and repacking these stories.
It is not only monotonous to see these types of characters with women only wishing to win over a man of her dreams, what's amusing is that half, in fact, most of the times, but these men also are not even worth the attention they are being given by multiple women in the dramas. In Pakistani dramas, the writers end up showing the power and authority that the men have with women literally going out of the way to win a spot in their lives. It goes to show that the writers like to reinforce the fact that a woman is nothing without a man and for girls as young as teenagers, their only motive should be to bag a proposal of a man of her dreams, even if the reality ends up being nothing short of a nightmare.
In this list, we talk about all the messiest love triangles that we have seen in recent dramas:
[lwptoc]
Nisha, Asfand, Misha (Jalan)
Who doesn't remember Jalan and who doesn't remember the lengths Misha, played by Minal Khan went to in order to not only destroy the life and marriage of her sister Nisha but also to grab the man she thought was just perfect and had everything that she ever dreamt of. There was absolutely nothing amusing or fun about this scenario but the hours, if not minutes taken by Misha to realize that Asfand wasn't making her happy made this entire situation quite humorous.
This drama was a clear-cut case of producers bent on grabbing the ratings, without even thinking about what they were showing in the drama. Nisha tried her best to put up a fight but she had no idea the evil she was faced with in the form of her younger sister. It is not only alarming but frustrating to see the rise in sister rivalry again in Pakistani drama, that too where sisters are pit against each other only because they want to be with the same man!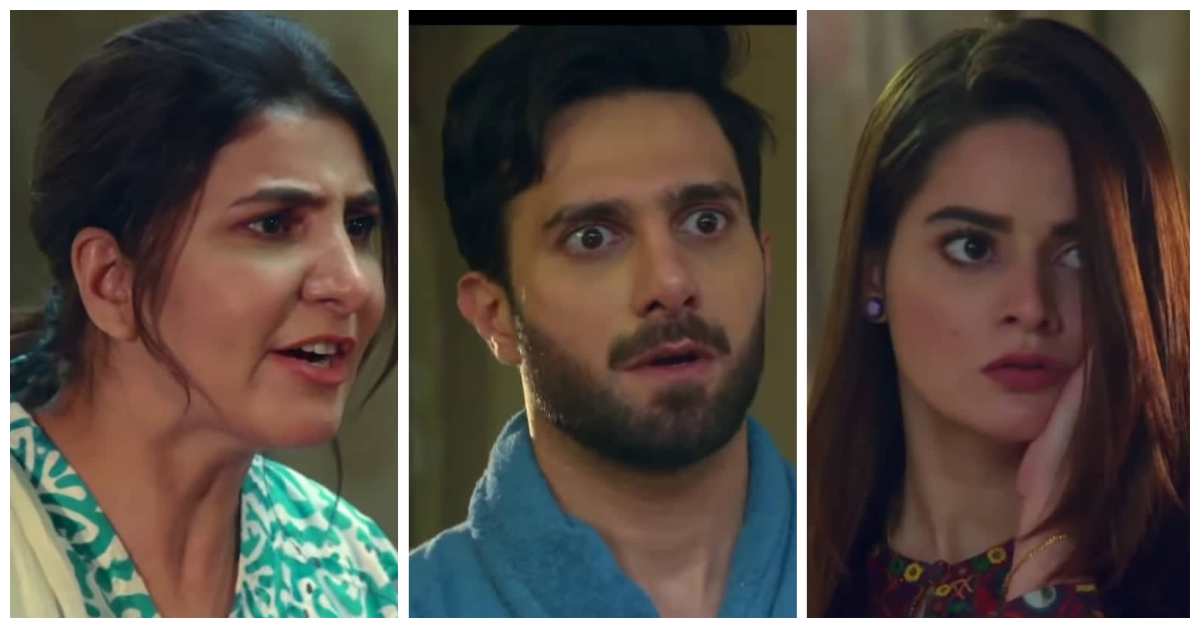 Nisha, Ahmer, Areej (Jalan)
Yes, drama serial Jalan didn't hold back in breaking all the records in negativity. This is exactly why the same girl got tangled in yet another messy triangle where she wanted to get back with Ahmer, her ex-fiance after he got married to Areej. Areej was your typical achi wali larki who spent her entire life worshipping Ahmer. In the end, her niceness melted Ahmer's heart, and just when they were about to begin to enjoy their marital bliss, Nisha struck again with a baton in her hand and laser beams in her eyes.
There was a sickening scene in this drama where just after losing her father, Nisha tries to create a misunderstanding between Ahmer and Areej by placing a lipstick mark on his coat. I mean the writer definitely deserves applause for coming up with this scenario because it was definitely the first in Pakistani drama. It is amusing that all this while, the Pakistani audience have made fun of Indian content but who knew few years down the lane, there will be writers like Sidra Seher Imran who grew up watching Starplus and they'd come up writing more or less similar content.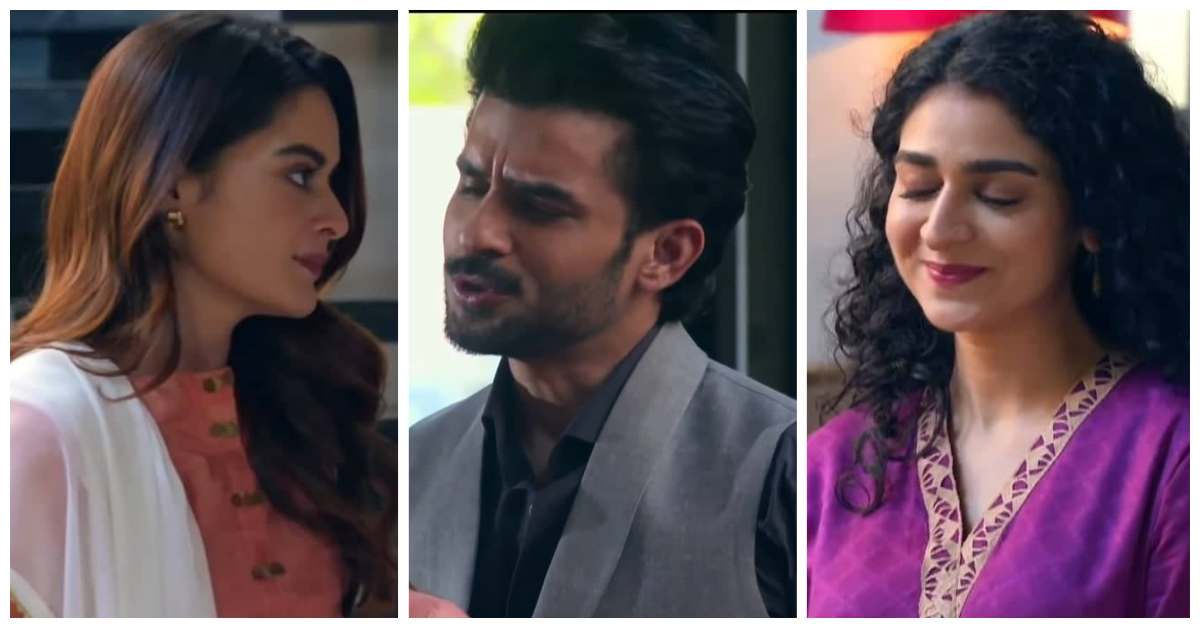 Amal, Mikaal, Annie (Dulhan)
Oh dear, Mashal Khan played the exact same role that she played in Thora Sa Haq; of technically the second wife who was psychotically in love with her cousin. In the drama serial Dulhan, there were quite a few scenes between Amal and Annie where they both tried to own Mikaal in order to prove to one another that he belonged to him. Although Amal, played by Sumbul Iqbal ended up coming to terms with the reality that this was a messy situation but every chance she got, she did give Annie a run for her money.
Annie barely had the energy to stand up but when it came to Mikaal she turned into this iron lady who was ready to chop Amal's head off, without even realizing that her psychotic behavior was never going to make her happy in the first place and out of all her concerns, her mental health should've been her priority.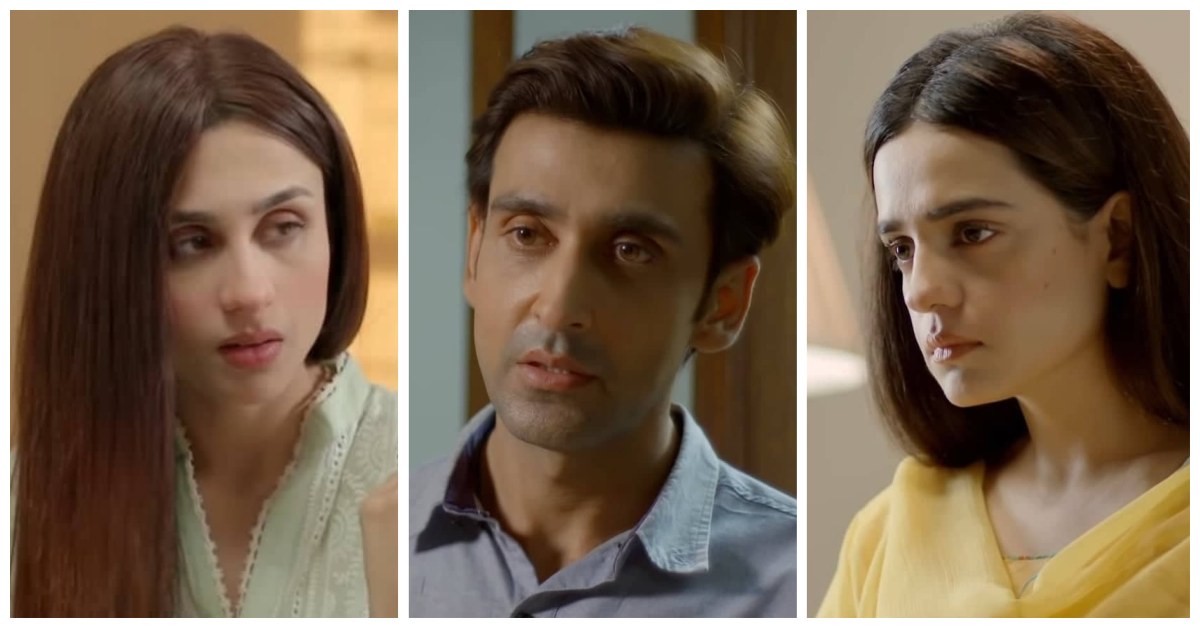 Shireen, Adan, Soumya (Kasa e Dil)
This triangle has kind of just begun where Soumya played by Hina Altaf has now come to Adan's house but on her very first day, Soumya didn't hold back in telling Shireen that she was technically Adan's first wife because they had their Nikkah before Adan got married to Shireen. Shireen is playing her evil games where she is putting up her best act in front of Adan but in reality, she is weaving a trap for Soumya so that she can drift her and Adan apart.
It is also amusing that Soumya is ready to even fight with Adan's mother because she has told her that her husband can not live without her! Soumya has fallen in love with Adan but sadly, there are so many people who wish ill for Soumya, not sure why she is so important for everyone in the first place. Komal Aziz Khan is always the second woman in every scenario, we definitely think she should experiment more and take up roles where she is the priority of a man in the drama for a change.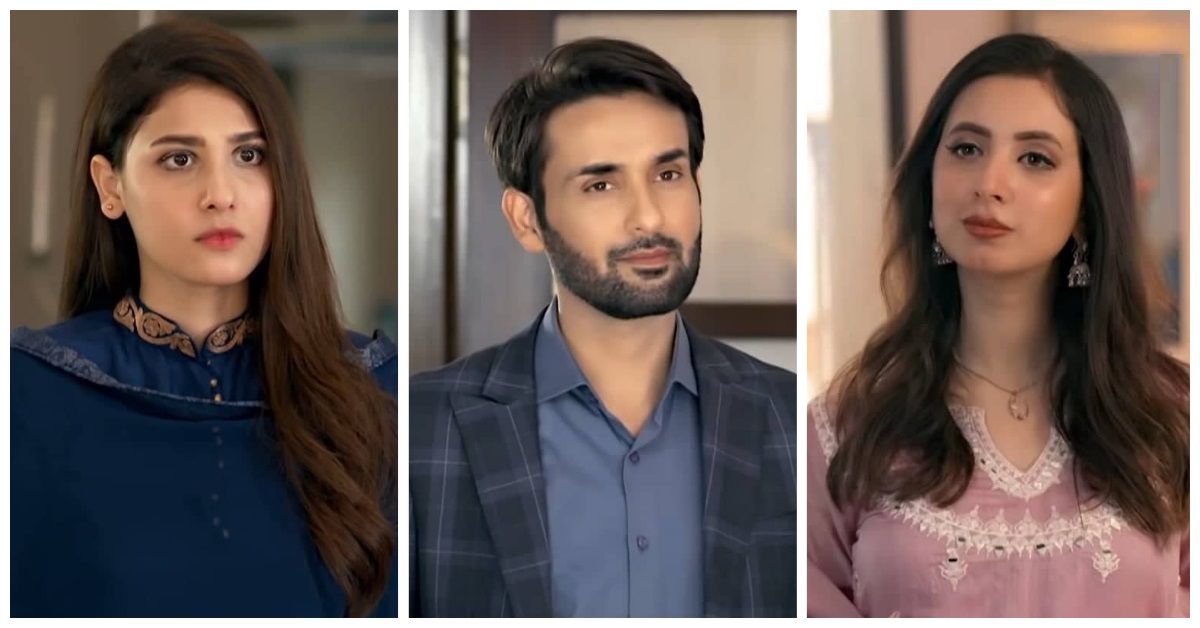 Nageen, Haroon, Ramsha (Deewangi)
This seemed like a tact of the drama makers to drag the drama because Deewangi became quite popular and did well on TRP charts. This is exactly why they brought in Haroon's ex-girlfriend who after getting a divorce was ready to get settled again the next day her iddat ended. Talk about being desperate, so much so that Ramsha ended up partnering with Sultan Durrani to create misunderstandings between Haroon and Nageen, played by Ali Abbas and Hiba Bukhari.
Nageen was right in her own perspective where she failed to let go of her husband but what made her character hard to tolerate was the fact that despite the faith Haroon put in her, she failed to come clean and tell him the truth. The panting and breathlessness of Nageen made her a very difficult character to sympathize with, but yes, this drama was full of such triangles, they could've easily named it tikon-gee!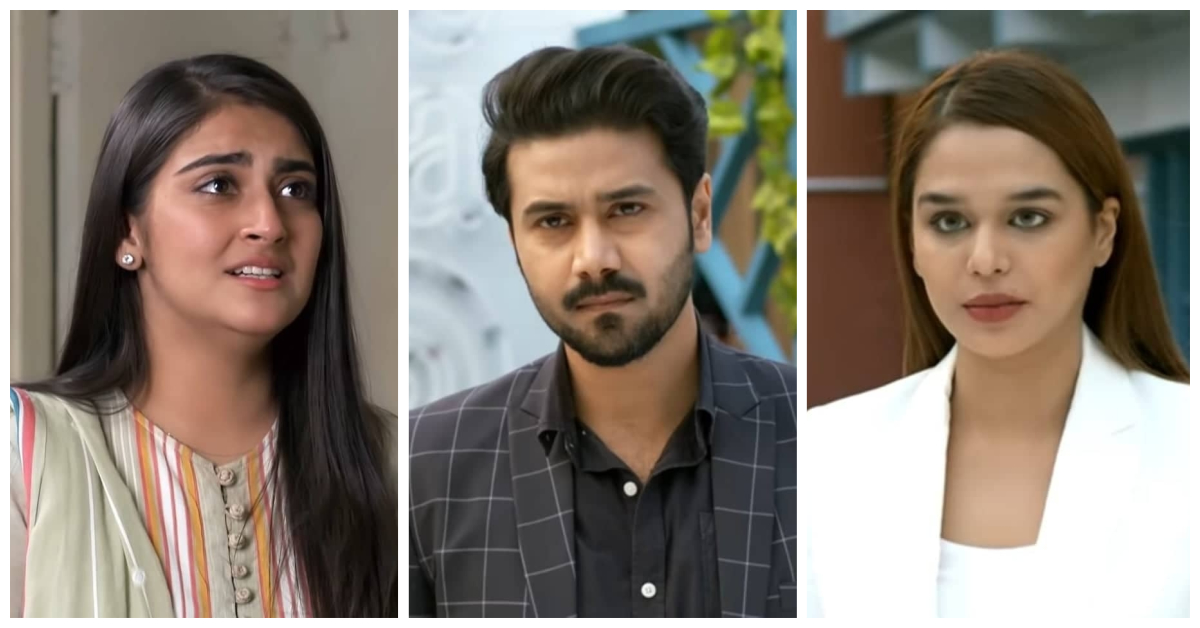 Mehmal, Haider, Dilnasheen (Fitoor)
The new triangle in town in yet another Geo TV drama is seen in Fitoor. Mehmal rejected Haider and his love because she wanted to get married to a rich and wealthy man, she had big dreams and aspirations. She did however find herself that kind of a person but he was never emotionally invested in her, only for her to realize that Haider was her true love. Mehmal has now created such a situation where she is ready to divorce her husband and has left his home. She is now happily camping at Haider's place and making sure that Haider doesn't pay attention to his young wife Dilnasheen, played by Hiba Bukhari.
Dilnasheen was already in love with someone else but after getting pressurized by her family ended up agreeing to her marriage to Haider. Dilnasheen has realized that Mehmal is very much in love with her husband, this is why she subtlely tried to score brownie points by literally baking brownies and cooking food for him. Duh! This is the best fight Dilnasheed could come up with. This entire triangle is amusing to watch because Mehmal is quite vocal about her feelings whereas Dilnasheen jingles her bangles to grab Haider's attention. Sigh!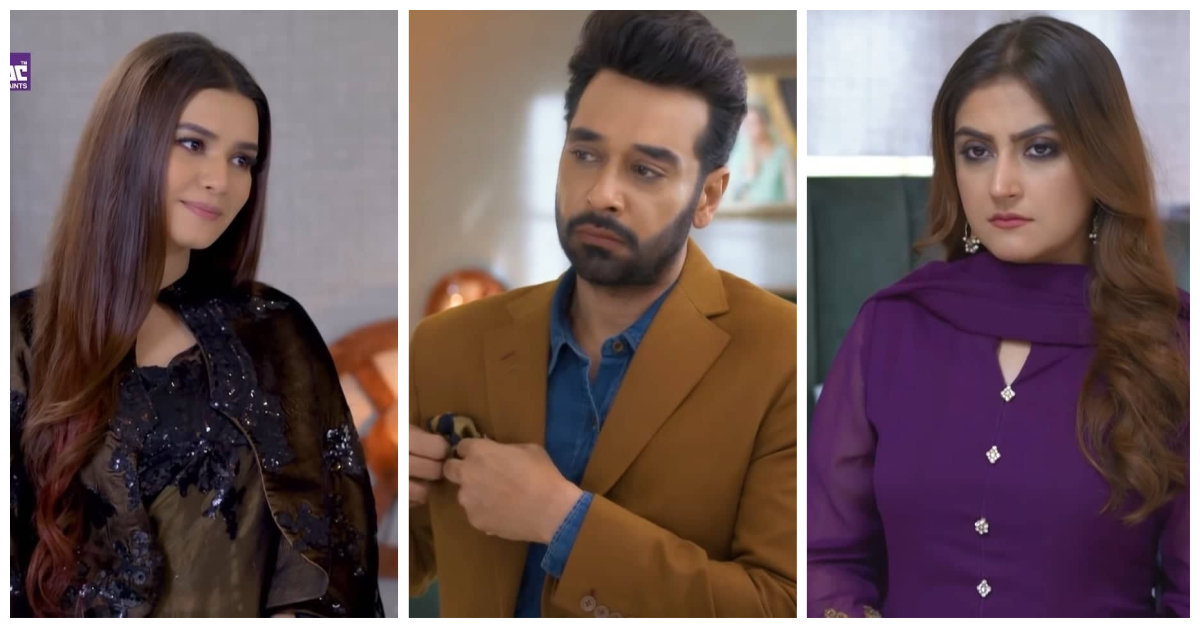 Mehru, Shahjahan, Ayat (Meherposh)
This was yet another Geo TV drama with yet another sibling rivalry. Mehru fell in love with Shahjahan but after finding out that her younger sister Ayat was also in love with the same guy, she backed out. However, Mehru sported a forlorn face throughout the drama which was a clear-cut message to Shahjahan as well as Ayat that she was sulking deep down and was just unhappy. Mehru also tried settling for another guy but that didn't happen because her sister passed away and Shahjahan was free of his liabilities.
Till the time Ayat was alive, she left no stone unturned in fighting with her sister to win Shahjahan over, so much so that she even decided to poison her sister, thinking this would kill her and then she will be able to have Shahjahan's undivided attention. Although Mehru's fights were because she wanted to be with Shahjahan but more or less, he was always the reason behind it!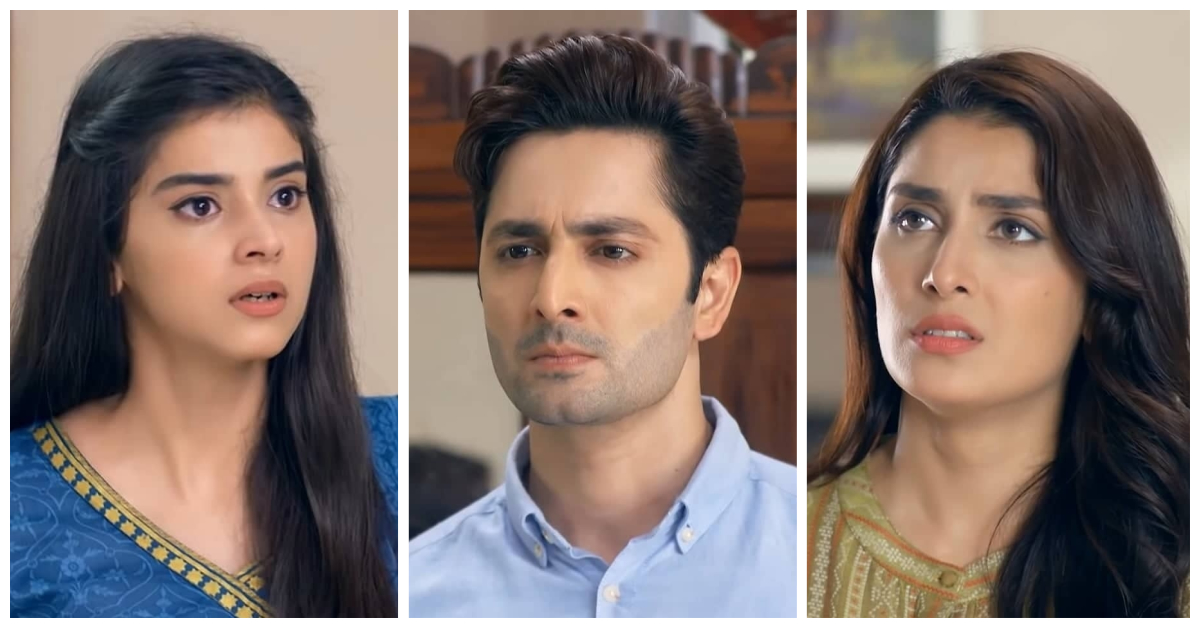 Raima, Saif ur Rehman, Farkhanda (Muqaddar)
This triangle was so cringing that it put all the cringe-worthy content to shame. It turned out to be this way because viewers expected something better from Raima, played by Madiha Imam. She not only got forcefully married to Saif ur Rehman, just because he provided her with luxury and a bit of love, but she also ended up falling for him so hard that she decided it would be fun to spice up her boring life by standing against his first wife who was already dealing with so many complexes.
It was literally annoying to see Farkhanda and Raima talking to each other about how they are the Queens in Saif ur Rehman's life. Raima was shown to be an RJ, an educated girl who had big dreams therefore to see her turning into such a typical aunty was offputting. This kind of behavior was obviously expected of Farkhanda because she didn't have any other life than this but to see Raima deriving sadistic pleasure by rubbing the love she was getting from Saif ur Rehman on Farkhanda's face was plain vile.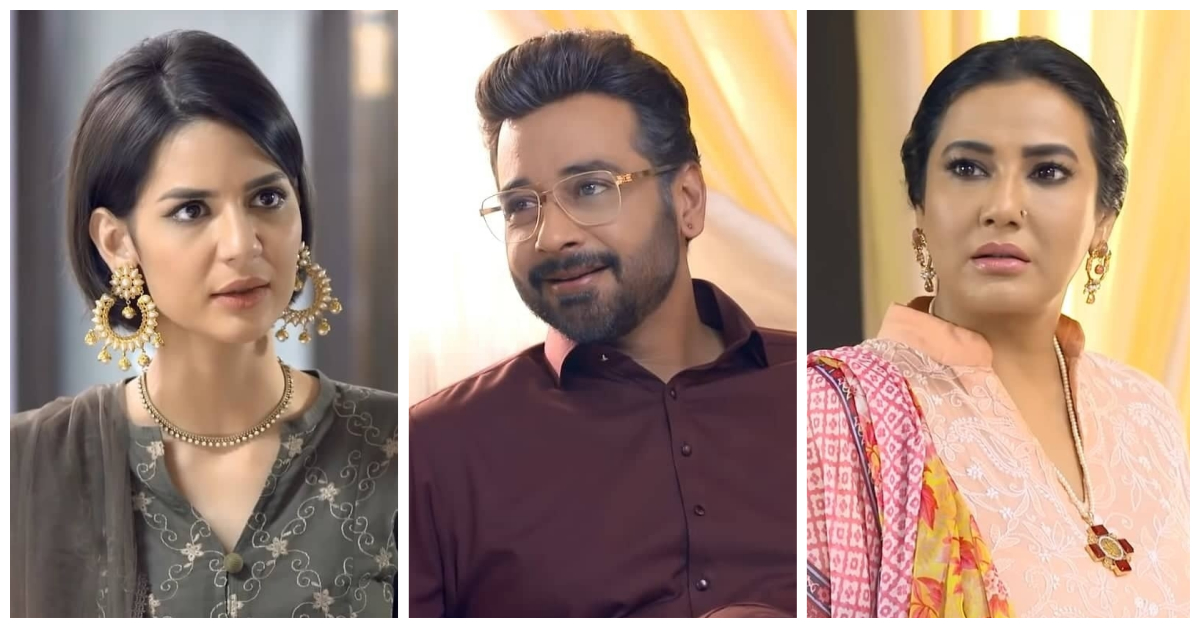 Sneha, Faraz, Tara (Mohabbatain Chahatain)
This is the kind of triangle drawn by a toddler when he holds the marker for the first time, it just wasn't right and didn't even have to exist in the first place. Sneha and Faraz were madly in love but it took only one bet by Tara to destroy their happy marriage. Sneha also tried to put up a fight but she failed in front of Tara who was quite cunning and manipulative.
Faraz was just as clueless but then what can you expect from a man like him who was no catch, to begin with getting an ego boost seeing how important he was for two women. This was quite a cringe triangle, to begin with, and later seeing how far it went was crazy. Not to forget the intolerable expressions and acting of Armeena Rana Khan and the poorest get-up of Hira Mani made it an even harder task to watch Mohabbatain Chahatain.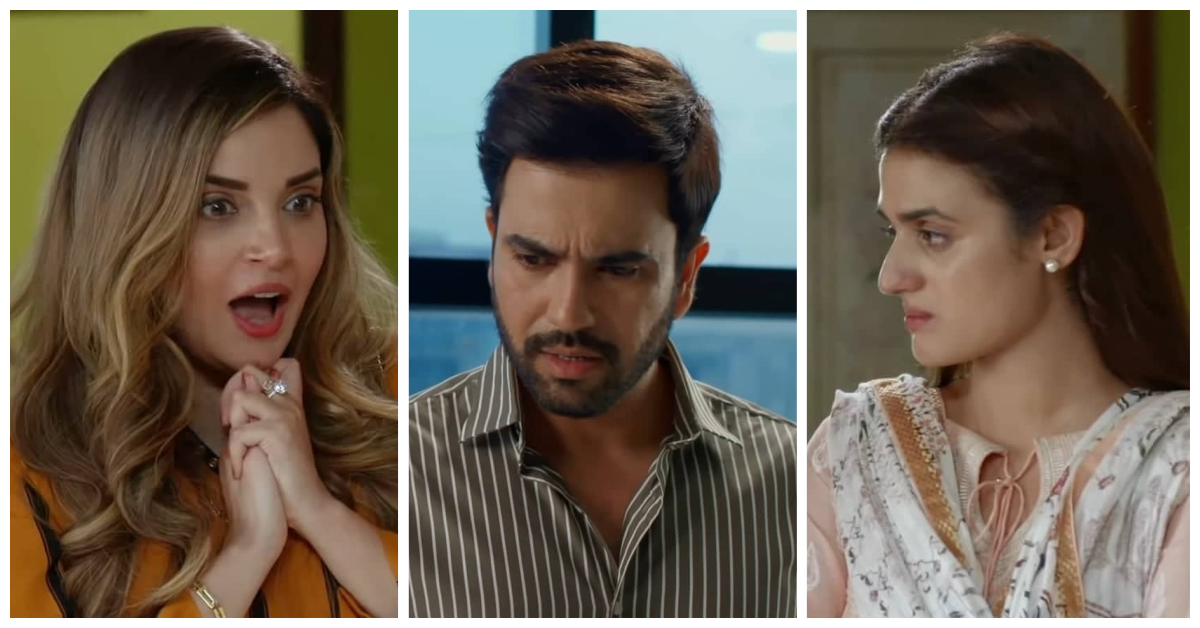 Mahi, Ali, Sara (Tera Ghum Aur Hum)
Tera Ghum Aur Hum was actually quite appealing in the first few weeks. It seemed as if for a change the viewers would get to watch a love triangle in which the man was not going to be swayed away by the other woman's charm. However, as the story progressed Ali (the man we had so many hopes attached to) turned into yet another one of those fools who fall for every single lie being told to them and end up ruining their relationship with their significant other, in this case, Mahi. Mahi's character actually got so annoying at one point that instead of feeling for her, the viewers had reasons to hold her responsible since the story was presented in such a way. The writer made a conscious effort to hold the women responsible and Ali was always shown as the helpless man who tried his best most of the time!
Sara always loved Ali but Ali loved Mahi. Since Mahi was always told by her cousin Sara that she wasn't pretty or stylish enough, she had a really low opinion of herself. Even after getting married to Ali Mahi's inferiority complex got the best of her and her overly nice behavior prevented her from keeping Sara away from her husband! Mahi tried to 'fight' for Ali often enough but just like all the other dramas on this list, the other woman i.e Sara was always pursuing Ali with much more desperation! Ultimately, in a weird turn of events Ali ended up entering into a nikkah with Sara and that is when we got to watch yet another dusri biwi situation in which both the wives were constantly trying really hard to get the man's attention. Sara even faked a pregnancy and aborted Mahi's baby by giving her the pills she was not supposed to take while she was expecting yet somehow all that was brushed under the carpet later on. The ending of this drama had to be the worst since Sara did not only get away with everything but was actually presented as a hero in the end! Tera Ghum Aur Hum went downhill towards the end and turned out to be another pointless drama in which women fought for a useless man for the longest time.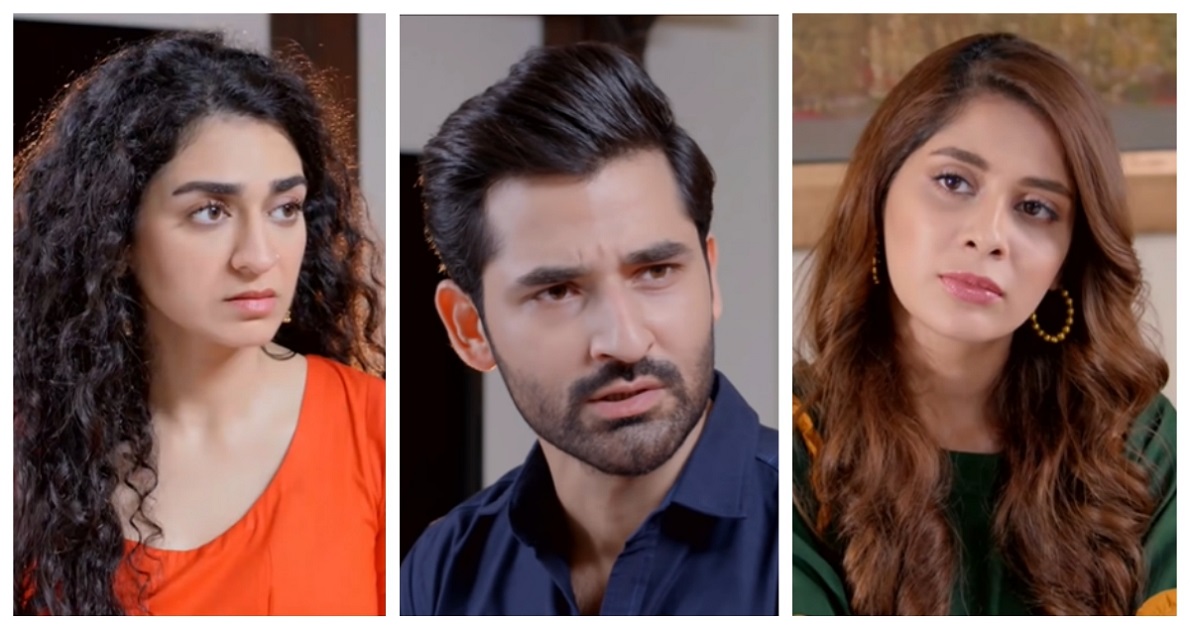 Seher, Zamin, Hareem (Thora Sa Haq)
Thora Sa Haq was another popular drama serial that had a massive viewership. The writer definitely took inspiration from Hamsafar while penning down the part covering Zamin's accidental and sudden marriage to Seher but Hamsafar made much more sense since everyone was given time to think about the decision. Zamin's father forced him to enter into a nikkah with his brother's daughter while the brother was on his death bed even though Zamin was already engaged and in love with his cousin Hareem! This had to be the most unreasonable nikkah scene in drama history! The absurdity did not end there, Zamin and his father both kept on waiting for the 'right time' to inform Hareem and her family about the nikkah but ultimately Zamin ended up telling Hareem right at the time of their nikkah!!! Thora Sa Haq's script was as crazy as it gets since Hareem, even after hearing the truth, decided to get married to Zamin since that was the only way that the writer could have pitched these women against each other for 30 plus weeks! Just like in all the other such scenarios Seher was the bechari, the one who endured everything from verbal insults to thappars while Hareem fought for 'her man' by shouting, screaming, crying, plotting, and what not!
Hareem's mother supported her daughter and went the extra mile to plot and plan against Seher! Zamin was conveniently turned into a bechara and one of those many men in Pakistani dramas who are married to two women at the same time but don't know what to do with their lives. Our writers definitely enjoy showing this clash between modern and traditional women and they always make sure that the duppata clad woman is always the one who gets the viewers' sympathies! Thora Sa Haq was an overdose of women fighting over a man who did not even deserve either of them. This was also a classic case of confusion as to how the actual 'other woman' was! That is another interesting paradox in Pakistani dramas; sometimes you have no idea which woman is the other woman in the relationship.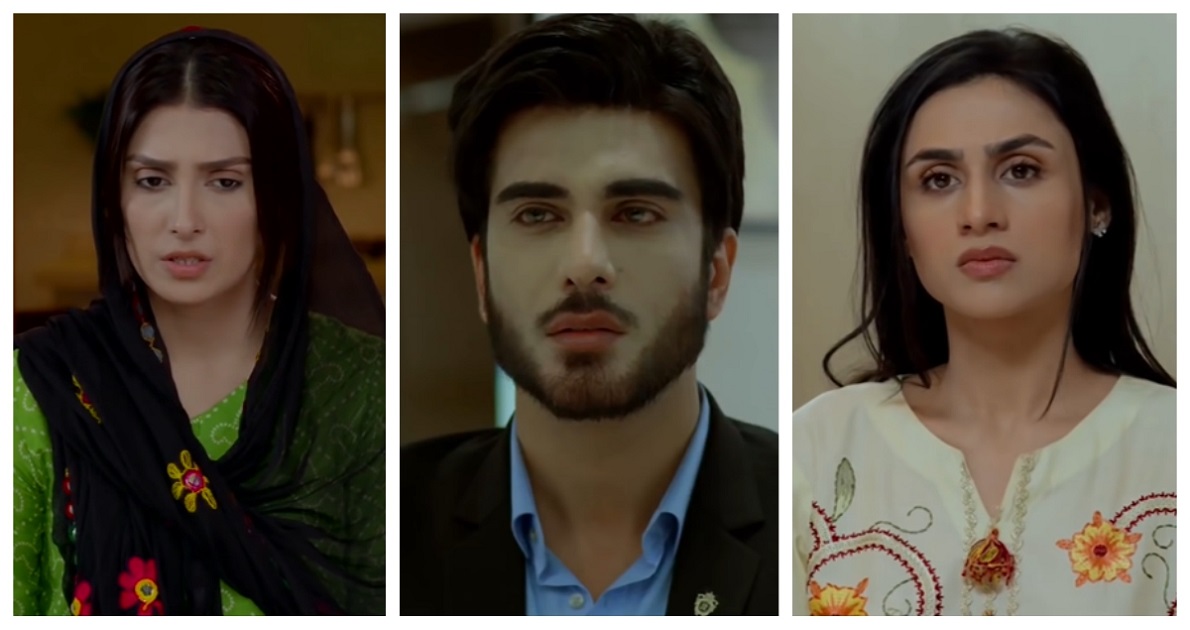 Ulfat, Shahaan, Shafaq (Mohabbat Tujhe Alvida)
Mohabbat Tujhe Alvida did not just have a central track where women were constantly shown fighting over a man. This drama definitely took this scenario to a different level because the first wife Ulfat sold her husband to the second one, Shafaq. The man, Shahaan, as is always the case was the victim! The poor man was forced into marrying a beautiful business woman who gave up everything for him!! Ulfat was so sure that her husband could not love anyone else except her therefore she confidently married him off so that she could live the life she always dreamed of.
The real fight started once Shahaan fell in love with Shafaq and that is when both these wives were constantly trying their best to get the other one out of the way. This was another such drama that had the most bizarre ending. The story never had a lot of substance since it was actually an extension of a 2-hour film and clearly, the writer's sole purpose was to make the viewers feel for Ulfat even after she went as far as selling her husband! Even though Shafaq was introduced as a confident young woman, her insecurities and plotting after marriage was just as bad as any other such woman in dramas. Once again, this was also the kind of situation in which it was difficult to tell who was at fault and who the other woman was!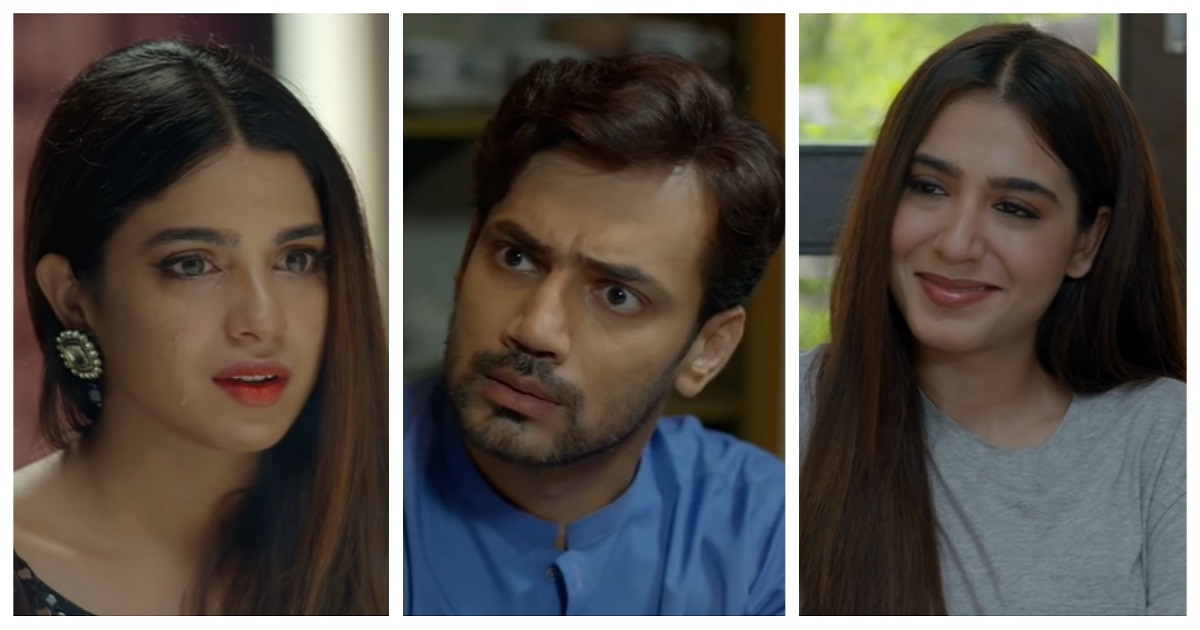 Anaya, Hassan, Miraal (Sabaat)
In Pakistani dramas, women fight over men not just because they are in love with the same man but sometimes the scenario can be different (but equally annoying) as was the case with the drama serial Sabaat. Miraal was the controlling sister who did not want her brother Hassan to get married to the love of his life Anaya. However, he ultimately got married to her and that is when Miraal did everything in her power to win her brother back! The kind of obsessive plotting we got to witness in this drama was the next level of craziness for sure!
Even though Anaya did her best to save her marriage, her good-for-nothing husband eventually fell for the lies and that is when Miraal won! Anaya fought for her marriage and was a likable character but Miraal fought to break this marriage as if she had nothing else to do in life! In the end, it was Miraal who pleaded Anaya to take Hassan back so once again the man was just in the middle getting fooled and being completely useless!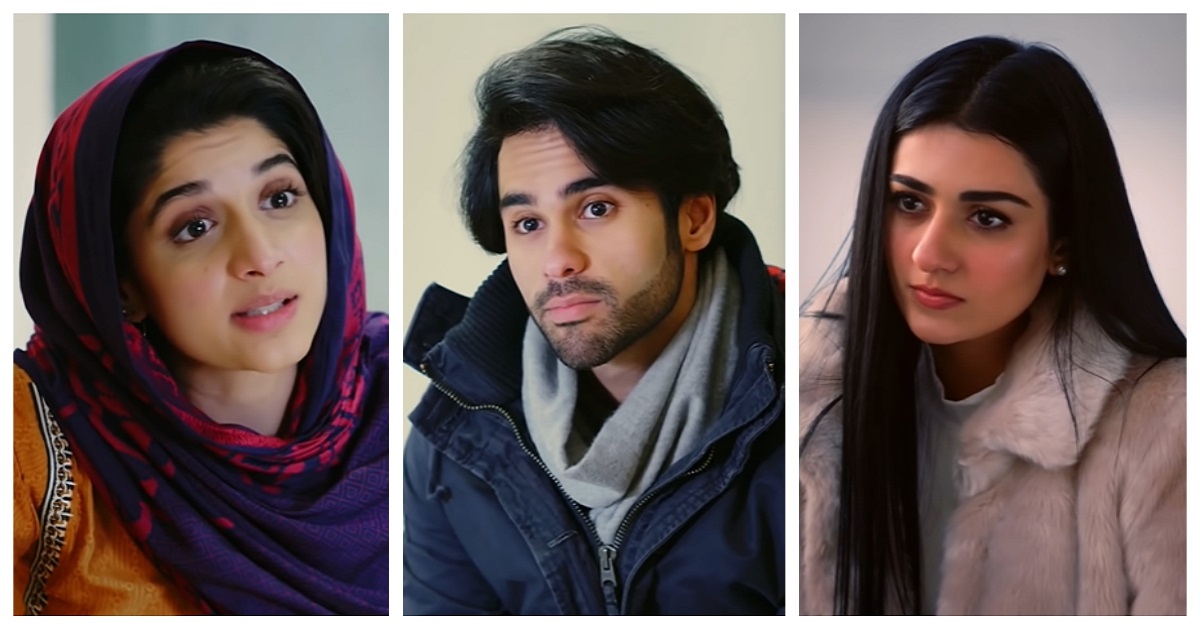 Mahjabeen, Abdullah, Shanzay (Pyar Ke Sadqay)
Pyar Ke Sadqay was a brilliant piece of writing because it had some of the most unconventional leading characters we have seen in Pakistani dramas. However, the writer could not dodge the bullet which it seems was needed to prolong the drama! This drama could have easily focused on Mahjabeen and Abdullah without adding the other woman track since their story had enough substance as it was. Yet, Shanzay made a comeback with a completely different personality (definitely not a likable one!). There was a time when she couldn't stand Abdullah and now she was willing to do whatever it took to be in his life, ignoring the fact that he was already married! Abdullah's inclination towards Shanzay was also annoying but definitely understandable. It was however something that could have been easily avoided.
Poor Mahjabeen could not even fight for herself therefore ultimately it was Washma who fought her case. Mahjabeen however did try her best to win her husband back by trying to look more modern and doing whatever she could to get his attention. However, quite a few episodes were dedicated to showing how hard Shanzay tried to win Abdullah over and how helpless Mahjabeen was. Towards the end, the viewers were debating whether Abdullah actually deserved Mahjabeen or not because of this strange and unpleasant 'love' triangle.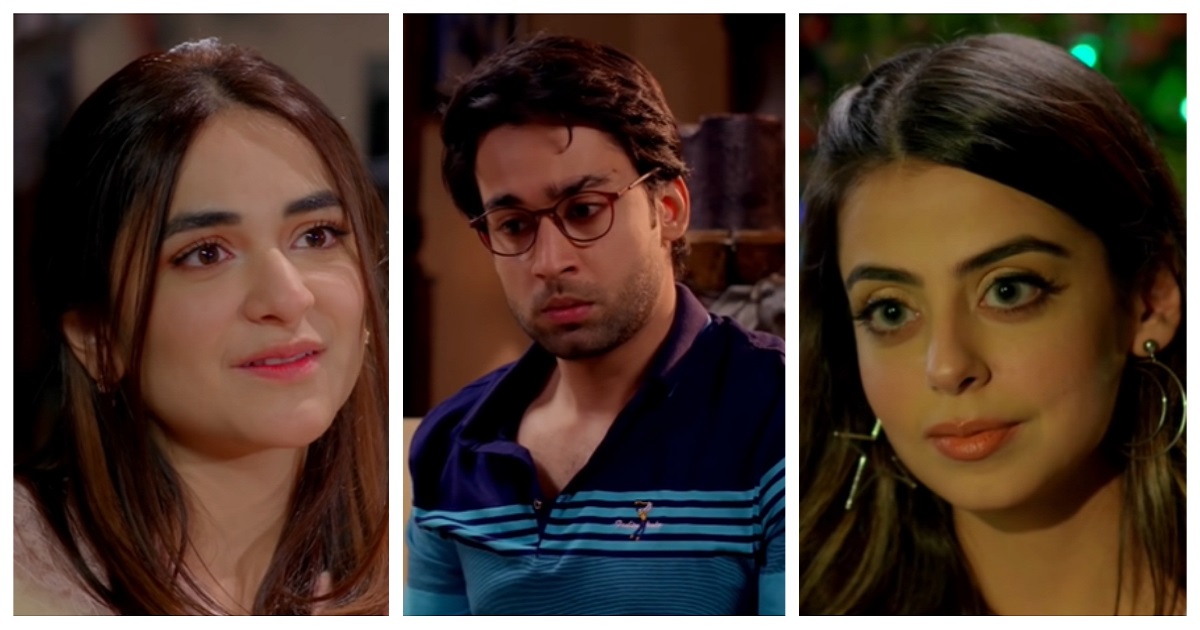 Kashf, Wajdaan, Zoya (Kashf)
This was another drama that had a different storyline altogether but sadly even this drama had the most unpleasant track of a woman desperately pursuing her sister's fiancé. Kashf and Wajdaan had been engaged for the longest time and they were both madly in love yet Zoya, Kashf's sister did whatever she could to create misunderstandings between the two and tried to win Wajdaan's mother over so that she would get him married to her. Zoya's fascination with her brother-in-law was pretty evident right from the beginning and the viewers started criticizing it right from the get-go.
Kashf was another one of those dramas that relied heavily on sibling rivalry. Although Kashf never did much to counter Zoya's plan, whatever she did definitely impacted her relationship with Wajdaan. This was such an unnecessary track and the most unpleasant one in this particular drama.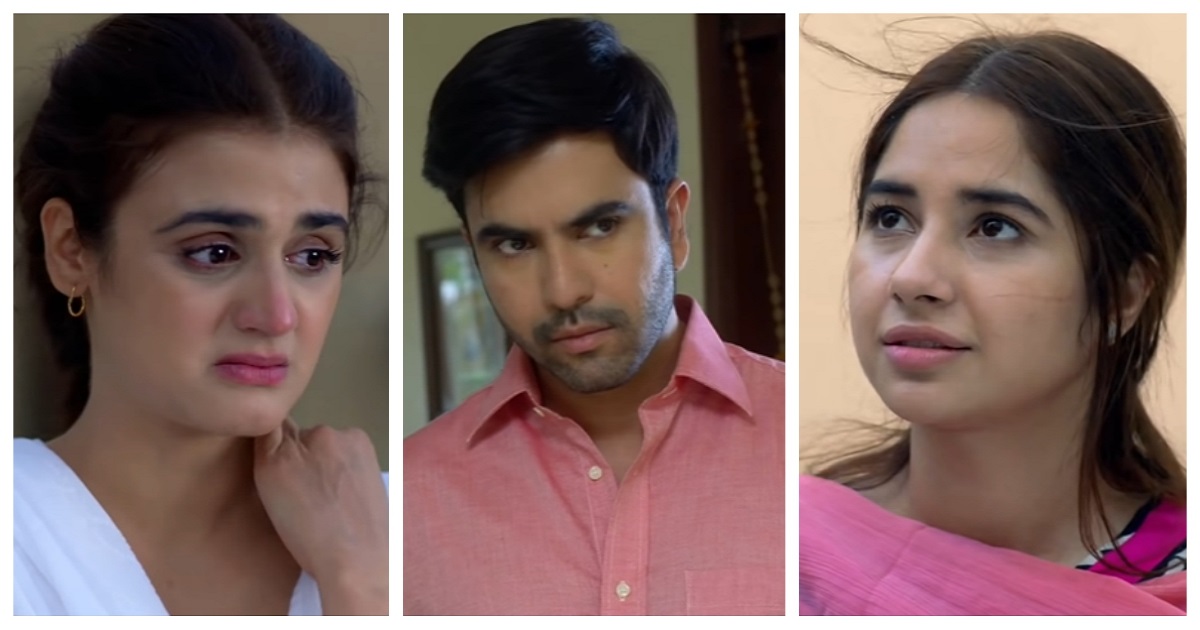 Daneen, Areesh, Aania (Anaa)
This was another one of those 'complicated' and strange love triangles where it was difficult to tell who actually the other woman in the drama was. Daneen and Areesh were initially in love but their families did not approve of their relationship. As a result of this, they ended up getting married to someone else. Areesh got married to Aania, a docile woman who knew he wasn't in love with her but did whatever she could to win his love since she was hopelessly in love with her! The drama took the most bizarre turn when Daneen decided to run from her husband's house and elope with Areesh!
Like all the other men on this list, Areesh was also clueless and useless! He could not commit to one woman because he did not know what he wanted from his life. On the other hand, Aania was shown as the typical too-good-to-be-true wife who always gave mixed signals and kept the viewers confused throughout. Areesh was definitely not worth fighting over and towards the end, this power struggle became even messier.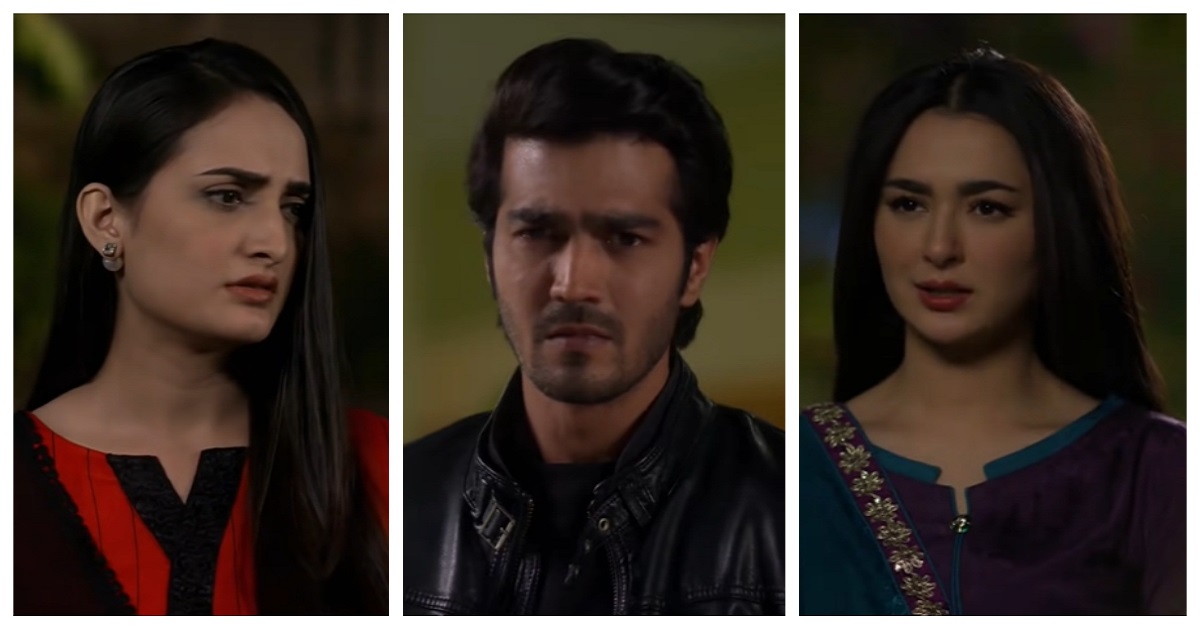 Farwa, Hassan, Gohar (Nand)
Nand is still on air and the power struggle between women is continuing to date! Since we stopped watching the drama a long time back, we will only add those names which were initially part of the drama. Gohar was shown as a controlling sister, mother, and wife who wanted to make sure that the men in her life put her before everyone else. That is why when her younger brother Hassan got married against her will, she did everything she could to create misunderstandings between Hassan and Farwa.
Gohar literally had no life therefore all she did was plot and plan against Farwa. She did everything from recording videos to taking pictures to make Hassan doubt his wife. Farwa countered everything with confidence until Hassan started falling for the lies and the marriage fell apart! Gohar and Farwa's confrontations were part of every single episode and this fight continued until Gohar 'won'!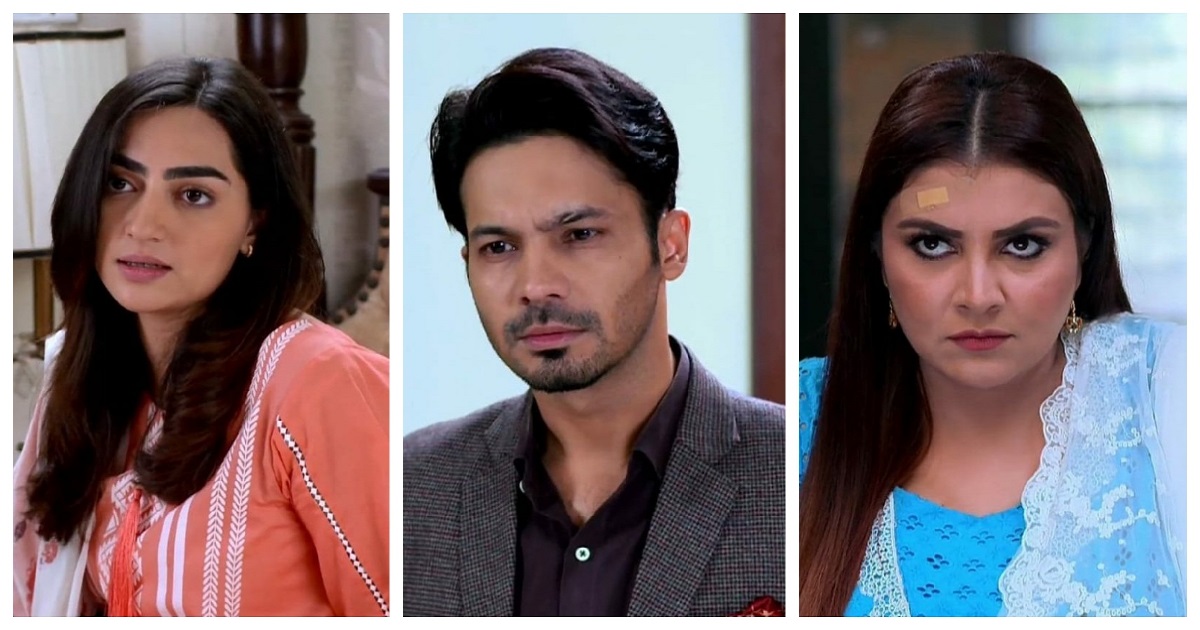 Rabi, Saqib, Gohar (Nand)
Everyone who has watched Nand would agree that Saqib was never worth fighting over! Yet, Rabi went through the worst to be with him until Gohar made sure that her brother divorced her. This divorce scene alone is enough evidence that the makers of Nand took women fighting over men to a whole new level!
Gohar stole, lied, and did whatever it took to break Saqib and Rabi's relationship. Saqib was so blinded by the love he felt for his sister that he believed every lie and never valued his wife. Rabi kept on coming back to Saqib even when she was beaten and thrown out of the house!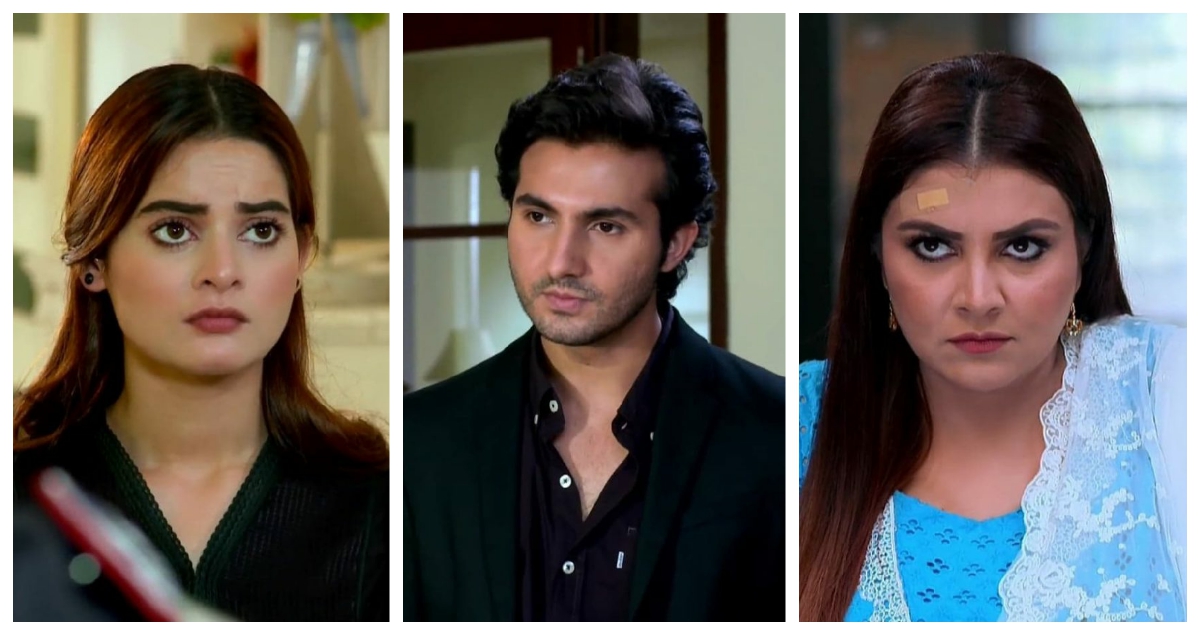 Rabi, Jahangir, Gohar (Nand)
When Rabi went ahead and married Gohar's husband Jahangir, drama serial Nand started going downhill.  Gohar came back to her husband and that is when there was a constant power struggle between the two women. Even a man like Jahangir who was sensible and decent ended up falling for the lies, as is always the case! The whole drama from then on focused on Gohar's attempts to be the only woman in Jahangir's life.
Gohar went as far as killing Jahangir's mother yet even now she is part of the drama and continues to fight with the present women in her brothers' life!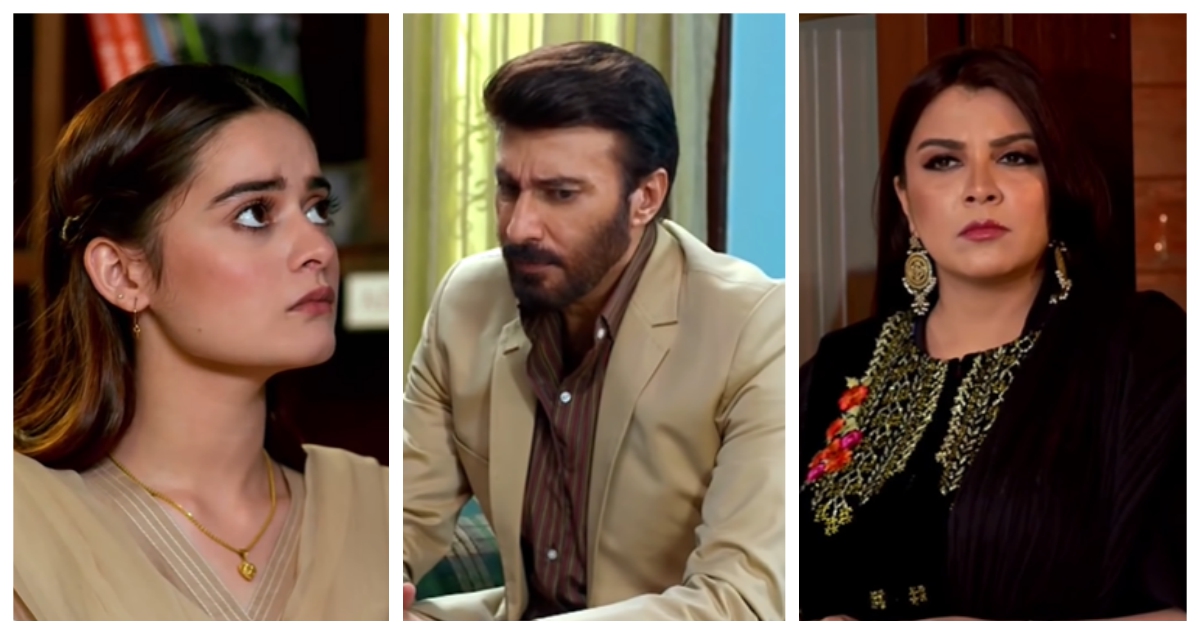 This list goes to show that our producers believe that showing women fighting over men guarantees viewership. Even when the writers begin a drama with a novel storyline, they end up adding such tracks to it and we are guessing that the producers want them to do so! Such tracks are in bad taste and the viewers are sick and tired of watching women fighting over men in our dramas. What do you think? Share your views.