You would expect all the leading actresses of the Pakistani drama industry to look their best at a big event such as the Hum Style Awards but sadly the reality was quite contrary to this. This year, there wasn't a single actress who looked stylish and trendy at the event. Every single outfit was a case of bad fitting and designing. It was, therefore, difficult to choose which actress looked the worse since there was such tough competition! The dresses these actresses wore made us wonder what happens to the creative mind of leading designers when they are assigned the duty of designing outfits for award functions. While most celebrities pretended to be at the Oscars, the style game definitely was not on point!
Here is the list of the worst dressed actresses at Hum Style Awards 2021:
[lwptoc]
Alizeh Shah
Alizeh Shah is at that stage of her career where she is trying her best to transition into a young, stylish diva, an image completely different from what she has sported throughout her adolescent years. Alizeh Shah is definitely experimenting in order to find her style, therefore she is expressing herself differently. Alizeh Shah's name has been involved in a lot of controversies but she chose not to say anything. However, after all, that she has experienced, this was the very first time she was going to be in the public eye that too on a big event such as Hum Style Awards. Alizeh Shah knew all eyes were going to be on her therefore she assumed she was dressed to impress but that didn't turn out to be the case.
Alizeh Shah was going to carry multiple looks throughout the event considering she also had a dance performance with Ali Zafar. However, the main look of the event was during her walk on the red carpet where she was seen in an off-shoulder black gown. It was unfortunate that this dress did not suit her body type and looked unflattering on her. The bustier was too small and the flare of the gown was oversized, which made it look like she had wrapped a huge towel around her. It was an ill-fitted, poorly designed outfit that absolutely wasn't made keeping her physique and body type in mind. Instead of accentuating her waistline and overall figure, this dress looked like it was ordered online and because she received it last minute, she did not have the time to alter it. Alizeh Shah's look has definitely brought her the attention that she was aiming for, but she must not have imagined that it would be for all the wrong reasons. Her choice of accessories, such as a wristwatch was also too casual and made it obvious that she did not have any stylist at her disposal and chose to wear what she thought was going to look good, which didn't. Better luck next time Alizeh.
Sonya Hussyn
Sonya Hussyn has definitely upped her style game over the years but unfortunately, she is also known for copying celebrities from across the border. Recently, she did not only work in a drama that was inspired by a Bollywood film but she also tried her best to copy Sri Devi's style! Now for the Hum Style Awards look this year, she decided to take some major inspiration from Malaika Aurora and still managed to be the worst dressed celebrity at the event. Firstly, Sonya's outfit was ill-stitched to the extreme, so much so that those collars would not stay in place!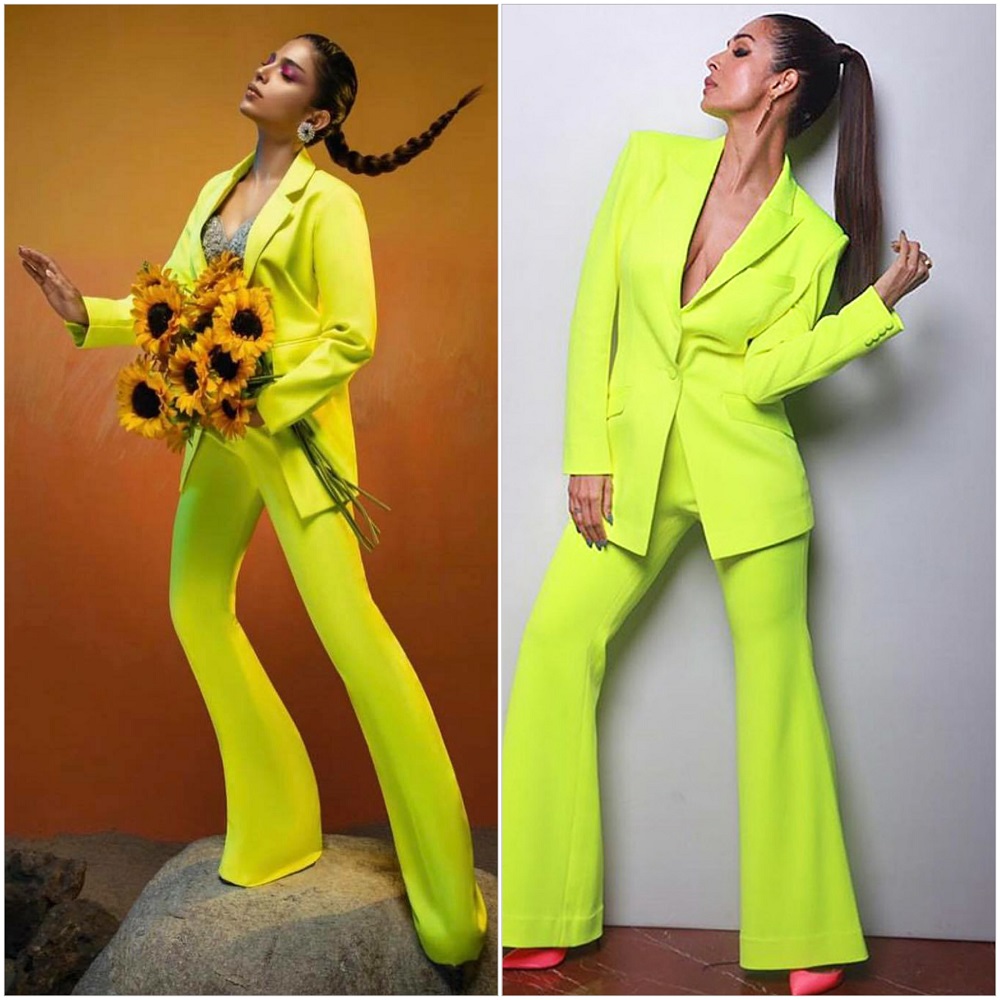 Secondly, this was clearly an outfit designed for the photoshoot in which filters and photoshop edit made up for the ill-stitching and the absence of the right cuts. Also, like many other celebrities, Sonya Hussyn could barely walk while she was at the event and was clearly not comfortable at all. We can only wonder why our designers and actors have to rely on copying designs and even colors when they can easily come up with original pieces. And even while doing so they definitely fail to make eye-catching replicas!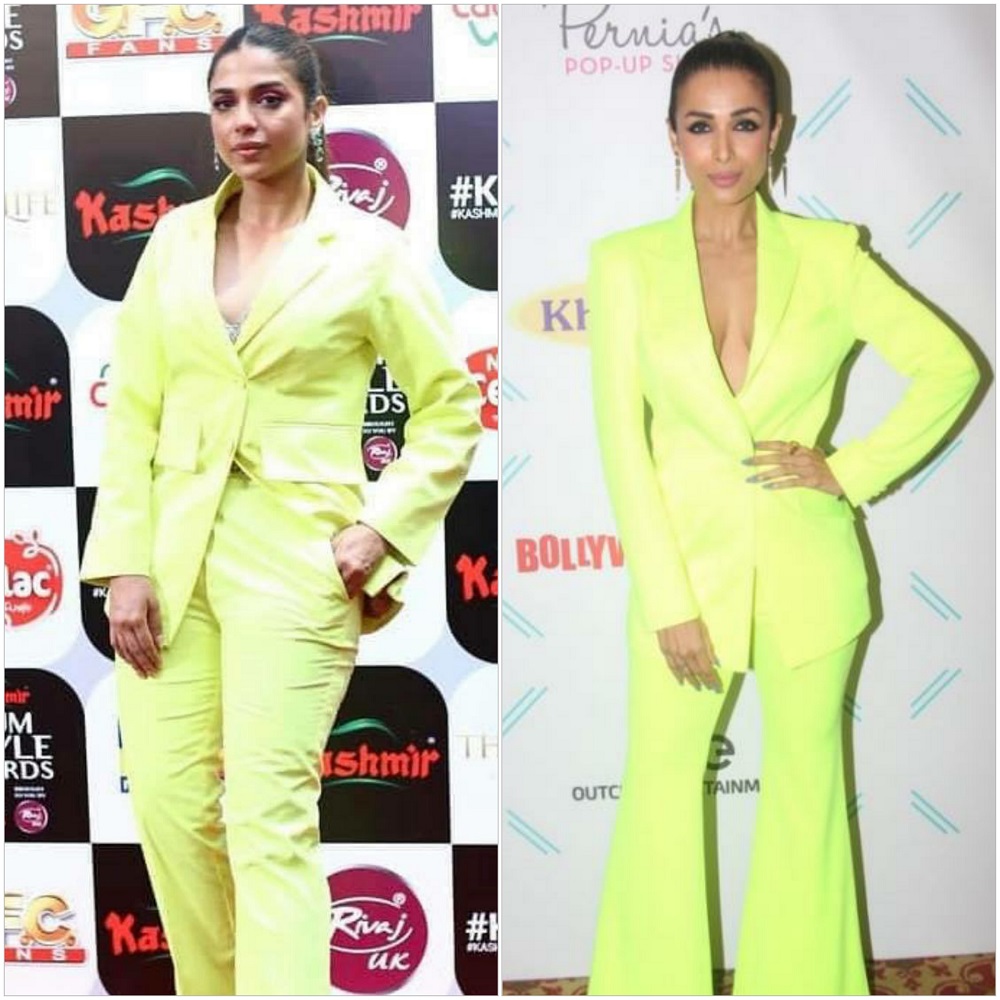 Sonya Hussyn's actual look at the event and her overall look in the photoshoot were poles apart! It just went to show how edited these pictures were and how badly designed this outfit was in reality! It was the perfect example of what you see online and what is actually delivered to you! The make-up artists also gave Sonya Hussyn a look that would look great in a photoshoot but in reality, it looked messy! We expected better from Sonya but we really shouldn't have since her fixation with copying Bollywood is fast turning into a routine matter!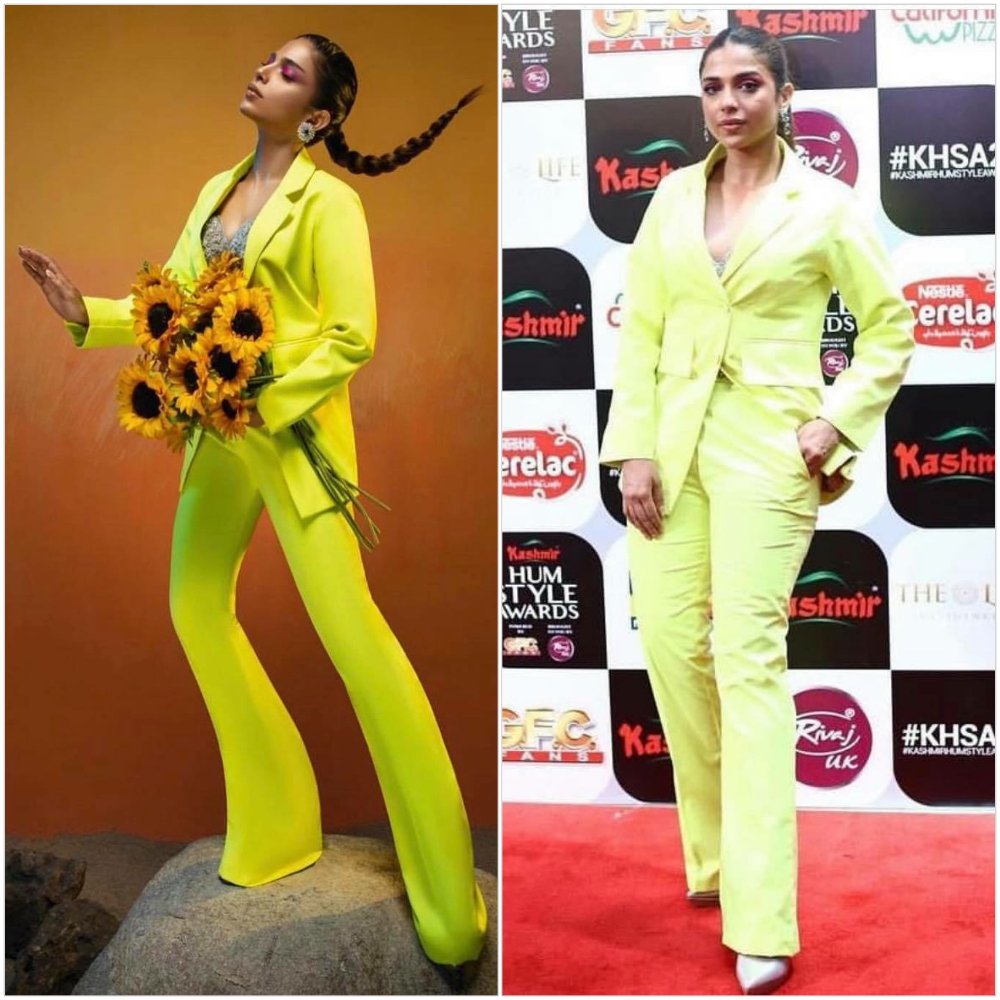 Here is one of the clips from backstage which clearly shows just how uncomfortable Sonya was in this outfit. Better luck next time Sonya.
View this post on Instagram
Mashal Khan
There was so much happening with Mashal Khan's overall look that it took a minute or two to study in order to understand what she was wearing. It is unfortunate but Mashal Khan was yet another worst dressed celebrity at the event. The off-shoulder maroon satin gown with a huge slit just seemed too basic and boring. The color of her gown was just not doing it for her, which makes it obvious that she tried to salvage it by relying on statement jewelry and over-the-top makeup and hairstyling.
It seems Mashal Khan got confused whether she was invited to a fancy dress party hosted by her friend at her house or an elaborate award function that was designed to celebrate style because style is exactly what was missing from her entire look. Mashal Khan's makeup was too harsh and bold. The fact that she was wearing a solid-colored gown should have helped her in keeping her hair and makeup simpler but she decided to go all out. The statement necklace that she wore also did not add much charm to the look and the top-knot bun added more sharpness to her features. It seems Mashal Khan has also realized that this look wasn't impressive, therefore she chose not to post it on her social media handles. Better luck next time Mashal.
Aima Baig
Let's not talk about the boring dress Aima Baig wore at the event because it was so plain that there was nothing to criticize let alone praise about it. However, the outfit Aima Baig wore for her dance performance gave us so much to talk about! It is rarely ever that actors are seen wearing well-designed and attractive dresses for these dance performances but what Aima Baig wore looked like a second-hand dress someone would buy from Landa Bazar. It was the kind of outfit which kids wear as costumes for school functions but only when the school doesn't have adequate resources to get quality dresses designed or when parents are on a budget!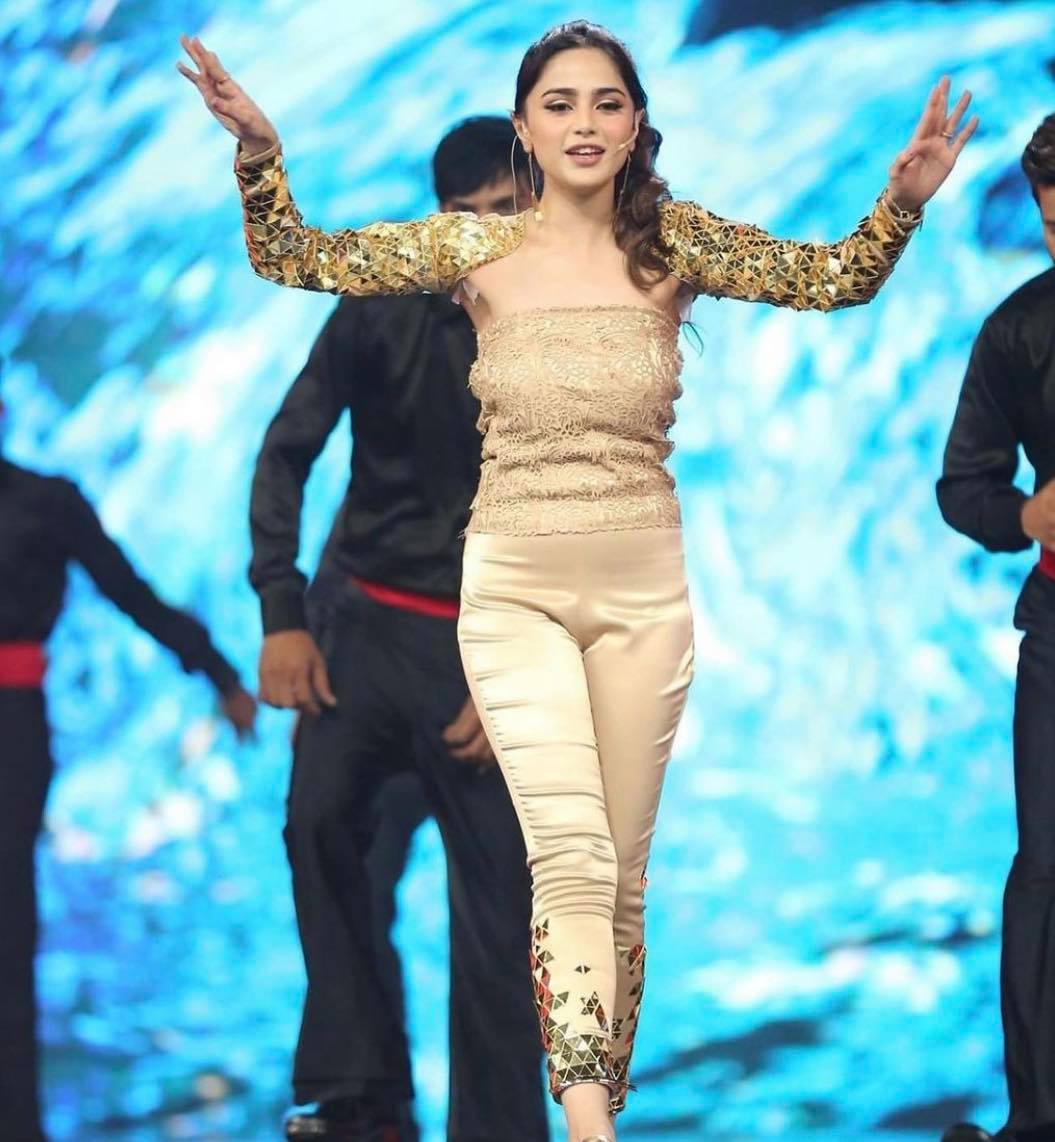 This was not a school tablo therefore we were shocked to see the poor choice of outfit and when that skirt came off, the silk pajamas/tights underneath made us question whether these really were the style awards. It was a weirdly put-together outfit and it seemed as if every bit from the sleeves to the shoes came from a different area of Landa Bazar! Why did these style award organizers think it was alright for a performer to wear an outfit which lacked basic style! With the best designers at their disposal, the organizers could have done far better. Better luck next time Aima.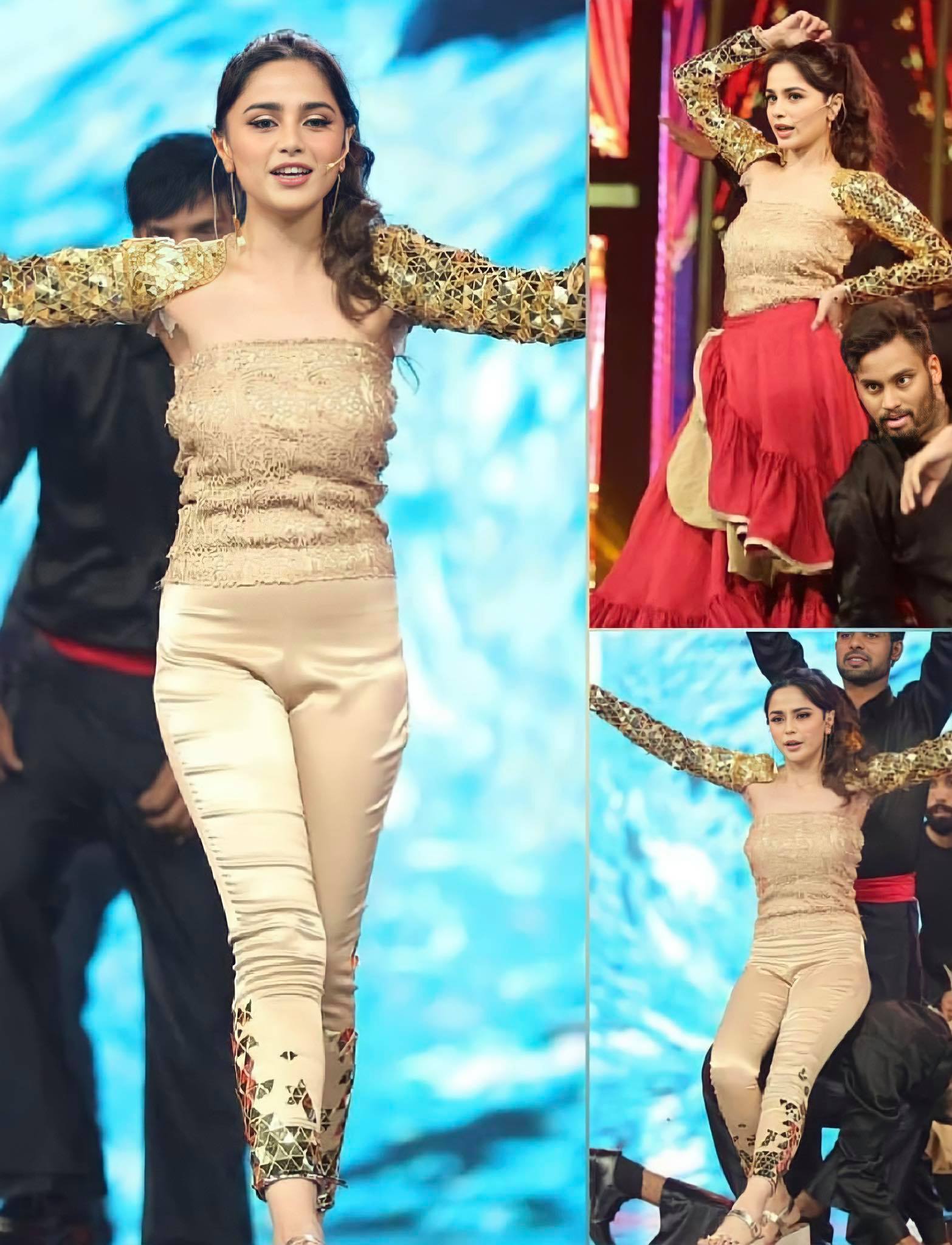 Amar Khan
This probably was one of the biggest events for Amar Khan, especially after she came into the limelight and public eye. However, this turned out to be a sticky situation for her because you just don't want to land in a list of worst dressed celebrities for one of the biggest events that you actually seem so enthusiastic about.
Amar Khan's dress is not only worst but her overall look is clearly underwhelming. The grey color is dull and boring and hair and makeup added so much age to her. It won't be wrong to say that Amar Khan's satin gown ended up looking like a nighty from the '80s usually seen in Bollywood movies. In one of the pictures, the loop was hanging underneath the puffy sleeves, which clearly goes to show that she or even her stylists (if any) did not really pay heed to the final look. Amar Khan definitely works hard on her body and looked toned but the puffy droopy sleeves and off-shoulder look of the gown just did not look flattering on her. Better luck next time Amar.
Fatima Khan
Fatima Khan has not appeared on screen for a while but she is still nothing short of a celebrity who makes appearances in interviews often. Usually, she makes sure that her dresses are in line with what she believes in and at the same time are trendy enough. This time around however we were disappointed to see the outfit Fatima chose to wear for an event that was paying tribute to stylish artists. Fatima's dress was a mix of a saree and a western dress. The choice of color was not appealing at all and the pattern chosen for the blouse gave it a really hideous and cheap look. The blouse was also ill-fitted and looked like a shirt that was tucked in.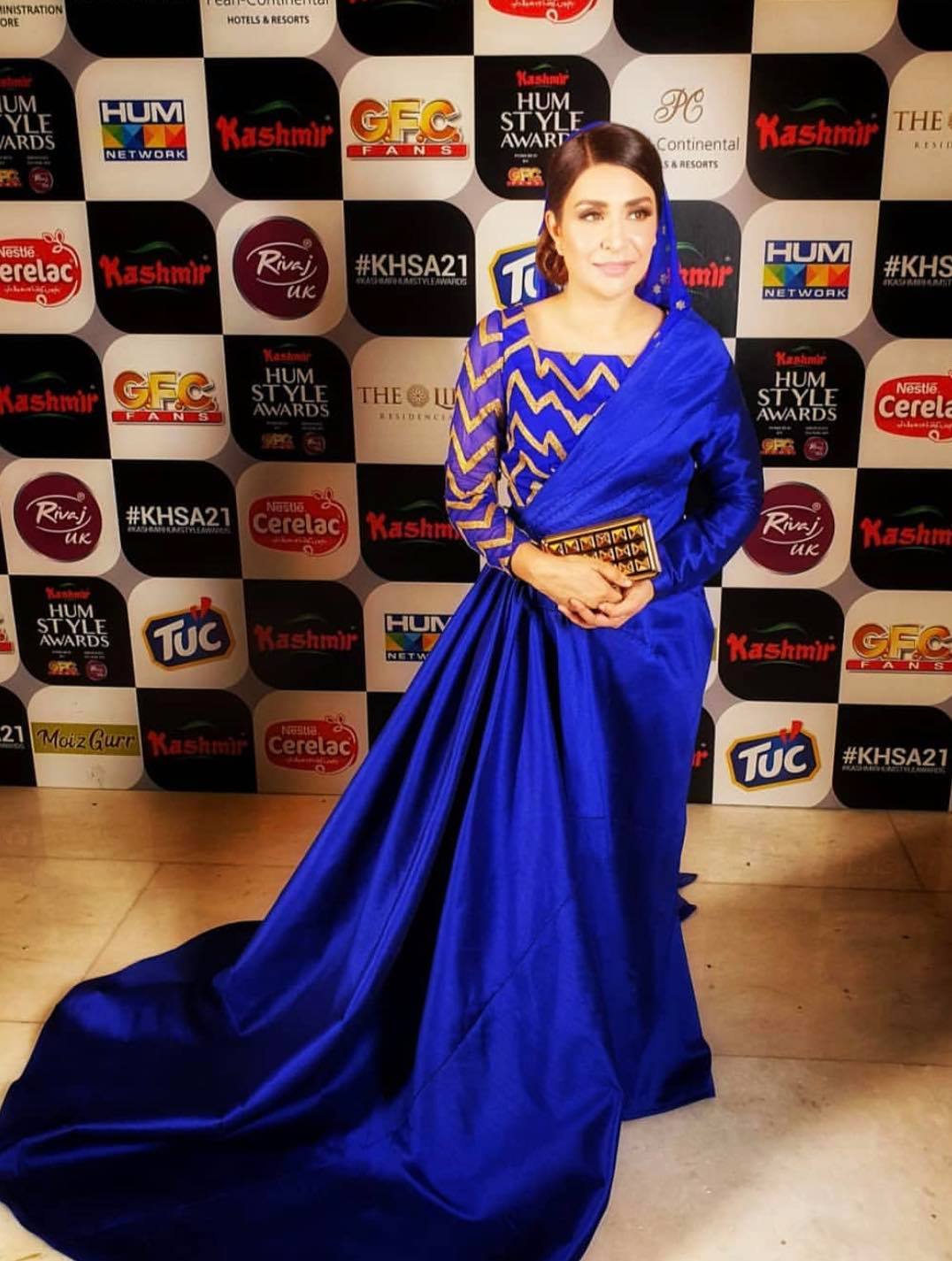 While we appreciate the fact that Fatima is trying her best to make sure that the dupatta she vowed she will cover her head with is there at all times, we don't get why this dupatta has to be there as a 'symbol' alone! Fatima's outfit overall was just as confusing as her take on covering her head! If you want to do something go all out and do it properly otherwise just let it be! She got full marks for being 'covered' by the public in general and we are guessing that is the only approval she was looking for. Looking stylish was definitely not a priority while designing this outfit! Better luck next time Fatima.
Ayesha Omar
Ayesha Omar was another actress who showed up in an outfit that was perfect for photoshoots! It is unfortunate that a stylish celebrity such as herself settled for something she could not carry. The front top part of her dress was the main attraction of this dress yet it was too close to her face and unless she was in a certain position, it did not sit well at all. Apart from that, the fabric used for the dress was not the best! People rightly pointed out that the tail looked more like a mosquito net. Just like all the other actresses, Ayesha Omar went for a look that would look good in the pictures and wasn't essentially the best otherwise! Better luck next time Ayesha.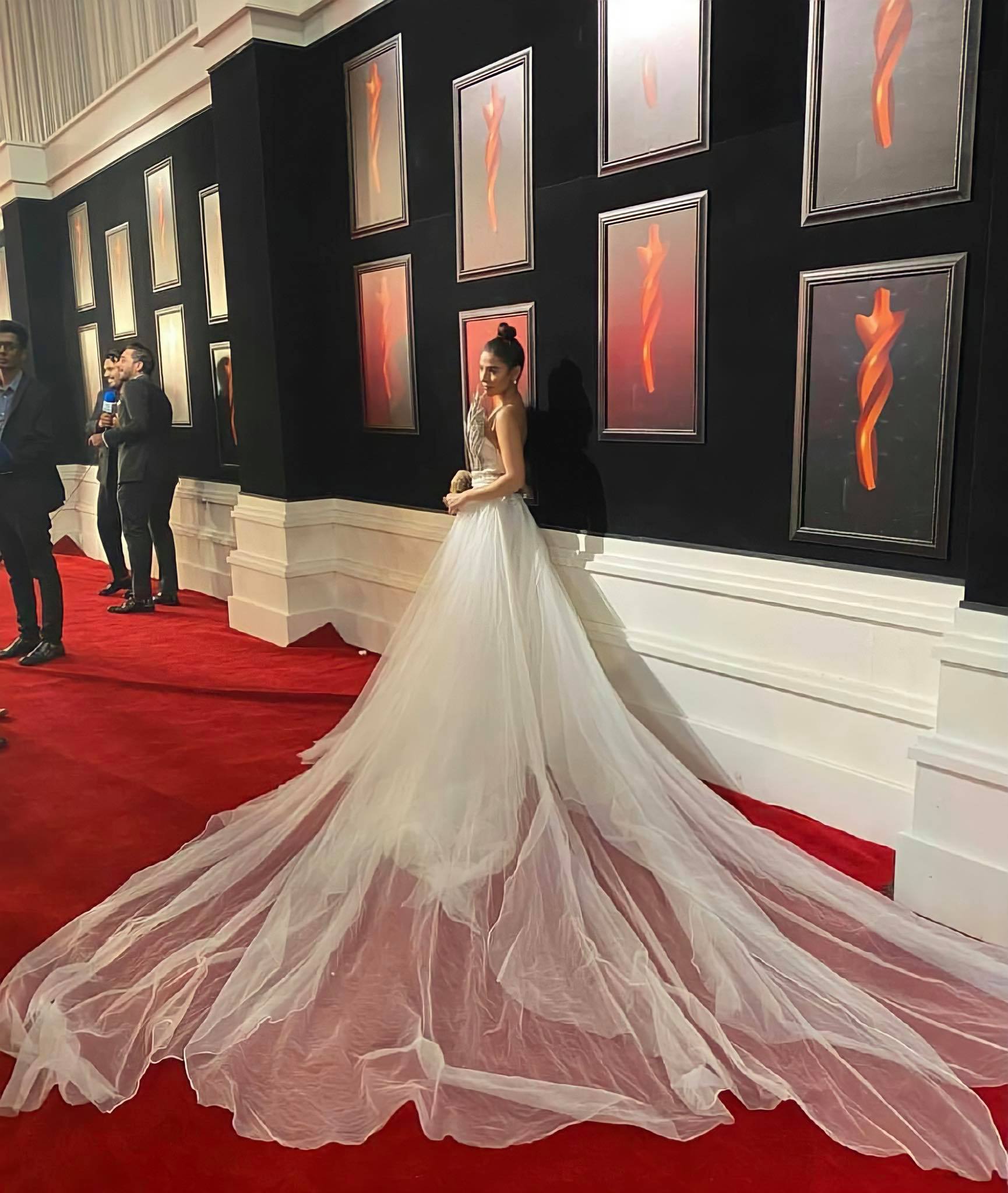 View this post on Instagram
Nausheen Shah
It is ironic that the actress who won an award for being the most stylish actress on TV ends up in the list of worst dressed celebrities at Hum Style Awards. It just doesn't stop there because Nausheen Shah's outfit and overall look have turned out to be quite controversial. It is because lately for the longest time, she has advocated a certain style of modest dressing. She has made TV appearances in that look where she proudly spoke about how one should dress modestly, however that changed at an award function.
Nausheen Shah is definitely a stylish celebrity who knows what looks good on her, therefore to see her in this outfit came as a shock. The plain black crop top paired with a crop coat wasn't an impressive choice. The fitted sequined and tasseled skirt was supposed to make a statement but ended up looking like a messy design which did not translate well on the fabric. Nausheen Shah's sleek bun and basic makeup look made it look like she got ready herself because her hairstylist and makeup artist canceled last minute. This overall look seems poorly designed and executed. Better luck next time Nausheen.
Resham
Resham has carried so many different casual and formal styles in everyday life and in functions therefore we were seriously disappointed to see her wearing the most basic outfit which anyone can purchase from a retailer on such a big award function. The choice of color wasn't the best either! Her dress was not formal or stylish enough for the occasion. She did not wear any accessories except for a basic pair of earrings and her styling was pretty much the same as usual. Resham played it safe and while doing so she disappointed all those people who expect better from a diva such as her. Better luck next time Resham.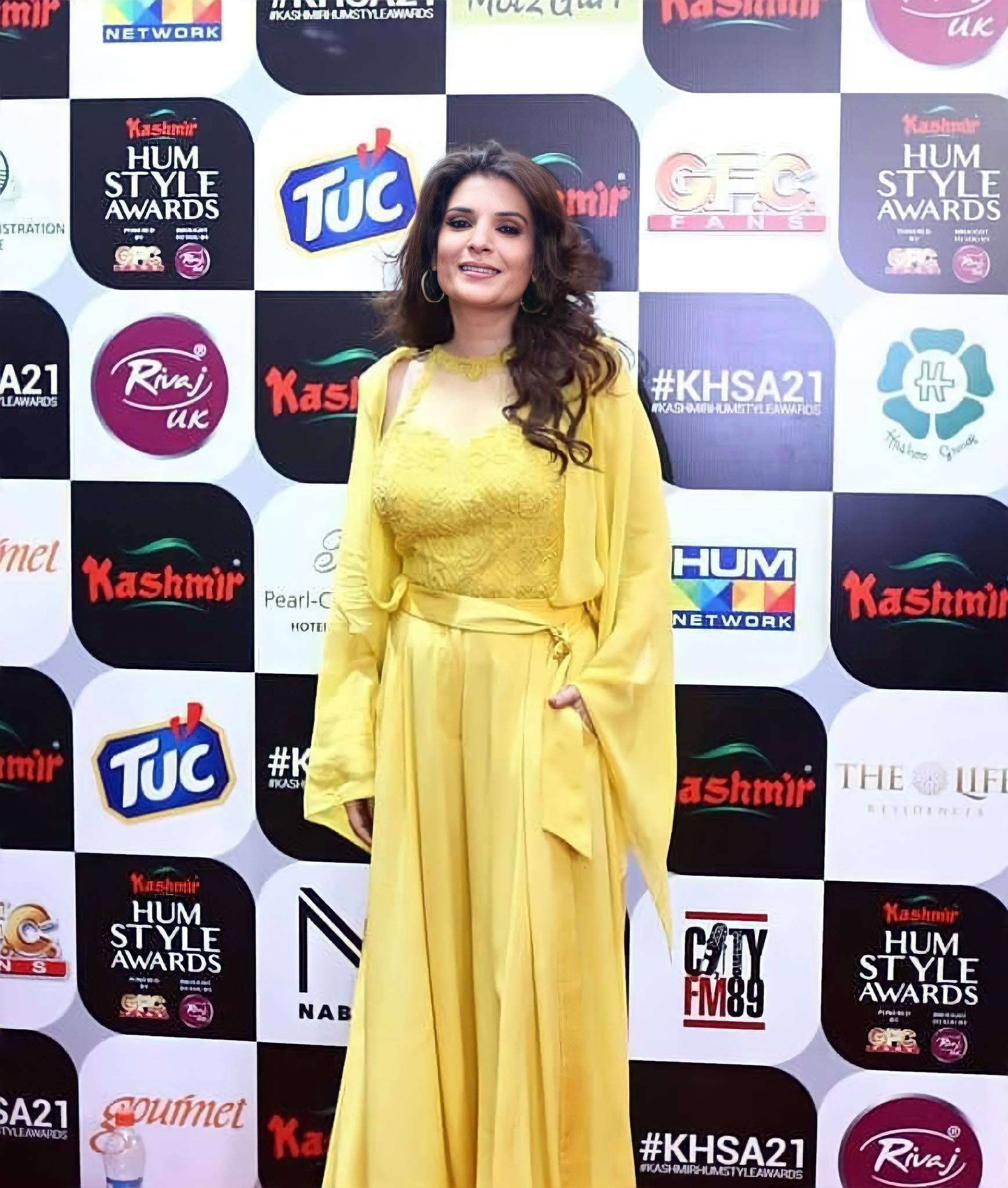 Sarwat Gillani
Sarwat Gillani is one such actress who knows and understands style a lot better but this time around, it seems she was in no mood to channel it. Sarwat Gillani's look shows how boring a barbie doll look can be. Maybe she was also inspired by Alia Bhatt and chose to wear a frock like her. The color of her dress was dull and boring. Her personal styling such as hair and makeup was too basic. The expressions of Sarwat Gillani showed that she herself wasn't feeling the look and probably did not have a decent amount of sleep to look fresh and awake. Sarwat Gillani definitely has that personality where she can make any kind of styling work but it is sad that almost at every award function, she tries to experiment and end up in the list of worst dressed celebrities year after year. She is a constant on this list and seems quite proud about it. It's about time Sarwat Gillani fires her stylist (if any) and if not, she should hire one ASAP. Better luck next time Sarwat.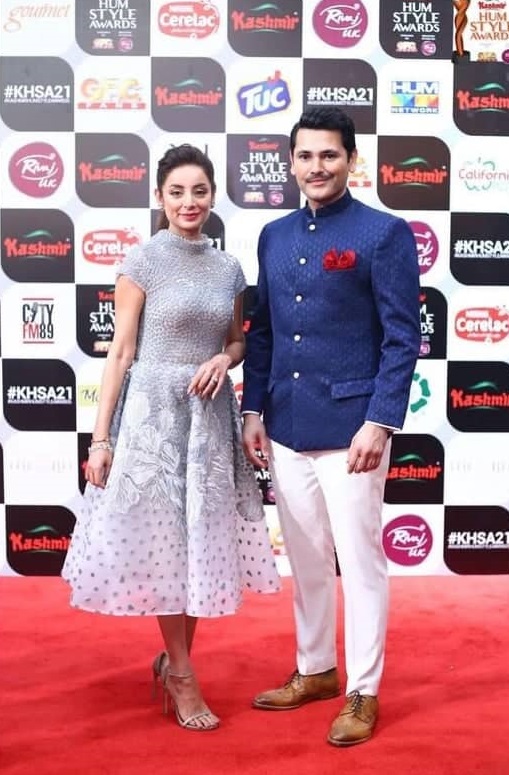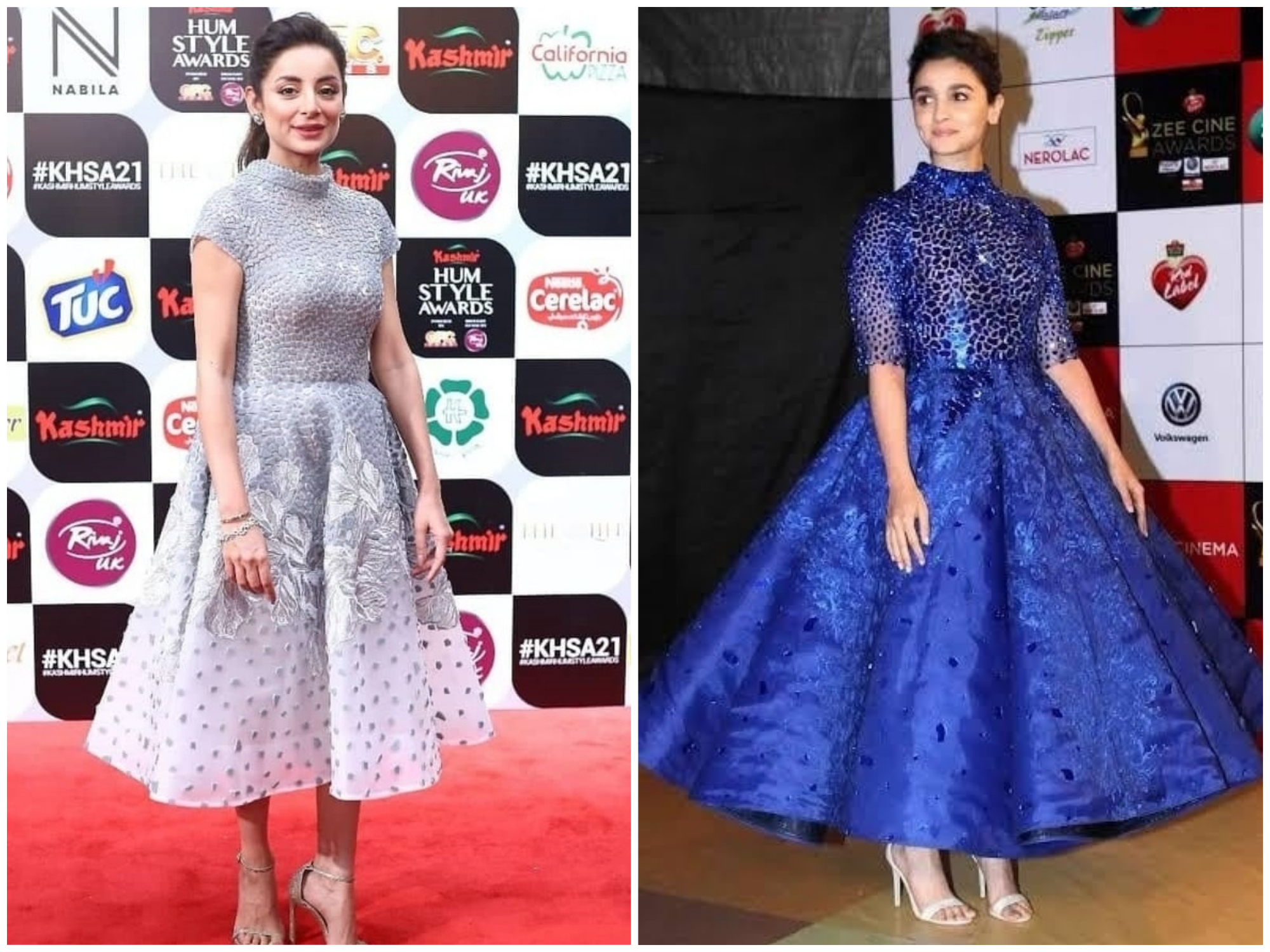 This completes the list of worst-dressed celebrities at Hum Style Awards 2021. It is unfortunate that the event designed to celebrate style was attended by celebrities who did not display any sense of style or remotely did justice to the concept. Which of the looks do you think were least impressive? Feel free to share your opinion in the comment section below.