Every year while we get to watch some outstanding drama serials, there are also those which are simply not up to the mark! There are some dramas that are stretched, others which might have some shortcomings and then there are those which disappoint on so many different levels that they can be easily termed as the worst! Surprisingly enough, every year, many leading actors are part of such dramas. Their presence is sometimes the main reason why people start and continue watching these dramas in the hope that they will eventually deliver. However, these dramas do not only lack meaningful content but at times the performances are also so unimpressive that these actors leave the viewers in complete shock!
In the year 2021, there were plenty of Pakistani dramas which simply failed to entertain and proved to be a waste of time. Some of these dramas got the ratings as well but even then we believe that they qualify to be on this list. We all know that many dramas that do not provide quality entertainment manage to garner ratings every year. The popularity of a drama, therefore, is completely secondary, content comes first. Most of the writers who penned down the scripts for these dramas either relied on clichés or did not have enough substance to write a script for so many episodes.
Here is a list of the worst Pakistani dramas of 2021:
The List is in Alphabetical order.
Amanat
Writer: Rukhsana Nigar
Director: Shahid Shafaat
Producers: Six Sigma Plus Productions & Next Level Entertainment
Channel: ARY Digital
Cast: Urwa Hocane, Imran Abbas, Saboor Aly, Haroon Shahid, Srha Asghar, Salman Saeed, Shehryar Zaidi, Saba Hameed, Zainab Qayyum, Gohar Rasheed, Asad Siddiqui, Saima Siddiqui
Drama serial Amanat has some of the biggest names attached to it and it comes from two of the most well-known production houses. Yet, right from the start, it has been the perfect combination of badly etched-out characters and a done-to-death storyline with the most unconvincing story developments we have seen in dramas this year. Although Amanat has only been airing for a few weeks, it has disaster written all over it already! It is almost as if Imran Abbas has vowed to choose all such scripts which bank heavily on star power and typical stories. He plays the flawed and foolish hero like a pro now! His make-up in the drama is another reason why it is difficult to sit through each episode of the drama.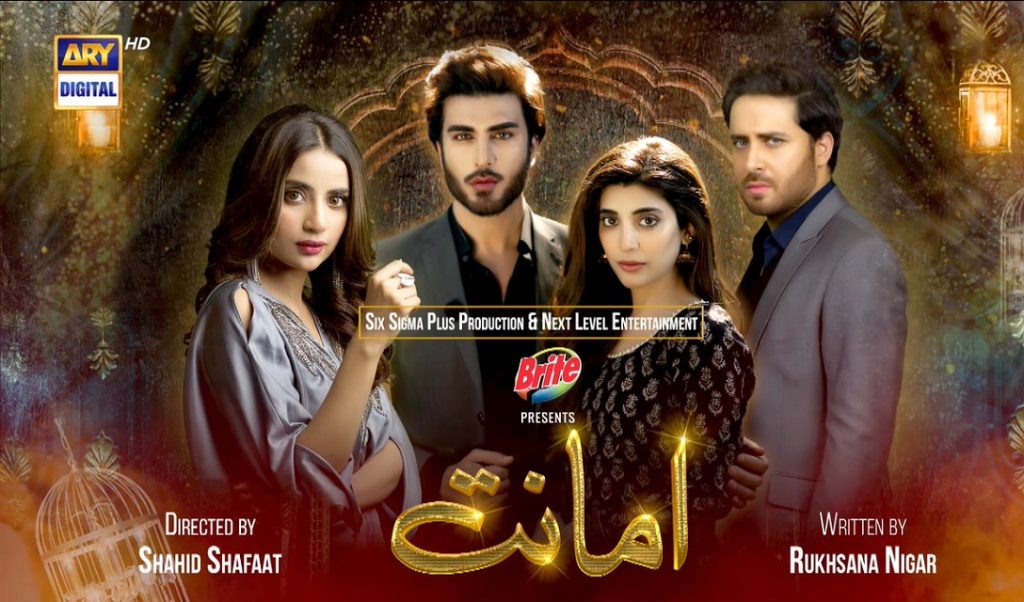 After making such wise choices in the recent past, Urwa Hocane decided to choose the role of a bechari with no personality and tons of filters! The focus on 'beauty' in Amanat is overwhelming, to say the least. Amanat has nothing to do with reality or even logic; it is like a remake of Thora Sa Haq with Urwa playing Ayeza Khan's role! Imran Abbas choosing to play yet another loser hero role is the biggest disappointment. Most of the characters in Amanat are annoying and the visuals do not make up for the lack of an original and wholesome storyline. The fact that this was one of the most awaited drama serials this year makes it an even bigger disappointment. Very often, Pakistani writers make a mockery of the institution of marriage and this drama is yet another instance when the writers used the same ghissa pitta formula to get ratings! We understand the fact that production houses cannot always come up with novel ideas but such big producers should understand that the public expects meaningful entertainment from them if nothing out of the box or grand.
Be Adab
Writer: Inam Hassan
Director: Shehzad Kashmiri
Producer: MD Productions
Channel: Hum TV
Cast: Sania Saeed, Rehan Sheikh, Momin Saqib, Faryal Mehmood, Hajra Yamin, and others.
Be Adab was one such drama which showed that the writer had a vision and wanted to convey it to the viewers – mostly related to holding onto the family relations and ties but sadly, the director and the producers had a very different approach to it and it just didn't work out. The final product was dull, mellow, depressing, and boring. The highlight of this drama was the relationship shown between the characters of Sania Saeed and Rehan Sheikh but other than that, there was nothing much to it.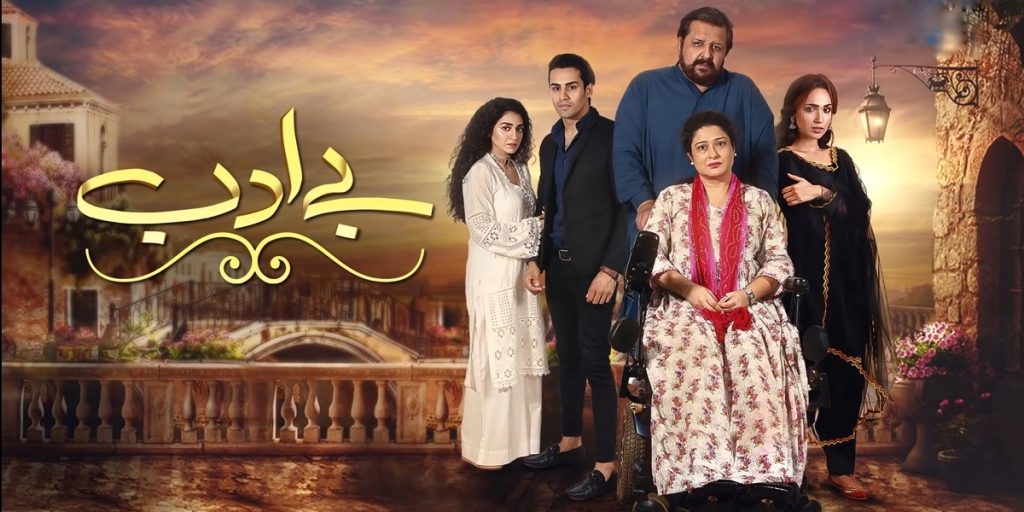 As the drama progressed and the biological children stepped in, things not only took the turn for the worse, the drama entered a new level of worst as well. For a story that already dealt with such a serious and grim subject, to add more to it with such an execution did no favors to the drama as well as the viewers. Be Adab definitely had potential in the story but the overall execution definitely turned it into a flop, landing it into one of the worst Pakistani dramas of 2021.
Dour
Writer: Saji Gul
Director: Mazhar Moin
Producer: 7th Sky Entertainment
Channel: Geo
Cast: Sania Saeed, Azfar Rehman, Hina Altaf, Ali Abbas, Adla Khan, Hania Ahmed, Iffat Omer, Harris Waheed, Saleem Mairaj, Nayyar Ejaz, Fazila Qazi, and others.
This was another drama we were looking forward to watching since Saji Gul often comes up with something new and often powerful. However, although the script isn't disappointing overall, the main premise of the story has been relegated to the background. Also, like most of the dramas produced by 7th Sky Entertainment, the treatment given to this drama makes it one of the most pointless dramas on air at the moment. The script revolves around a rich businesswoman who is controlling and clearly has some personality disorder. But just like many other Pakistani dramas, the main content of the show revolves around marriages, exploitation of the weak, and twisted character. Azfar Rehman's character lacks depth but it gets so much screen time, it is definitely not the kind of negative character that keeps your interest alive. Even Sania Saeed's star power does not save the day since her get-up and portrayal both appear to be more fake than real.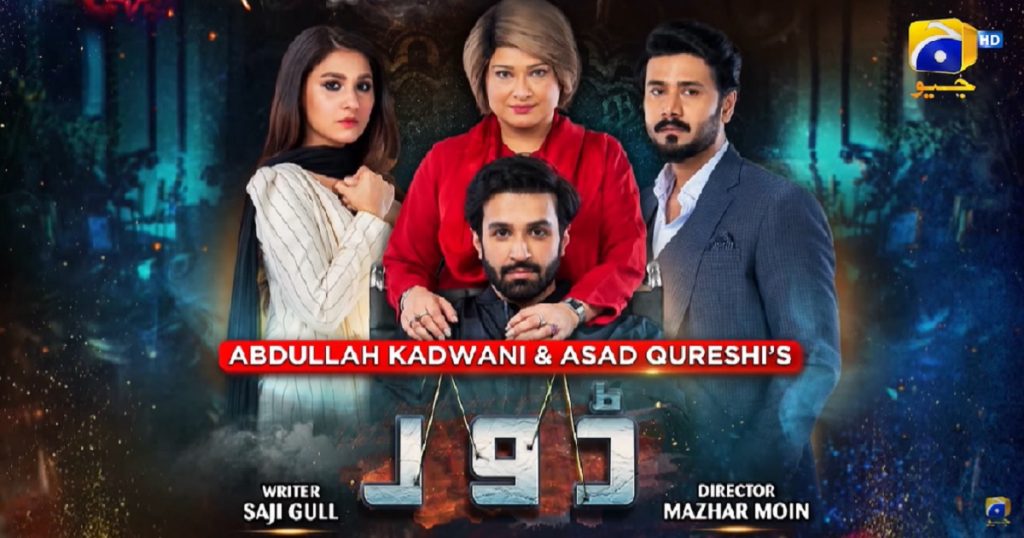 The performances by all the actors make it impossible for the viewers to actually feel for any one of them. Even brilliant actors such as Sania Saeed, Ali Abbas, Iffat Omer, and even Harris Waheed fall short multiple times. Even after all these years of acting in dramas, Hina Altaf still manages to give the most mediocre performances in every other project. The whole approach is overdramatic, the script lacks depth, performances fail to impress, and the story lack flow or purpose.
Ishq Hai
Writer: Rehana Aftab
Director: Aabis Raza
Producer: Big Bang Entertainment
Channel: ARY Digital
Cast: Danish Taimoor, Minal Khan, Sajjad Paul, Azekah Daniel, Saba Faisal, Babar Ali, Hammad Shoaib, Hammad Farooqi, Mahenur Haide and others.
Ishq Hai was a recipe for disaster which showed forced marriage in a glorified manner. This was the kind of project the producers must've asked the writer and the director to come up with only to generate ratings. There is no denying the fact that the pairing of Danish Taimoor and Minal Khan was not only new but did seem exciting but that went down the drain the moment the two confessed 'I love you' to each other in cheesy sign language. It was also no fun seeing every single person around Shahzeb and Isra played by Danish and Minal plotting against them. The plotting and scheming didn't even stop after their marriage and the entire drama was dedicated to all the 'sazishain' devised by their ill-wishers.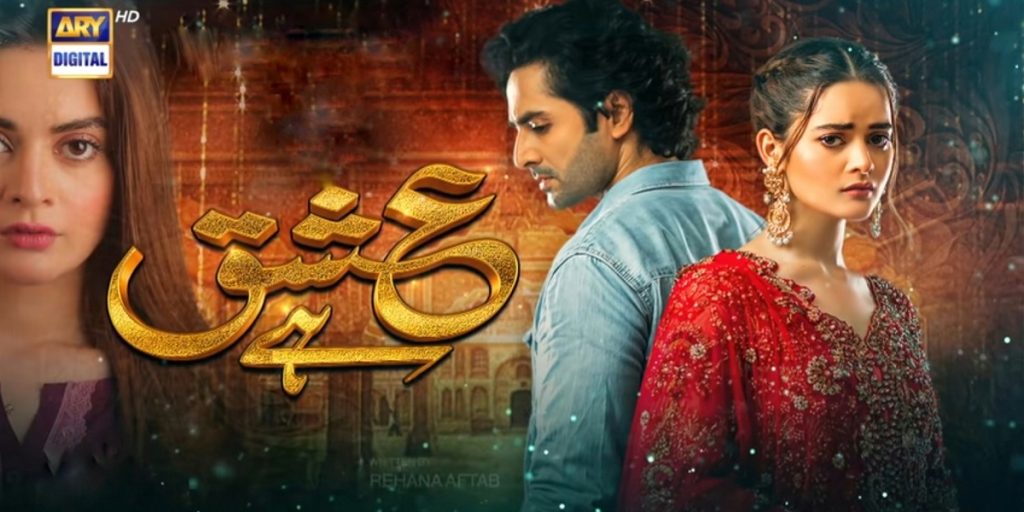 There was absolutely nothing new to the drama and it was frustrating to see Shahzeb being such a dimwit where he just could not trust the girl he loved. The writer tried her best to show some redeeming factors as the drama approached its end but sadly, the damage was irreparable. The execution of Ishq Hai was bad with poor lighting and camera work. It added so much age to both Minal Khan and Danish Taimoor where they both did not look at their best like they usually do in their dramas. Ishq Hai also happens to have a record of not one but two plane crashes, how convenient!
Khuda Aur Mohabbat 3
Writer: Hashim Nadeem
Director: Syed Wajahat Hussain
Producer: 7th Sky Entertainment
Channel: Geo Entertainment
Cast: Iqra Aziz, Feroze Khan, Mirza Zain Baig, Junaid Khan, Sunita Marshal, Tooba Siddique, Sohail Sameer, Rubina Ashraf, Hina Bayat, Waseem Abbas, Asma Abbas, Noor ul Hassan and others.
We're pretty sure seeing the name of Khuda Aur Mohabbat 3 will shock quite a lot of readers but there is no other way to put it. Hashim Nadeem has given some of the most memorable stories to Pakistani drama buffs but he felt short in Khuda Aur Mohabbat 3. The writer still gets credit and acknowledgment for trying to come up with yet another story that had an element of spirituality to it but sadly, it got lost in the execution and under the heavyweight of big-budget and magnanimous camera angles. Khuda Aur Mohabbat 3 is a beautifully shot drama that has amazing camera work, angles, and aerial shots to offer. However, when it comes to characters, the story, the essence, the soulfulness – there is absolutely none. There is no depth or layers in the characters whatsoever. It is amusing that the director put the entire focus on how the side characters were getting mesmerized by the spell of Farhad, but when it comes to Farhad, the viewers are still wondering what's so special about him.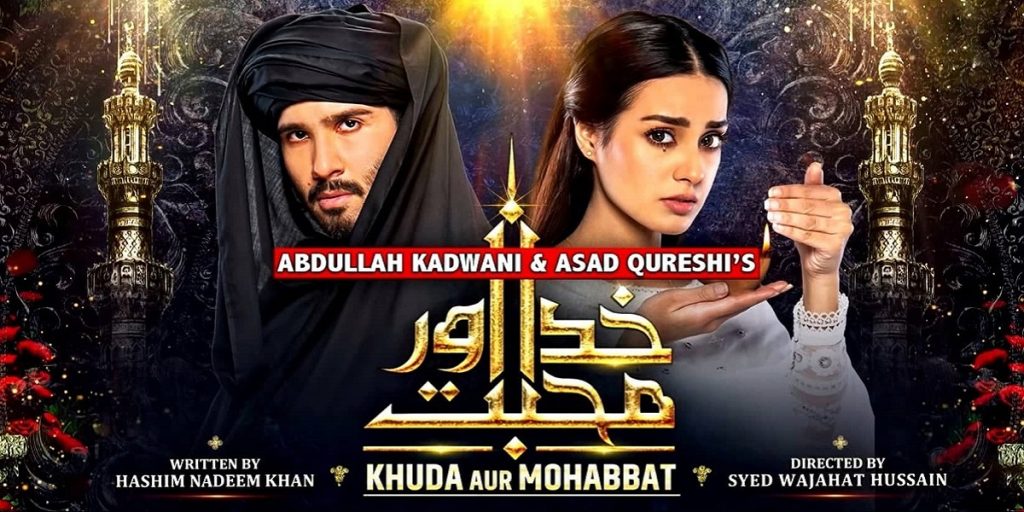 The drama is ending this week and it is unfortunate that even at this stage of the story the viewers have not been able to see Farhad's love towards his Creator. He is still very much focused on Mahi and everyone around him is very much focused on him. The most absurd factor about this entire story is how a gali mohallay ka larka has been glorified in this drama and put on such a pedestal which is unrealistic and unbelievable. Usually, in real life, guys like Farhad often get a lot of beating by the cousins and brothers of the girl they are bothering but it is unfortunate that in the writer's mind, he is someone special who deserves to be loved and revered. Iqra Aziz and Feroze Khan did their best to salvage this drama but their characters have been so underwhelming that they just could not impress!
Khwaab Nagar Ki Shehzadi
Writer: Ali Moeen & Rehana Aftab
Director: Syed Ramish Rizvi
Producer: IDream Entertainment
Channel: ARY Digital
Cast: Mikaal Zulfiqar, Anmol Baloch, Mashal Khan, Sajida Sayed, Shaheen Khan, Ramsha Salahuddin, Alyy Khan, Ayesha Gul, Ayesha Toor, Nayyar Ijaz, Shazia Goher, Aidah Sheikh, Nazli Nasr, and others.
Khwaab Nagar Ki Shehzadi was every greedy kaam waali massi's dream come true for 30 plus weeks! It was also one of those dramas that got the ratings in 2021 because controversy sells! The story revolved around the main female protagonist Meera, who was a highly qualified and intelligent woman until she found out about her maid's daughter's affair with her husband. This was yet another drama in which a nikkah was turned into a joke given the circumstances in which Meera's husband ended up marrying the massi!! We have watched many Pakistani dramas showing how greedy women break marriages but this was definitely one-of-a-kind since the leading man had a pea-sized brain which made it difficult for him to make even the most basic decisions wisely! Khwaab Nagar Ki Shehzadi banked heavily on controversies such as extra-marital affairs shown openly and then on the becharapan of a woman who could have easily walked out of this marriage!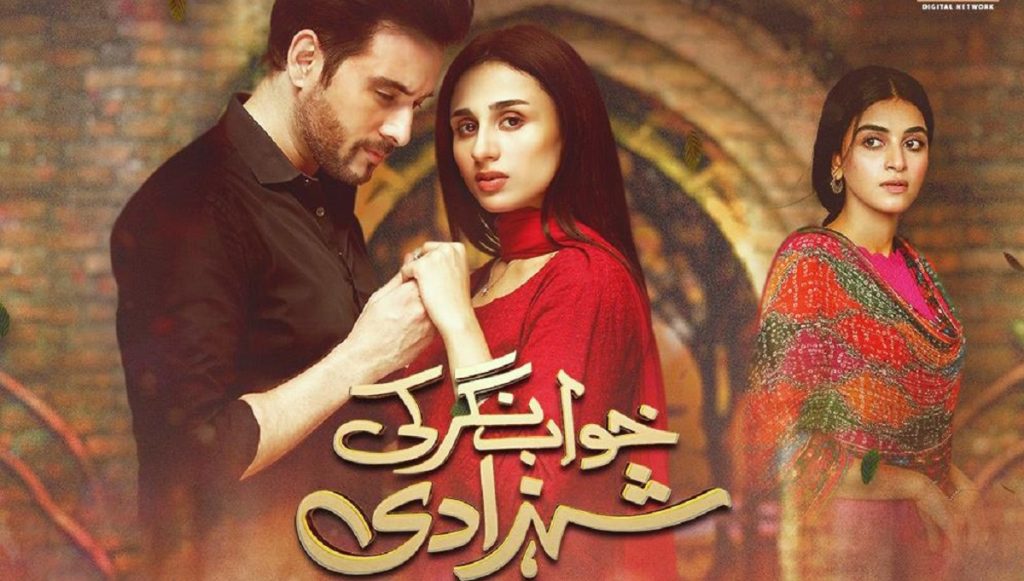 For 50 plus weeks, the absurdities continued, and then there was a rushed ending which finally showed Meera leaving her good-for-nothing husband and the massi paying for her wrongdoings. However, this ending did not make up for all the forced toxicity which was used to garner viewership and was void of all logic. Mikaal Zulfiqar yet again played a role similar to the one he played in Ruswai and Khasara! It seems as if he is just as comfortable playing such roles as Imran Abbas is. Mashal Khan cried endlessly in the drama and her hairpiece stood out like a sore thumb. Anmol Baloch's performance was mediocre but the producers got what they were aiming for – ratings of course!
Mere Apne
Writer: Qurat ul Ain & Dilawar Khan
Director: Mohsin Mirza & Tehseen Khan
Producer: iDream Entertainment
Channel: ARY Digital
Cast: Ali Abbas, Waseem Abbas, Hajra Yamin, Zoya Nasir, Zainab Shabbir, Agha Mustafa Hassan and others.
A typical, formula, rating generator but it wouldn't have cost them much if they had at least executed it better. This disaster of a drama happens to be written and directed by two people, which definitely reminds us of the proverb 'too many cooks spoiling the broth. Mere Apne's story is based on the concept of 'vatta satta', where one set of parents get to mistreat their daughter-in-law only because they feel they got the ticket to do so. The situations in Mere Apne are not poorly laid out but so frustrating and half-baked that it makes you wonder about the limited mentality of the writers. Hajra Yamin is a strong and confident young girl, she proved her caliber in a drama like Ehd e Wafa, therefore to see her settling for a project like Mere Apne is shocking, to say the least.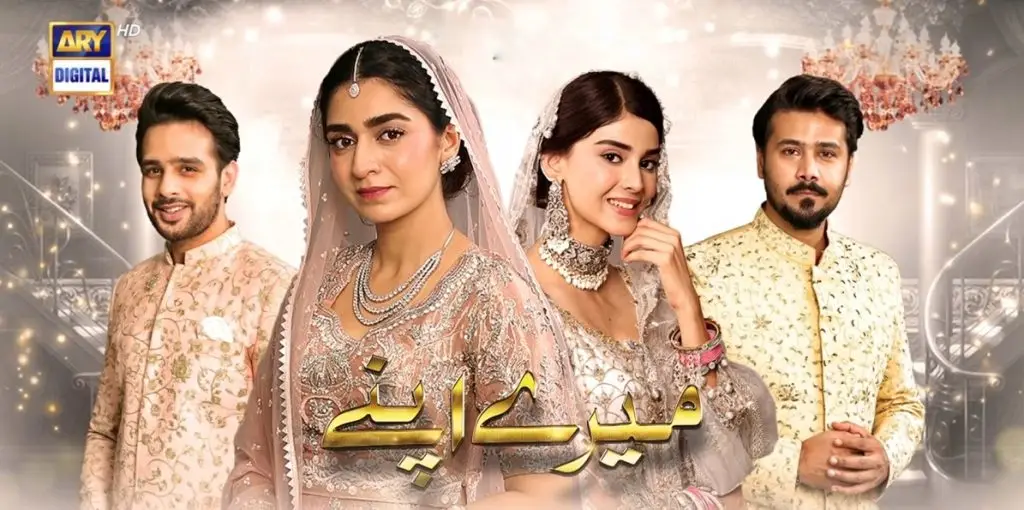 The drama is currently going through its second phase with a change of actor that played the role of the father. Ali Abbas's character was also made to exit the story which made it obvious that he must've been starting a different project, therefore, couldn't continue shooting for Mere Apne. It is amusing to see that the producers do not let go of a drama that already doesn't have much to offer or contribute to in the name of entertainment.
Mohabbat Dagh Ki Soorat
Writer: Saira Raza
Director: Zeeshan Ahmed
Producer: 7th Sky Entertainment
Channel: Geo
Cast: Neelum Muneer, Sami Khan, Syed Jibran, Kinza Malik, Sunita Marshal, Humera Bano, Arham Akhter, Kamran Jeelani, Sukaina, Tipu Sharif, Alizey Zaidi, and Aarez.
Mohabbat Dagh Ki Soorat is another drama serial that aired only a few weeks back yet it is definitely the kind of drama that deserves to be on this list! Anyone who managed to sit through the first 5 episodes of the drama would be eligible for some kind of an award since this drama literally tests your patience right from the start. The over-stretched scenes and Neelam Munir's overacting as well as her get-up get on your nerves in the first few episodes. There is nothing spontaneous about any of the scenes in the drama so far, everything looks like it is staged. Neelam's character itself is written well but the execution is awful! The overall approach of 7th Sky Entertainment, in general, is to over-dramatize every event and to focus on looks even when it isn't necessary. Sami Khan's performance has been convincing but he really needs to stop taking up these university student characters because he just doesn't fit in anymore. Also, Syed Jibran really should experiment more because he is capable of being more versatile!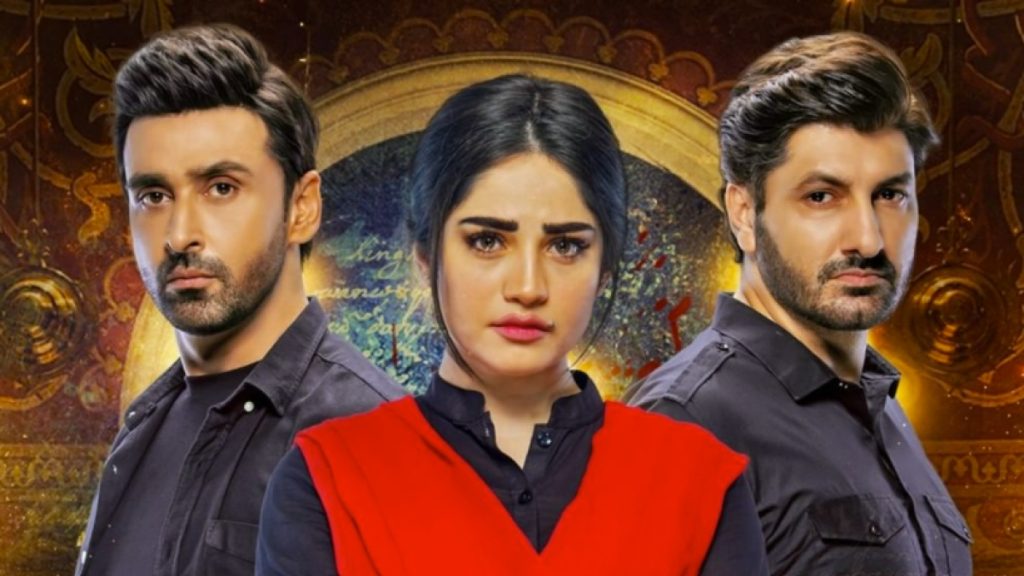 Mohabbatein Chahatein
Writer: Samira Fazal
Director: Ali Hassan
Producer: Momina Duraid Productions
Channel: HUM
Cast: Junaid Khan, Hira Mani, Armeena Rana Khan, Ibrahim Alavi, Tipu Shareef, Ghana Tahir, Saife Hasan, Sajida Syed, Saad Azhar, Fatima Malik, Noreen Mumtaz, Abdul Muqeet and Others.
Mohabbatein Chahatein was another drama serial of 2021 that was not only clichéd to the core but even questioned the viewers' intelligence more than once! This was yet another one of those dramas that relied heavily on toxicity, negativity, and unbelievable naivety of the male lead in particular. Much of what we watched in the first half made little sense, Armeena Rana Khan's character was a twisted and somewhat weird version of the maasi we saw in Khwaab Nagar Ki Shehzadi. The performance itself was more childish and immature than it needed to be! The drama got better in the second half but the sidetracks, in particular, continued to be comical even though they were supposed to be serious. This drama was mainly popular due to Junaid Khan and Hira Mani's on-screen couple but Junaid Khan's character especially in the beginning was so goofy that it was unbearable! There were a few dramas that aired on Hum this year that could be termed as the 'worst' and this one definitely fell in the category.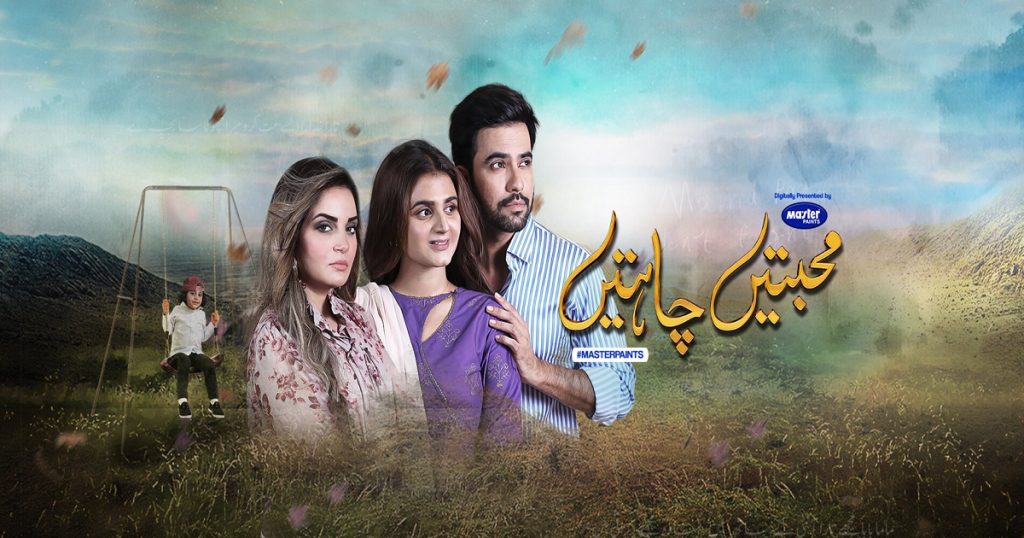 Mujhe Vida Kar
Writer: Samra Bukhari
Director: Saqib Zafar
Producer: IDream Entertainment
Channel: ARY Digital
Cast: Madiha Imam, Saboor Ali, Muneeb Butt, Saba Hameed, Shabbir Jan, Raza Talish, Ali Rizvi, Haris Waheed, Sajjad Paul, Sana Askari, Afshan Zafar, Paras Masroor, Maria Khan, Tara Mehmood, Mariam Ansari, Shaista Jabeen, Falak Naeem and others.
Mujhe Vida Kar was another 2021 Pakistani drama that had a star cast in leading and supporting roles yet it completely failed to impress. The main male lead Muneeb Butt disappeared from the drama in between and when he reappeared in the show, the explanations given by him coupled with Madiha Imam's character constant bechargi turned this drama into an unbearable watch! We kept on watching the show hoping that it will eventually lead to something more meaningful but it was not meant to be. Saboor Aly's character and Ali Rizvi's performance made this sidetrack even more unbearable than the main track. We wonder why actors such as Madiha Imam, Shabbir Jan, and Saba Hameed in particular chose to be a part of this drama!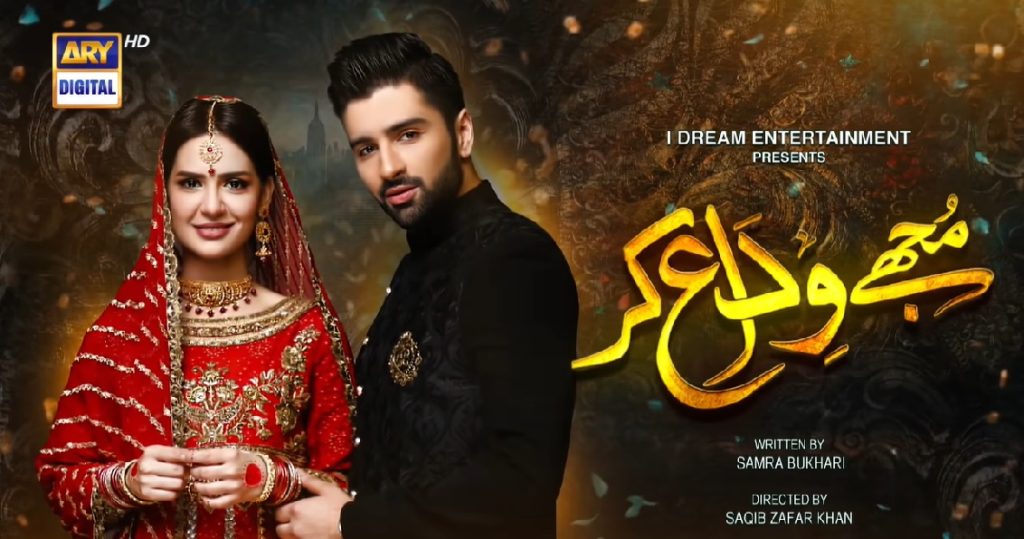 Qayamat
Writer: Sarwat Nazeer
Director: Ali Faizan
Producer: 7th Sky Entertainment
Channel: Geo Enterainment
Cast: Ahsan Khan, Neelam Munir, Haroon Shahid, Amar Khan, Saba Faisal, Shabbir Jaan, Noor ul Hassan and others.
The promos of the drama serial Qayamat were quite impressive and enough to create the hype about it. The viewers anticipated Qayamat as they thought they'd be getting to see something interesting but that didn't turn out to be the cast. It was a typical storyline that revolved around domestic violence and the male lead not realizing his mistakes. Sarwat Nazeer is known for picking up the simplest of storylines and adding a lot of soul and depth to them but sadly, it was the typical and commercial Geo Entertainment effect that took away from what the writer must've assumed how her script will be dramatized.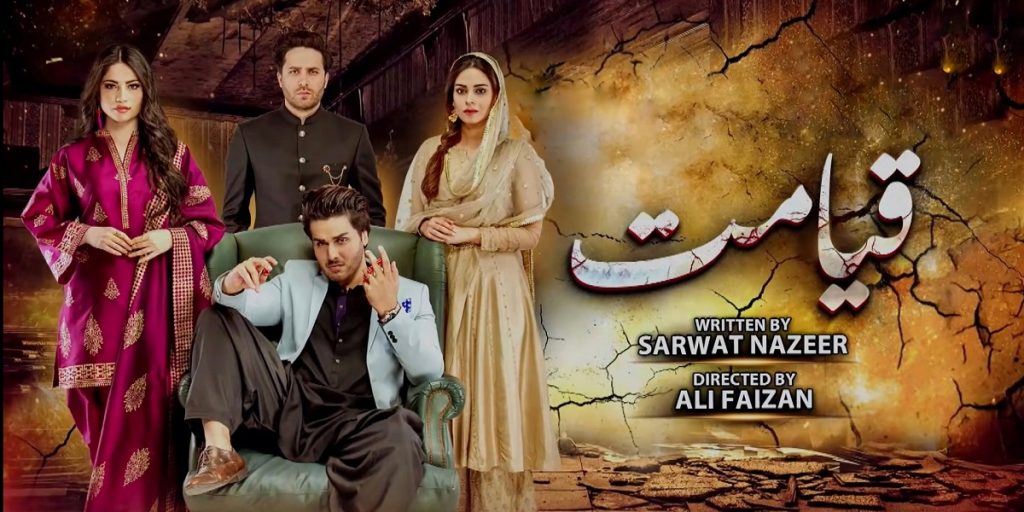 Neelam Munir Khan is better suited in dramas that do not belong to Geo Entertainment because when she is on this channel, she actually loses the plot and tends to overact so much that she ends up making her characters look caricaturish. The character of Ifrah had a lot of potential to become one of the memorable ones but the overall portrayal and execution took that away from her. Ahsan Khan definitely brought in the comic quotient to this drama but his character stopped being funny when he started crossing the line with his wife and then continued committing one mistake after another. The only good thing about this drama was the performance of Shabbir Jaan and Saba Faisal, but apart from that, Qayamat was actually one of the worst dramas of 2021.
Yun To Pyar Hai Bohat
Writer: Aliya Bukhari
Director: Kashif Saleem
Producer: Film Factory
Channel: Hum TV
Cast: Hira Mani, Affan Waheed, Nadia Hussain, Javed Sheikh, Mariam Mirza, Sabeena Syed and others.
After the success of Do Bol and the fame, an on-screen couple of Hira Mani and Affan Waheed got, viewers actually were excited to see them working together again in a drama. However, things turned out to be quite sour right from the beginning because Yun To Pyar Hai Bohat made it very clear in the initial stages that it had lackluster written all over it. Although the character played by Hira Mani did seem promising but a solo strong-willed female character is not enough to save a drama or redeem it. The drama-makers tried to experiment a bit showing Affan Waheed's character as a musician but there was nothing exciting to both, his character and his personality.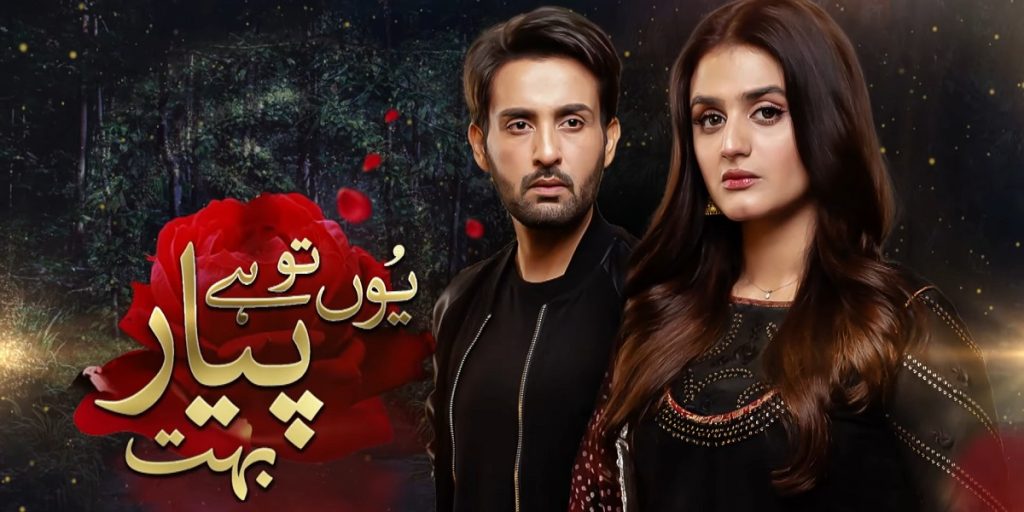 The writer Aliya Bukhari tried to bring in a lot of different aspects such as the separation of Aima's parents, Zain being presented the opportunity to adopt a child, Aima's younger sister Nazi getting married to a man thrice her age, and Aima's success in her career. All of this does look interesting on the paper but the commercial execution is what this story did not require. The writer did try her best but the final result was least impressive, so much so that it was hard to tune to it. Not to forget, the poor and over-acting seen by almost all the actors. Affan Waheed looked like he had just walked in from the sets of either Shehnai or Pardes. He really needs a makeover and needs to hire a stylist. Seeing him in t-shirts paired with checkered shirts in every single drama is not only monotonous but confusing!
This completes the list of worst Pakistani dramas that aired in 2021. Which one of these have you watched and what are your thoughts about these dramas? Are there any more names that you'd like to add to the list? Feel free to share your opinion.
Fatima Awan & Zahra Mirza