Zahid Iftikhar Ahmed is now one of the most popular lead actor of Drama Industry. Beginning his television career from Drama Serial "Mehram" opposite Ayesha Khan as a lead Protagonist, he achieved height of his success when he outdid everyone by playing a negative role in drama serial "Alvida" aired on Hum TV in 2015 and received best actor award in a negative role in 4th Hum Awards. He established himself as a lead actor as he received further acclaims for his roles in "Jugnoo" "Tum mere pass raho" "Sangat" and currently in "Zara Yaad Kar" and "Besharam".
Zahid Ahmed retains acting sense and he is building a great portfolio for himself in field of acting. However not everything will fall in your way so easily, Zahid struggled a long way to become an actor. He went through many transformations in his personal life including physical transformation as well where he lost his weight and recovered from hair loss.
Here is how Zahid himself depicts the story of his personal and professional life on social media which is not less than a roller-coaster ride of pain and luck.
Zahid Words are "The picture has been circulating on many websites and people have been asking me if this is true. Well here's the answer…it is absolutely TRUE! The picture on the left is me (Zahid). But just like every picture, you never get to know the whole story…apart from getting a solution for my hair loss and being over weight, there's much more to my story! Here it is!
2011 – Working as COO (Chief operating officer) for an I.T company
2011 – Got married
2011 – went for fabulous honeymooning in Malaysia
2011 – on last day of honeymoon found out that the company didn't exist anymore (they were fraudulent)
2011 – came back to Pakistan with new terrified wife, no job and huge debt on credit card
2011 – job hunt started, marriage was about to fall apart
2012 – Had a terrible accident and injured spine
2012 – 4 months of not being able to move, divorce seemed a reality
2012 – got a radio show because of the voice
2012 – further destroyed the spine by trying to go to the radio
2012 – now a vegetable, lost all movement, lost radio, had some self esteem left
2012 – head of PIMS Islamabad recommended spinal surgery
2012 – got surgery, started walking again
2012 – got a job which paid 10 times less, worked hard – marriage still on the rocks
2012 – started doing a show for PTV home discussing English movies. Some pride restored.
2012 – Head of PTV notices my English, hires full time to launch PTV WORLD the English channel.
2013 – worked against the culture of PTV to launch the channel.
2013 – PPP Government topples, chief of PTV fired. Now I was left without a boss.
2013 – Team working with Anwar Maqsood approaches me for playing Jinnah in SAWA 14 August. Wife supported
2013 – Played theater for a year. Got hair solution for Jinnah. Lost 22kgs
2014 – left theater because producer was a corrupt soul who owed everyone money
2014 – no home, no money, with wife..left for dead on roads of Karachi
2014 – A lady from a production house of HumTV calls for audition after seeing me on stage
2014 – Gets selected for MEHRAM
2016 – Became what you see now.
If this story doesn't motivate you, I don't know what will. I am Zahid Ahmed , I am passion and I am the future"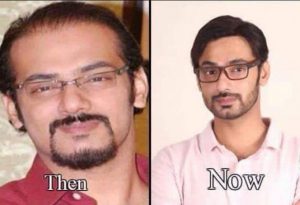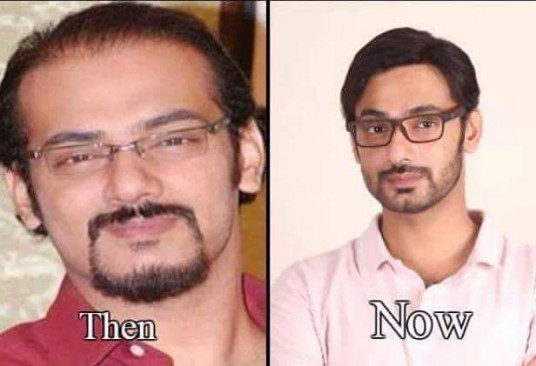 We all know actors in a limelight having less or no problems in life but we don't know how much they have struggled to achieve heights of success. Zahid's story is truly motivating for everyone. Just be patience and everything will fall in your way.