We all know how great Zahid Ahmed's sense of humor is. His Instagram stories are a riot and people wait for him to add some new. He's a great actor with an amazing, a doting father and a loving husband. That's what we all know of him and yes how could we really forget the amount of struggle he's been through to be whatever he is today. He's also a genuine superstar who invited one of his fans to meet him when he saw a wonderful fan made video of him. Muneeb Butt on the other hand is doing well in his personal and professional life. He's getting married to Aiman Khan and his dramas Baandi and Koi Chand Rakh have become huge hits.
Muneeb and Zahid both have appeared together in Daldal where they played siblings. One can guess that they would have a cool chemistry but Zahid's recent remarks tell otherwise. Apparently, Zahid Ahmed added a picture to his Instagram where Muneeb Butt commented asking if he has put on weight.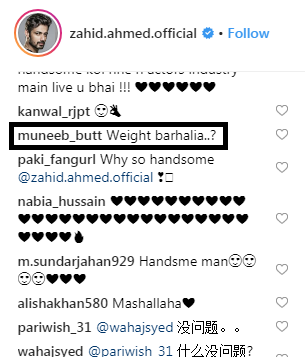 It seems like the comment did not go down well with Zahid and he came back with his savage best. He replied to Muneeb that he is only put on from the 'butt'. Muneeb's surname is exactly spelt the same way. Now this was the level of savagery we weren't expecting from Zahid but then he is Zahid and he is meant to surprise us all the time.