Veteran singer Zubeda Khanum has passed away today 19 October 2013. Zubeda Khanum was a famous voice in the early era of Pakistan film industry in 50's and early 60's. She sang many popular Urdu and Punjabi songs. In 50's Madam Noor Jehan, used to sing only if she is acting in the film, so Zubeda Khanum was the first choice voice for musicians. Her songs were mostly pictured on Sabiha Khanum, Sawran Lata, Mussarat Nazir and Neelo. Zubeda Khanum also acted in film 'Patay Khan' as second lead heroine opposite actor Zarif in 1955, while Noor Jehan and Aslam Parvez were in main lead. She sang in almost 150 films.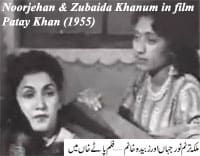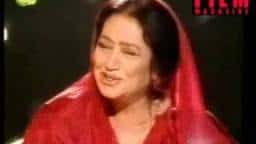 Zubeda Khanum married cameraman Syed Riaz Bukhari. After marriage she left singing in mid 60's and only used to recite 'Naats' in family 'Milaads'. She only appeared on PTV once for an interview in late 90's. Her son Syed Faisal Bukhari is also a cameraman and director. He has directed dramas and films. His famous dramas are 'Mil Kay Bhi Ham Na Mil Sakay' and 'Mehndi Walay Haath' both on Geo. He has also directed two films, 'No paisa no problem' and 'Bhai Log'.
Some of the famous Urdu and Punjabi songs of Zubeda Khanum are
Urdu:
Aaye mausam rangeelay suhanay, jiya naheen maanay, tu chutti lay kar aa jaa balmaa (Film: Saat Laakh)
Ghungat utha loon kaay ghoongat gira doon, sayyan ji kaa kehna mein maanon kaay talon (Film: Saat Laakh)
Kiya Huwa dil pe sitam tum na samjho gaay balam (Film: Raat Kay Raahi)
pal pal jhoomon, jhoom kaay gaoon dil mein pyar hai tera (Film: Zehre Ishq)
laila, laila laila, absar khoban laila (Film: Ishq-e-Laila)
Punjabi:
Asan jaan kaay meet lei akkh waay, chothi mothi daa paa liya kakhh way (Film: Heer)
Gori gori chanani di thandi thandi chhan nee (Film: Kartar Singh)
Dilla thehr jaa yaar da nizara len day (Film: Mukhra)
Sayon ni mera dil darkay, naalay akh pharkay (Film: Hameeda)
Meri chunni diyan reshmi tandaan (Film: Jatti)
She will definitely always be remembered for her contributions towards music.
Rashid Nazir Ali