Sang e Marmar Episode 08 Review – Intense Yet Promising!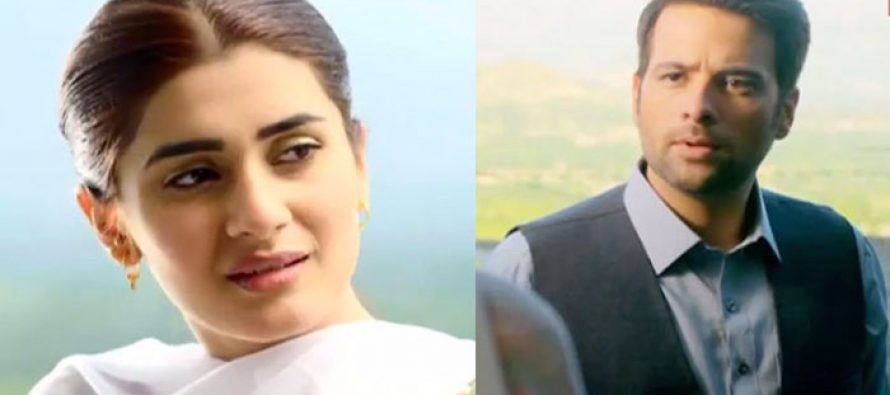 Ohkay so, isn't it amazing that even before tuning to an episode, you know it is going to be intense & interesting? This is what I love about Sang e Marmar the most, that even before the episode begins, I know I am going to have a great time watching it. This drama is getting better & better & what makes me look forward to it the most is the fact that I know they have a lot left in store for us. In comparison to the previous episodes, this one was on a slower side but the precap has got me prepared for a happening episode next week, so I am at a happy place.
Torah finally convinced his sister Palwasha that he didn't kill Gohar. Palwasha's intuition wasn't wrong & she did sense some sort of happiness that was surrounding Torah ever since Gohar died, but being a smooth talker that he is, Torah twisted the truth & presented it in front of Palwasha knowing that she won't be able to doubt him ever again if he will bring his mother's name in between. Yes, Torah on his own is right in saying that he did not kill Gohar, but in his heart, he knows he is the reason why Gohar is not alive anymore. At this point, Torah does feel content & happy but I have a feeling that this satisfaction will be short-lived & Torah will fall into deep pit, I am not too sure how Torah will dodge that bullet, but I am sure it will be an interesting journey.
Gulistan Khan is picking up the pieces after Gohar's death & another thing that surfaced in this episode was his worry about Safiullah's progeny. It actually makes me detest Gulistan a tad bit more because in stead of showing a little consideration towards Gullalai's well being, just because he spotted Gullalai & Palwasha together, he assumed that they both will not have a problem sharing a husband. Gulistan Khan thinks the entire world revolves around him & everyone around him is his slave bound to follow his orders, that is why he didn't even think for a second about what Torah or Palwasha might feel. Just because Torah has till date followed all his orders, Gulistan thinks he will sacrifice his sister's happiness too. Gulistan's insensitivity & inconsideration towards Gullalai reinforced the fact that he only thinks about himself & his sons; Gohar & Safiullah in particular & now when Gohar is no more, he has attached a bit more hope with Safiullah. Torah got to eavesdrop on that entire conversation & Gulistan has no idea what Torah can transpire & instigate. I actually find it amusing that Torah is present at all times & he is literally everywhere, it actually is in sync with his character since he is on a mission, it shows how he keeps his eyes & ears open at all times in order to prepare himself for the curveballs that might come his way.
It seemed like it was the first time Gulistan ever consulted with his wife, that is why she was taken aback by the fact that her husband was involving her in the matters concerning his favorite child Safiullah. In one of the previous reviews, I did mention that it seemed like Gulistan never allowed his wife to have a say in the upbringing of their sons, especially the elder ones so, in this episode it was validated by that single conversation. Gulistan Khan is so used to the idea of being the only decision maker that he never really felt the need to rely on his wife for a suggestion or an advice. I really like how every single time, they slightly touch on the fact that Gulistan Khan is well aware of his children' nature & personalities, like he knew about Gohar & his activities, & this time around he clearly spoke about how Sherbano instigates negativity. Gulistan might be the worst human being alive for all the sins that he has committed & all of his wrongdoings, but I must say, he is a very good father because he supports & loves his children unconditionally. Gulistan might not be on good terms with Aurang but the way he told Gohar to see him off was his way of showing his love for Aurang. I respect the writer for balancing the bads with the goods in all the characters, it somehow makes them all look human & not just black & white fictional characters. It is commendable that where the writer has introduced us to the darkest of their secrets, he has given us an insight into some good qualities that they endorse as well.
After a lot of thinking, Shireen realized that she went a little overboard & said things that might have hurt Durkhane & she also realized that the plan that Durkhane devised was only to rectify the situation. It is actually quite heart warming to see a display of such a unique friendship, where both Shireen & Durkhane are always ready to walk an extra mile for each other. Durkhane thinks by speaking to Aurang, she will be able to save Shireen & this is something that even Shireen agreed upon as well. Aurang on his own went to seek the truth from Saif ur Rehman, however he couldn't meet him but he did get to meet Shireen & what's even more special about that meeting was that he immediately recognized Shireen & displayed the level of respect he has for her & females in general by telling her to step behind the door. It was actually quite admirable. The way Shireen cried for Aurang was really beautiful, it's like she got a validation that he remembers her too. After long years of waiting, she got her moment of glory, probably & sadly, for the first & the last time.
I feel at this stage, everyone's timing was off, but the only one who turned things into her favor was Saif ur Rehman's wife. Gullalai's timing was off where she didn't speak about Palwasha & Aurang. Durkhane's timing was off where she didn't go to meet Aurang. Aurang's timing was off where he didn't get a chance to speak to Shireen, but the only one who executed her plan well was Saif's wife. She convinced Gulistan that Saif was apologetic & wanted to amend things by sacrificing his sister. I am sure, Gulistan will put this opportunity to good use & he sill make Safiullah get married to Shireen.
As usual, this episode was amazing too. I enjoyed the conversation that Torah & his friend were having about Torah's complexion, lol. I actually think the dialogue writer has a great sense of humor & so does the director where he uses these bits to add some comic relief in an otherwise serious & gloomy episode. I can't wait for the next episode. Saif ur Rehman has proved that he is a 'beghairat' because he not only put his wife in the forefront but will now use his sister to save his sorry being. If Saif ur Rehman was such a man that he mistook himself to be, he would've tackled everything on his own without involving the females of his house. Anyways, let's see what they have in store for us. Thank you Team Sang e Marmar for giving us another brilliant episode with so many heartwarming moments to its credit. Please share your thoughts about this beautiful episode of Sang e Marmar.
Keep Supporting,
Cheers,
Zahra Mirza.
Edited to add: Can I ask you guys a question? Have you guys ever seen me discussing future happenings of a drama based on the OST or the promotional promos that were shown before the drama went on air? The answer is NO, right? Then why is it that despite mentioning in different reviews of different dramas that I do not appreciate """spoiler alerts""" the readers find it as their duty to discuss the happenings of probably the last episode in the very initial reviews? I am not saying no to speculations, but I am strongly speaking against the spoiler alerts. If you guys want to discuss the future happenings based on what you picked from the OST, then please discuss it on some other thread because from now on, I will delete any such comment that will have a spoiler alert. I have never asked you guys to tell me what is going to happen next, so I will make sure I don't get ANY spoiler alerts. Thanks for paying attention & thanks to ALL those readers who told me what is going to happen next (as if I asked)!!!
#SayingNoToSpoilerAlerts
...
---