Sajal Aly and Ahad Raza Mir are the nation's sweethearts. Their couple is well-loved and respected. It was right after their first-ever project Yakeen Ka Safar together that their fans wanted to see them as a couple and their dreams eventually came true when Ahad Raza Mir and Sajal Aly officialized their relationship. They were seen together in TVCs and print photoshoots, soon after they got engaged in June 2019 and then tied the knot in March 2020.
Ahad Raza Mir and Sajal Aly are one of the biggest celebrities of Pakistan and they both enjoy star status due to the love they receive from their fans. They both have huge fanbases separately but then there are also those Sahad supporters who join hands to show love to their idols. This is the reason why every single picture, every move of theirs is closely followed and then appreciated a lot more. Although Sajal and Ahad have kept their relationship quite low profile and due to this reason, every time they post something related to each other, it is nothing short of a treat for their fans and well-wishers.
Let's take a look at the few times Sajal Aly complimented her husband Ahad Raza Mir on her social media handle:
Praising Ahad Raza Mir's Performance in Parwaz Hai Junoon
Sajal posted a heartfelt note for Ahad Raza Mir and not only that, she shared what she felt when she saw his mother cheering for him. Sajal felt she could relate to it because she had seen her mother doing the same for her. Sajal also spoke about Ahad's brilliant performance in his debut film Parwaaz Hai Junoon, telling him that she was proud of his great reveal.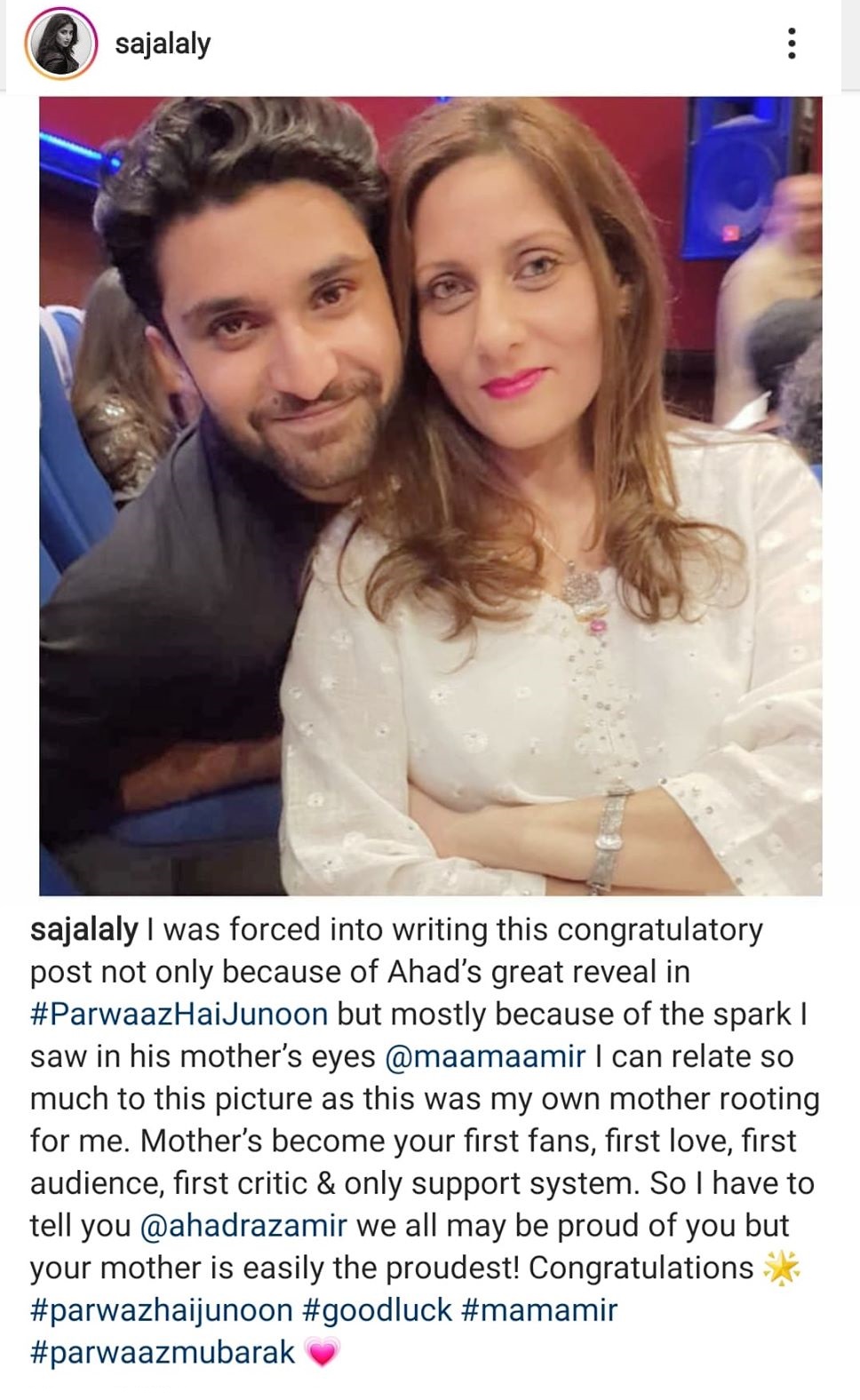 Wishing Him Happy Birthday
It was probably for the first time that Sajal dedicated a post to her co-star right after they finished shooting for Yakeen Ka Safar. This is when their fans started speculating that they might be in a relationship. Sajal wished him simply but the words Superstar are enough to show how she sees him as an actor and as a person in her life.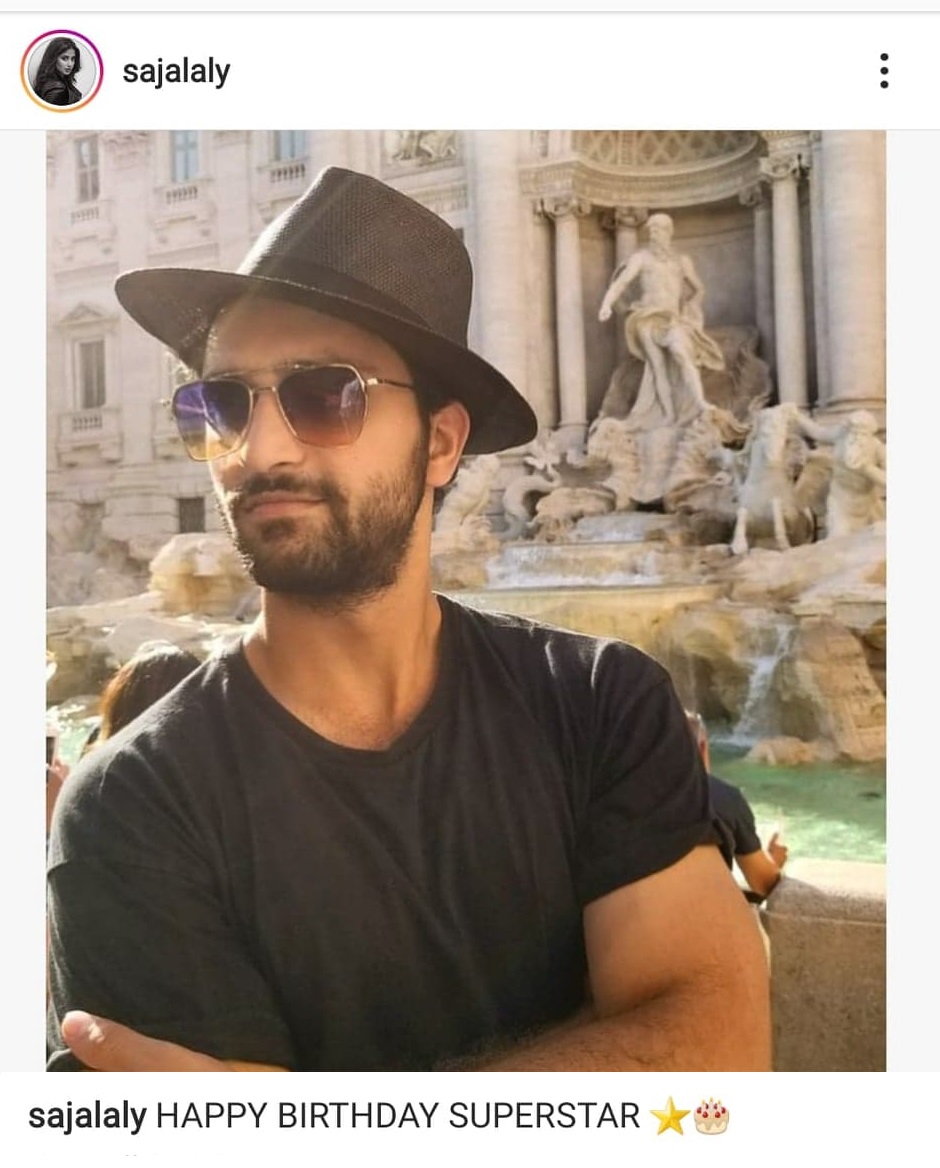 Using Aangan's Dialogue As Her Feelings
Sajal Aly picked up one of the best dialogues from drama serial Aangan which both Ahad and Sajal were a part of. Interestingly, she penned down that dialogue to promote the drama by sharing its clip but when reading between the lines, it can be clearly understood that she feels that in her heart too.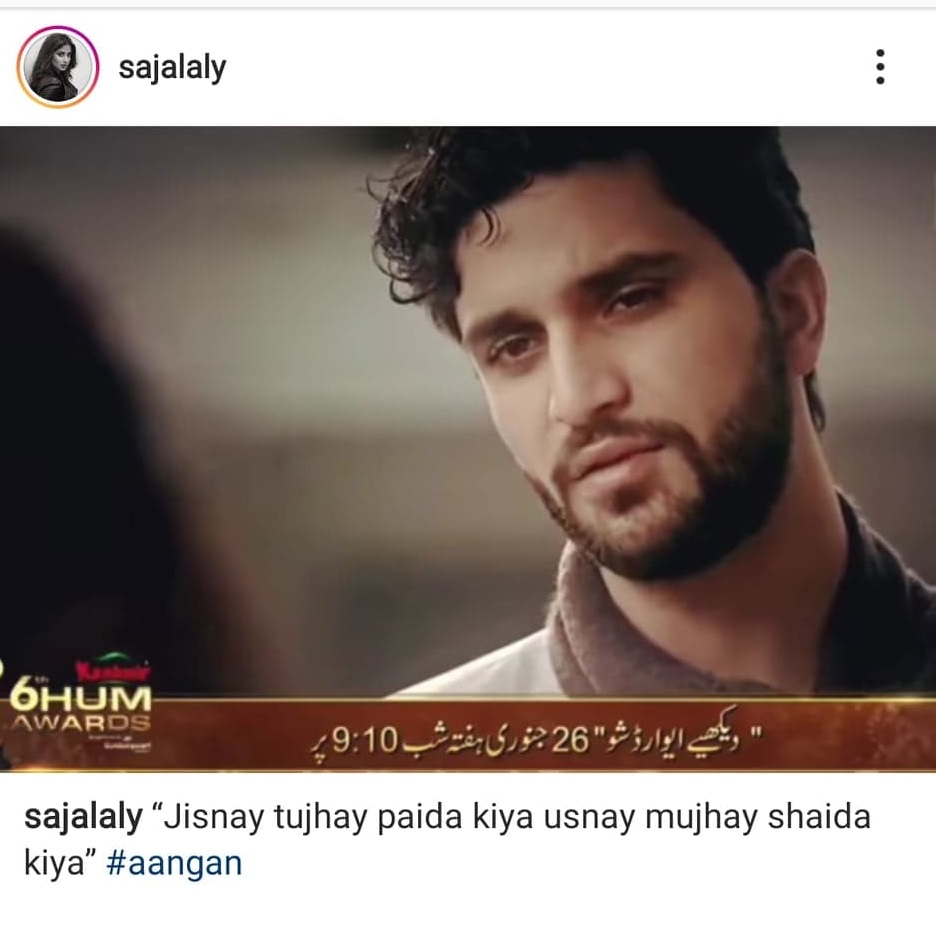 Complimenting Her Husband On His Stage Performance
Ahad Raza Mir is a theater actor and he has performed internationally in a lot of plays. Sajal took it to her Instagram to appreciate Ahad's talent and acknowledge that playing Hamlet was nothing short of an accomplishment. It goes to show how Sajal is one of the biggest fans of her husband and appreciates his talent a lot.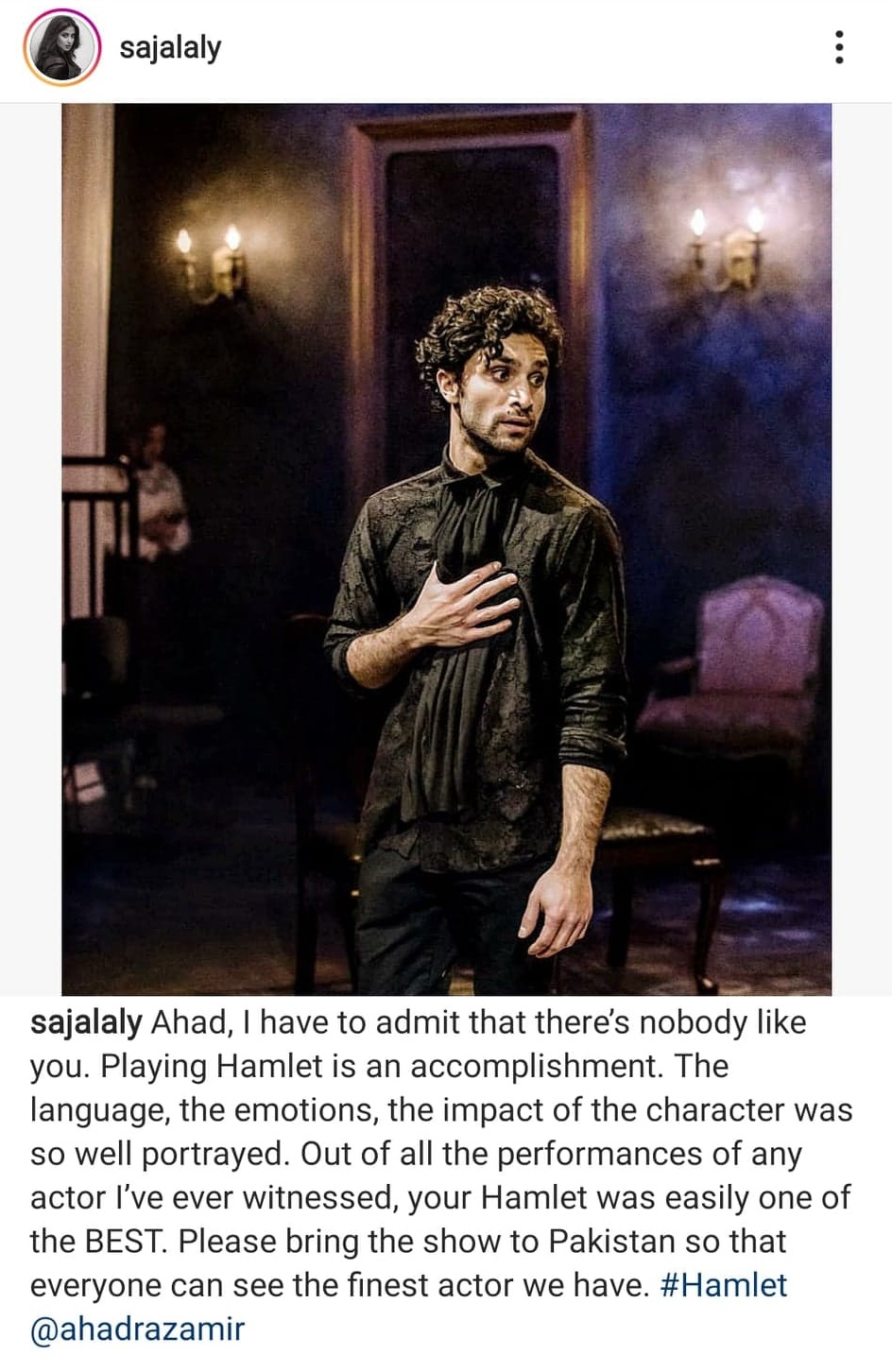 Cutest Caption
This TVC came right after the couple of Dr. Asfandyar and Dr. Zubia was the new rave in the drama world. Everyone loved seeing Ahad and Sajal together and loved their chemistry as well. Sajal once again cutely shared the tagline of the TVC and fans could not help read between the lines that she was hinting as something that was bound to happen in the near future.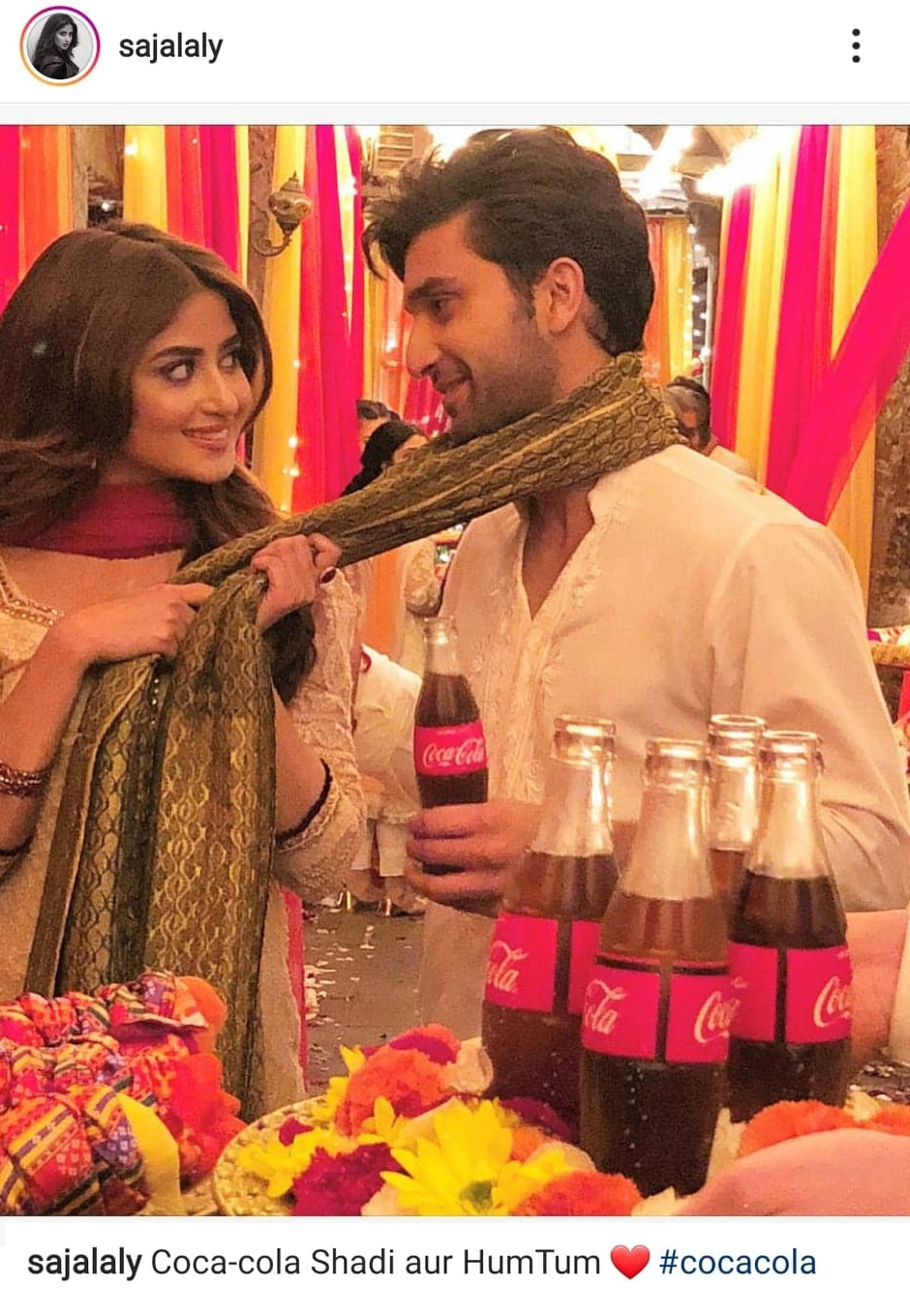 Ye Dil Mera
Sajal Aly and Ahad Raza Mir gave one of the finest performances of their careers in their recent drama Ye Dil Mera. The title of the drama was related to the love story of Amaan and Ana. Sajal decided to share a picture of her co-star and fiance and simply stated Ye Dil Mera, clearly showing that she was referring to Ahad Raza Mir.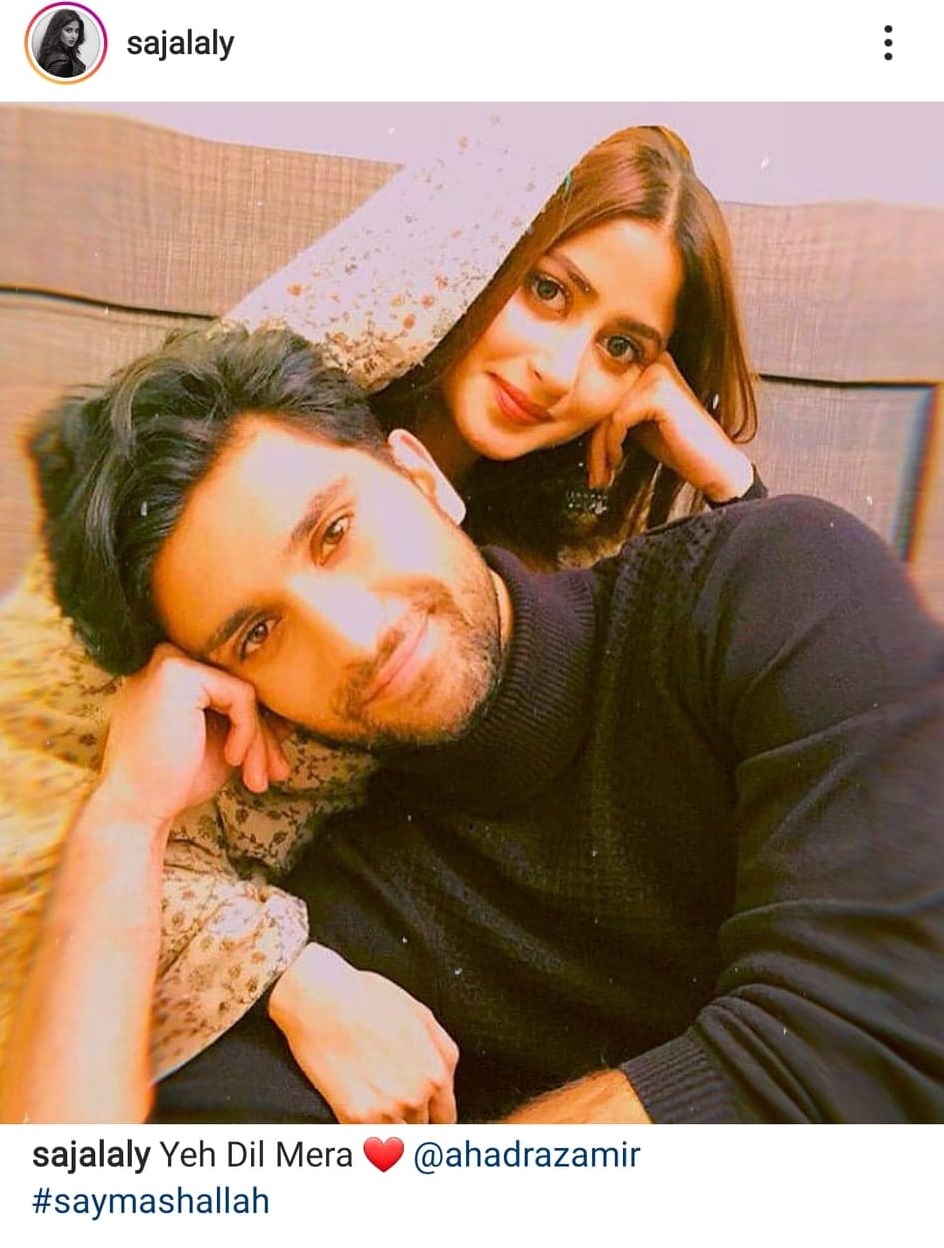 Sajal Loves Ahad's Smile
Out of the few pictures Sajal had initially shared of her wedding, this one had a very special meaning to it. Sajal was waiting to be welcomed by her groom on their wedding day and all that she could see through the veil was Ahad Raza Mir's smile that she absolutely loves, hence the caption.
Sketching Ahad Raza Mir's Beauty
Sajal Aly tried her hands on sketching and she decided the only one she wanted to sketch was her husband Ahad Raza Mir. However, she knew she tried her best but she complimented him yet again saying that she couldn't do justice to his beauty and it was hard to capture. How sweet!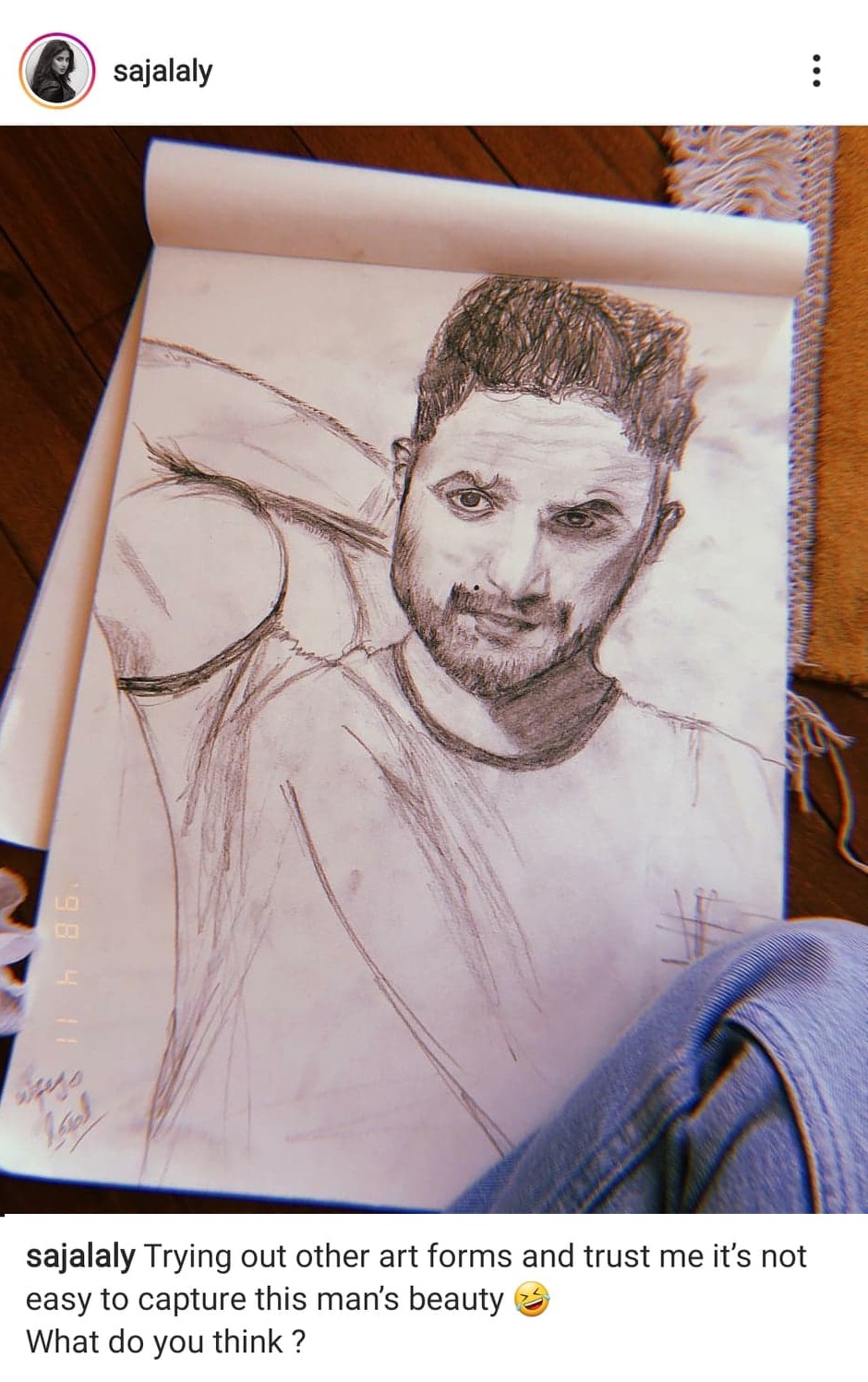 Making Desserts For Her Husband
Sajal Aly tried her hands on baking and decided to make cinnamon rolls. She was unsure of the outcome, that's why she asked her husband Ahad Raza Mir for his opinion, obviously, she made it for him in the first place and presented it in such a beautiful manner.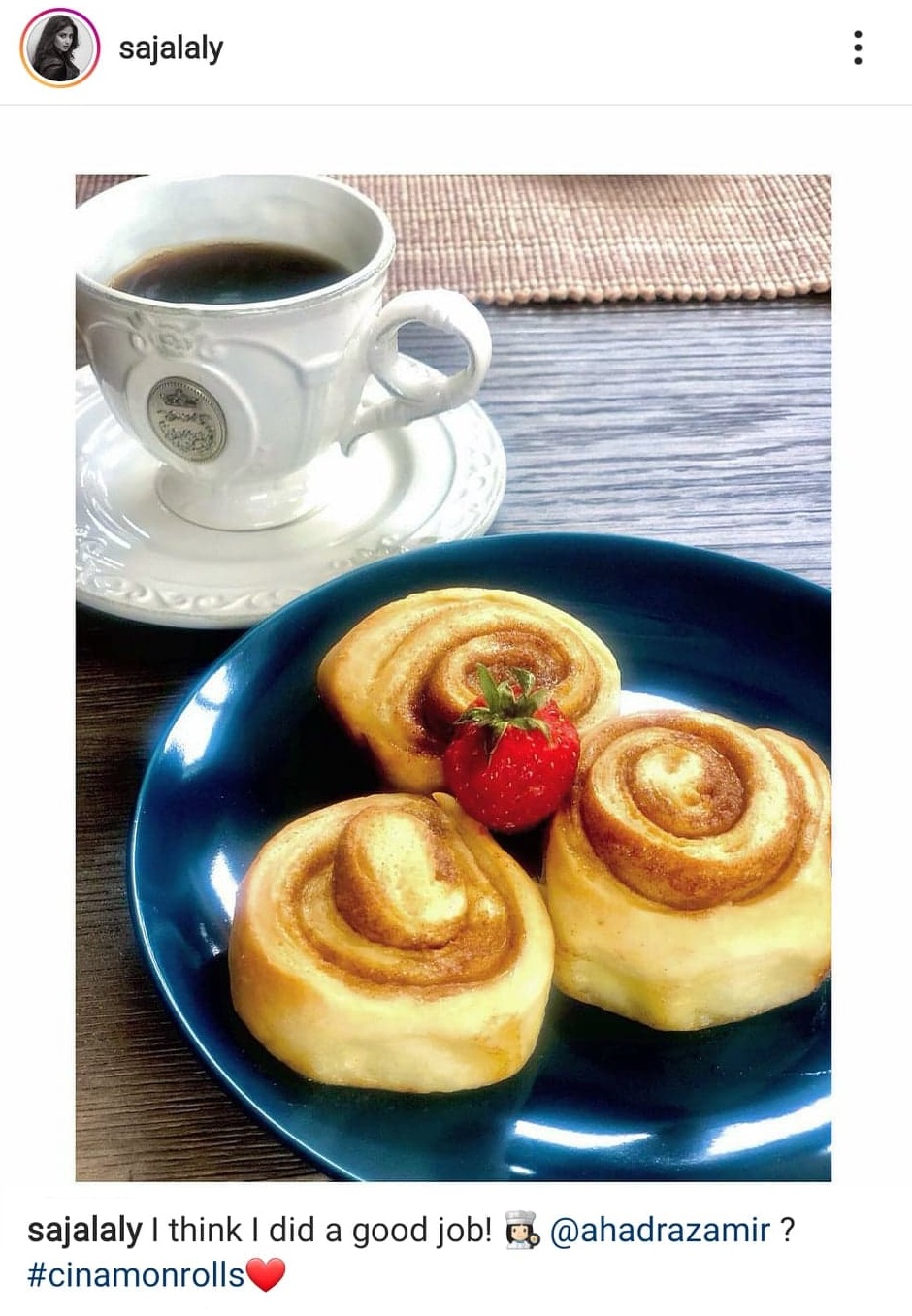 Sajal Likes Ahad Raza Mir's Photography Skills
Sajal recently shared a picture of hers which was clicked by her husband Ahad Raza Mir. She was unsure of what to caption it but the one thing she was sure of was the fact that she really liked her photographer. We too believe Ahad Raza Mir did a good job in capturing Sajal Aly's beauty.