Pakistani drama industry has got a big list of celebrities who are adored for their contributions in the field of acting and Sania Saeed is one of them. Whether it be her Sitara Aur Mehrunisa, her Zaib-un-Nisa, Aahat, reality show Maa or Numm and Aseerzadi now, Sania has always proven that she knows every bit of acting by showing versatility in all her onscreen characters.
 Been born on August 20th 1975 in Lahore, Sania is often called as 'Sani' by her friends and family. Belonging to an educated family of Punjab, Sania is has done B.E. in Psychology from the University of Punjab. For her flawless acting, she has won 2nd Lux Style Award for best actress award, 16th PTV Best Actress Award,3rd PTV Best Actress Award so far.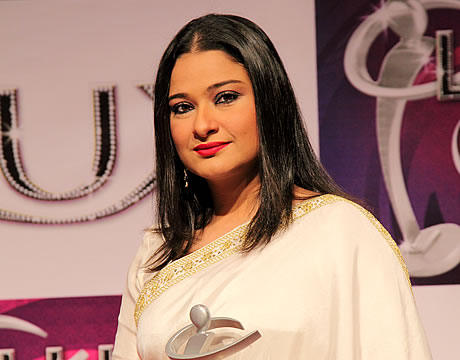 Out of so many interviews that I have come across lately, this one is, for sure, the best of all.
 Have a look!
From theater to acting on the small screen, how has the journey been so far?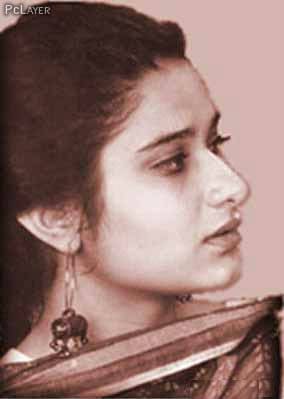 When I started working for theater it was the early 90s and it was an Indian script called 'Aurat' that we reproduced for the Pakistani theater for the 8th of March. That was the beginning of my career as an entertainer. Then I did some theater on and off, but went back my studies. Later I joined NTM as an announcer; in fact I was the first announcer who opened the NTM transmission from Karachi. Then Sahira Kazmi offered me 'Aahat' for which I had to leave the job. But the job was not that important for me in any case, so I quit the job at NTM and went for 'Aahat'.
How was the experience of working with a legend like Sahira Kazmi?
While working with her in 'Aahat' I realized that television as a medium has a lot of potential and I really enjoyed working with Sahira especially. There was a lot of interaction, she never treated me like a new actor or a child, and she would not let go of a mistake I made, and corrected me all the time. But in the end it was a learning experience for me. Years later she came to me full of appreciation and said that this is why I never gave you space, because I knew you could do it better.
If acting didn't work out, what would have been an alternative career for Sania Saeed?
I have been trained to be a psychologist and if I had not ventured into dramas and acting, that would have been my field of choice. The subject interests me and human psychology has so much to it. That is my approach towards my characters as well, to analyze and perform a role by first assessing the psychology of a character. I might have been a teacher or a Vet, as a child I always wanted to be a vet.
Did your family accept it at once that you have chosen media as a career?
 I never had much opposition in whatever I wanted to do. I come from a family where they believe in doing whatever you believe in doing, as long as you can stand by it. I take it as a job as a learning experience where I am still learning. I don't take what comes as a result of my work too seriously, people's opinions, especially when you are at college it becomes a lot to take when people come and appreciate you or criticize for the work. I am just not cut out to be a 'Star' and I can't lose my personality to adapt the kind of persona that is requisite to be a star.
 You have been working for a long time now, what changes have you seen in the industry?
This whole nostalgia business that our work used to be very good has more flash back value than real. We go flash back; Tanhaiaan was very good, flash back; Dhoop Kinarey or Aahat were very good. A lot of plays at that time too were very not very good and not very popular. If I ask you to name 10 plays from the 80s and 90s that were very good, you will not be able to do that. So we have just fallen into the habit of saying that the plays used to be much better in the past. There were many plays where the audience did not like the content, cast or acting and it is still the same. There are good and bad plays in every time. We have to accept this and learn to appreciate when people produce quality work because they are putting in a lot of effort and hard work.
 The drama industry has expanded in recent years; do you think the standard has deteriorated due to that?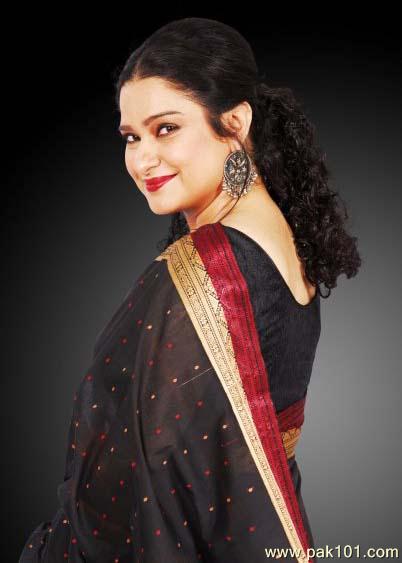 I think this is all in our head, we are living in flashbacks. Every time we see a drama we go in flashback, Tanhaiyaan was so much better, or Dhoop Kinarey or Aahat for that matter. It is our fault that we have stopped looking at the new productions with an open mind; instead we revisit our past only thinking of a few good plays. If I ask you right now to name a dozen PTV productions from the 80s and early 90s that you can remember, you will not be able to do that. There have been both good and bad productions at every point in time, stop living in déjà vu and start finding the good in what is being done today. This might help the people who put in a lot of effort and energy into their work.
Which projects did you enjoy working on the most in recent times?
From my recent ventures Aao Kahani Buntey Hein has been my favorite project. Kanwal Khoosat had directed it and it is written by Afzal, a new writer, who developed the stories. It is very theatrical and creatively done. The story is of a writer and his wife who develop a story each night. They are the narrators and the actors as well.
 What are your considerations when choosing a project?
I am a storyteller; the first thing I look at is what am I saying and what is the story conveying to my audience. I do not want to do a role that I don't want to stand by or they go home empty. It's basically the story, what is the story saying, what impact will it have, what impact my character would have, not a big fan of big jargon and slogans. I like subliminal messages, I like portraying people in different light, I don't like stereotyping which is what television drama have become. Sometimes even I get stuck with it, because it is your profession and you have to do something, but most times I have been able to avoid it.
There are other people playing an important role in the production, how do you negotiate it with them as how you want to play the role?
I am notorious for debating my character and projects, even though I like most of the people and like to work with everybody. But the kind of process that I want my work to have, not everybody works with that, that's why I have ended up working with very few directors. In my whole career, which is more than a decade, I have only worked with seven or eight directors.
These days' people choose to work on so many projects that if you switch channels you won't know if that is the same play, why have you not done that, does money not as important for you?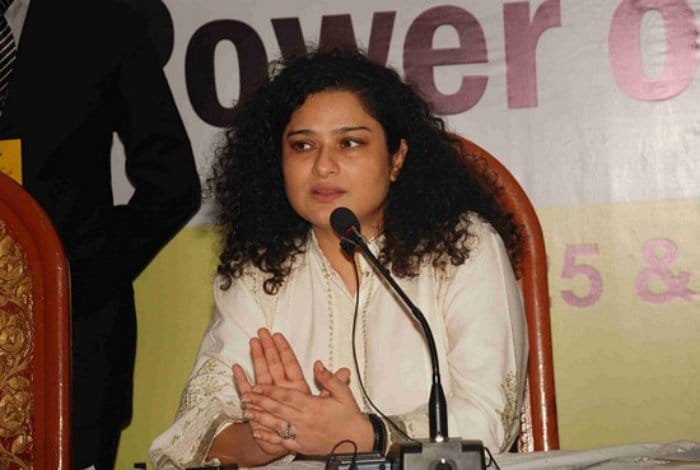 This is a decision that you make as an artist and as a professional. What is it that you want to achieve from what you are doing? I have a skill, that I have made my career, I want people to remember me for the characters that I have performed, even if they forget my name, they should remember the plays that I have done and the characters that I have given to them. If I am doing similar plays all the time, then it will be a little difficult to achieve that. I will give my luck a lot of credit that people have come to me with substantial project, with which, by a lot of hard work, I have been able to get my characters recognized. So people remember my characters and the stories that I was telling.
Can you name some of the most memorable plays that you have done?
All the projects that I have done have been so different from each other in experience and have different memories; great memories that I would like to keep. I have learnt a lot from every project, every writer, director and cast that I have worked with. It's a totally different energy and a totally different experience, so I would not be able to say which one was the most memorable.
How would you like to be remembered?
As an artist who worked hard, gave a lot of hard work, performed some good characters and was good at what she did and told good stories.
You have performed such diverse characters, from a vengeful step mother to a hardworking and caring daughter. What kind of characters do you find the most challenging?
I have to work very hard on my characters, hard in the sense that I want them to be different, I want them to be convincing, and I don't think it's a job you can take lightly. There is a lot that can assist the actors in their roles elsewhere, but in Pakistan, it mostly depends on the actor. They depend on the actor a bit too much; you have to establish the whole thing with only your performance. Make it convincing, create a persona, and come up with the get ups and all. So every character becomes invariably challenging for you. Like there was this play Lamha Lamha Zindagi, when I read the script I thought what is it about, what is the story saying? For me it was an inane script, with no impact. My character was crying throughout the serial. But my husband (Shahid Shafaat) was doing it, so he sat me down and asked me how I wanted to portray that character. So without changing anything with the script we managed to turn that character into a very controlled, strong and focused woman. Whose silence speaks for it, she is not cowing under the pressure but her silence became her strength. A lot of women I met later said that the character was all too good and they had told their daughters that a woman should have at least this much pride and grace in her. The character was not a proud in any bad way, but she had confidence in herself and she believed in what she was saying. So the point is that you have to create challenges for yourself and come up to them.
What factors contribute to a play's success and facilitate you as an actor?
The success of a project depends on the entire team. Sometimes the directors is not that receptive to your ideas and does not let you perform a role in the manner you would prefer to do it. I think the understanding between an actor and other team members is key to a project's success. The experience differs from project to project and script to script, but it is team work that eventually makes a script into a masterpiece.
What do you think is the biggest issue that we are faced with in our television productions?
The biggest problem at the moment is with scripts, and the stories television is telling people. The stories are bad, they have a negative impact, they are stereotyping men and women, and they are dictating a certain moral code which I don't think is their business. They are telling the story in a manner that does not leave any questions in your mind, but only reinforces what you have already been told. These stories are not allowing you any thinking space; they are not challenging your already very strongly built belief system, which I think is the need of the day.
Why is it that such stories are being written, do you think the writers suffer a narrow vision?
Most of the plays are written by women and these women I think have a narrow vision. I do not call it good or bad in any manner, it is just their own life experiences which make them build such stories. They probably have spent their lives within the boundaries of this belief system, so they are writing whatever they can see and come up with in this narrow sphere. Television being a huge medium, in terms of its potential and its outreach could have been used to propagate thought provoking stories, which is where we lack. Channels have formed this notion about certain type of stories that this is what sells, this might not be wrong but we are not utilizing the mass medium to its full potential.
 What kind of criticism do you face as a seasoned actress?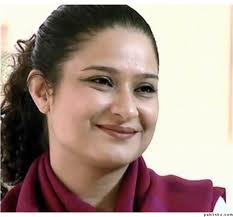 I wish we did get criticism. I have been asking all the journalists I meet why they have stopped writing on television? Why there is no feedback for television? Criticism is an art and it is something that you cultivate, that you develop with time. You have to have an understanding to be in the rightful place to criticize. It's not anyone's business to do so. I want people to come up with productive criticism, it bothers me that they are either not thinking at all or if they are thinking, they are not able to verbalize it. People who call them critics write with a very superfluous vision, which does not contribute to the productions in any manner.
  Do you think the emphasis on perfecting a role is forsaken, in favor of quantity rather than quality? Who do you think can correct this?
That is true; quality is often compromised for quantity. It is us who can correct this behavior, we have to put our foot down and make them read a script of rehearse. When I am doing a role, I ask the other actors with me that I need rehearsal even if they don't, none of the actors or directors have refused to rehearse with me. It has to be you who have to stand up to achieve perfection. You are responsible for the kind of developments that are taking place in your profession. Sometimes I may not need to practice a scene but the other actor does, so it's my professional duty to make them rehearse the scene, so we can perform it convincingly. It about working together and synergy it is not an individualistic art.
Is there a chance that you will take up a movie project in Pakistan?
If they produce a film in Pakistan I will surely act, if offered a substantial role in it.
 As a person how would you define yourself?
I think no one can define themselves, you should ask others, the people we interact with, they might be better able to tell you about me.
You started off your career with plays like Aahat and Sitara aur Mehrunisa, do you think starting off your career from such a high level set you apart from others on a higher standard?
I would never think that way, either it is a very big project or a small one, if I take it up, I will consider it as a challenge and take it forward that way. Why create limits for yourself, when there is a lot more work to be done.
  Why do you think the standard of drama has been compromised? Is it due to extensive commercialization?
The industry is still new, give it some time. It will sift out the bad itself, you have to give it space. And of course productive criticism will also help in sorting things out. You write about something you do not like, once, twice, the third time it appears in print people will give a serious thought to evaluating their stories for that specific element. Don't blame any individuals or the industry at large, think and come up with ways to reform it.
Hope you all enjoyed reading about her. Please share your views,
Wishes
Nida Zaidi