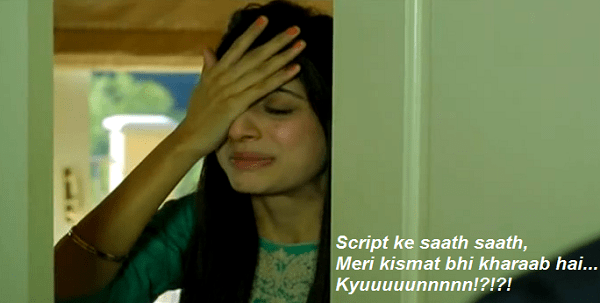 Aye Haye! After a ridiculous previous episode, I thought this one would be a lot more humorous but sorry it was PP: Pathetic Personified. This episode was all about Haya, her split second smiles & hours long brow furrowing which gave me some wrinkles on my forehead as well.
This episode was all about Haya, her self-assumed confidence & then a few well-deserved slaps of reality checks. She looked at Sofia with a sympathetic smile feeling that deep down she has won a VINTAGE trophy that belongs to Sofia but just pretty soon, Sofia brought her back to the ground from cloud 9 & made her understand that she was literally a no one in Awazaar's life. This episode kept on revolving around how Haya was on a high knowing that now she will be able to lead a life as Mrs. Awazaar & just finding out the next moment that by the end of the day, all that mattered to Awazaar were some spices that she added in the salan that she made for her sartaaj because he's too wuss to clear his throat & raise a voice in front of Sofia to let her know who Haya actually was. All that I saw her doing in this episode was: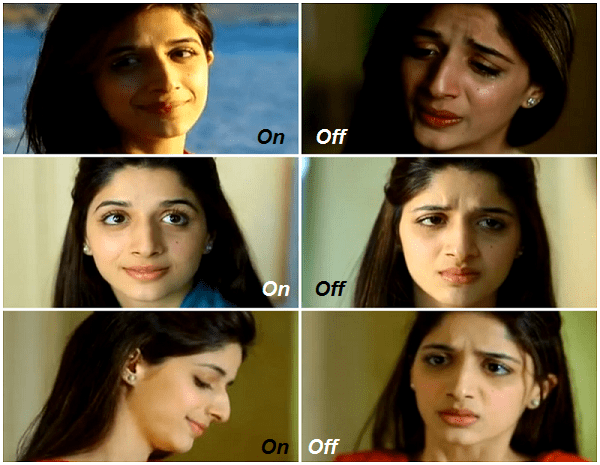 It was such a boring episode which came with a few dhak dhak sound effects as if they were successful in delivering some suspense which was nothing but an epic fail once again because those thrilling moments weren't as thrilling as they thought they'd be, why? Because we've been there, seen that so many times that I am sure any toddler would be able to tell beforehand that what was going to happen. Awazaar was at the verge of telling Sofia about her Baby Sautan but his phone rang & he left. That's just so NEWWW isn't it? Later when he gave another shot at it, Sofia dozed off (LOL) showing him just exactly how boring his company & how contagious his tiredness is. That's pretty new too? Wow!
While Haya kept on revolving around the town like a ghost, she thought she would now be able to live her life with her head held high as Awazaar must've told Sofia about their relation but her smile turned into a frown followed by what she's good at & yes you guessed it right – soundless cries because she found out that Awazaar has not mustered up enough of a courage as he is so innocent that he lisps.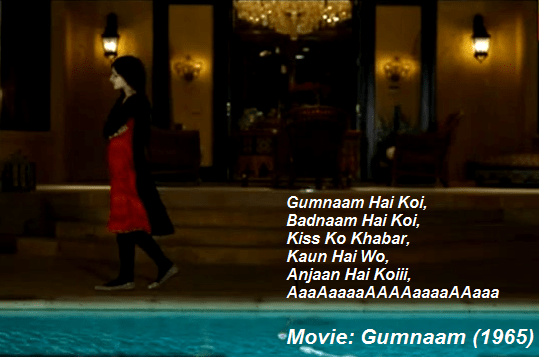 Time & again Haya kept on telling him off as she was hurt but sadly just because she happens to have an attention span of a poodle she couldn't see that he can't still take a stand for her & all his promises are nothing but a farce, yet she still claims to love him wholeheartedly. Talk about being loyal or blind to a fault. Bee Jaan made an appearance to remind us that she's perfectly doing what she's expert at too & yes, she was all cozed up in her bed ready to sleep wearing her purple-white sleepwear that she might've stuck onto herself using Fevicol. No wonder why Awazaar seems so lethargic, sleepy & lazy because after seeing Bee Jaan's activities, it clearly shows that it runs in the family. *yawwwwwnnnnnnn* mujhe bhi neend a gai!
Well, Maham of Shukk appeared as Ruby of Slowly Slowly. I mean the whole conversation between Sofia & Ruby reminded me just so much of Shukk because it was so predictable & old. I really don't think anyone's beauty is such a big issue to be worried about that just because according to them, a beautiful kancha-kali is living in Sofia's house so she should be cautious but don't they remember that the best thing Sofia did all these years was to trust her husband & have confidence in herself & their relation but just because some Haya has entered her life, she should be worried ONLY about her beauty? That's just so odd. I really wish they had made that conversation a bit more realistic because at one point Ruby kept on saying that Awazaar was the most loving husband ever known to her but then she was haunting Sofia with Haya's khoobsurati.
Another thing that doesn't really seem right is that Sofia's someone who can sniff her husband's cologne from a distance of 50 meters but just when she's downstairs preparing a breakfast, Awazaar is knocking the door to have a chat with Haya & not only that, he manages to enter the room without even bothering that he might get busted. I really wish the director had taken care of these things but looks like Aahista Aahista wo bhi seekh hi jayeinge, Aahista Aahista, Aahista Aahista, Aahista Aahista, Aahista Aahista. Oh & yes finally we know that Awazaar goes to some office but I was also amazed to know that despite being so tired he's a superman because he could walk all the way from his office to his home to spot Haya crying tankers at the nearby walking track.
I must say the unnecessary shower shot of sleepy Awazaar (yukh) & all these meaningless forced hugs could've been skipped. If they've shot this drama in Amreeka, doesn't mean they can forget that the audience of this drama aren't Amreekans anyways. & oh yes, just as I thought, they've pretty much showed it all in the preview of next episode that Sofia's going to be preggers & Haya & Awazaar will get busted. I really hope they don't show us something so NEW that it turns out to be a dream sequence. I wish Sofia's wide awake to see the harakaats of her sleepy husband. Share your thoughts about this episode.
Keep Supporting,
Cheers,
Zahra Mirza.