Tonight's episode of Aakhir Kab Tak showed even more character development and an unpleasant turn in Fajar's track. Noor and Safia have my undivided attention at the moment because of the way their tracks are being taken forward. Noor is like a mentor to her mother, who is finally listening to her! It is good to see Ushna Shah playing such a strong and appealing character. Srha Asghar's performance continues to impress as she translates a difficult role effortlessly on screen. I must say that the preview of the upcoming episode made me look forward to what Aakhir Kab Tak has in store for us next week, more than anything else!
Fajar and Saim's Track
Nilofer has turned into one of those typical characters we see on screen all the time. It is sad watching a character that was introduced as a positive one take this turn! It was ultimately Rehana's meeting with Nilofer that turned out to be the final nail in the coffin. It was however good to see Saim standing by Fajar's side and reassuring her of his support. Fajar has always been a complete failure when it comes to defending herself therefore when she couldn't say much in her own defense, it made perfect sense. She has only lately started sharing things with Saim and has never really been able to take a stand for herself. The way Saim explained the entire situation to his father was a good way of letting the viewers know his take on this entire subject. Also, Fajar and Saim's conversation in the room when he asks her to stay at her mother's place for a while was so well written and executed. Fajar went through so many different emotions in that particular scene and Srha Asghar made sure that all of these emotions came alive on screen.
Fajar obviously did not want to leave; she knew that she did not have a choice. Even in such a situation, she tried to make Saim feel less guilty and even thanked him. I absolutely love how well these characters have been etched out. Everything that they do is always in line with their personality trait which gives the script more clarity. Such minute details make a drama engaging and characters easy to connect to. Saim's father and sister also lend their support so that Fajar wouldn't feel insulted even though she was being kicked out of the house. They also showed their displeasure with the decision by refusing to have breakfast with Nilofer! Nilofer might be a typical saas at the moment but there was nothing typical about how this development was handled overall.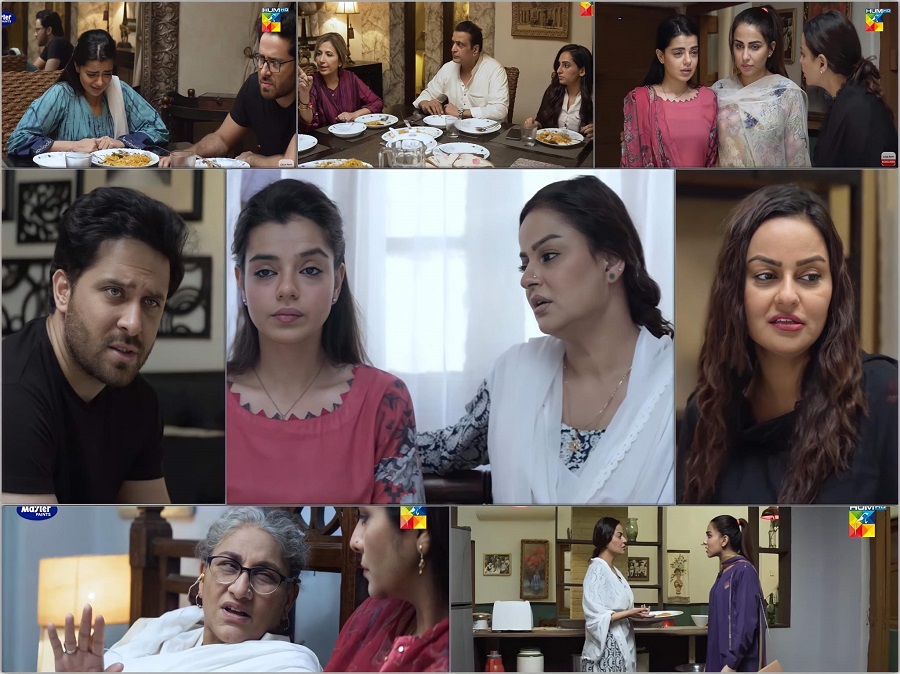 Safia's Track
Safia's track is gradually moving forward. Even though she claims that she is not fearful anymore and she definitely is not hesitant speaking her mind anymore, old habits die hard! The way she told Fajar off when she arrived and accused him of being interested in Basaam was the kind of reaction she was 'conditioned' to giving for all these years! As this episode progressed, things changed in that department as well which was definitely extremely pleasant. Once again Noor was the one who made her realize how she had failed to provide the kind of emotional support Fajar needed from a mother. Although this wasn't the first time that Noor had this conversation with her mother, this time around it seemed as if whatever she said actually left an impact. There was a change in Safia's behavior and she no longer thought Fajar's presence in the house was 'threatening' in any way.
The highlight of this track tonight definitely had to be Safia's scene with her husband. Yet again, the writer in an intelligent manner summed up the expectations Safia had as a young bride and how little she expected as the realities of this marriage set in! Everything she said also gave the viewers information about how this couple drifted apart over the years. Her dialogue about how shifting to the other room after the kids were in the equation and how her household responsibilities gradually took over her entire life summed her married life up so well! I am certain a lot of women out there can relate to the loneliness if not the fear that Safia felt all these years when she invested herself completely in pleasing everyone and completely forgot what her expectations from this marriage were initially. Javeria Abbasi has been performing brilliantly throughout. Even though most often the evil daadi scenes can be a pain to watch, Gul-e-Rana makes these scenes entertaining most of the time!
Final Remarks
This was another well-written and well-executed episode of Aakhir Kab Tak. The gradual and convincing character development is the strongest element of this drama. I am glad the writer did not wait for the last two episodes to show all this! The preview of the next episode was extremely gratifying – I can't wait to tune into Aakhir Kab Tak next week.
Did you watch tonight's episode of Aakhir Kab Tak? Do share your thoughts about it.