Tonight's episode of Aakhir Kab Tak once again focused on relationships. This episode belonged to Shahood Alvi who translated the most difficult situations not only convincingly but also effortlessly. Ushna Shah owns her character; it is truly refreshing watching her in a role that offers so much. Nilofer's track is like a forced scenario in an otherwise brilliant drama. I am waiting for Saim to truly take a stand for himself and his wife. This drama has so many meaningful lessons for all those people who are going through similar situations. Most often Pakistani dramas focus only on the problems since the bechari aurat sells! This one however has shown how things can be turned around when the person who has never spoken up, decides to be brave! It has so many amazing female characters such as Noor, Fajar, and even Saim's sister. Even Rehana's character serves a purpose and is perhaps relatable for so many women out there. Yet again, this was another episode of Aakhir Kab Tak with situations that were amusing and others that were poignant and meaningful.
Speaking Up!
Safia did not hold back tonight when she decided to tell Ehtesham what had happened. After ignoring her daughter's cries for help for years and brushing real issues under the carpet, Safia was now ready to face her demons. She was honest about the mistakes she had made in the past and was more than willing to make up for them. She also made her husband realize that he had never given her the confidence to confide in him. Until last week, I was not sure what Ehtesham was thinking and whether he would change sometime soon or not. However, tonight for the first time he showed his vulnerability in front of his wife and even daughters. Through these scenes, the writer showed how important it was for a father to give their family members the confidence to speak up.
Ever since Safia's character has come into its own, her scenes are the highlight of every episode. It is almost as if through this character, the writer is sending a message to all those mothers who fail to be there for their daughters. Sometimes in an attempt to 'protect' their daughters, they end up shutting them out completely. The realization that Fajar's personality had been affected more by her attitude towards her than anything else was such an apt way of making her take responsibility for her actions. These are the kind of scenes which we get to see only in the last few episodes of Pakistani dramas! I am genuinely pleased that the writer has given just as much screen time to such scenes as he did to those which showed Safia making all those wrong choices and decisions. Ehtesham is also witnessing first-hand how his family has failed to protect his wife and daughters which is serving as a much-needed reality check. At the same time, he can also see how his daughters and wife have looked out for him and each other. He has all the reason in the world to have more faith in them and not to trust his brother who he had so many expectations from. Shahood Alvi and Javeria Abbasi have done complete justice to their respective roles. They are brilliant actors who have proven their versatility time and again.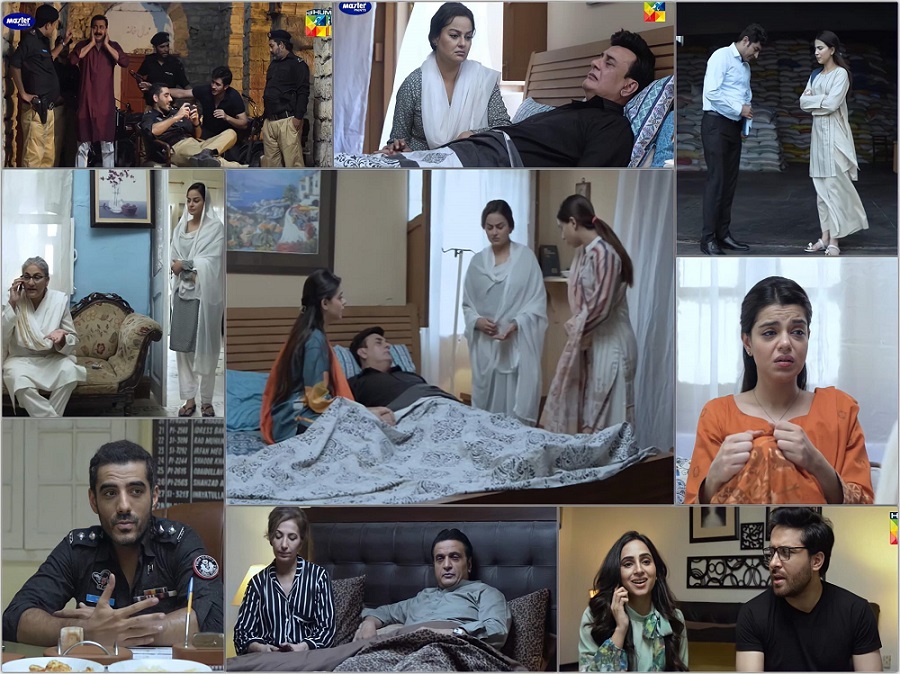 Noor and Fajar
Noor and Fajar's tracks were also given plenty of screen time in this episode. There was a great deal of development. They were collectively shown bonding, yet again, and individually their struggles were also shown. Fajar got the recognition and love she had been yearning for all these years. This was such a heart-warming scene; Fajar had such a difficult time accepting the fact that she could finally hug her father and cry! Saim and his sister continue to support her but her mother-in-law is a living and breathing nightmare! The writer took this opportunity as well to highlight the issue of second marriages! Fajar still has a long way to go, I am waiting for the time when she will also start speaking up for herself, the way Safia is now.
I absolutely love Noor's character. Noor knows how to take a stand for herself and for the people she loves and at the same time she has a heart of gold – that is a rare combination! Her honesty is such an important personality trait that perhaps at times it overshadows everything else. Because she is so fair, she does not accept any kind of unfair treatment for herself too. In this episode, she requested Nasir to let his chacha and cousin go. She is also eager to give them their share in the family business. However, the fact that she did not want Bissam to get punished for his actions showed that she was being a little too soft.
The treatment she got when she went to visit Nasir was hilarious! Even though Nasir isn't exactly a 'good cop' but his scenes are always so amusing! The credit for that goes to Adeel Hussein and the director as well because they did not go overboard. Nasir is constantly trying to impress Noor in whichever ways he can but she is most often not impressed easily! She felt awkward with all the VIP treatment she was being given and later on when she found out that Nasir had been helping her to bring him business, she was not pleased at all! Even though Nasir hasn't been straight with her, I find myself rooting for this on-screen pair! Ushna Shah and Adeel Hussein's on-screen chemistry definitely deserves due credit for making this on-screen couple one of my favorites nowadays.
Final Remarks
Aakhir Kab Tak continues to provide meaningful entertainment. Just like every other week, tonight too all the scenes added something to the story. Even though Gul-e-Rana's character is negative but she makes me laugh every time with her apt performance as the naughty old woman who likes to cause mischief! The performances never fail to impress and the script has been penned down remarkably well. Noor and Nasir's track held my attention tonight and even in the preview of the next episode; Noor will finally confront Nasir in next episode. I am waiting to see where this confrontation leads. Will Fajar ever have enough confidence in Saim and their relationship to stop being so scared of being left alone all the time? I am also waiting to see how far Saim will go to take a stand for his wife.
Did you watch tonight's episode of Aakhir Kab Tak? Do share your thoughts about it.