Aamir Liaquat's second marriage with Syeda Tuba Anwar was disclosed after the televangelist cum politician filed his nomination papers for the election and disclosed his marriage. He married the 24-year-old Syeda Tuba Anwar recently. Good wishes poured in from fans all over the social media while some had questions about how Aamir's first wife felt about his second marriage.
On the day of the girl child, Aamir Liaquat took to Twitter and celebrated his wife Tuba. He called her strong and was all praises for her. This is what he wrote: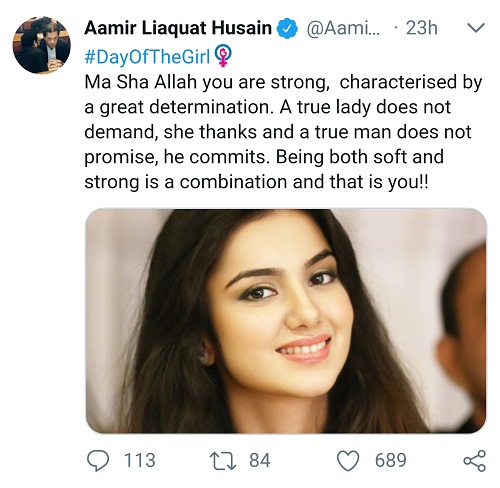 Tuba was overwhelmed by Aamir's sweet message and replied her through her own Twitter handle: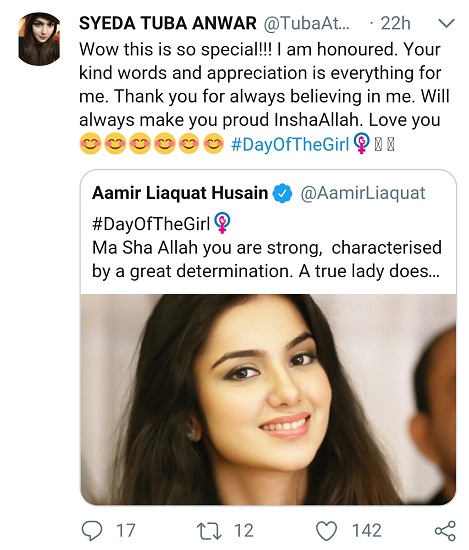 People were confused about Aamir bhai's message and asked him to post about his first wife too. Here are some mixed reactions on this tweet:
People wanted Aamir Bhai to acknowledge the first wife Bushra too:

Some were in awe of Tuba's beauty:

His first wife till remained the favourite topic:


People are still shocked:


Some had very unique reactions:


While the others crooned some duets for the two:


All in all, it was indeed a very sweet message from Aamir Bhai for Tuba Bhabhi. We hope the couple always live with all the love and harmony and keep making each other special!