Even though Chammi and Alia got plenty of screen time in this episode but unfortunately the lack of depth, detail, meaning and even flow is getting more conspicuous with every passing episode. The story jumps from one romantic track to the other and all of these tracks end in the most tragic manner. The relationship between the characters has not been explored in detail which is the primary reason why it becomes really difficult for the viewers to connect to the scenarios. Tonight's episode was especially disappointing because Alia went from hating the whole concept of love to falling in love with someone like Jamil! Jamil bhaiya is somehow the ultimate attraction in Azhar's household even though he has absolutely nothing going for him. Although, this was expected but one can only wonder why the writer was in such a rush to show this particular development. Even though the pace of this drama is slow but somehow the most important developments are always covered in haste.
The Love Triangle
Chammi's rebellious nature and the length she can go to get 'attention' was fully explored yet again today. Chammi was not scared of her chacha and one could only wonder why she did something like that. It seemed like she was doing all this to get Jamil's attention but when Jamil 'bhaiya' came back he was more interested in knowing what Alia 'begum' thought. Alia's observations for the first time sounded judgmental particularly because she was being so sweet to everyone on the face but didn't have a lot of good things to say about them when she was thinking how things worked in that house. Chammi and Alia's relationship is sweet but very soon it will turn sour because of Alia and Jamil's romantic track.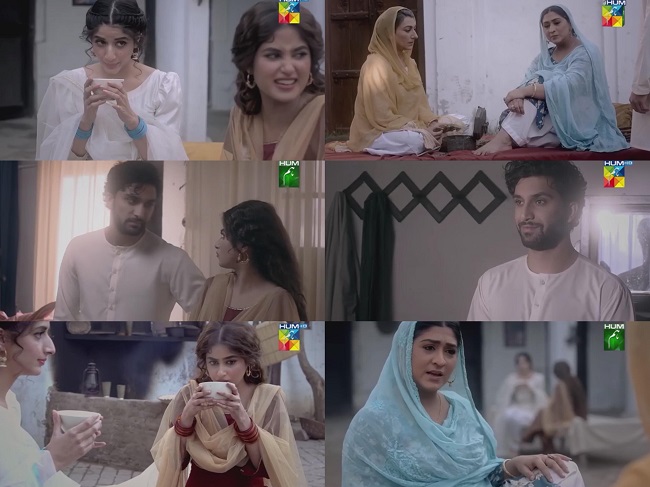 There were quite a few scenes tonight which clearly showed that Chammi was really possessive about Jamil. Azhar's attitude towards Alia is completely different from the way he treats both Chammi and Jamil. He values Alia because she is educated (or so it seems) but was never willing to pay for Jamil's education. Chammi's biggest regret is that she never got a formal education. She knows that she is not valued because she is considered 'ganwar'. While it is easy to understand why someone like Chammi (who has never been loved by anyone) would fall for Jamil, Alia's 'love' for Jamil had to be the most unconvincing development in this episode.
More Of The Same
Alia's mother's obsession with the Britishers is the only aspect of her personality which is highlighted over and over again. Her attitude towards her husband has been the most off-putting aspect of her character. The only enjoyable part of this episode was the way Chammi made fun of Jamil. Chammi knows Jamil only too well and she can see that eventually Jamil will win Alia over. Her 'jalsa' seemed to be a direct outcome of her growing frustrations. Sajal Aly's performance was right on point tonight but the jalsa scene was outrageous!
Overall Impression
Aangan's script and even the execution has been a huge disappointment. Slowly, different characters are sidelined or they exit from the story in a tragic way. Salma, Aba Mian, Subhan, Safdar, Tehmina, Kusum and now Mazhar! That's seven characters in 12 weeks and it seems like there will be more to follow. I was actually looking forward to Chammi and Alia's interactions and their scenes but Chammi's madness tonight reminded me of Salma. Having said that so far Chammi is the only character I actually feel for, not sure how long that is going to last! There are times when you feel like this drama doesn't have a purpose or a plot other than making everyone look great on screen. The actors have done justice to their respective roles but their stories are not interesting enough and the screenplay has been the biggest disappointment.
Do share your thoughts about this episode.