When we speak or think about our senior most artists, we feel like extending respect to them which they definitely are entitled to; given the history of their work but these days it seems that our respected senior artists are working on a sole purpose of defeating the baggage of age they carry with them & seems like they don't really care what is expected of them.
When I speak about aging gracefully, it is strictly based on the vibes our artists have started to give lately through their outer appearance & their conversations. I am not judging them about what sort of people are they or how good or bad they are but yes I think they must now take a notice of the number that defines them & that is their AGE!
Bushra Ansari:
Mera Naam Chin Chin Choo!
Hands down, she tops the list undisputedly. Whether it's her over or under dressing in Pakistan Idol, her over the top hairstyles or 20 layers of foundation & makeup, she has started to over-do things a bit (read a lot). I know she made the place in our hearts with her sense of humour & comic timing but I think she now wants to amuse people through her get-ups as well & now that's taking a humour to another level. Seems like she takes it very seriously therefore we see her making hideous choices in terms of styling that may or may not, mostly may not suit her.

Javed Sheikh:
Rangeen Mizaji at it's peak!
According to a morning show host, when she questioned Javed Sheikh about what's he going to do if he ever gets locked up in the elevator with Meera & Reema, the senior artist replied 'he wouldn't have to do anything as the ladies would do the honours (toot toot toot toot)'. I thought his flamboyancy was restricted to his conversations only but seems like he has fallen in the league of those who just do not choose to age & gracefully at that. He has spent his life like a Casanova but I think it's better to use the remaining energies on teaching his kids about acting as that's a massive task he has on his hands & in his home as a household chore.

Shakeel:
Shauqeen Shaquille!
Whether it's about the changing colors like seasons on his face or naming himself as Shaquille, this particular uncle has started to look too over-the-top lately. From pulling off a Salt & Pepper signature look of Amitabh Bachchan (Black Hair, White Beard) to playing Holi on his beard, uncle is trying really hard to impress but I think if he works on his acting at the given point in time, he will impress the audience but seems like he is so busy looking in the mirror that he has no energy left to look into the Camera & deliver what's required of him in terms of acting.

Mahnoor Baloch:
Turning 60's into 16!
I know, may be around decades of dieting & what-not has made her look young & beautiful but seems like she is too keen on making a statement before she hits her sweet 60's. Unfortunately, we saw her pulling off all the Beyonce/Katrina/JLo-like ensembles in her recent film. She is one of those who just don't get a point that as much as her weighing machine pulls a lower number, her age counter keeps on accelerating.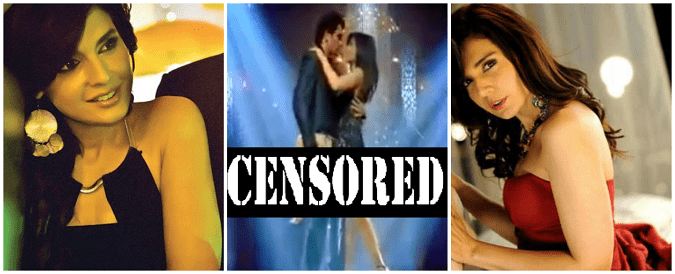 I know all these actors have worked tremendously & have played a major role in giving this industry a recognition & there is nothing wrong in looking attractive but I think it's better to be decent than amusing. Feel free to contribute to the list & share your thoughts on how much do you feel they need to work on representing the country they belong to!
Keep Supporting,
Cheers,
Zahra Mirza.