Adeel Hussain is one of the finest actors nowadays and has marked his presence in the industry with his outstanding performances in hit shows like Daam, Mera Naseeb, Mata-e-Jaan, and Mora Piya. He is also currently seen in shows like Silvatein and Jiya Na Jaye. Adeel has had the opportunity to work with the best there is in the industry and has had a very selective approach when it comes to choosing dramas which makes him stand out from the rest.
I am sure many of you must have noticed Adeel Hussain for the first time in the show Daam and thought that it was his first serial. Well, I certainly thought his first serial was Daam but I was in for a shock when I got to know that his first show was in the late 1990's. He had made headlines for his performance in Zeba Bakhtiar's 'Aye Mere Pyar Ki Khushboo' which was his first serial. He had performed with seasoned actors such as Faisal Qureshi, Badar Khalil and Shabbir Jaan and still managed to stand out because of his great performance.
He then became a part of the City FM 89's breakfast show and worked there for a long time and made appearances on the screen from time to time in the form of advertisements, selective TV dramas, music videos, and tele-films like Duniya Goal Hai that ran in the Kara film festival. Adeel was not only interested in working on screen but also had an interest in the workings behind the camera. We only know Adeel as an actor but there is more to this guy than just acting. He is also interested in direction and has been assisting directors for a long time now so he has got a fair share of experience in direction too.
His first work as a director was a car commercial in 2008 for the HBL 'Car to Car' campaign and an unreleased brand entertainment project for the Telecom sector by the name of 'Mera Mobile' which he created and directed. He had also directed many documentaries like APWA (All Pakistan Women Association) which had turned out to be a beautiful documentary. He also made a documentary called 'Bridged' while he was shooting in New York for Mata-e-Jaan.
His talents and interests do not end here! He is also interested in writing, videography and photography. He likes to split his time between on screen work and his other interests and for those who don't know he also has a visual content creation company called Vizor, which was made to showcase his existing photography, videography and directorial work as well as executing newer projects. He recently worked as a cinematographer in a documentary which was produced by Vizor Studios. This documentary was about the 'Karachi United Football League' which features children from slums of Pakistan who are being trained to play football. Talk about being multi talented!
When he entered the industry, he confessed that his parents were apprehensive and concerned about his future in the industry but he believed that he had a 'vision' at that time and he was sure that it would all add up and lead to something good. But now years later, I am sure they must be proud of their son's wonderful achievements!
When asked about his costars in one of his interview he quickly named Amna Sheikh whom he had worked in three serials so far, 'Amna and I always have a blast and we share a lot of laughs, respect and trust." Now we know why he has such amazing chemistry with her! He further adds on 'I also enjoyed working with Syra Yousuf in Mera Naseeb and Mira Sethi in Silvatein." He did not forget to praise Mehreen Jabbar who had directed two of his serials so far "Mehreen Jabbar is one director I enjoy working with. It is always fun as she is so experienced, focused and talented – its brings the whole experience up by so many notches"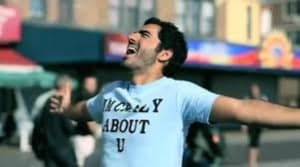 On being asked about his most challenging project he replied "In TV, Mata e Jaan was quite challenging as I saw my character Ibad to be very complicated. Working with Mehreen Jabbar again meant putting extra effort and do my homework when it came to character subtext. She has a way of drawing that out of you, as a director. I'm very happy with the end result. I suspect I was loved the most in Daam as Junaid. Playing Faisal Ahmed in Mora Piya knocked the wind out of me! There was just too much grief in there."
This 34 year old actor has won the hearts with not only his brilliant acting skills but also with his other multi faceted skills. I must confess that I am very impressed with all his work and I definitely hope we got to see more of his work in the future!
So what would you guys rate Adeel Hussain out of 10?
Mariam Shafiq