Adnan Siddiqui is one of those many celebrities who are taking an active part in the Pakistan Super League. He represents the team of Karachi and after attending the first session of Pakistan Super League Adnan Siddiqui thought he had to share his feelings about the event. When someone like him who has worked with the best teams praises something like this it means that it really was a huge success.
Adnan Siddiqui posted a special status update in which he shared his feelings about the event. Here is what he said.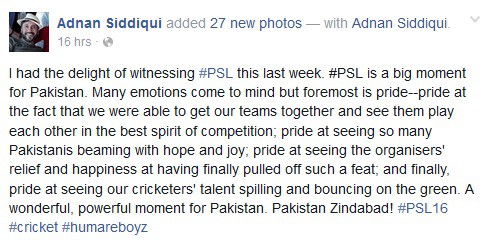 He also posted some memorable pictures from the event. Most of these pictures are selfies taken with friends who are also representing the same team as him in the PSL. Bakhtawar Bhutto can also be seen cheering for Karachi alongside Adnan Siddiqui.