Ohkay so, this episode of Preet Na Kariyo Koi was comparatively slow but still a lot such things happened that took the story forward. I really am impressed with the way this drama has been directed because no matter what, they haven't stopped making the progress in the story which keeps the interest alive in the show.
Shagufta told Suleri what she wanted him to do & how she wanted him to help her, that is why Suleri came up with a plan of giving Shams a false hope so that he doesn't follow his own plan of entering into politics. I think Shagufta doesn't understand & she doesn't even realize how much dependent she is on Suleri. Suleri isn't just her mentor anymore, he has become someone who she shares her problems with because she feels he matches her mental wavelength & helps her the best way possible. It was only Shams's case where Suleri held back but other than that, no matter what it is, Suleri always has stood by Shagufta's side because deep down he knows that she is all alone & has no one to rely on. Shagufta clearly told Suleri what she wanted when it came to Zareena & Shams, that is why Suleri made sure Shams doesn't go back to Mushtaq. Suleri really is a pure politician in literal sense of the word because he knows how to play with people's minds. Suleri is someone who never got involved with someone emotionally as for him everyone was a pawn that he used but when it comes to Shagufta, he's a totally different person. I definitely don't want to see anything more in Shagufta & Suleri's track but it is good to know that Shagufta has a support system because her own husband is just a liability & nothing else.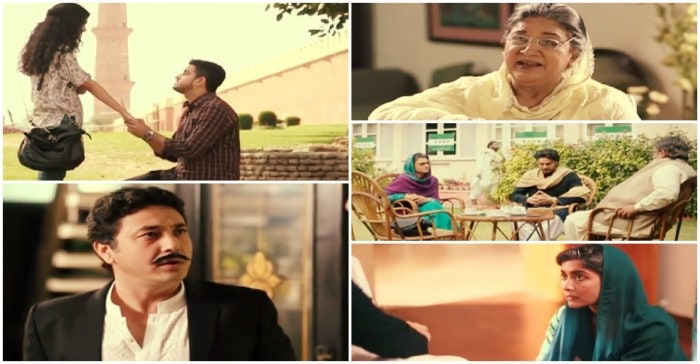 Zareena was sent away & Shams had no problem with it but before that, she left quite an impact on Noori because she felt bad for Zareena. The way Shams took his hands off goes to show how gullible he is & how he doesn't have a mind of his own. Mushtaq told him to take Zareena with him because she could get him some votes, so Shams not only brought her to Lahore but made a statement in front of Shagufta by holding her hand too. Now when Shams got a hope from Suleri that he will try to help him get back on his feet, he deemed no problem in ignoring Zareena. I am not sure what to think of Shams's character anymore because now it's a done deal that Shams loves being a puppet & he trusts everyone quite easily which is purely his own fault!
I found it sweet that Roomi took Noori to Ilyas's home. Roomi knows they are related to Noori so he just wanted Noori to know what her family is like. Noori was welcomed cordially & it was so good to see Ilyas treating her so nicely. The way Ilyas gave her some money & told her that she referred to him as her Uncle took me back to that scene where Ilyas gave some money to Shagufta's friends because they referred to him as Bhai. Ilyas hasn't changed & so hasn't his mother. The love she has for Shagufta is still so strong that she still hasn't accepted Maryam as Ilyas's wife. I found it a bit unfair that Maryam has to face the brunt because the love Chachi feels for Shagufta hasn't faded at all. Even though the meeting was short but Noori left quite an impact on Chachi as she reminded her of Shagufta. It was good to see that Chachi could feel an attraction for Noori because of her emotional attachment for her mother.
Roomi loves Noori & he knows that she loves him too. I find it really nice that despite knowing what a complicated background she comes from, Roomi is only interested in Noori & fell in love with who she is. Roomi's conversation with his father gave him the confidence he needed & it was a clear cut approval from him as well. Roomi & Noori's relation will go through a rough patch now that Shagufta has found out about it. I found it amusing that just because of Shams, Shagufta was falling short of her parenting skills as Shams is creating a havoc in her life & he is behaving more like a kid that needs extra attention & pampering. Shagufta was shaken that just because of her negligence, Noori got a freehand to do whatever she deemed fit. Shagufta may now understand that ever since Shams has come back into their lives, he has added more problems for her to face. It is so obvious that just because Shagufta was busy taking care of her husband, her attention from Noori got diverted that is why she was taking it out on the servants whereas she knows she's guilty of neglecting her child.
Shams & Shagufta already are on a rocky track & Shagufta is finding hard to keep Shams happy as he is getting crankier as the days are passing by. Shams has grown insecure because of his uselessness & that is taking a toll on Shagufta. Shams has put her down enough already for her to understand that he doesn't love her, in fact he never really loved her but Shagufta still is unable to see that. The preview also suggested that Shagufta & Shams will continue to have a difference of opinion but this time around the reason would be Noori's marriage. Shagufta should know that when she could go out of the way to marry Shams, than Noori can as well. May be Shagufta wants what's best for Noori as she knows that her love marriage turned out to be a nightmare for her, even though Shagufta may not admit it but deep down, she would never want Noori to have the kind of life she had, that is why she thinks getting married her daughter to a well-settled guy would be a better option. I am interested to see how Roomi & Noori will fight it out but I do have a feeling that Noori & Roomi will elope because Shagufta has yet to face the scenario that Mushtaq predicted about her daughter being the major reason of Shagufta's embarrassment. Can't wait to see what happens next. Please share your thoughts about this episode of Preet Na Kariyo Koi!
Keep Supporting,
Cheers,
Zahra Mirza.