Boom Boom Afridi is all known for his cricket skills and for his exceptional talents and capabilities on pitch, he enjoys a huge fan following all over the world. The idea of conquering the markets indirectly through famous celebrities is nothing new and this time it is Shahid Afridi whose character has been used by a hand wash soap company.
While his fans are still lost in the movie that features his name as its title, Afridi is back with a new project which spreads a social service message targeting the young ones in the society. A similar theme was previously seen in the series of Commander Safeguard where the hero fought against the germs and viral which attacked the entire city; and this time it will be warrior Afridi who will protect the town with his league which includes young warriors Ali, Sara and Riz.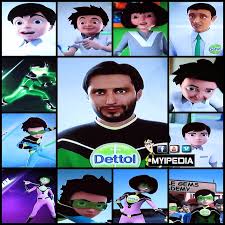 This animated-cartoon series basically intends to promote the idea of washing hands at least thrice a day with germ-shield soap to kill germs and bacteria that are likely to affect health in every manner possible. Perhaps, teaching through cartoons is the best way to spread awareness among the young members of the society; this dedicated cartoon series will soon hit your favorite TV channels.
All for now, share your views about this new role which Shahid Afridi will be playing, virtually!
Wishes
Nida Zaidi