Kankar (Pebble in english), famous serial of HUM TV is based upon a short story (افسانہ) of Umera Ahmed "Wohi Dil ke thehr janay ka mausam
وہی دل کے ٹھہر جانے کا موسم". It is a short story of few pages, not a lengthy novel which is dramatized into a 20+ episode drama.

The main idea of this short story is the essence of element of mutual respect in marital relationship and domestic violence and physical abuse against women in upper class or educated families, posh families whichever way one interprets it. Domestic violence is a known fact in lower and uneducated circles of our society, and it is considered a part of norm of life of women in these circles, but in educated and upper class, though such things do happens but they are normally pushed under the rug and not talked about.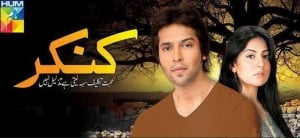 While kankar is based on "Wohi dil ke thehr janay ka mausam", a reading of actual short story makes it clear that only the main idea of the story is same, the rest has been modified as per drama and screening demands. There have been several additions to actual story for dramatizations purpose. Here is a comparison of drama and actual story. Since drama has not ended, so this comparison is also till the point story has progressed so far till recent Episode 16. Once the play is completed a full comparison can be published again.
Name of main characters in actual story are Haider and Sara, while in drama these are changed to Sikandar and Kiran.
In actual story, kiran is an orphan single child raised by her father's family, tayas and chachas, in drama she has a family and parents.
Actual story, is a single track narrative of mainly two characters, kiran and sikandar, there are no side tracks. In drama additional two side tracks are shown, First one is Kiran's own family, her sisters, brother and parents. Second one is Kiran's phuphoo (Humera Abid Ali) family of Adnan (Hassan Niazi) and Rrukhsaar (Uroosa Sidiqi). So all the events covering these two tracks are not part of actual story.
In actual story, sikandar is son of sister of chachi of kiran, in drama he is son of sister of tayee of kiran.
Name of chachi of kiran in actual story is Nadeema, in drama name of tayee of kiran is Faiqa. Also in actual story chachi of kiran is not hostile towards her.
Name of sikandar's mother is nighat in actual story, in drama its shaista.
Name of character of aarzoo in actual story is zareen, she is daughter of mamoon of sikandar and has no direct connection or relationship with kiran. In drama aarzoo is daughter of khala of sikandar and is also cousin of kiran.
In actual story, first meeting of kiran and sikandar occurs in a different way as shown in drama, kiran has routine visit to sikandar home with her chachi and then co-incidentally she comes in his room. In drama she visits sikandar's home for wedding of her cousin.
In actual story sikandar has three sisters, in drama he is a single child.
In actual story, sikandar's mother has been a fiercer saas (mother in law)  than in the drama. She has been critical of each activity of Kiran, in drama there are some scenes where both kiran and mother of sikandar had shared some pleasant moments.
In actual story, there is no incident of any physical abuse among parents of sikandar.
In actual story, there is no mention of any event of kiran conceiving, or miscarriage incident as they shown in episode 15 of drama.
In actual story, only one incident of domestic violence is mentioned and it is quite violent. In drama there are more than one scenes of physical abuse occurred at different occasions.
In actual story, kiran leaves the home and demands for divorce immediately after only occurrence of abuse whereas in dramas she gradually made up her mind after repeated incidents of physical abuse.
Have you got a chance to read this actual short story, do share your views for any other differences in drama and actual story. But please do not comment about end and future proceedings as they mentioned in the actual story. Let there be an element of suspense for those who have not read the story. But for those who have read the story like me, the play is still appealing as some things in drama are quite different and even better than actual story.
Rashid Nazir Ali