Pakistani celebrities have been taking on the World like never before. It has always been a part of an actor's job to travel both domestically and internationally for work and vacation purposes. Many a times we come across different dramas which have been shot in different cities of Pakistan or different countries. This goes to show that our celebrities get to explore the world while working on their projects. The travelling of an actor is not only confined to the dramas or movies, they also get to travel when they have to shoot for brand campaigns or fashion shows.
Travelling is an essential part of an actor's life and as much as it might be tiresome when it is work-related, it also serves the purpose of allowing them to unwind and take a break. This is the reason why in the last few years, ever since the social media has become widespread, a lot of Pakistani celebrities have come forth in showcasing their love for travelling. They always make sure to share their travelling adventures with their fans and show them beautiful places that they are experiencing while vacationing. These pictures are always well received and loved by the fans of all the celebrities.
Travelling on its own is an amazing experience but when it comes to our celebrities, they have to take care of a lot of things bearing their popularity in mind. Celebrities of any country have fans and followers all over the world, which means their chances of bumping into their fans are always high. This is exactly why now every time a lot of our famous Pakistani celebrities share their airport pictures, we get to see the effort they have put in to look presentable and well put-together. They definitely do it for themselves first but they are always conscious of the fact that they will get to meet and greet their fans during their journey, click some pictures and have a small conversation, therefore they must look fresh, vibrant and at their best.
There are a lot of Pakistani celebrities who put in a lot of effort and there are also a few who like to keep it simple and casual. In both the cases, it is always fun to see them travelling and having a great time. Let's take a look at the airport fashion of the Pakistani celebrities.
Mehwish Hayat
Mehwish Hayat does not have a particular airport style but one thing is for sure, she likes to keep it glam and chic. Mehwish Hayat is definitely one of those travellers who put in a lot of effort to look good and be picture-ready. She definitely carries all those accessories which can amplify her look when she is ready to get her picture clicked for her social media handles. Mehwish Hayat travels in the most comfortable outfits but being the style icon that she is, she knows how to take it a notch higher. Mehwish Hayat's pictures are properly captured and she definitely invests a bit of a time in posing at the airport gates and terminals. She makes sure to carry a jacket for the time when it gets chilly in the airplane. A comfortable but stylish pair of jeans or pants, fitted t-shirts and sneakers define her airport style. One of the best and symbolic airport pictures of Mehwish Hayat will definitely have to be the one where she wore a plain green kurta and adorned it with her Tamgha e Imtiyaz when she flew from Islamabad to Karachi.
Asim Azhar
Asim Azhar's airport pictures are not only quirky but are funny too. You will find him sleep posing at the terminal, which goes to show that despite long hours of flying, Asim Azhar enjoys travelling and the overall experience related to it. A few things that you will find to be constants in his airport photos which can determine his airport fashion are a pair of sunnies, his specs, cap, his guitar, an oversized jacket and iced-coffee. Asim Azhar also travels a lot with his mother Gul e Rana and he makes sure to share it all with his fans on his social media handles.
Iqra Aziz
Iqra Aziz's airport fashion is casual and chic. Sometimes she will put in a little effort and wear makeup, while a lot of times she will wear zero makeup and keep it simple. If you scroll through Iqra Aziz's feed, you will see that black is definitely her favorite color and her wardrobe is filled with black articles of clothing. Iqra Aziz's outfits for travelling are mostly a fitted comfortable trouser and an oversized sweat-shirt. She loves to wear different kinds of sneakers which are mostly black or white. Iqra mostly carries a backpack which is obviously very travel-friendly.
Hania Amir
Hania Amir's airport fashion sense is purely based on her mood. Sometimes she looks totally glam and other times, she looks like she just wants to get done with the flight but one thing that remains consistent is her travelling adventures are her different takes on it. Black pants are her go-to for travelling and t-shirts or sweaters, depending on the seasons. Hania carries a backpack or a huge tote bag. She definitely keeps her sunnies with her, for the time when she is leaving the airport and does not want to be photographed while being jet lagged or tired. Her airport pictures are fun and show that she enjoys travelling and is always high-spirited. Hania might be the only celebrity who flaunts wearing slippers during her journey and she also wears her hair differently every single time.
Armeena Khan
Armeena Khan is also one of those few celebrities who put in an effort while travelling. Sometimes she will be seen in basic jeans or t-shirt but she will make sure to throw in a fancy pair of sneakers to give that edge to her look. Other times she will definitely keep it classy by wearing suede shoes matching with her handbag. Armeena Khan's airport fashion is definitely interesting because it shows that she doesn't just randomly picks up her outfits last minute. Sunglasses and backpack are two things that Armeena doesn't travel without.
Hina Altaf
Hina Altaf definitely is one of those travellers who like to keep it simple and basic. Hina Altaf does not put any effort while travelling, may be she takes it as an opportunity to take a break from the makeup and dress up that she has to do on a daily basis when she is working. Hina Altaf carries a backpack. She wears all things comfortable, from baggy pants to track pants, denim shirts to t-shirts. Anything that Hina finds comfortable is what is she is going to show up wearing at the airport. Hina Altaf also wears a cap and a pair of glasses most of the time.
Ayeza Khan
Ayeza Khan has been more experimental with her airport looks. Sometimes she will keep it basic but other times she will wear bright colors. Ayeza Khan definitely puts in an effort into looking good during her travels, therefore she will wear a bit of makeup and do her hair properly. Ayeza Khan definitely has a favorite tote bag that she loves to carry while travelling because it can be seen in all of her pictures. There is one accessory that you feel incomplete without while travelling and this basic black tote bags seems to be one such thing for Ayeza Khan. Ayeza wears a jacket and sneakers to keep it comfortable but she switches the colors. A pair of sunnies is also a must for her.
Fahad Mustafa
In a recent interview, Fahad Mustafa felt a little unhappy about the fact that the celebrities are expected to look good while travelling. Fahad Mustafa believes that this happens to be one of those moments where a celebrity should be allowed to be themselves in a most comfortable state, but he does understand that being a celebrity comes with the territory. Fahad Mustafa has not posted a lot of travelling pictures but the couple of photos that we can see show that he likes to keep it basic but yes, he is aware of the fact that he will be asked to be photographed therefore he does his hair properly. Wears comfortable but presentable outfits and throws on a pair of sunglasses to look cool.
Sonya Hussyn
Sonya Hussyn's airport fashion is simple but stylish. She likes to wear a jacket or a shrug to keep herself comfortable and warm. She usually wears her hair down and also wears a pair of sunnies when she gets off the aircraft. Sonya Hussyn definitely makes sure to look presentable, even if she is not wearing a lot of makeup, she does her hair properly and wears clothes that are chic and stylish.
Mawra Hocane
Mawra Hocane's airport fashion is not fixed but one thing is for sure that she loves to travel. During short or domestic journey she keeps it a little glam but during long journeys she keeps herself at the utmost comfort. Mawra usually gravitates towards simplicity that is why her airport fashion represents her personal preferences as well. A cap, sunglasses and a backpack are her must-haves during travelling.
Urwa Hocane
Urwa Hocane keeps it very comfortable and simple while travelling. Her airport fashion varies but it is obvious that she does not believe in putting in an extra effort during her journey. For Urwa being at her utmost comfort is most important. This is the reason why Uwra is seen in basic grey track pants and a jacket. She doesn't wear makeup or does her hair any differently. In one of the pictures where she is wearing jeans and a shirt, it goes to show that this is the outfit that Urwa must've found comfortable, therefore she opted for it.
Ushna Shah
Ushna Shah is one such celebrity who speaks passionately about travelling. She has not shared a lot of her airport pictures but she definitely doesn't hold back sharing the pictures once she has reached the destination. In this picture, Ushna Shah has kept her attire very casual and cute. She is wearing an all black tracksuit with a beanie, sunglasses, green bag and grey sneakers. Her smile shows that she is ready for her next journey.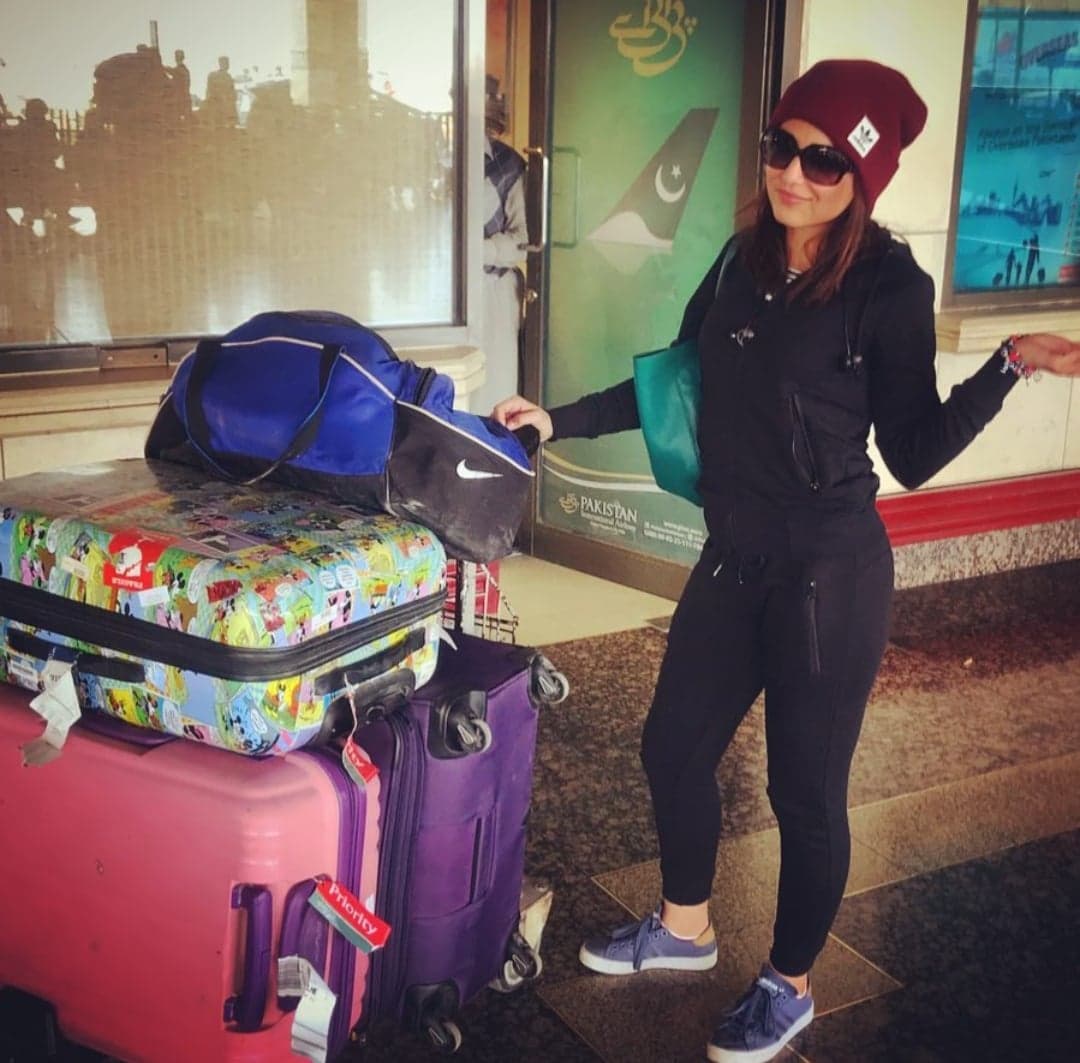 Yumna Zaidi
Yumna Zaidi goes for all black outfits during travelling. She will be seen in basic shirts and track pants or jeans and long shirts but they will mostly be black. Yumna Zaidi is one of those few celebrities who does not believe in looking too glam or made-up while travelling. She wants to just be in the moment and enjoy the experience itself, this is the reason why Yumna shares her raw and unfiltered airport and travelling pictures. She doesn't mind wearing her hair in a bun or let her hair be in its natural state. Yumna also opts for different bags while travelling and does not have fixed accessories dedicated to her journeys. Yumna also wears sunglasses and at times headphones as an accessory too.
Maya Ali
Maya Ali definitely has established herself as a diva and that is why her airport picture is no less than a statement. Maya Ali likes to keep it simple makeup wise, but it shows that she does put in an effort in picking up her outfits carefully. She wouldn't mind carrying a designer bag, wearing a designer footwear or t-shirt. Maya Ali definitely is well aware of her celebrity status and she knows that she will be photographed when spotted by her fans. She definitely keeps it fashionable and stylish.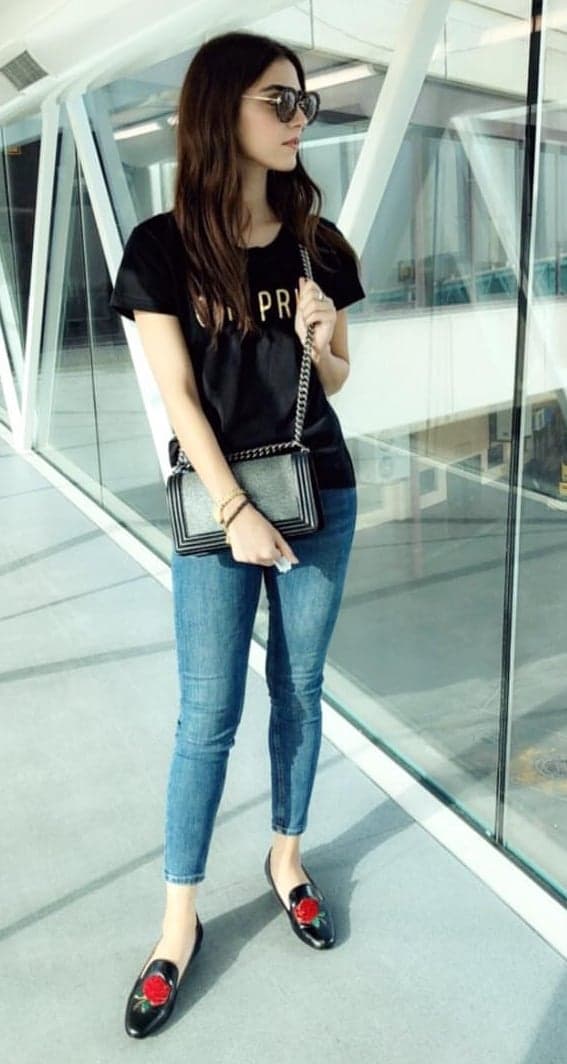 Momina Mustehsan
Momina Mustehsan has travelled a lot. During her interviews she has always shared stories of her travelling because her family was settled abroad and she was also studying in the US. Momina Mustehsan is an experienced traveller, therefore she knows what works best for her. Her airport fashion is chic and stylish while still being comfortable. A pair of jeans and shrug are must for Momina. She also at times wears oversized comfortable sweaters. Her specs are like an accessory and she has also stated that her bear neck-pillow that she calls 'bhalu' goes everywhere with her.
This was the list dedicated to the airport fashion of the Pakistani celebrities. Do you think they should share their airport looks more often? Which celebrity's pictures would you like to see more of? Please feel free to share your thoughts in the comments below.