The Pari is an upcoming horror movie which is marketed as Pakistan's biggest horror feature film. The movie is unique in the sense that the genre of horror films has not been truly explored till now.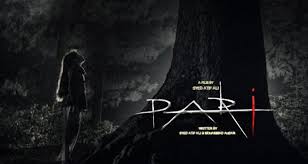 Now that the movie is set to release in the next month, it's trailers and songs are being released and they all seem very promising.
The latest song Ali Maula from the movie is a manqabat, is composed by Mehmood Alam and written by Shamim Bazil, it's lyrics will give you an idea of the trials the characters will be facing in the film. The music and vocals keep you mesmerised and transported to the world of supernatural, as intended.
https://m.youtube.com/watch?v=kC3UwHvrkrM