Ohkay so, this was one of the most important episodes of Alif. This drama has been executed with precision & brilliance. They used their sweet time in establishing the plot for what we're getting to see now, which goes to show how the drama makers were strategic as well as intelligent with their approach towards Alif. Every episode now has important developments, some pivotal revelations & explanations that are needed to change the course of Qalb e Momin's perspective & his narrative. Umera Ahmed has done it yet again. It is interesting to note how she made Husn e Jahan the central character and based the rest of them around her & her story. For me, more than anyone else this is purely Husn e Jahan's story & how everyone around her was affected by her, she was blessed in her own ways & she was one of a kind!
The Film
Shelly's entry in the picture was actually interesting to see, it was like she broke the monotony of coming across similar characters throughout the past few episodes. Shelly not only came to pitch in for herself but she did what she could do the best; break the story to the media about her association with the project. She being an opportunist obviously couldn't let go of this golden chance but sadly, she fell flat on her face when she spotted Momina in Qalb e Momin's studio. I felt a lot for Aqsa because she wasn't left with any other option than to ask Momina a favor. Aqsa & Daood have always been with her through thick & thin, therefore it was nice of Momina to do what was right, not for anyone else but for her best friend & support system.
The few scenes which covered Momin's developing feelings for Momina were once again beautifully done. He was missing her, he was constantly thinking about her, all the interactions that he had with her; he was unable to take them out of his mind. Momina had left an impression on him, imprinted his heart with her love & now when she was not around, Momin was finding it hard to deal with it. I think it has been quite a while that the viewers got to see the portrayal of love in such a unique & classy manner – no cheesy confessions, no fake promises, just pure feelings which have been showcased through Momin & Momina's actions.
So, Momina decided to make some changes in the script. This was exactly what brought Momin to her home, although he wanted to apologize & start afresh but he was curious to know how Momina knew those minute details about Husn e Jahan, because all this while Momina had tried to change Momin's perspective especially concerning Husn e Jahan's role as a mother, this is the reason Momin once again tried to ask her. The interactions Momin had with Surraya were also heart-warming, the way she was not letting go of him once again shed a light on how lonely she was, therefore when she saw someone around, she couldn't stop welcoming him.
The Revelation
The showdown between Momin & Sultan was intense, it was powerful, meaningful & done so well. Every dialogue, every expression, every confession, every single tear that was shed was so impactful that I am sure not even a single viewer would've been able to look away from their TV screens. The performances of Saleem Mairaj & Hamza Ali Abbasi were flawless. So, Momin didn't even take a moment to recognize who Sultan was, he has hated that man for years, therefore it was imperative that Momin could never forget his face. Momin did find Surraya familiar but seeing how he immediately knew who this man was, went to show how Momin didn't allow himself to forget & probably forgive him all these years.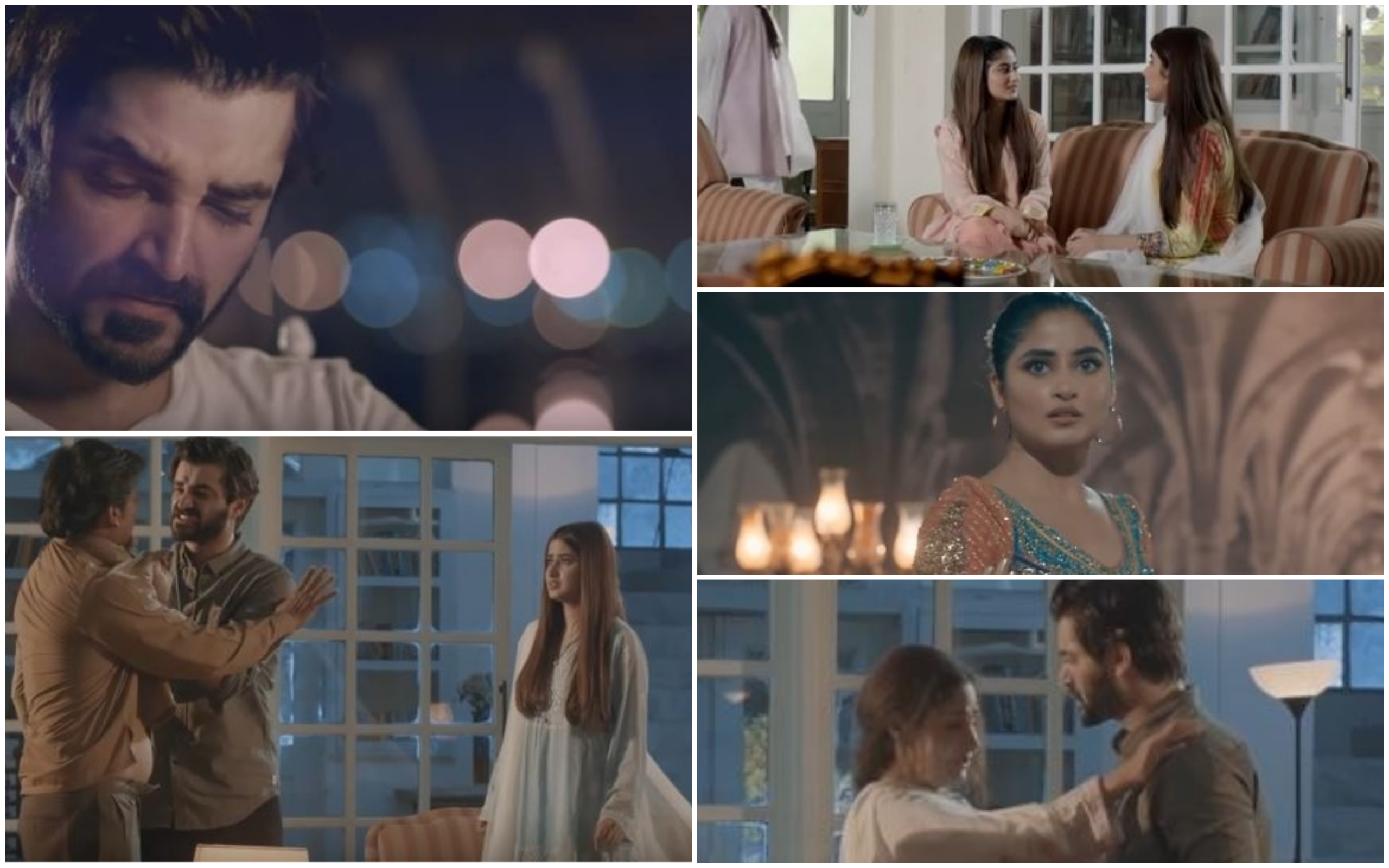 To be honest, I felt bad for Momin, as much as I was happy that Momin was getting the answers that he was looking for & he was getting to understand the unconditional love his mother had for him, I felt sad because a child, no matter what age doesn't deserve to know that he was the bone of contention between his parents. For now, Sultan did make it seem like that, but when Momin will process & analyze, he will understand that his parents were two flawed people tangled in their own failures & emotional struggles that they couldn't come to terms with their realities. Momin will also understand that for his mother, this was the only option left & whatever she was not because of Momin's innocent desires, she did all of that because as a mother who loved her son unconditionally, she felt bound to do that. For Momin, it was quite a lot to deal with what he heard, this is the reason all the incidents, all the conversations started running through his mind & the past played like a reel in front of him because he was trying to put two & two together. Finally, the secret was out & Momin learnt the truth that Husn e Jahan was not wrong, she never was, she couldn't be because she loved him with all her heart. Momin had already brought a lot of changes in himself, the last change that he needed was to let go of the bitterness & resentment in his heart, now this is going to help him achieve that!
Impactful & Perfect
This episode was power packed & impactful. Brilliant performances are a part of this drama right from the beginning. Lubna Aslam also deserves a special mention for portraying Surraya's deteriorating mental health to perfection. The way she broke down after finding out about Qalb e Momin being Husn e Jahan's son was so heart-wrenching. Husn e Jahan one way or the other has impacted their lives so much, this entire family not only feels indebted to her but have immense respect for her, this is why, seeing her son standing in front of Surraya was overwhelming for her. The way Surraya referred to Husn e Jahan as 'hamari' Husn e Jahan was also surprising for Momin because he never imagined that these people would have so much love for her & they owned her like their own. Saleem Mairaj & Hamza Ali Abbasi were beyond brilliant in this episode, their acting was phenomenal – they literally breathed life into this scene & made it unforgettable. The way Sultan put the entire blame on Qalb e Momin also explain why he was always cold towards him when he was young, because Sultan also held Momin responsible for ruining Husn e Jahan's life, which actually is not right or justified on Sultan's part because the Husn e Jahan he knew was just an actress, but after becoming a mother, she was not the Husn e Jahan that Sultan knew & what she did for her son was what any mother would do, but Sultan fails to understand that. Direction, editing, background music, lighting, ambiance that they have created, the vibe, the mood, the feel, the script, dialogues, acting, expressions, costumes – just everything is perfect. Please share your thoughts about this perfect episode of Alif.
Keep Supporting,
Cheers,
Zahra Mirza.