Most of us had already guessed the main twists in the story primarily due to the detailed promos that leave very little to the imagination but I must say that even though I knew how the story would unfold I enjoyed tonight's episode nevertheless. The timeline was just as confusing in this episode as well as it was in the last one but the fact that I can relate to most of the characters in the play and I find them interesting definitely has to be the reason why I was able to overlook some of the glitches in tonight's episode.
Aroosa's exit from the show was very touching. All the scenes that led to the final tragedy and especially the scene after her death in which Haadi comes out of the Operation Theatre was spot on. Not a single word was exchanged between any of the actors involved but their expressions said a thousand words. I felt for Haadi, I could not help but cry for Aroosa and Taya's character managed to impress me yet again. It is an absolute pleasure to watch a positive man in charge for a change. He is not too soft and not too strict, he puts his foot down when he thinks that he needs to tell Haadi where he is going wrong but he also understands how Haadi feels. The story moved forward in a very convincing manner as far as Haadi's track was concerned. Haadi held himself responsible for his wife's death because he was the one operating on her when she passed away. I must give Imran Abbas full marks for giving those perfect expressions which help you read the mind of the character. Haadi felt like a "culprit" when Aroosa's father said that he chose to save the baby's life. Haadi's reaction to that comment and the expression on his face showed that he was convinced that he really was guilty of making the wrong decision .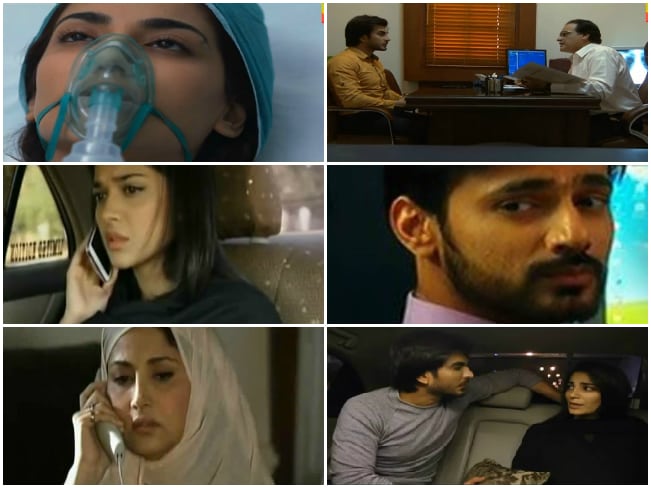 While things moved forward at a very fast pace in Aroosa and Haadi's life, it seemed like not more than a day had passed since the last episode in Haya's life when this episode opened. It looked like Haya had just left Kaukab's house when she called her Tayee but on the other side her Tayee told Haya about Aroosa's condition like she was in the last trimester and just seconds later we saw Aroosa being rushed to the hospital because it was time for the baby to arrive. If we look at Aroosa and Haadi's life then at least 6 months had elapsed since the last episode. Haya has moved to the hostel in all this time and she has found herself a job. She chooses to be in touch with her family only when she wishes to do so. Haya does not want to know what is happening in Haadi and Aroosa's life and the only way to do this is to have very little contact with her Taya and Tayee. Haya's track was somewhat confusing. Haya's Taya called Faiez even though Haya left their house six months back and he knew that she was staying at the hostel now. He was obviously desperate to get in touch with her but that phone call did not make much sense. If he called to get a contact number it would have been much better instead of asking for Haya as if she was still living with Kaukab and Faiez. Ramiz is Haya's colleague who would really like to get attention from her but Haya wants to keep her distance for obvious reasons.
Nothing has changed between Farisa and Saim in these six months or so! They were still fighting and making up. I am very impressed by the way Sara Khan has portrayed her character. The lust in her eyes when she opens the locker said more about her character than anything else she has done till now! Farisa apparently respects Haadi bhai a lot, watching her stand up for him in front of Khala was like watching a totally different side of Farisa's character. The responsibility of taking care of the baby was left to Farisa since she was free from college but Haadi's parents really should start looking for a full time maid!! I hate to see girls of the family or family friends being "used" for looking after the house or the baby if the lady of the house is not around or in this case dead. What happened to hiring maids? No one ever even thinks on those lines.
The preview of the next episode showed that Haadi missed Haya and wants to get in touch with her. Farisa will still be around taking care of the baby in the next episode. I hope that the timeline is less confusing in the upcoming episodes and both the tracks move forward at the same pace. Will Haya move on and warm up to Ramiz? Are Farisa and Haadi "bhai" destined to be together?? I am waiting to find out.
I must say that I really enjoyed tonight's episode even though it was quite predictable. The brilliant performances by all the actors and especially by Imran Abbas and Sara Khan deserve a special mention. Mehmood Aslam has completely won me over as Taya Abu. There wasn't much of Sanam Jung in this episode, I hope that Haadi and Haya's paths meet at some point SOON!
Do share your thoughts about tonight's episode.
Fatima Awan