Who doesn't want to look fashionable?  But in order to follow the latest trends and taste of the market, one needs to put their boots on and look out what is currently popular in the world of fashion. To fulfill this desire of fashion lovers, an influx of young and energetic people are coming in the fashion industry as fashion designers. One such name is of "Sania Maskatiya". Sania's signature aesthetic has come to be regarded as a balance between elegance, comfort and practicality. Sania Maskatiya's brand won its first Lux Style Award for the achievement in the fashion design-luxury prêt category and was also nominated for achievement in fashion design- prêt category at the coveted Lux Style Awards 2012. In 2013, the label earned two prestigious Lux Style Awards nominations in the Luxury Prêt and Prêt-a-Porter categories. Lets know more about her via an interview.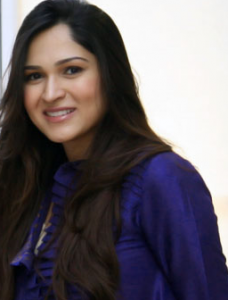 1. How did u manage to make your name in fashion industry in such a small period of time?
Sania Maskatiya: I think God has been really kind to me and has rewarded me for all the sheer hard work and effort that is put in the business. We put in a lot of effort in whatever we do and we strive to provide our consumers the best possible product. I am thankful to our consumers and critics who appreciate the handwork that goes into each piece.
2. What inspired you to choose this profession? And what is the fashion philosophy behind your label?
Sania Maskatiya: Since childhood I was always fascinated by colour and patterns. I was one of those kids who loved scribbling and playing with colours and was attracted to pattern and even after so many years I still get excited by all of it. This is one of the main reasons why I got into designing. I specifically chose art subjects in my O'level and A'levels, thus pursuing a career in design was nothing but obvious for me. My brand is synonymous with providing luxury and celebrating individual styles. We are known for our signature drapes and prints. We take pride in combining traditional techniques with contemporary silhouettes to create visually appealing designs.
3. Who is your inspiration in Fashion Industry, the ones you like to follow? Local and International both.
Sania Maskatiya: All the seniors in the industry like Bunto, Faiza Samee, Rizwan Beyg etc have always been a great source of inspiration as all these designers paved way for all the youngsters to pursue careers in fashion industry. Internationally, Chanel, Mary Katrantzou and Matthew Williamson are my favourites.
4. It must be a proud moment for you as Sharmeen Obaid Chinoy wore Saina Maskatiya at the Oscars. Do you plan to market your label to the masses, Internationally?
Sania Maskatiya: It was nice of Sharmeen to contact me for the clothes as I have always supported all that is Pakistan and with Sharmeen's achievements a No! was not even an option .we were delighted when she wore the outfit to the Oscars. We do have an international clientele and we have multiple stockists around the globe. However, we would further like to increase our reach to international clients.
5. With a lot of Fashion Weeks happening around a year, do you think its a positive change for fashion in Pakistan or you see more repetition of same designs as designer don't get time to prepare for the next fashion show?
Sania Maskatiya: I think competition is extremely healthy and with so many fashion shows happening, the Pakistani fashion scene is changing for good. I believe all the designers put in a lot of effort in putting up shows. Also, all the designers have a choice to participate in whichever fashion shows they want to and that way everyone has time to plan and produce collections.
6. Fashion weeks can commercialize and boost up Pakistan's fashion industry at a large scale or do we have a long way to go?
Sania Maskatiya: Of course, fashion weeks are a major source of introducing your brand to the masses and I believe they have helped our industry in infinite ways.
7. How do you balance your professional life with personal life?
Sania Maskatiya: On the home front I have a fantastic support system of my mom and mother in-law. Work is a team effort, my amazingly talented design team and my business partner and brother Umair Tabani share the workload.
8. Any advice to fashion followers?
Sania Maskatiya: Take pride in who you are and don't just follow trends blindly. Each one of us is unique in our own way, cherish that!
9. Some tips to the newcomers in Fashion Industry? The do's and don'ts for them to be successful.
Sania Maskatiya: For all the young people I would like to quote that "there are no shortcuts to any place worth going", therefore the only way to succeed is to work hard persistently. Along with hard work, it is extremely important to strive to learn new things every day.
Cheers
S. Rasool