The situations and feelings of different characters changed drastically in these episodes. Anaa continues to be a drama which is entertaining and it is also a nice break from all the heavy duty dramas which we see during the week. Anaa continues to focus on relationships and not issues, the anaa (ego) of some of the characters even now directs the course of some of these relationships. All the main characters of this drama are flawed in some way or the other. While the older generation still hasn't moved on, the younger lot has their own struggles.
Daneen, Aania, Areesh & Saif
There was a time when Daneen genuinely wanted to make her marriage work even though Saif already told her that he was too busy and still in love with his first wife. When he said that obviously Daneen had no idea that he was not just going to ignore her but he was also going to control her in every way possible. The hitting continued like it was normal and Daneen kept on running to Areesh because their meetings were like an escape from a life which was boring and it was hurting her as well. This marriage was Daneen's idea as well – a decision she took in haste in order to make Areesh 'jealous' therefore she is definitely responsible partially for the way things are right now.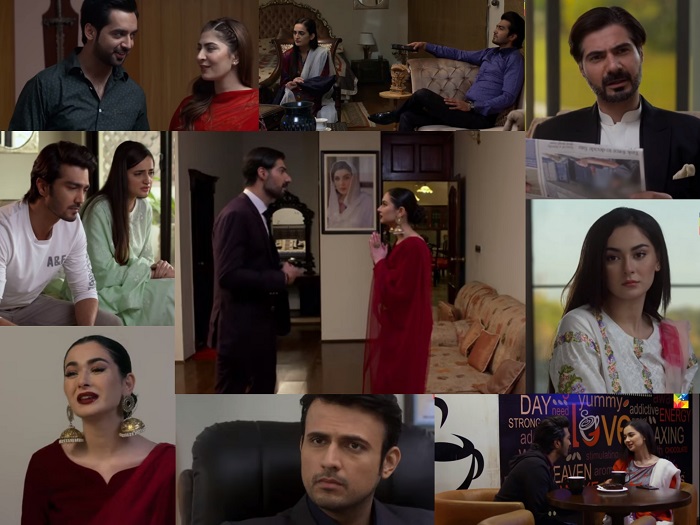 Daneen has always been immature, emotional and impulsive therefore the decisions she has been taking so far have always made perfect sense. Making these decisions was easy for her but living this life is anything but easy. She is still living in the past and continues to take risks in order to prove to Saif that he cannot control her. Daneen's attempts to make Areesh accept Aania as his life partner showed that even though she didn't have the courage to leave this man but she was also not the kind of person who would destroy someone's life intentionally. When she got the news of Aania's pregnancy, her reaction went perfectly well with the timing. Areesh definitely lead her on by telling her that he will always be by her side and that she should leave Saif. Even though Daneen already knows that Areesh wass incapable of taking a stand for anyone at all but she fell for him yet again.
Both of these characters are immature and I am not certain about Areesh but Daneen is still in love with Areesh. While Areesh has a wife who loves him and will do anything for him, Daneen's situation is quite different. After Areesh's attempt to take revenge from Saif (in his own irresponsible way) things took a turn for the worse for Daneen as well. This situation also brought Areesh and Aania together since Aania covered for him. All the actors involved in this complicated, messed up love triangle have been playing their roles superbly. Hania Aamir's expressions and dialogue delivery never disappoints. Shehzad Sheikh makes Areesh's weaknesses come alive on screen and makes you understand the flaws in his character so well. This is who Areesh is and I have a feeling he will never change. Waiting to see how Areesh will react when he finds out Aania's 'secret' from her past.
Altamash, Ezza & Nashwa
Altamash's character has been well established as the best possible suitor for ever woman in his circle, a great catch, ladies' man who plays hard to get and definitely someone who has his own weird way of showing that he cares. He clearly likes Ezza and cannot see her with anyone else yet he won't pursue her, the way any other man would. Ezza on the other hand it seems is afraid of being rejected by a man who she is attracted towards but one who keeps on making her feel like she isn't important enough. So far, Ezza has definitely tried harder to get Altamash's attention even though she keeps on saying she couldn't care less. The only reason she gave that statement about not wanting to marry Altamash even if he was the last man on earth was that she felt even more insulted because of the spectators.
The latest revelations about Nashwa's personal life were shocking. Nashwa's father and Daadi are constantly judging other people yet their own daughter is leading a double life. Even after Nashwa's father was quite sure that she had been meeting a man, he didn't take the kind of action which he would have if this was Daneen or Ezza. I like how the writer has highlighted the hypocrisy of these characters without being preachy. There are times when Naimal Khawar's appearance doesn't go well with her character but her overall performance has been solid. Usman Mukhtar fits this character so well and I feel that no one else could have brought out the good and the not-so-good points of this character alive on screen better than him.
Final Remarks
I am thoroughly enjoying watching this drama, even more so now. The performances, direction and the story is simple but it continues to give you something to look forward to. I find myself rooting for Daneen even when she is being her own biggest enemy. At the same time I don't want to see Aania getting hurt. I wish Altamash would finally settle down and tell Ezza how he feels about her. Some of the dialogues and the situations can be repetitive but the great thing about watching a drama online is that you can forward the bits which are boring. Thankfully Kabir continues to be the 'bhai' and he has not fallen for Ezza. Looking forward to the next episode.
Do share your thoughts about drama serial Anaa.