Pakistan Idol, the most awaited reality show is soon going to hit our TV screens. The show will be judged by some of the most prominent faces of Pakistan Media Industry; the very-versatile Bushra Ansari, the talented female singer Hadiqa Kiyani along side with the Guru of pop-music Ali Azmat. The extra-ordinary judge's panel is going to scrutinize the singing talent of Pakistan. Pakistan Idol is going to "bestride the narrow 'music' world Like a Colossus".
All music lovers are strong advocate of the thought that singing is an expression of the soul. It rejuvenates your inside. And there can't be better opportunity to showcase one's singing talent before the world than participating in an amazing talent show like Pakistan Idol.
The auditions have been carried out aggressively in all the big cities of Pakistan and the talented individuals participated warmly in the world's top-most talent show. The show's popularity is climbing to new heights on the social media sites, as well. The auditions were full of energy and confidence to impress the judges but it is hard to say which city will produce the first "Pakistan Idol" and mark his/her name in the history of Pakistan Music Industry.
In big cities like Lahore and Faisalabad which has already produced legends like Nusrat Fateh Ali Khan and amazing voices like Atif Aslam, was filled with overwhelming performances at the audition's site. Huge turnover was seen in the big & famous cities of Pakistan. Amazing people, melodious voices and energetic contestants were found in this journey/hunt.
Pakistan Idol is going to be your reprieve from the hardships of daily life. You can kick back and relax and watch as the different participants battle their away on Pakistan Idol.
At a ceremony, Ali Azamt said: "Pakistan has got so much talent but now it has also got a chance to perform before the world. This talent is going to be showcased on the world's biggest musical show, The Pakistan Idol"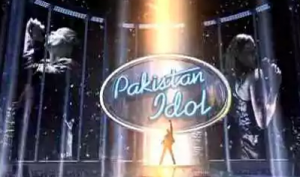 No one imagined that there will be a huge turnover of the participants in the audition sessions. Undoubtedly, the turn-over has proved how badly the youth needed this break-through. Pakistan has produced a number of amazing singing talents of all times and when they were discovered there was hardly any platform for those talented individuals to harness their potentials but today the young and talented people has got a platform to perform and sing their heart out and prove to the world their capabilities and ultimately bring laurels and good-name to Pakistan. Pakistan Idol will play an important role in creating a soft and positive image of Pakistan in the international arena.
One of the participants writes: "Pakistan Idol is a reality show which is provocatively determined to change the music scenario of Pakistani music. The doors of opportunities are opening up to the talented lot like us"
The other shares his view as: "Pakistan Idol" has become the talk of the town. Pakistan Idol posters are being shared and re shared on multiple sites and social media. With such high intensity interest and restless curiosity Pakistani talent is overwhelmed with joyous and accentuated emotions. The reality show will doubtlessly without any hiccups provides us a chance to give our lives a nice and easy take off"
In association with Fremantle Media, Geo TV network has stolen a march upon his friends and foes and has credited Pakistan Idol's rights to its name.
Imran Aslam, the president of the Geo TV Network, said:
"Pakistan had a history of producing talented musicians across genres. The Geo Network's endeavour to bring forth talented musicians is a step towards keeping that cherished tradition alive. The Idol will be a platform for people who sing in private, in the bathroom or in small family gatherings. We will bring them together and provide them with the opportunity to showcase their hidden talent"
So, all of you, fasten your belts, the most-awaited reality show is coming your way on GEO.
Don't forget to drop your comments on how anxiously you are waiting for Pakistan Idol.
Cheers !
S. Rasool