Unfortunately, yesterday the story of an angel named Zainab affected everyone deeply, it made all the Pakistanis heavy hearted yet unanimous in demanding the culprit to be punished severely. Everyone felt the strong urge to voice their thoughts and give words to their inner most feelings keeping Zainab and her family in mind because every single person connected and felt the pain that Zainab's parents must be going through. Amidst the chaos, a concerned Pakistani named Rania Vohra spoke her heart out by pinpointing the heartlessness that the morning show hosts display at times like these. Rania's Instagram post got the attention because a renowned actor Nauman Ijaz not only shared it but agreed with it as well.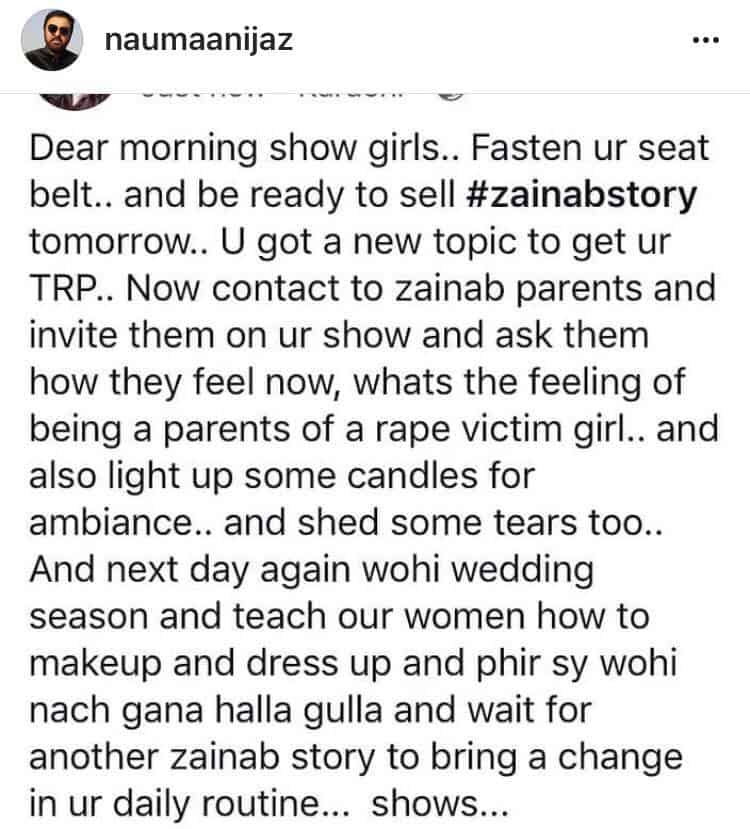 As expected, all the morning show hosts of famous TV Channels conducted shows dedicated to Zainab. They most certainly had the right to do so but in the middle of it, Sanam Baloch took this particular post by Rania personally and made it all about herself. Sanam Baloch made sure to put across her disagreement in a very uncultured fashion where she ended up defending herself and likes of Nida Yasir who are known for conducting Wedding Weeks (read Months) on their show. Sanam Baloch did say that she usually doesn't talk about what is written about morning shows on social media, but this time around she couldn't ignore it (because the truth is bitter and reality bites). Sanam could have easily ignored Rania's post but the fact that she went out of the way to speak about it only to diss what Rania had said basically further proved Rania's point. Sanam came up with a very weak argument that the shows which are all about makeup and weddings get the highest ratings while completely ignoring the point that Rania spoke about the bigger picture and the formats of the show in general.
Although Sanam Baloch is never as overdramatic and made up in such shows as Nida Yasir is but very often she asks the victims and their families questions which are completely purposeless as well as hurtful. When Sanam Baloch covered the APS attack in few of her shows, she kept on calling the families of the victims to her show and she kept on asking them questions which didn't help in any way. Also, in one of her shows when she was talking to an APS student who was injured during the attack through video call, she kept on asking him about his friends and that unfortunate day. There was a psychologist present on the show who kept on saying that Sanam shouldn't be asking the boy such questions but no one listened to her and she finally walked out of the show. Later on, her husband posted on his facebook page that his wife walked out of the show because she did not want to be a part of everything that was going on there since the boy who was in trauma was not in the condition to answer such questions.
These morning show hosts have conducted so many shows on these tragedies but still they didn't master the art of sensitivity that is needed at times likes these. Whether they accept or not, it is a fact that these shows are run by rating mongers who do everything to grab TRP's to satisfy their egos. Just because Sanam believes she does people a favor by hosting these shows, she was of the opinion that those who talk against these shows rape these hosts emotionally? I would really like to blame this statement on the fatigue that Sanam must be suffering because she just returned from her vacations, I would love to believe that she was jet-lagged because what she said basically made no sense whatsoever.
Well, at least Sanam had the decency to do the show bare faced because she wanted the message of her guest to reach out to people but when it came to Nida Yasir, her show (which Sanam defended by the way) started off with a dramatically acted out poem. Why can't Nida be normal especially when it comes to tragedies like these. The black & white poster image of Nida in a scarf with her hands raised for a prayer which is used during such tragedies is not only off putting but makes everything look very fake. Nida's styling was also very inappropriate, it was like she was dressed to later attend a dinner party. How hard was it for her to find a simple Shalwar Kameez which wasn't so flashy and let's not even get started on her cake face and perfectly straightened hair. Yes, they are on a camera but why put up a drama of being affected when they can not even be decent or reasonable enough to actually look like they care. All of Nida's guests starting from Asma Abbas to Muzna were too made up, completely forgetting the fact that they were gathered to mourn a loss of a little angel. Fiza Ali's shrilly performance also served no purpose whatsoever. For the first time may be, Nida invited a psychologist who could actually teach people a thing or two but Muzna, Fiza and Sadia had no decency to have let the expert share her knowledge and insight. Nida totally failed at tackling the show and had no control over her guests who were cutting each other off trying to prove a point that they were more saddened than one another.
In short, there was nothing "real" about Good Morning Pakistan's "well planned" black and white theme, Nida's perfect make-up and get-up and the way she presented herself . We are not saying that she didn't feel anything for Zainab or her parents but why go overboard when staying natural will make it easier for people to connect to your feelings? Just like every other show hosted by Nida Yasir, this one too was run by her guests more than her. She wasn't prepared enough therefore after giving her well memorized introduction, she didn't have anything good to add to the discussion.
Our morning show hosts always have different reasons (excuses) for asking the victims or their families to come forward but it is a fact that the way these people are interviewed by the hosts is highly insensitive. Usually the main purpose of these questions is to extract emotional details about the incident because such clips and shows guarantee TRPs. Unfortunately, ARY is yet again using a tragedy to further their own interests and agendas. If everything that they were doing to help Zainab was done without reasserting the notion that they had played a vital role in bringing this matter to everyone's attention, it would have seemed more "selfless"! Right now, the way they are covering this whole tragedy looks more like a marketing strategy which is exactly why a lot of people out there feel that at the end of the day unfortunately it is all about getting viewership. Share your say.
Fatima Awan & Zahra Mirza.