During an interview with HSY,  Asim Azhar disagreed with Hadiqa Kayani being a legend. He said that legend is such a big word and a legend is the one who influences the masses.  This news was spread on social media making all the different meanings from Asim's statement So Asim took to twitter to clarify the statement that he had made and explained what he was actually saying.
Asim tweeted, "I have recently come across a statement that I made on a TV show recently floating around regarding me not considering Hadiqa Kayani Ma'am a legend. I feel like my words have been put out of proportion and certain media outlets are cashing in on it. I said what I said because the word legend for me is too big of a word and when I think of the word legend, names like Nusrat Fateh Ali Khan Sahab, Abida Parveen jee come to my mind only because of the amount of revolution their music has brought through decades."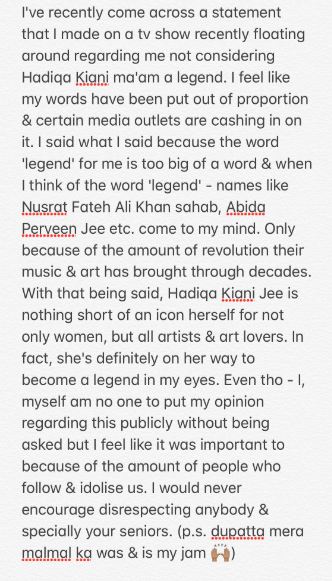 He while explaining his admiration to Hadiqa further said, "With that being Said Hadiqa Kayani Jee is not Short of an icon herself for not only women but all artists and art lovers. In fact she is definitely on her way to become a legend in my eyes. Even though I myself am no one to put my opinion regarding this publically but I feel like it was important to because of the amount of people who follow and idiolise us. I would never encourage disrespecting anybody and especially your seniors".
Asim lastly said that Hadiqa's "Dupatta mera malmal ka" was and is her jam.